Once in the antiquity the purple color is perceived as a symbol of luxury, elegance and sophistication, trademark for royalty, and sometimes even as a magical and mysterious.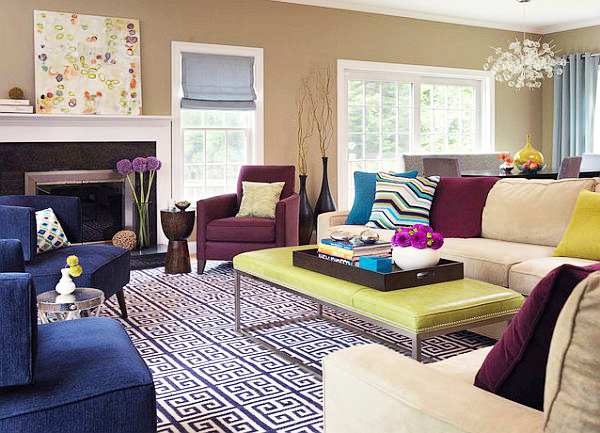 Cozy living room and pale brown walls
Today the color still has a huge part of its old glory and initial symbolism, but whether because of fashion trends or simply for its charm, purple is an increasingly preferred option through which in the home interior can be added a dose of excitement and illusory flavor.
Dining room and round glass table
There are many nuances and shades of purple, and each of them creates a different mood – from the calm and relaxing feeling of lavender in the rich and deep tone of mulberry to the gentle presence of exotic orchids…
Girl teen room and bed sheets
According to psychologists, purple and its variations are referred to the warm colors, although something in it reminds residual coldness and reticence. Yet, it is believed that purple is favorite color of creative people, and to all who want to be a little mysterious and enigmatic!
Kid room in purple accents
All of this could be used in the interior of the house, because the environment, in which we live, accurately reflects our commitment to individuality.
Living room design and a lot of cushions
Often mistaken purple perceived solely as color bearer of femininity – yes, it looks great in bright shades in a nursery of girl or in a bedroom of a young lady.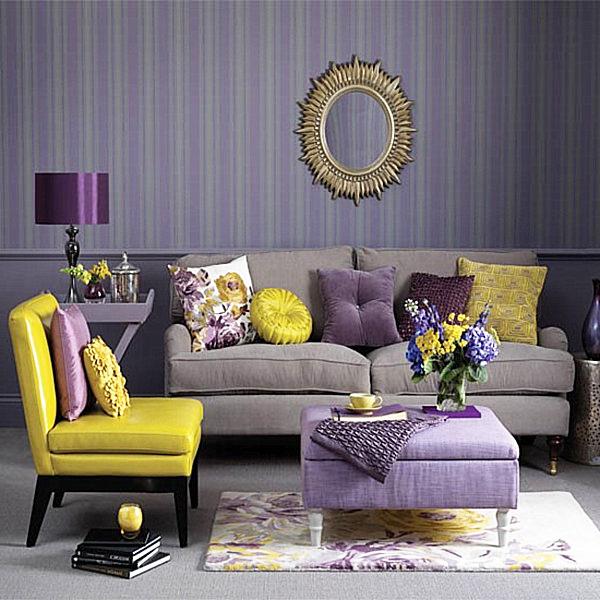 Living room with royal purple and yellow accents
But in reality, it all depends on what tone you choose and with what other colors will be combined. So the male half of humanity could breathe a sigh of relief and quietly accept the purple as an accent in a living room, kitchen or bathroom on the background of dark wood furniture and upholstery in color "old gold", for example.
Luxurious Royal bathroom desigh
Purple reveals a great deal of pomp and majesty, which makes it markedly elegant and pleasant, but it should not be forgotten that it is saturated with extremely large and powerful blast of emotional impact and therefore should not overdo it. Individual accents into any room of the house would stand well, as long as properly to correspond with the other colors in the furniture and the complete interior solution.
Modern kitchen design and black cabinets
Very good combinations are obtained by combining purple with gray and yellow, and spring green with a feeling of freshness is more than delightful!
Modern kitchen in Royal purple and contemporary table
If you like romantic and luxurious broadcast of the purple, but you lack the courage to trust him, check out this gallery of different versions of the usage of the royal color – we are almost confident that you will find the searched inspiration that will lead purple in your home at the next home repair!
Modern kitchen with Royal purple walls
Modern living room with low-profile furniture
Aristocratic small room and solid armchair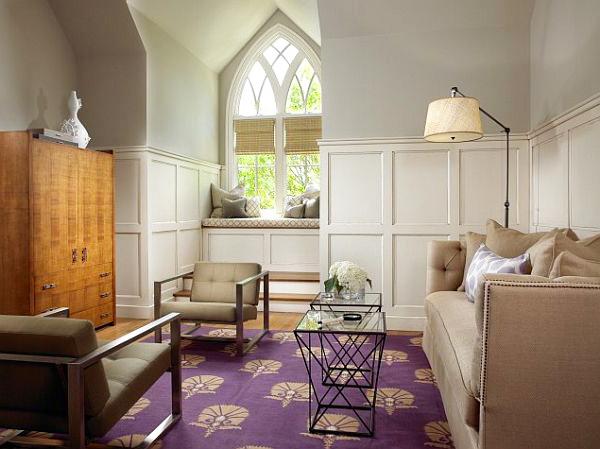 Traditional small living room and purple rug with Royal pattern
Small apartment with double height ceilings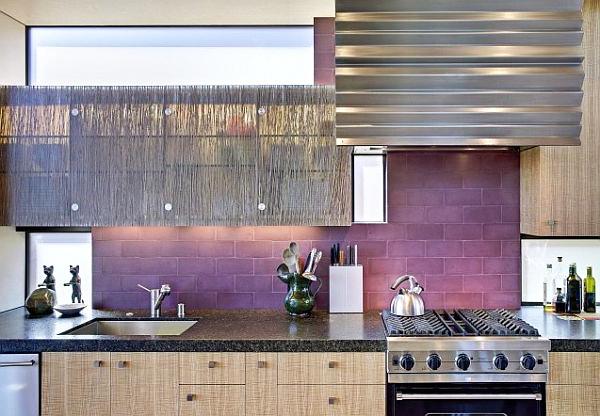 Purple Royal accents in a modern kitchen
Modern minimalist living room and narrow design leading to the dining room