If you live in a country where the summer is hot and dry, and the winter is wet and warm, we have for you today a great idea for Mediterranean-influenced garden. You will ask yourself now why to choose this style so let us explain: this styli garden is lush, inviting and you will have a low expenses for maintenance, overfilled with plants that will thrive in that kind of climate. We cannot deny that if we had the option we could live in these gardens during the whole year.
A great part is that this style permits flexibility so you can add some details to create a Spanish-inspired courtyard or classic Italian villa. You can add also some vibrant colors that are popular in the homes near the Adriatic and Aegean seas or may be more exotic feel of the North African garden design. For one unique garden you can blend all these styles without worrying for any rules.
The basics of the Mediterranean Garden
Let us start with the core characteristics that define the Mediterranean style. First we focus on the hardscape while defining the space with courtyards, patios, overheads and low walls. Here we won't find any vast expanses of lawns instead the areas are filled with more contained plantings like shrubs, perennials, ground covers and annuals. The dominant colors on houses and different outdoor structures are the earth tones which could be punctuated via bright accent colors, for example red or purple. For roofs or outdoor floor covering tile tone is the most popular and also materials like gravel, large pavers or decomposed granite.
Ideas for the garden plants
There is a high variety of plant choices. For one true Mediterranean feel you can bet on olive trees, citrus, rosemary and lavender but of course they successfully could be matched with other herbs, grass-like plants, roses, vines and even tropical. The most preferred foliage is the gray-green one or even deep green. It is mandatory to add boldly colored flowers. Of course the plants of the Mediterranean region are included but also a must-use plants are the ones from a countries with the same climate like Australia.
Finishing the look
The final finishing touches vary from adding pots, water features or other accessories. In this style key are the water features but make sure that there are not ponds of traditional or natural landscape but more appropriate would be small courtyard pool or fountain. It is your decision to place them on the wall or in the center of the space. Traditional for the Mediterranean style are the small or large terra-cotta pots. Bet on rustic and contemporary styles to design these spaces. For a complete look add a table with few wineglasses and you are all done.
For one perfect final the key here is the weathered look. One real Mediterranean garden will be something where you live, it is not for only looking. So be sure that it show some wear.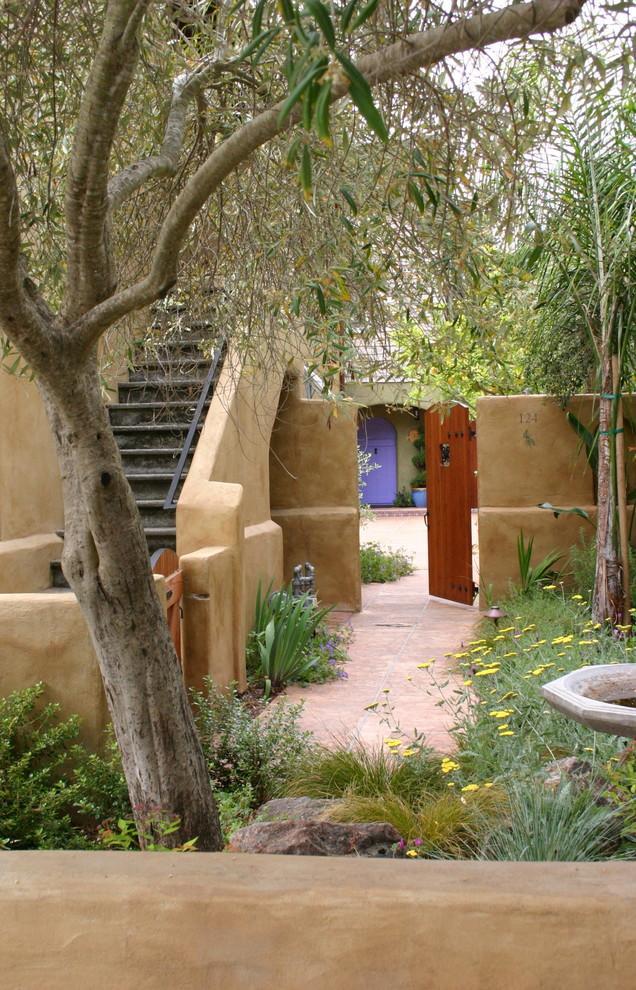 Mediterranean garden inside the house
Consider all your options. In this space we see all the elements of the gorgeous Mediterranean garden. We have here all we need – the wooden gate, the fountain, adobe-colored walls, an olive tree, the pavers, the glimpse of a bright blue door and gray-green plantings. At the end we have one distinct inviting Mediterranean garden.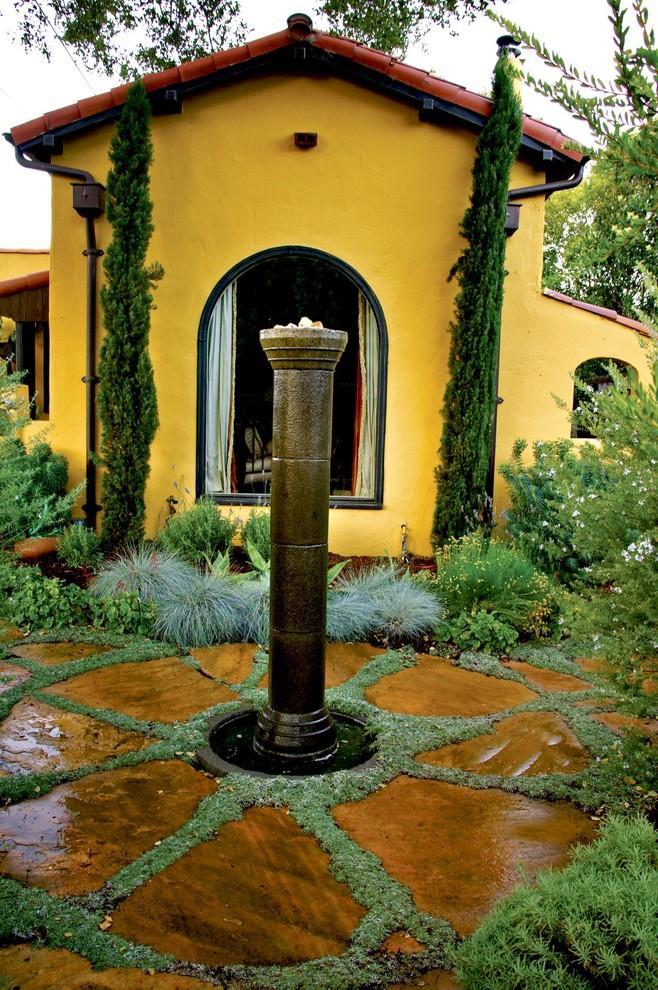 Mediterranean fountain and yellow house facade
Here we have a Spanish-style bungalow with a fitting front yard. Here it is not used any lawn for decoration but one tall water feature that is placed among a low-growing ground cover and adobe-color pavers that are edged by dymondia. The single bold accent is the color of the house because the choice for soft-color shrubs and grasses. In the center of the yard there is a contemporary water column which is making the balance between the two cypresses on both sides of the window and also creates a sense of privacy which is also reinforced by the low wall surrounding the whole space.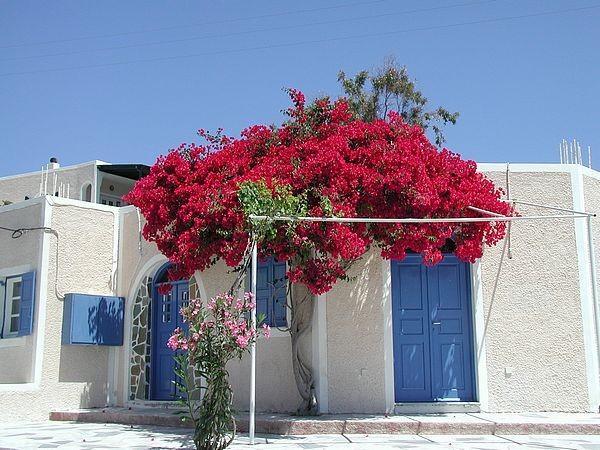 Beautiful Mediterranean tree and its entrance door
This Mediterranean design is Greek traditional. Here we see the traditional whitewashed walls which are paired for contrast with bold blue doors which are reflecting the beautiful bright sky. The tree bougainvillea is a beautiful accessory for almost every Greek house and it is also equally bold statement for this simple space.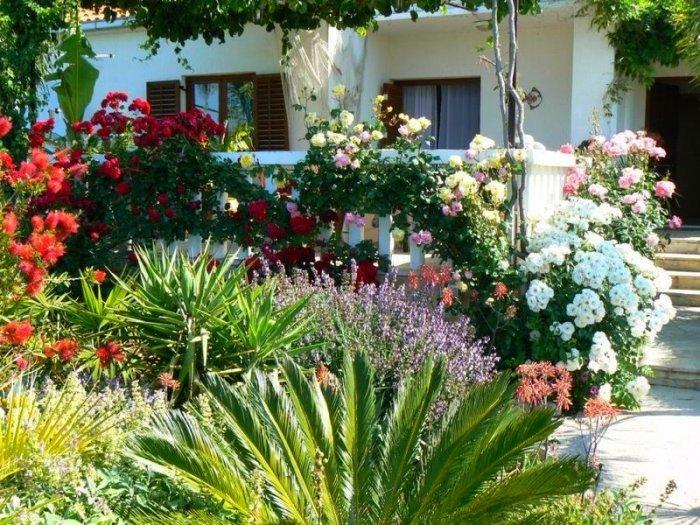 White and red Mediterranean flowers a white house
Here we have one mix of Mediterranean looks that is overlooking to the Adriatic Sea. We have one recall of Greece but also garden that is filled with beautiful shrubs, flowers and grasses, including regional grapevine. Take a look on the glimpse of this traditional red tile roof.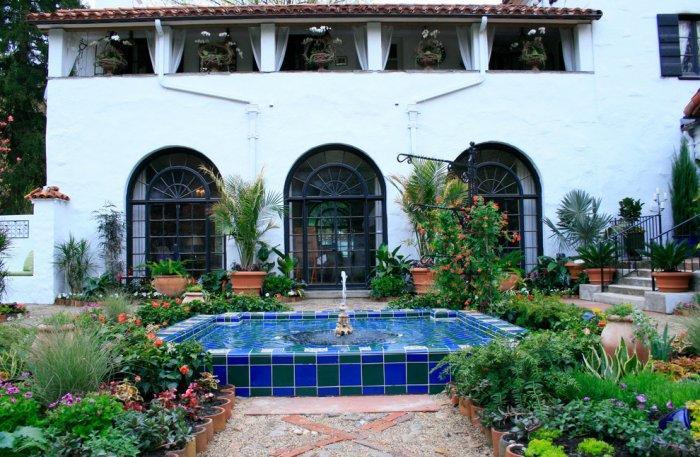 Garden in Mediterranean style of two-colored mosaic tiles
This home was originally built in 1920s in New York but then it is restored to this traditional Spanish colonial look. As may you see there is no need to live in Mediterranean climate to be delighted by this style. Keep in mind that the permanent plantings can survive a cold winter. But they will need special cares as planting them in terra-cotta pots and hide them during the winter months.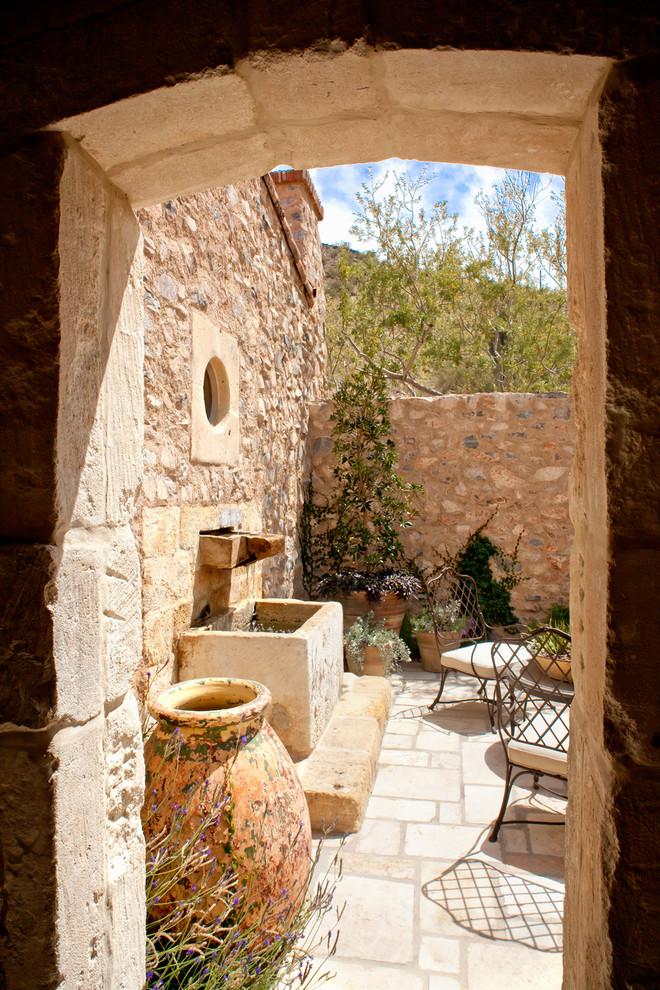 Moroccan garden design for water
A decision for the design elements
You will be amazed when we told you that this house is located in Phoenix, because this amazing stonework reminds Tuscan right? Here we can see two strong elements like urn and water feature, that's why there are not overpowered by the walls that are surrounding them. But actually their relative simplicity makes them excel even more.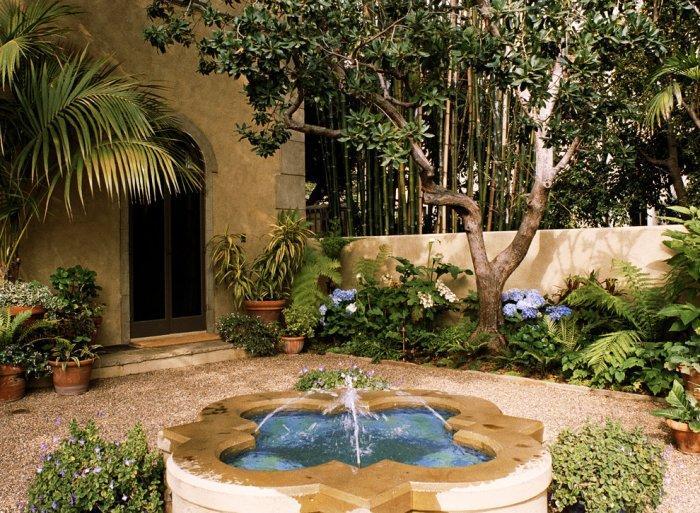 Italian Mediterranean garden and beautiful surrounding greenery
Another garden look from Spain where we have a traditional small pool and entry that need low-maintenance located in Southern California. It is not necessary to stick with the Mediterranean style, the hydrangeas are example for that and you can add some of your favorite plants of course, and it is not necessary to be authentic.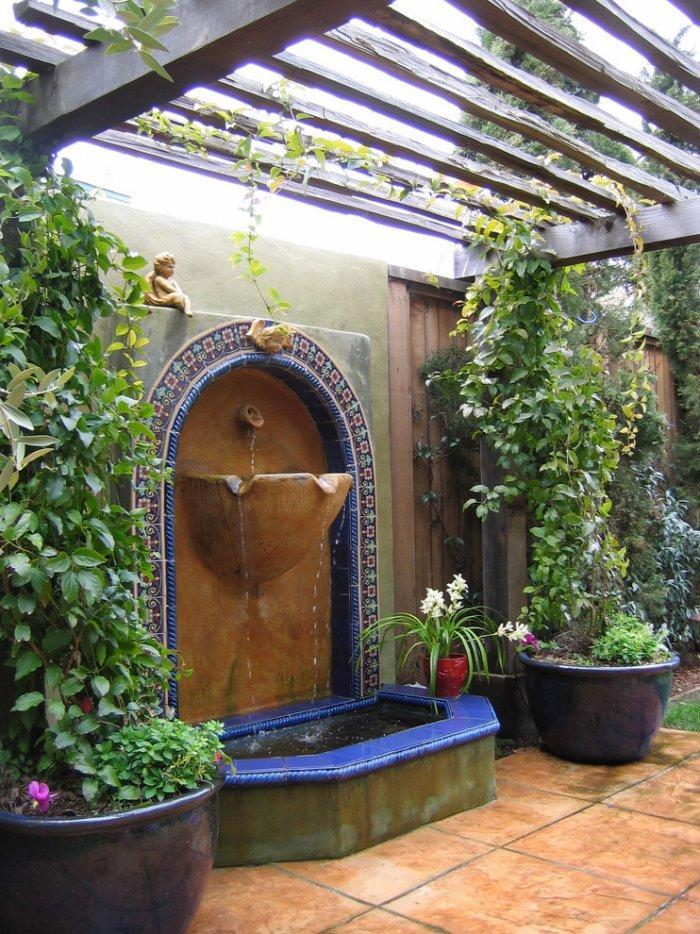 Mediterranean garden fountain of little stones and tiles
On the pergola-covered patio we observe this beautiful old-world wall fountain. As we can see the look is traditional with the typical terra-cotta backsplash and fountain and patterned blue tile. The design creates beautiful combination between old and modern with the amazing touch of the soft green surrounded by soft purple pots. The look of the pavers is completed by the rustic beams.
If you live in a cold-weather climate be sure to buy tiles that stand up to the winter conditions. Before to choose the patio pavers you need to look for a ones with Mediterranean feel.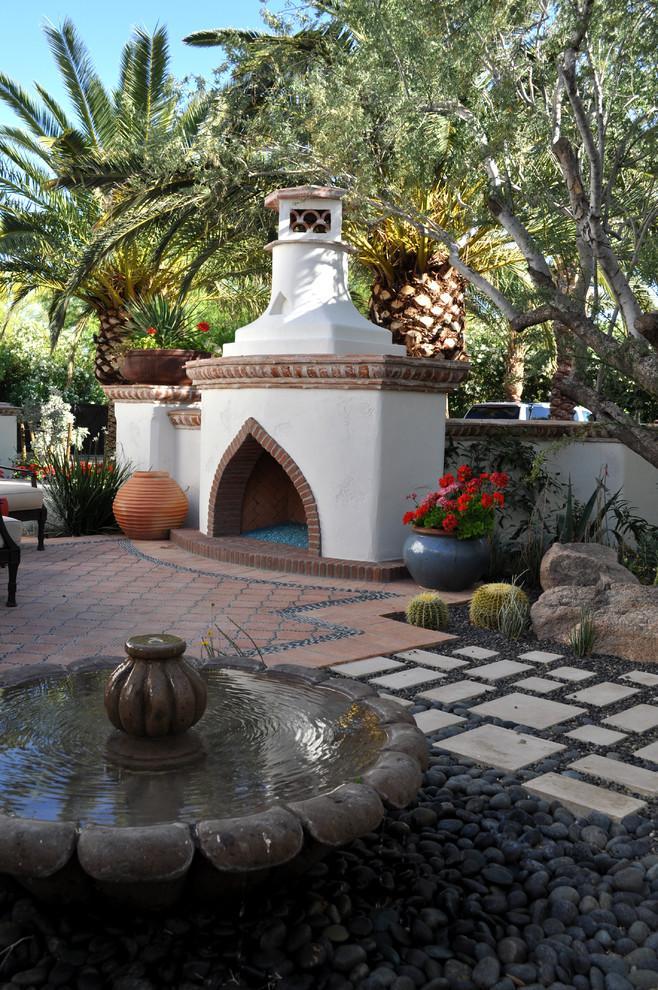 Arabic Mediterranean style and an outside furnace
Keep in mind that a fountain is always a good solution, if it is chilly outside consider to have an outdoor fireplace. As we can see here we have a blend of styles. The fountain is classic Italian and the fireplace is almost Mission-style. But exactly that combination tie the space together.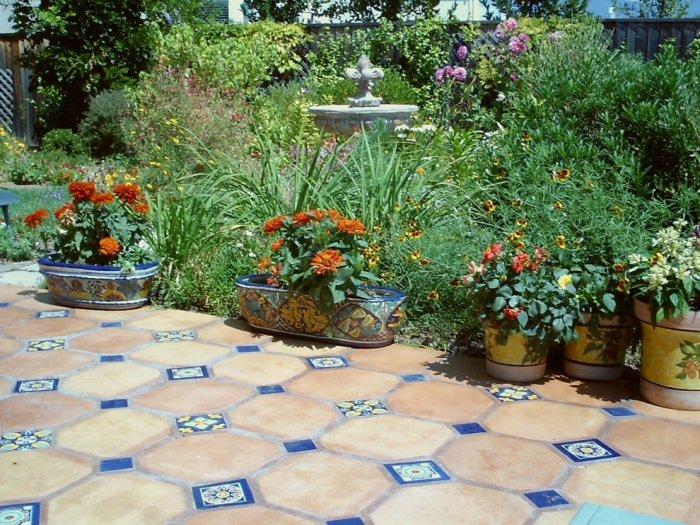 Mediterranean mosaic tiles decoration among beautiful summer flowers
The blue inlay is the evidence for the Spanish influence on this picture. The vivid plants and bright-colored pots create one overall feel. A relaxing sound is added by the almost hidden in the surrounding foliage fountain.