Decorating ideas and inspirations for you kitchen
Have a look at this 16 creative and cheerful ideas for wonderful summer feeling in your kitchen. See how you can enjoy cooking in a pleasant summer setting. It is not only the living room and the terrace that can spread the feeling of the beach, but you can also bring that atmosphere in the cooking areas. It will be great to recreate a nice feeling of relaxation in the kitchen and summer decoration is best for this, because it creates a sense of lightness and purity. The following designs are focused precisely on this.
Image 1:
Decorating kitchens with flowers and fruits is one of the most popular ways to bring the summer in. One of the appropriate flowers for creating a summer feeling in the room are sunflowers. Fruits in a suitable fruit bowl are a great decoration for the kitchen counter.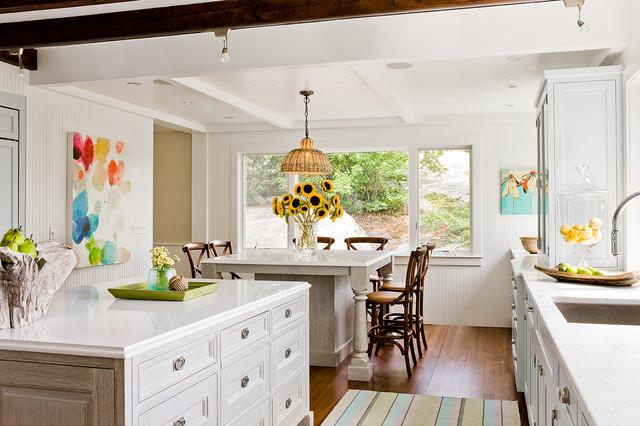 Image 2:
Other examples of creating a summer sensation in the kitchen are wisely selected colors and palm leaves as decor. Pillows and a vases can be used for colorful accents – like blue, for example. Anther suitable color is brown – it can be used for the upholstery on the chairs or the parquet floor.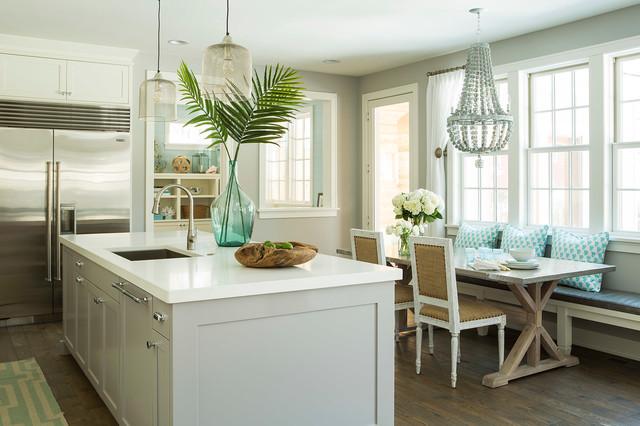 Image 3:
Mixes of stacks with plates or glassware are the perfect and stylish way to bring a beach feeling in the kitchen. You can use the shelves for any items in a form that allows to be used as decorative elements. When we hear about a beach party, we always make association of a beach bar. The bar may be present in the kitchen and take a little space and certainly, if you have a large company of guests, you will see them staying there all the time.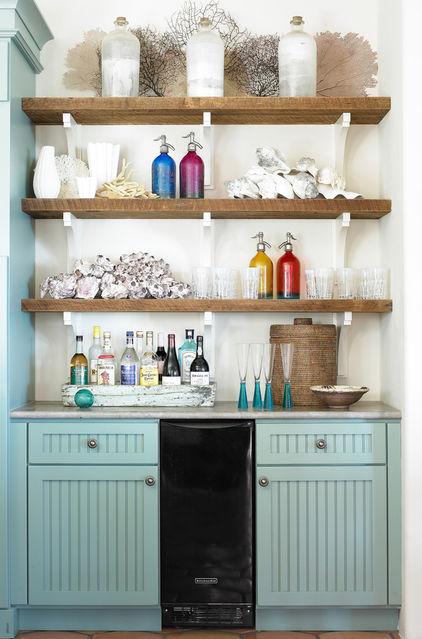 Image 4:
Black board wall combined with colorful decorations can be an attractive mixture for you and your friends. If you are inspired by any idea, you can save it immediately on the wall. There is even a practical use for this board – write a list of products or even cooking recipes.
Image 5:
Music installation in the kitchen will surely improve your cooking. You will find out that you will enjoy more your stay in the area.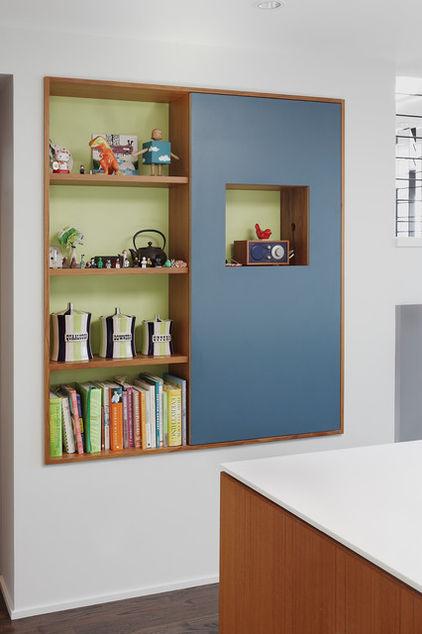 Image 6:
Fresh herbs at hand is what the good cooker needs. The design of this wall stand is every fresh and stylish idea. Very comfortable for you and your herbs.
Image 7:
It would be easier for you to put your favorite cups and saucers in an accessible and visible location. A beautiful set of glasses will always look stylish on the shelf. If you have unexpected guests just grab a few dishes from the shelf and your guests are ready to be served.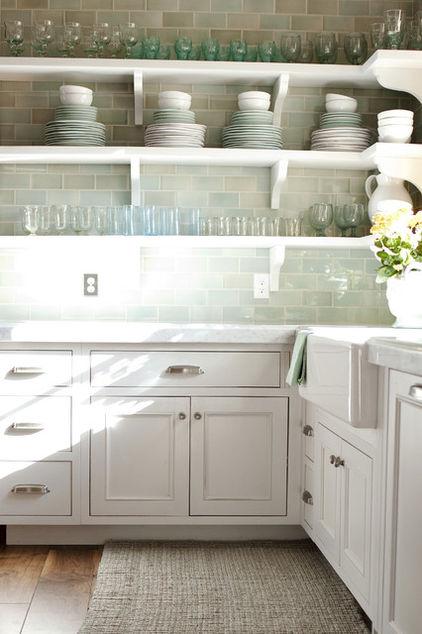 Image 8:
The baking station can take a lot of space in your kitchen. Therefore you can place all of the ingredients and tools in a convenient spot. Simple and stylish solution.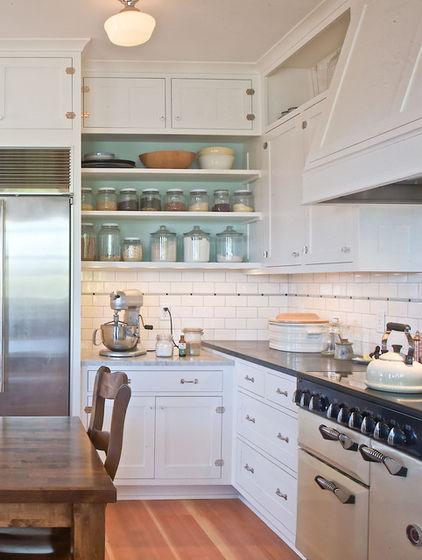 Image 9:
This is one good example for a functional place for your cookbooks. The shelves are convenient for placing other objects of your choice, such as a bottle of wine, for example, or different decorations. It is comfortable and is at your fingertips.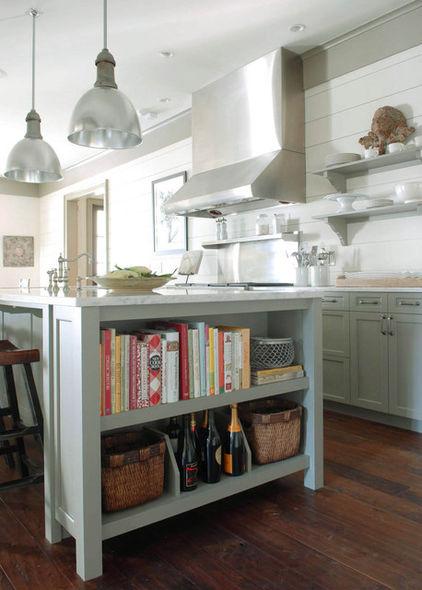 Image 10:
The dark color of the table and the dark blue pillows combined with white walls in the room are perfect for a cool and relaxing lunch. Can you feel the tranquility?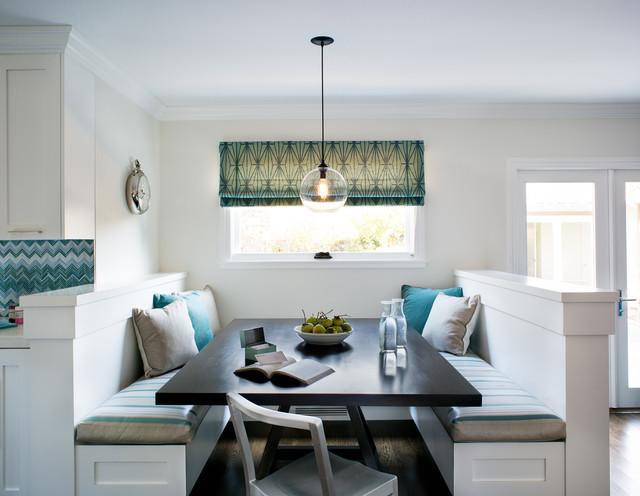 Image 11:
The idea of an interior in brown that has to create a feeling for the beach comes form the color of the sand. Fantastic summer idea is to place classic bistro chairs and wood with white ceramics. The style is based on the idea for creating peaceful and restful places.
Image 12:
The small space where you hold your tools can become a wide summer kitchen. Large windows allow more light to enter the room and thus, it looks more spacious.You can quickly cook something and share it in the garden with your family and friends.