Many people want an outstanding and comfortable minimalist place to spend their time. Well, other types of design are also really desired but today we are going to pay attention to exactly this kind.
If you need to change the way your house looks, you can repaint the wall, as well as you can add some ornaments or just throw some interior decorations. Designing the garden is also one of this activities. And now we are going to talk about minimalist garden design and how it can be achieved in a home.
Garden is one of those essential elements in a home that bring natural beauty. Minimalist garden is a thing that is done with purpose. Its done to bring the natural inside the walls of a property – a house, villa, retreat or simply – a home. No matter that the area may be small, minimalist garden can be done and the best thing is that it doesn't require many hours of maintenance.
So, for those who lack of space and think that minimalist garden is impossible, we would like to share our experience in interior and exterior design.
Of course, the best thing is to consult a landscape expert how can do the job for you and design the garden. But! You need to spend a lot of money for professional service. The good thing is that your minimalist garden will be done in a fraction of a second. For those who are not ready to spend money yet, we have a surprise – follow our valuable tips below and you will be able to create your own modern outdoor paradise.
Make a fence or border
Straight lines – this is in the heart of a minimalist garden design concept. One of the easiest ways to achieve them is to create wall fence or border in the garden. It actually functions as a divider of the separate garden design elements.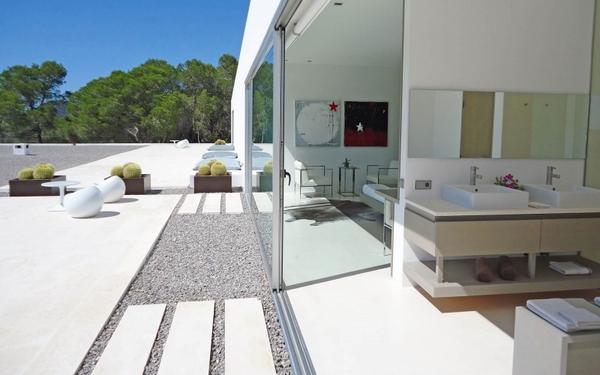 Placing Pavestone
Do you know what is the right choice for a minimalist garden? It's the pavestones! Of course, you need to make sure you are careful enough with the pavestones arrangement and organization.
Pavestones come in some typical colors – gray and it shades, as well as red. The most common type is the gray one. And the other colors are suitable for creating accents.
Water Fountain
A pond fish is a great element. However, if you are limited by space, you can make a water fountain. The water fountain can be done in various shapes using different designs. You can either create one or buy from your local garden store.
Where to place the water fountain? Usually, the best position is in the areas that aren't populated with plants. Actually, if you have free space with no plants – this would be great for a fountain! The water fountains can grab the attention at a glance after getting back from the long working day.
Garden arrangement
Well, you shouldn't follow any rules when it's up to arranging! Just try to combine different types of plants and create a coherent floral blend.
Finally, having a minimalist garden needs careful planning and a dose of creativity. It's all about focusing on details, planning the budget and time and organizing the landscape.
Happy Gardening!