Do you know what is the difference between the two most common terms that we used today to name trendy interior designs and furniture? We are talking about "modern" and "contemporary". Well, "modern" means design or furniture that has been created in a certain period of time – from the early to the mid 20th century. IT was the time after the Industrial revolution when modern trends appear and broke the established tradition shapes."Contemporary" refers to the present time. It means current, what is happening just right in the moment.
However, these two terms seems to be used like synonyms nowadays. People mostly use "modern" when they want to describe trends that oppose the traditional designs. And since every single current flow in design is the opposite of traditional, we can accept that "modern" can be used in terms of "contemporary".
Today we are going to present to you some really fine modern kitchen designs that we think might give you an inspiring ideas to apply in your own home.
Flat-panel door style
Modern kitchen island
In these kind of kitchens you will find the simplicity and elegance of the slab-door style. This is definitely modern style of interior and it deserves its place in our collection.
Frameless, full-overlay cabinet construction
Frameless cabinets have several descriptions and if you ask a professional he will answer you: overlay, full overlay, Euro frameless, etc. All this means that the door of the cabinet overlays the box. This is a typical element in modern kitchens because of its sleekness. Well, actually if we want to be accurate we must note that in a true frameless cabinet you wont be able to spot any face frames at all. In what we call framed overlay, the frame will still be there as well as you will find some space between the cabinets and the doors.
Sleek and simple hardware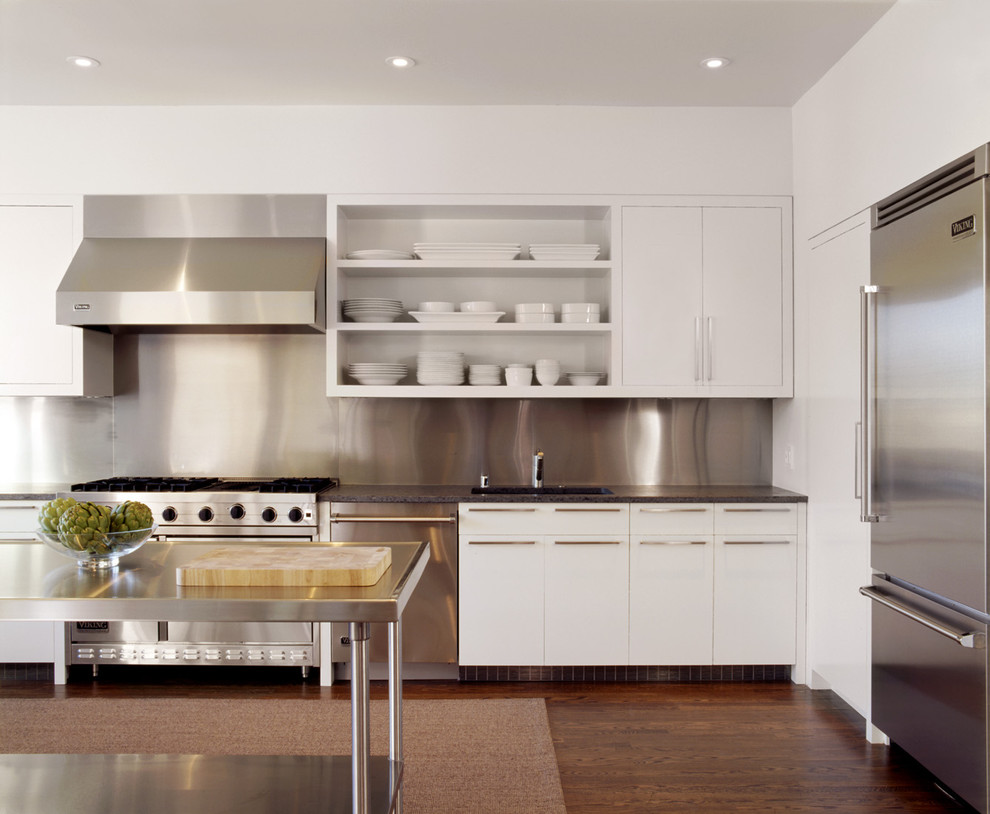 Modern kitchen appliances
The next example is a simple and elegant modern kitchen with integrated hardware into the cabinets. This way the designers achieve clean lines as everything essential in a kitchen remains hidden behind or inside the construction.
Lack of ornamentation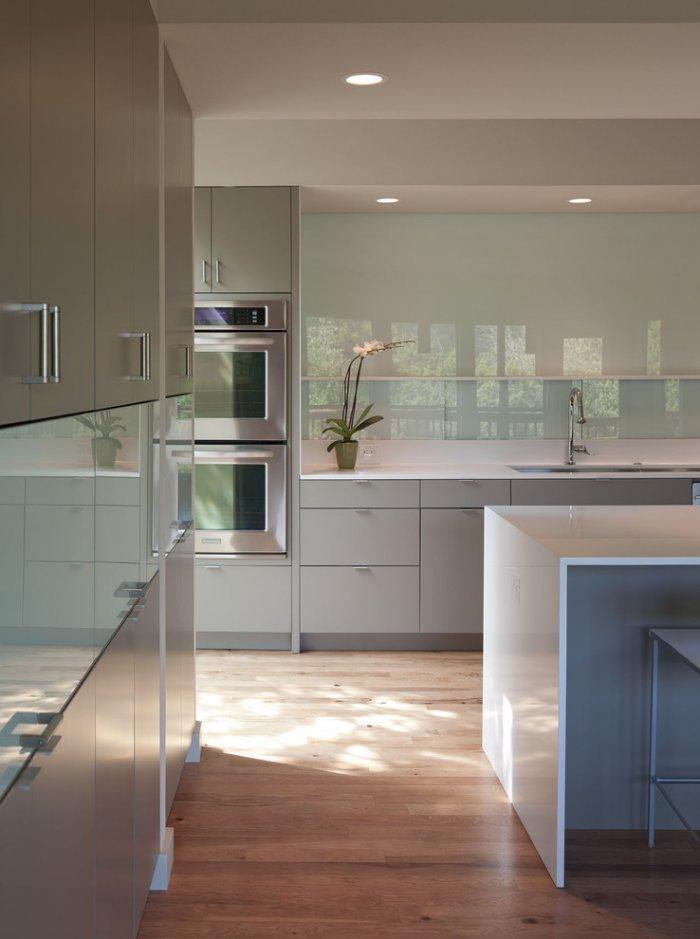 Simple modern interior
While in a typical traditional kitchen you can spot various ornaments, in the modern one you will only see straight lines and elegant cubic shapes. However, in certain examples and variations of modern kitchens you may find some interesting patterned tile shapes or textures full of color but these are really very rare. In the image above you can see how the sleed hardware and door styles are combined by a clean full-height glass backsplash. The countertops remain simple. In this particular example you can see the natural pattern that the marble tops have.
Reliance on the beauty of natural materials.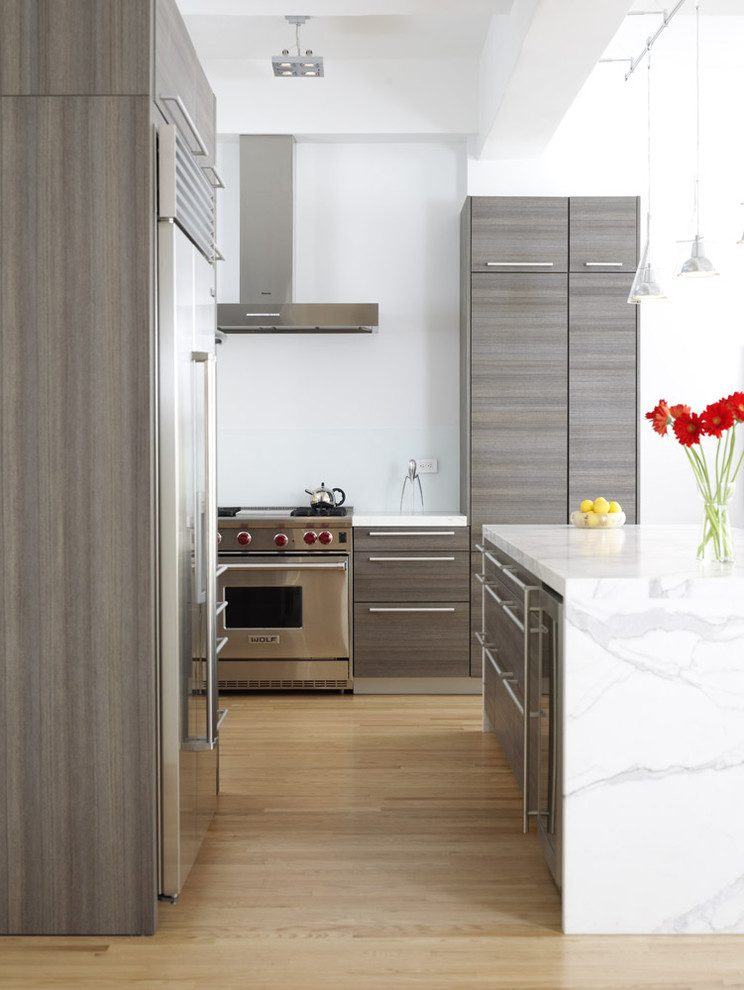 Contemporary kitchen in white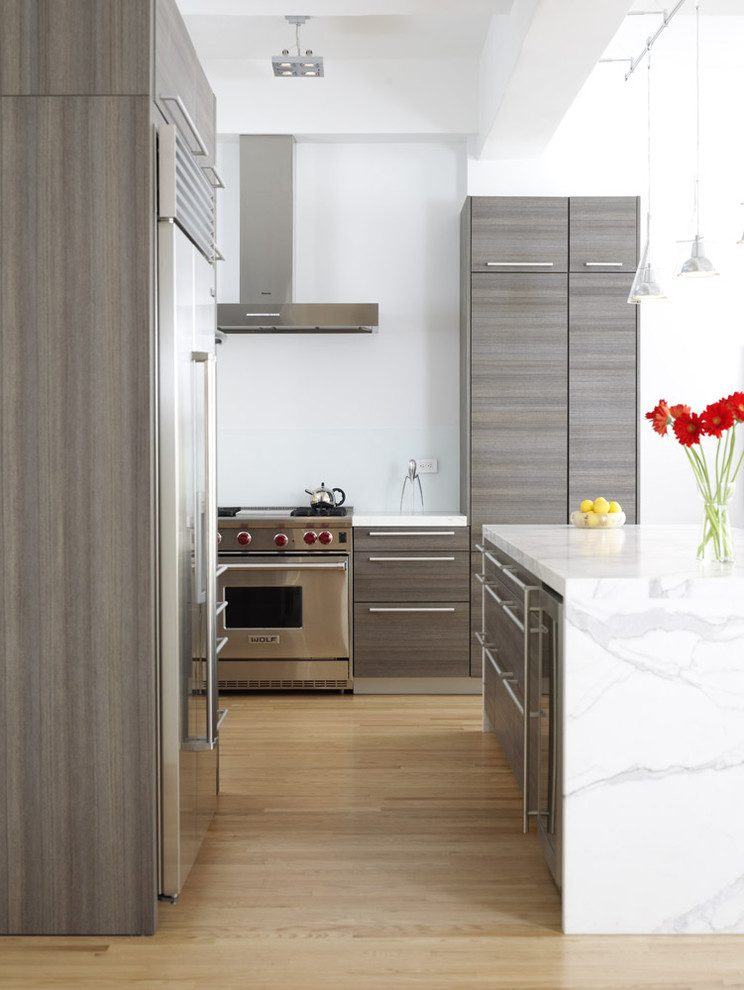 Kitchen in white
As we have displayed in the image before the above one, in modern kitchens there can be some kind of patterns. But they usually come from the natural characteristics of the materials used as surface, decoration, etc. For example, in the image above you will find the horizontal grain of oak that lives in a perfect harmony with marble.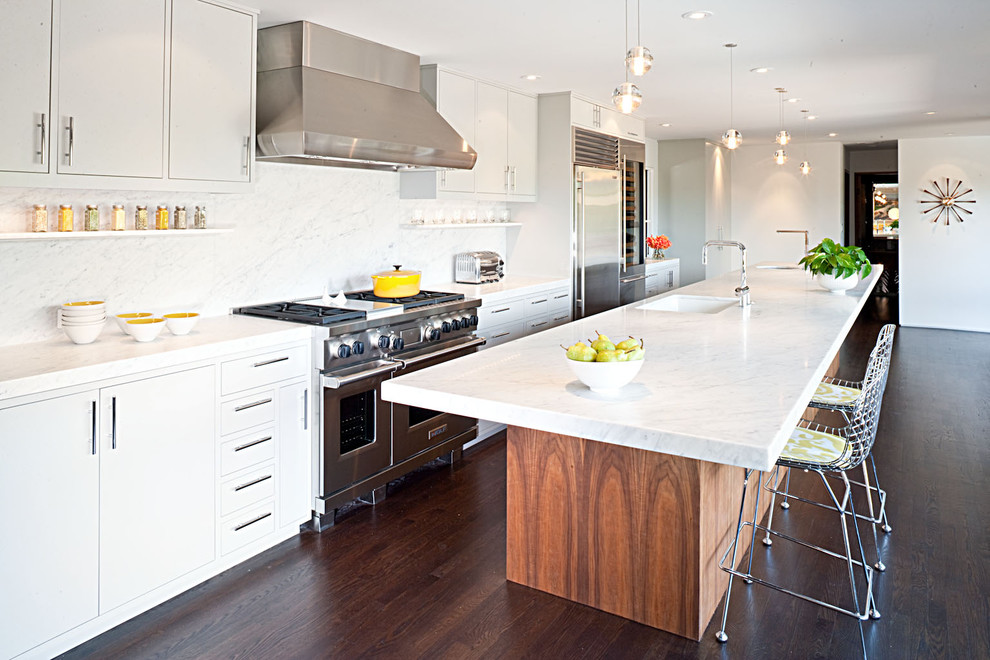 Long kitchen island
Emphasis on horizontal lines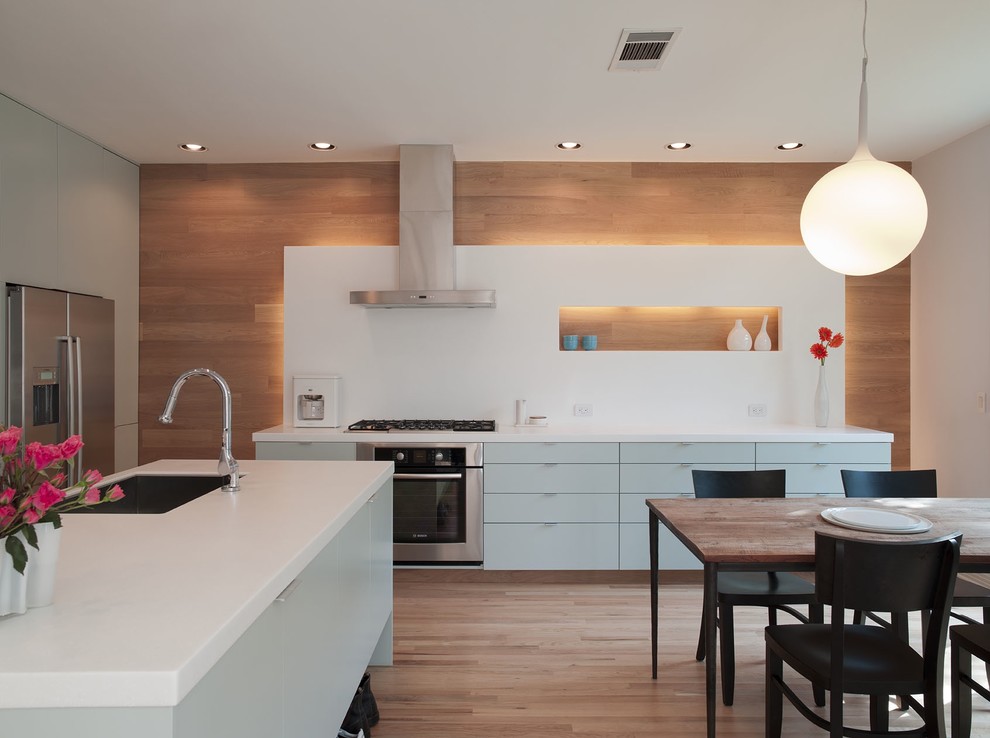 Stylish kitchen design
It is not a hard effort to spot one of the most trendy modern factors in kitchens – the horizontal as well as vertical long and wide lines. Take a look at these lined in a row cabinets. Aren't they looking gorgeous? Additionally, there are some horizontal grooves that set the modern axis of a contemporary kitchen.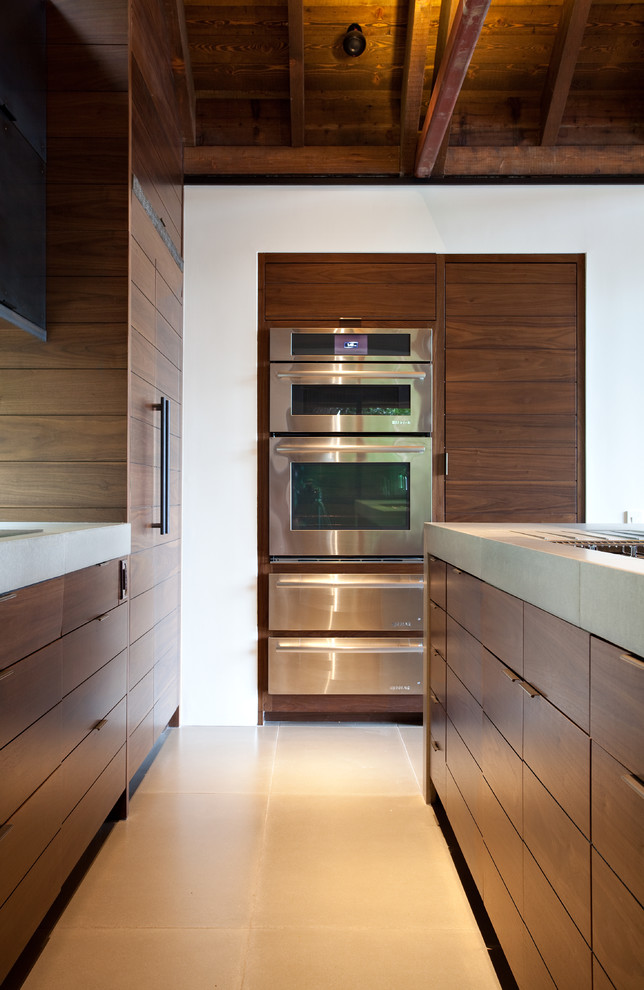 Modern kitchen wood accents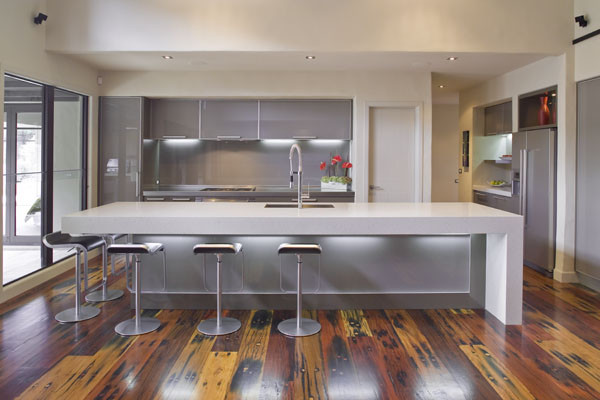 Kitchen with expensive wood floor
As an accent in this particular interior, the kitchen island firmly states the horizontal orientation of the design.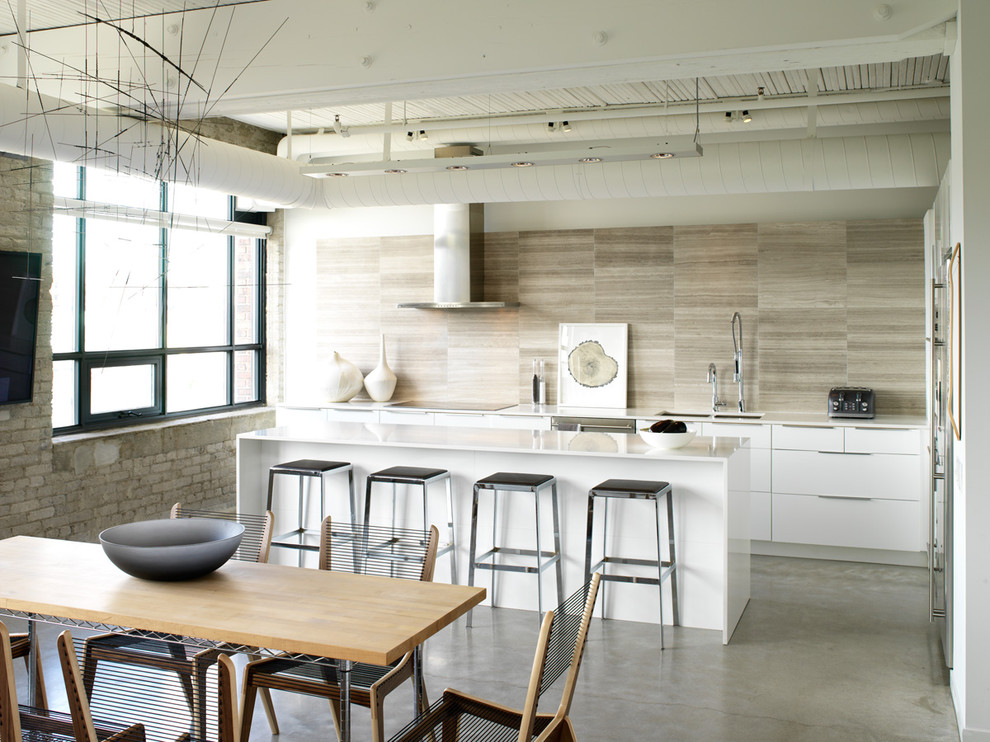 Simple kitchen and wood accents
Another horizontal orientation of the details can be found in our next example where natural grain tiles look like rift-cut wood.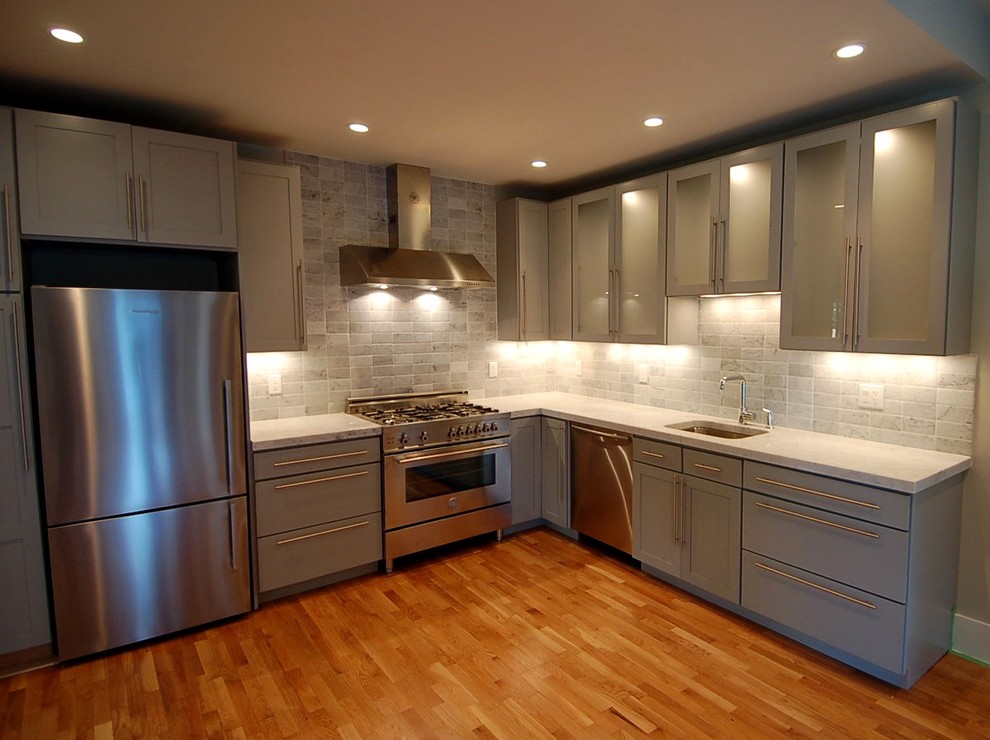 Countertops in a modern kitchen
A modern look can be also achieved by replacing the brick patterns with a marble set in a stacked pattern.
This look pairs perfectly with these modern grey kitchen cabinets.
Consistency in style of accent pieces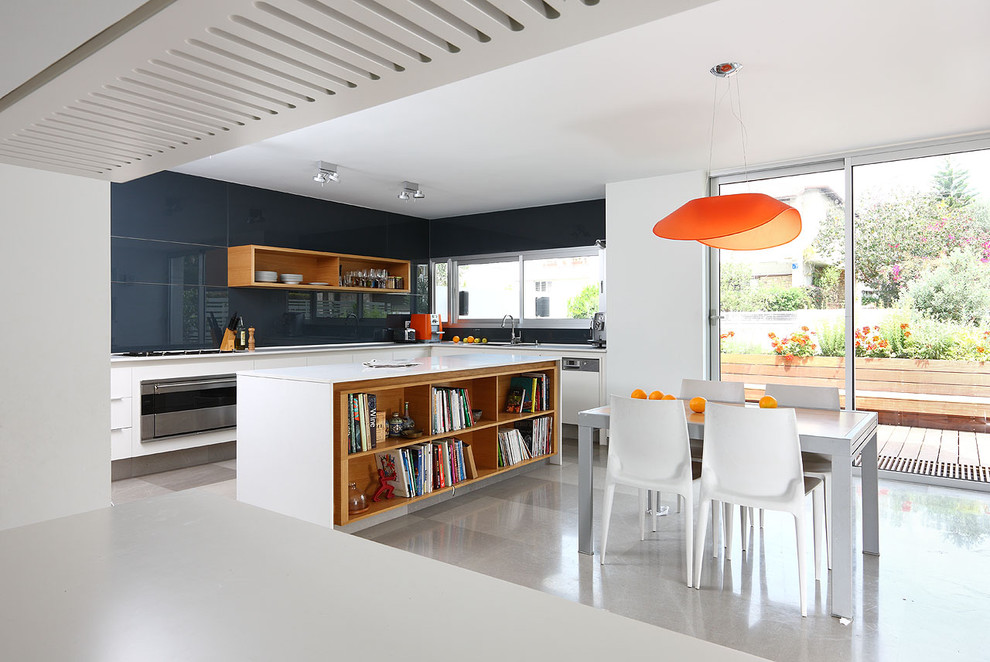 Modern pendants in a contemporary kitchen
If you are planning to make your own modern kitchen you have to know that the contemporary atmosphere in the interior can be created by using various types of lighting fixtures, chairs, tables and bar stools. Just stick to the modern and clean lines when choosing the right elements for your cooking area.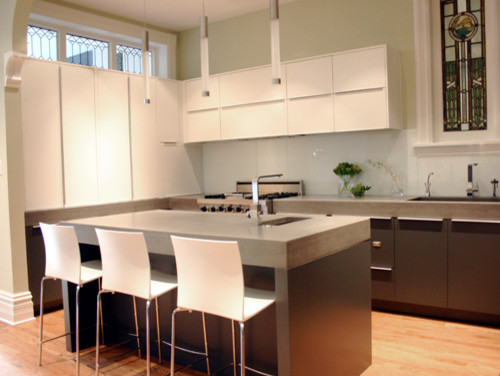 Contemporary kitchen
There is a hint. It really doesn't matter what type your architecture is. For example, in our image above you can find the trendy modern kitchen existing in a Victorian home with glass windows and arches. This a brilliant example that can convince everybody that mixing two types – traditional and modern are not such a bad idea. And because we are talking about modern kitchens here, the other option – the architecture, remains free for your ideas. Actually, such kind of styles are typical for Italy, France and Spain because of the cultural heritage these countries have and the impressive old architecture shapes that are worth saving and using today.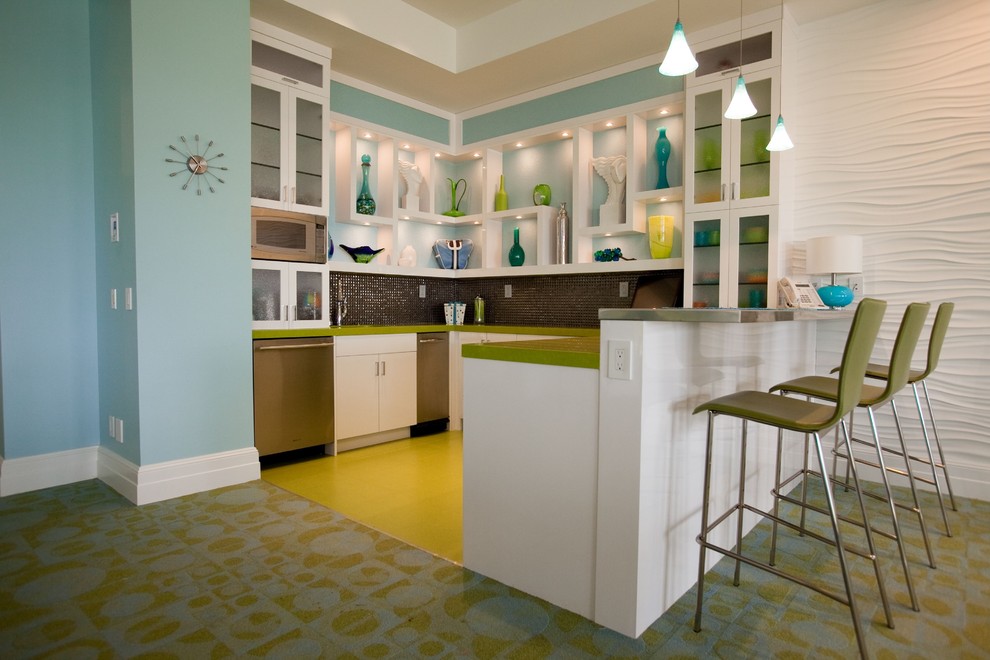 Colorful kitchen
Industrial elements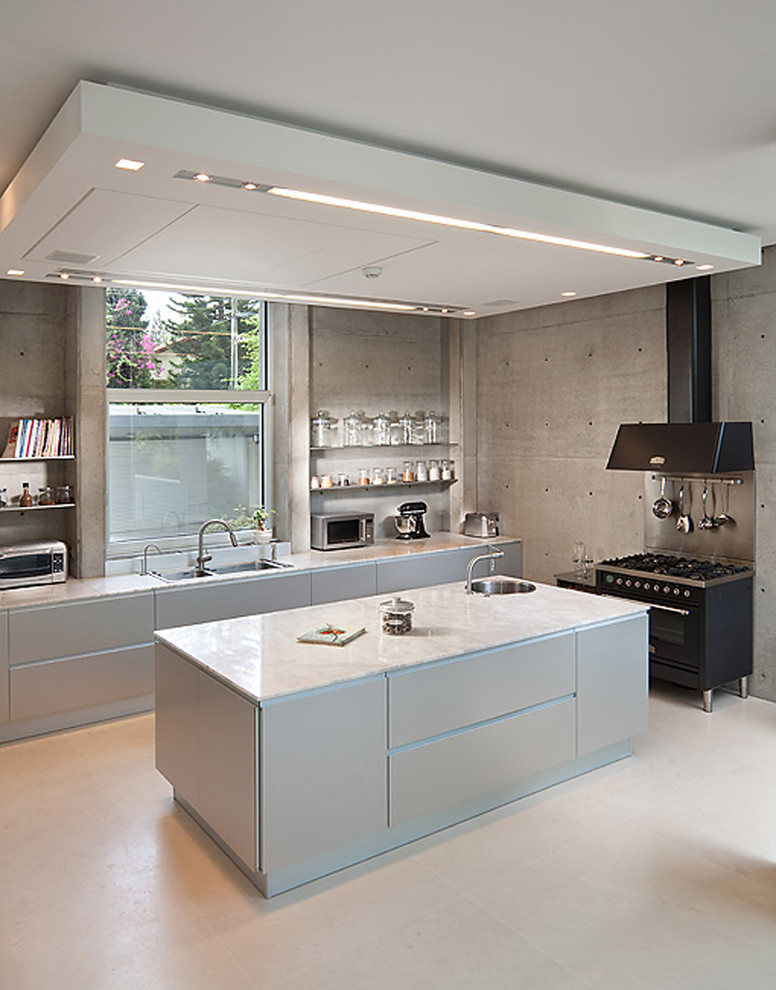 Elegant and stylish white kitchen
Industrial interior design is definitely a modern trend! Well, these kind of kitchens may look a little bit cold and not so cozy, but if you are living a dynamic lifestyle you will definitely be impressed by the raw charm of industrial. Untreated concrete walls, and ultra modern stylish appliances are essential part of this unfinished natural reality.
To continue with, have a look at the video: