Summer, garden, swimming pool – these are the three points of an equilateral triangle, called "wonderful holiday" if we decide to put it in terms of geometry to describe the general concept of leisure time spent in dream space outdoors.
Very often we have received criticism that we represent projects that not everyone can afford to implement, but how can we remain indifferent and to appear as full of selfish if we do not share with you all the ideas that we are immensely impressed of?!
As this project for arranging yard of the Australian studio Rolling Stone Landscapes, which represents virtually a completely functional home that has one main feature – there is no roof!
The concept of outdoor rooms is not new at all, but just from this perspective would be most correct to consider this project, illustrating the flexibility of the yard and creative look at the landscape environment.
The garden, which we represent, practically is quite logical for the living room in the house. This is a living area within the yard.
Here are clearly defined the areas with specific functions: a covered summer kitchen and corner for cooking as an addition to the main structure, outside dining, pool with outdoor solar shower and spectacular "sunken" living room.
Low positioned recreation area is the true hero in this yard.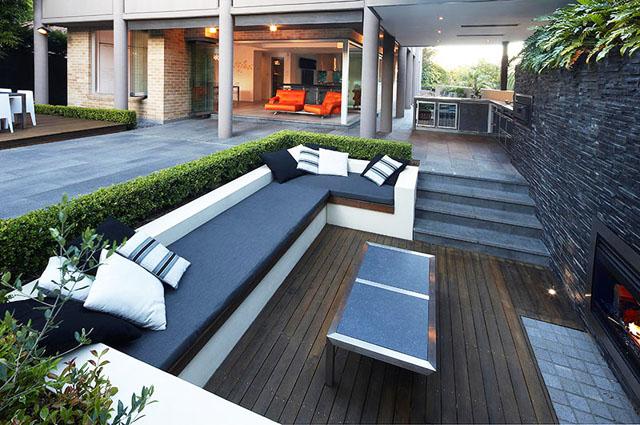 Equipped with built-in in the stonewall fireplace and cooling chamber made of stainless for a drinks, soft furnishings in white and blue-gray trim and a coffee table in the center, this place has absolutely all the functional qualities as its brother inside the house.
Exactly the same applies to the outdoor kitchen, and dining room, stately placed on a wooden platform, is equipped with a large table in the center with an integrated small outdoor fireplace bioethanol.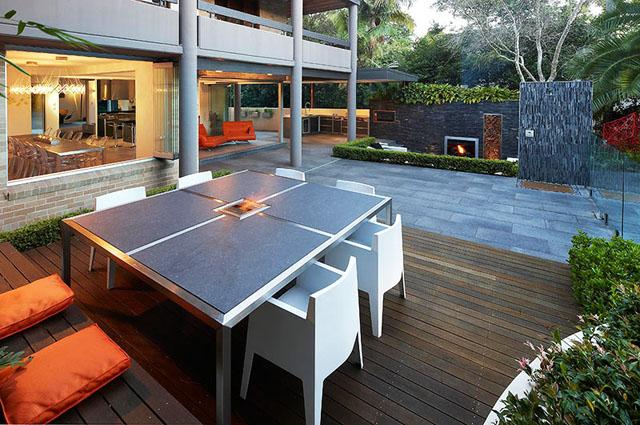 Unlike the relatively symmetrical, functional places, this outdoor living room has a pool with a highly individual design that resembles like spilled freely flow of clear water.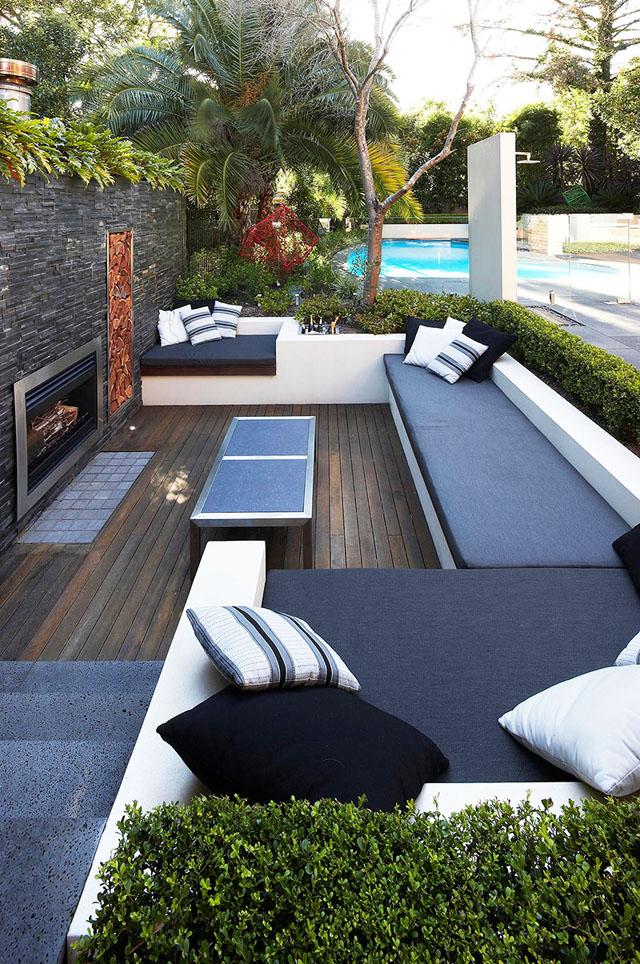 This garden is cleverly divided into zones to define clearly the conditions within the space to be used for various activities.
Summer kitchen and dining area ensure that this house is extremely well equipped for pleasant moments and functional use of its every corner in all seasons, regardless of the vagaries of the weather!