Finally when the summer comes, an inspiration and garden ideas also appear. Have a look at this gorgeous summer contemporary outdoor garden ideas for furniture and decoration. Each of them is modern, stylish and charming. Using this ideas you can fully transform your garden appearance.
The Torus
If you are a lover of the stainless steel this peace of art is great for your garden. The sculpture is made by David Harper and is able to reflect every plant and tree in your garden which is a very attractive effect, indeed.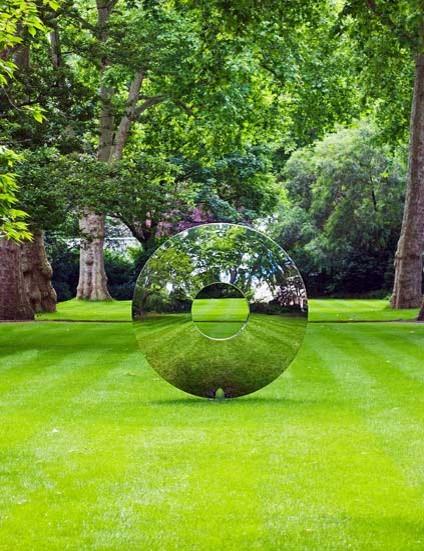 Farmer's Cottage Rotating Sphere Seater
This sphere is made for gathering with friends in a place where you can enjoy the outside garden areas, being in a closed one at the same time.
Kanpazar Garden Light
Inspired by pine trees this lamps will change the night in your garden. You can put them as a pathway in different spots of the garden.
Barlow Tyrie Dune Day Bed
The summer atmosphere is complete when you have this comfortable outdoor garden furniture. The shape is perfect for stretching and having a relaxation. There is a place where you can put your drinks next to you.
Garden Rattan Love Sofa Natural
This garden sofa is is just lovely. You can place it next to the pool where you can enjoy refreshing cool drinks.
Metal Trellis
This modular metal trellis has a honeycomb design that is perfect for climbing plants. If you position them as you wish you will achieve a great effect of decorating the wall in the garden.
Apollo Pergola
If you prefer staying on the grass and love to enjoy the scenery around you, this pergola is right for you. You can wrap its columns with crawling plants and thus you will be able to create an amazing natural atmosphere.
The Apple Daybed Pod
Let's show you this amazing way to relax under the sunlight. The Apple Daybed Pod will protect you well from the annoying sunrays. If you place it in your garden everyone will love to lie down in it. Actually, this is our favourite type of outdoor garden furniture.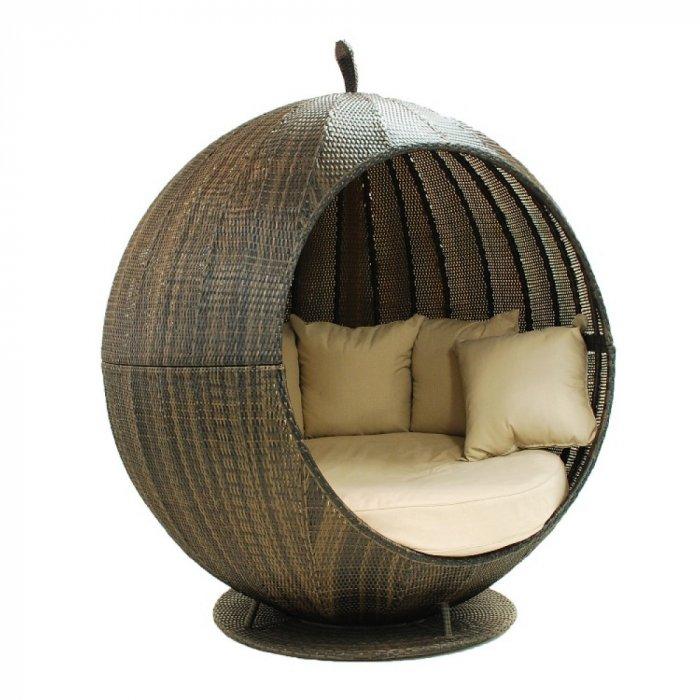 Stainless Steel Sheet Fountain Water Feature
A sheet of stainless steel is a great decision for adding some stylish and contemporary appearance for your garden. There are several low-voltage lights on it and it looks like a water feature.
Strange Fruit from James Lethbridge Glass
This amazing peace of art is made of glass and it can make your garden a brighter place by reflecting the sunrays. It looks very much alike a bunch of flowers. It's wavy shape is a little bit eccentric and is not the perfect solution for conservative people.
Contemporary Garden Torch
Everybody pays attention how their garden looks at night. One thing is really important when it is up to creating a suitable atmosphere – the lighting. This contemporary garden torch is great for the times of night gatherings and long summer nights.
Three Tiered Chalice Water Feature
Its shape can deceive you that it revolves but it is actually staying fixed. It is a nice choice to decorate your garden in a contemporary way.
Oceans Outdoor Atlantic Daybed
This stylish tent is a really non-traditional decision, but when everything is prepared with a taste of perfection it looks at its right place. You can lie down with your beloved one and spend hours of fun next to the swimming pool in the garden
Succulent Steel, Modular Agave
Another interesting shape that can be remodelled the way you like it. This contemporary garden decoration can surprise you with its flexibility.Each leaf is a separate part and that's why it can be adjusted according to your personal taste.
Cube Garden Coffee Table
Everyone enjoys to drink his coffee outside in the garden. This modern garden coffee table is designed for your leisure time as well as your working days mornings.
Leisuregrow Torino Curved Bench Furniture Set
This garden furniture set is a great reason to invite more friends to your garden party. All the pieces that fit together into a perfect comfortable circle will surprise your guest.
Contemporary Steel Phantom Firepit
This firepit has an unique style. Its contemporary appearance is a perfect add-on for your outdoor areas. You can move it away a little form the house, because when you set a fire, all the smoke may enter your home and leave unpleasant smell.