Patio And Outdoor Furniture
Lebello's Pure Vertical table is an elegant, modern, functional and stylish outdoor furniture that can be used as an accent in the garden design. It has aluminum frame that looks really solid.
This gorgeous white rocking chair is a way to spend nice time in the garden as well as to decorate it with taste. The company that sells it is Wicker Patio Furniture and More.
It is hard to imagine that a chair that has not arms can be comfortable. Until we try this one. You can also find a massage pillow on it which is another great feature.
Fine designer lines with elegant, stylish and contemporary touch. This is Eric Green's fantastic creation. This one is perfect for relaxing.
When the summer comes you have to spend so much time outdoors, near the pool. Take one of this gorgeous lounges and you will find your summer paradise.
For comfort while dining, select this lightweight Saddle Swivel Dining Rocker. Made from resin wicker with an aluminum frame, this comes in sets of two. Aluminum frame and resin wicker are the main materials used for the next comfortable dinner rocking chair. Its name is Saddle Swivel Dining Rocker and it is a must have patio furniture.
Visit FermobUSA and buy their beautiful blue outdoor table and chair. You will love them!
When you have to put some soft sitting furniture in your garden, have in mind the following Wood-Slat Sectional. Its not only comfortable, but also water proof and that makes it perfect for outdoors.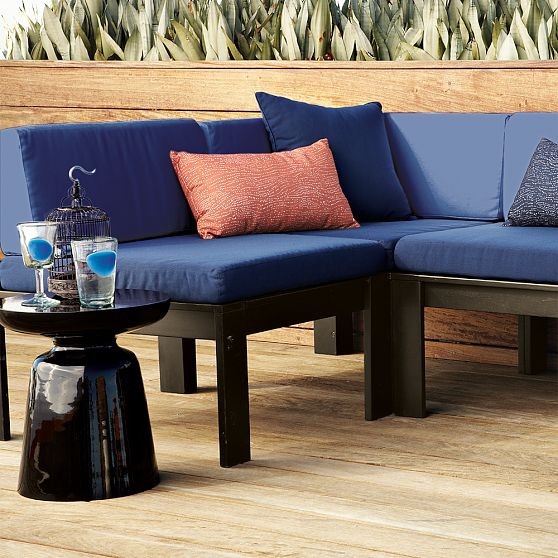 Have you ever seen Icpali high back chair? It carries the Mediterranean spirit in it and is a perfect match for a coffee table, for example.
Take this beautiful couch and will relax for yours on it. It is so comfortable that once you sit, you will feel in your own paradise. It is part of the Vinings Collection and its specific name is Crescent Loveseat. Hand-made iron elements as well as water proof materials were used for the creation of this piece of furniture which can be the best match for your outdoor arrangement.