We all know that the Los Angeles is a city full of contrasts, free spirits, and youthfulness. The designer of this project is Maxime Jacquet from Belgium. The main idea behind this astounding interior was that he want to capture the spirit of this high-spirited city. What we definitely know about this designer is that he always consists in fusing high fashion in every project. And here he not make a difference, what we see: celebrity portraits, fashion icons, textures, artwork, shapes, forms… the final result is a merged with color living area. We cannot deny that the décor is magnificent, cool and extravagant but to not forget this coolest view that this apartment has. We can see the downtown of L.A. because the flat is on 19th floor.
Colorful decorations create a joyful atmosphere
The designer is always very selective and every element has its meaning in the interior. When we came for the first time in that flat we will probably say "What a beautiful mess?" but every element is very carefully chosen to inspire this overwhelming setting. The most interesting is that the designer use very unexpected design details as neon signs, animal skin rugs, vintage furniture and Hello Kitty plushies, but although that we can feel the positive vibe from the interior.
Eclectic bathroom with powder area
The flat doesn't create any feeling of home so we think that it is more appropriate for parties. The place is perfect for social events or celebrations. This will be the best place to pick up the phone, high the volume and let the party start!!!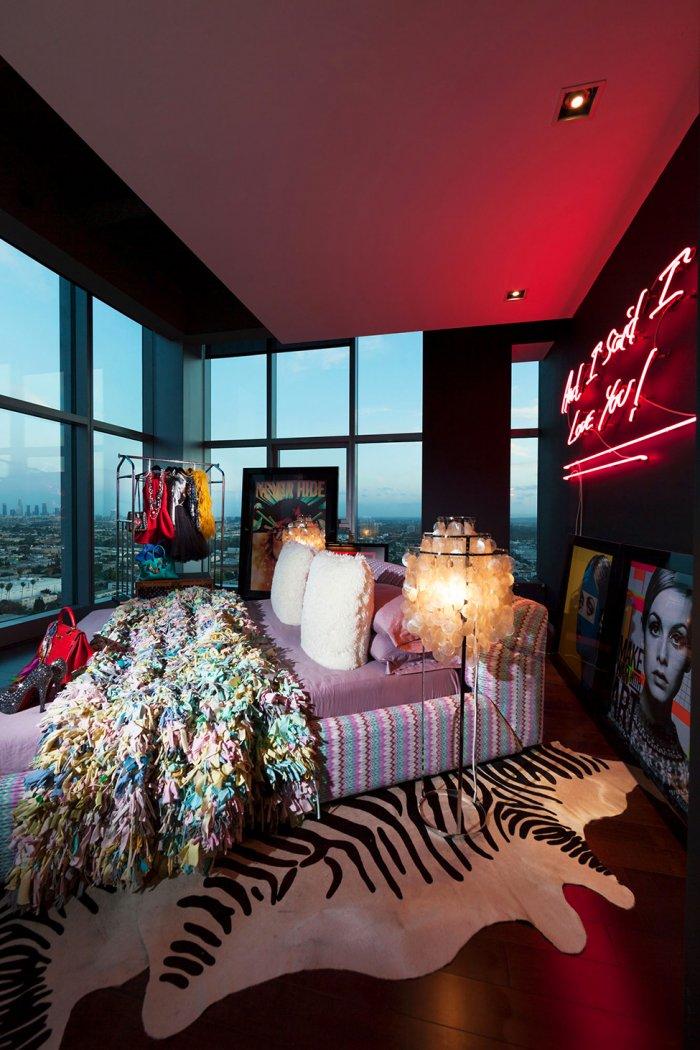 Eclectic bedroom and luxurious bed
Small details with colorful accents
Eclectic wall art
Eclectic room with high ceilings
Eclectic room with colorful accents
Eclectic room decorated on small tables
Eclectic play room and unique furniture
Eclectic master bedroom and abstract decorations
Eclectic living room and beautiful views
Eclectic living room a lot of space
Eclectic decorations in white
Eclectic corner decorated
Eclectic bedroom and amazing views