Our project today came from the heart of Vancouver's Gastown district and is called the Abbott Street Renovation. The design is by Splyce Design Company. As they need to work around existing restrictions, this stylish modern renovation became one of the top creative design solutions. The main goal for the designers was to make additional living space to the young married couple. The project combines two apartments to create one fresh and cozy larger home, thanks to the creative floor plan and elevated tile floors.
Modern apartment and its living room
The house is separated in two wings – while in the first we found the entry, an additional bedroom, living area and terrace, in the other we found the luxurious suite. The larger part of the interior is in white, but a contrast is achieved thanks to the wooden canopy ceiling and the newly installed tile floors. The connection between the kitchen and the dining area and the two flanks, is the creative sitting in the middle. In the dining area we have a comfy white décor which combined with gorgeous Series 7 Chairs in Mid-Century Modern Charm, adds appeal of the space.
Modern apartment and kitchen design
What a surprise we found in the master bedroom, we became very astonished by the posh elegance and the en-suite bathroom, which actually can stay completely open to the bed. But if you want a complete privacy, it also can be achieved by the three sliding white panels, which allow a quickly shift. We have also another connection between the deck and the living room. We can no doubly can tell that the designers have followed the main goal strictly and every inch is used at the maximum.    
Modern apartment with white furniture
The living room and the terrace
Modern kitchen design and elegant lines in white and brown
Modern entry hall with wooden accents
Modern bedroom with elegant lines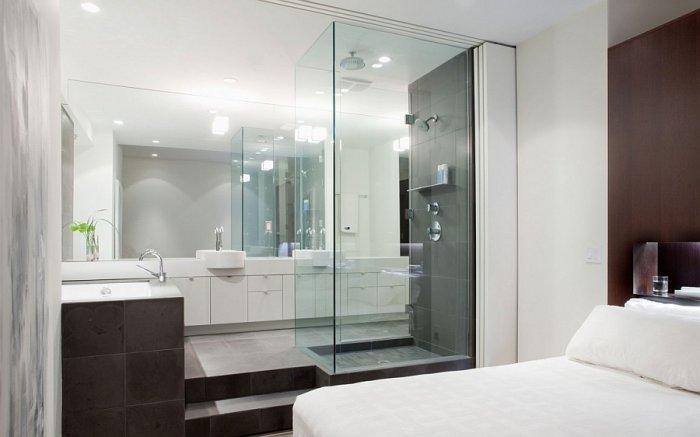 Modern bedroom in white
Modern bathroom with white sliding doors