A landscape remodel doesn't necessarily mean you have to rip everything up and start all over. Greg from DL Hickman and Son in California says there are times when you as a homeowner or landscape architect will want to keep certain elements of the existing yard in tact and that it contributes to a timeworn aesthetic, a sense of familiarity and a sustainable landscape that celebrates the natural heritage of the home. Careful planning and collaboration with skilled professionals are necessary to achieve this, but the end result can be well worth it.
source

Patios
Vintage patios and other outdoor living spaces built from valuable materials may be worth keeping around in some form or another. Before deciding on replacing an existing patio, take a moment to think how it can be repurposed. Can the paving material be re-used for a different feature? Perhaps reintegrated into the landscape as a water feature or walkway?
What about the structure? If the structure is sound, it may be used as a base for an extension. Perhaps the patio can be restored with some fine work and some touch ups. If so, rather than replacing the entire patio, a deck extension can be constructed to complement vintage materials with the rich grain and warm coloring of wood.

Old Trees
Old trees are priceless features that add both monetary and aesthetic value to a landscape. Rather tearing down a one hundred-year-old oak, why not integrate it into the new design? Consider introducing walkways that flow beneath or around the tree. Or why not honor the tree with a patio that utilizes it as a centerpiece? Decking can also be built in a way that allows the tree to grow up through the platform. Wooden decking is a good option for this, as minor adjustments can be made to the floor structure over time as the tree grows. Whichever option is settled on, the roots of the tree should be taken into account. Solid structures may prevent enough water from reaching the roots, so care should be take to have the structure engineered for the unique situation. Decking support beams may also interfere with the root system, so will need to be sunk far enough away from the tree to allow plenty of room.
If the tree does have to come down because of old age or disease, why not repurpose the logs or lumber as landscape features or furniture to give the tree a second life?
Natural Rock
Natural rock found on site is often native to the area, so can be re-used in the landscape to tie the design into its surroundings. Natural rock can be incorporated into rock or boulder arrangements, waterfall features, or simply be used as filler in plant beds.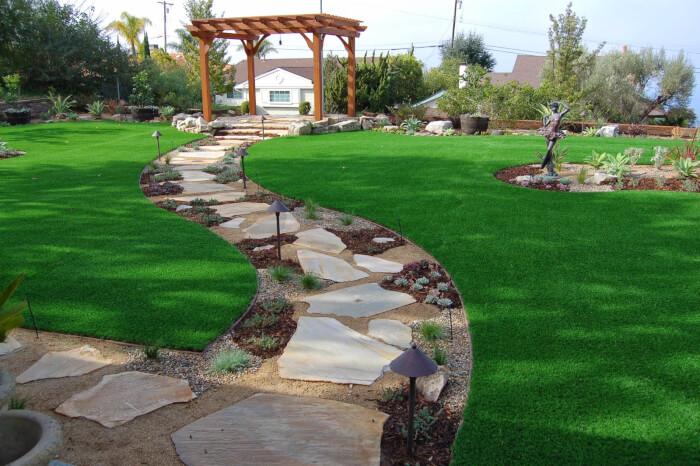 Vintage Elements
Other vintage elements worth repurposing include antique fountains, valuable tiles, vintage equipment and natural stone features. It may be possible to restore these to their original function or reintegrate them into a new design as centerpieces or decorative items. Vintage elements can offer a unique character and inject a sense of history into a landscape or patio design.
source