In the far 1999 there was an event that has changed my life. Visiting a Shabby Chic store SoHo, NY and sinking into the most comfortable sofa in the world was a turning point in my life. I was so deeply and sincerely impressed by Shabby Chic interior style, so I really felt in love with it. Rachel Ashwell is one of the pioneers in this trend and I was watching every single TV show in my extremely soft sheets and followed all her advices.
Then I realized that I have gradually changed everything in my interior – from the furniture to the small details. The accessories have been pared down, the peeling paint was welcomed. I have several benches that by that time have been spray painted. Semigloss black for the wicker chairs and the Shabby Chic style conquered more and more from my house's area. The pastel nuances of the walls have been replaced by bolder hues and the transformation was completed.
The original Shabby Chic interior design style is a mixture of cozy flower-bedecked English cottage style and touch of modern Californian coastal lifestyle approach. There were no rules for Ashwell in building this feminine style, so she started using Zen elements into her aesthetic as well as warm natural woods and earth materials, like stone.
Now, Shabby Chic has turned into a very modern stylish interior design style that made a breakthrough in the design world. Do you wonder how this look can be adapt to contemporary homes? Have a look at the image collection bellow and you will find the answers to your questions.
French farmhouse Shabby Chic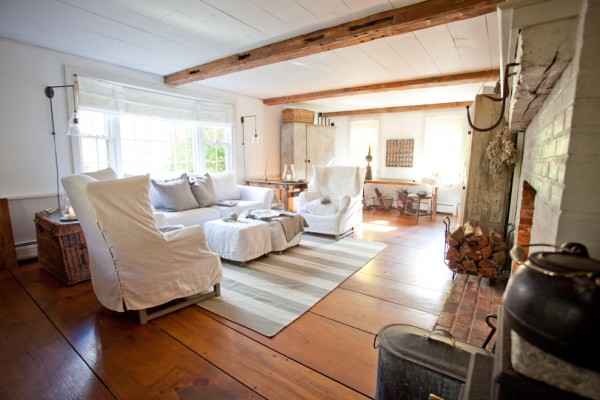 In this visual example you can clearly see what looks most like the original Shabby Chic interior design style. The room is not very spacious but it's not overwhelmed with details, so that the weathered pieces and the crystal chandelier can stand out. Play a special attention to the weathered-door headboard – isn't it a lovely idea?
Modern rustic Shabby Chic
The next image has even more to show. The slipcovers have been left in the interior as decorative accents and they are ruffle free. In the central areas of the room, you can find a crisp rug with thick stripes that functions not only as a grounding element, but it also adds some coziness inside the place. This modern rustic look has a lot of common with farmhouse style from above. Have a look at the wide pine panels on the floor and the ceiling. Barn beams are one of the essential elements in farmhouses but you see how successfully they have been incorporated into a rustic home.
Contemporary Shabby Chic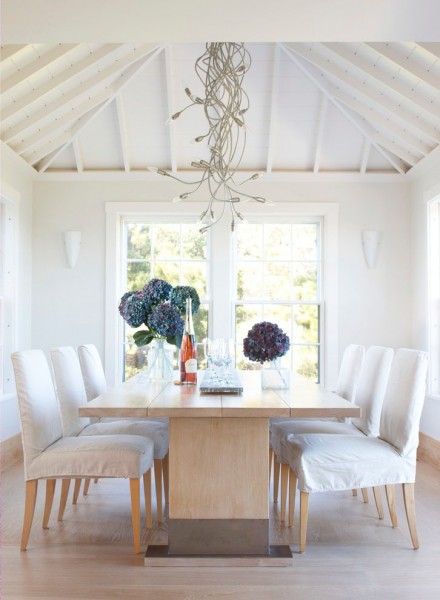 We bet that after seeing this beautiful dining table setting you will fall in love with Shabby Chic! Slipcovered chairs complete the perfect dinner atmosphere, while whitewashed ceiling and walls create a beautiful, calm background where one can enjoy his meal. A contemporary touch has been added by using an industrial chandelier that hangs above the table. To complete his picturesque atmosphere, the designers have added Hydrangea blossoms that transform the entire place into a romantic dream, the trademark of Shabby Chic interior design style.
Industrial Shabby Chic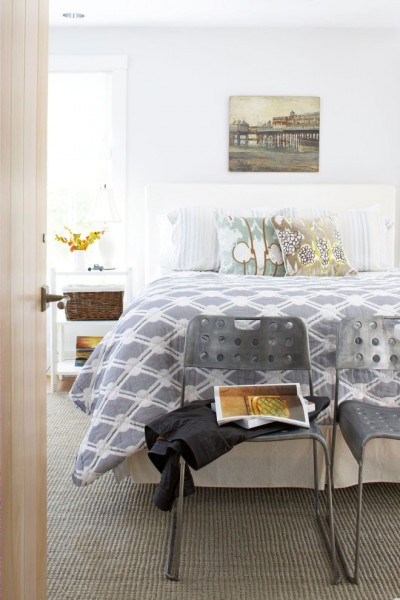 This specific example shows how crisp new finishes has been successfully combined with well-worn antiques. Gorgeous, isn't it?
Channel Parisian apartment style in Shabby Chic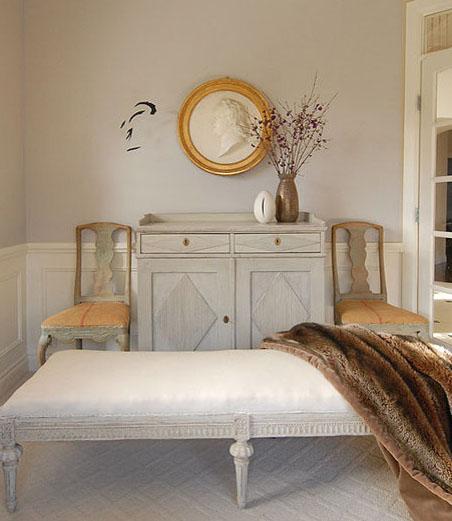 Traditional furnishing has never been looking so great together with antique patinas in a Shabby Chic interior with great splashes of ivory and gray. Brown and gold accents complete the feminine atmosphere.
Belgian style Shabby Chic
Usually, the sofas and armchairs that can be found in Shabby Chic interiors are overstuffed, with rolled arms. In the image above you will find that the lines are more slender and gentle. Furthermore, the traditional use of cotton denim has been replaced by linen and burlap.
Warm neutral Shabby Chic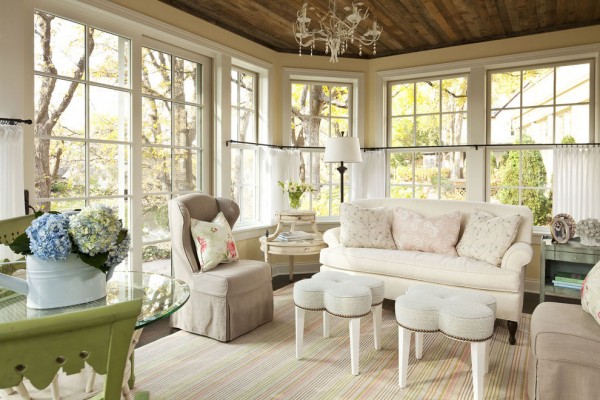 What you can typically see in a Shabby Chic interior – white walls, can be also found in here. With the little difference that the pale white nuances have been toned down with creamy ivories hues. Wood ceiling and stylish footstools do the rest of the job.
"Patina" style Shabby Chic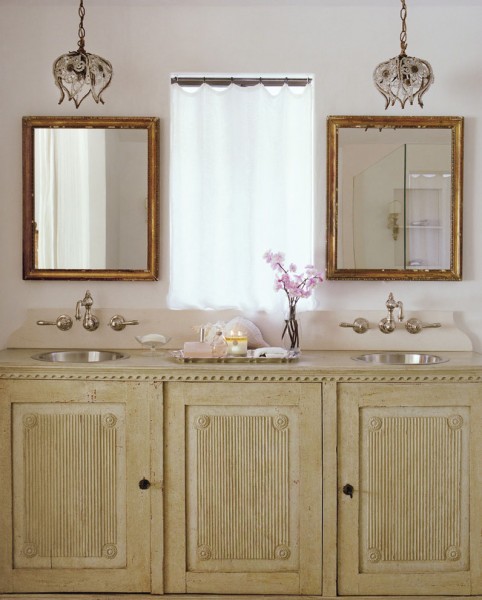 Brooke Gianetti is the interior decorator that introduced this term in the world of interiors. She and her husband Steve Gianetti are famous for their love of weathering furniture with aged finishes. For example, have a look at the the bathroom sinks made from stainless steel. Aren't they simply adorable with their shabby chic look?
Colorful palette for Shabby Chic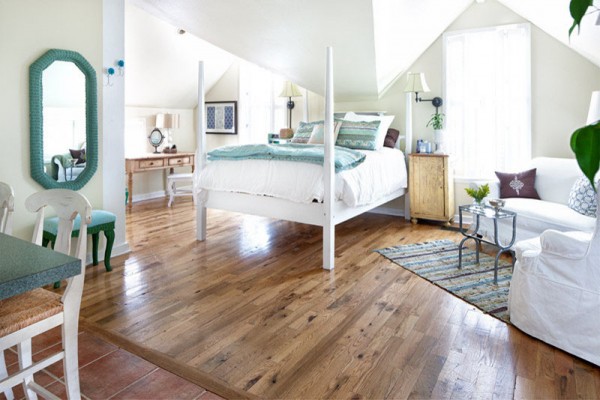 One of the best practices in Shabby Chic interiors is to focus on one bold accent color in order to create a visual contrast with the rest of the white space. For example, turquoise is the one that fascinates in this Texas farmhouse's interior.
Coastal modern Shabby Chic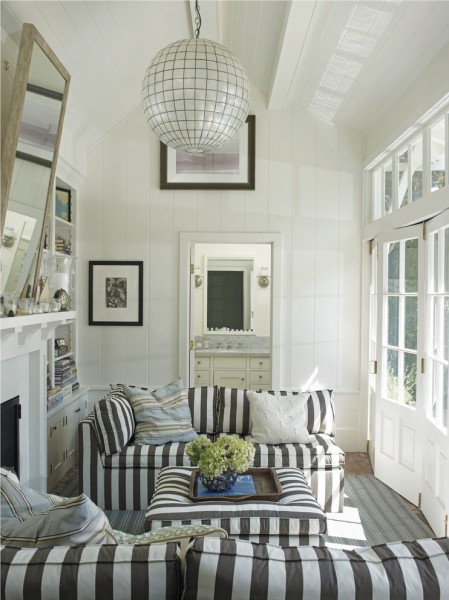 Pale nuances of pink and green give the living areas some positive energy. They balance the neutral looking rooms and create coziness and attractiveness. Take this deep sofa, for example. It has cushy upholstery that is transformed in its typical appearance by the thick colorful stripes.
Crisp black and white Shabby Chic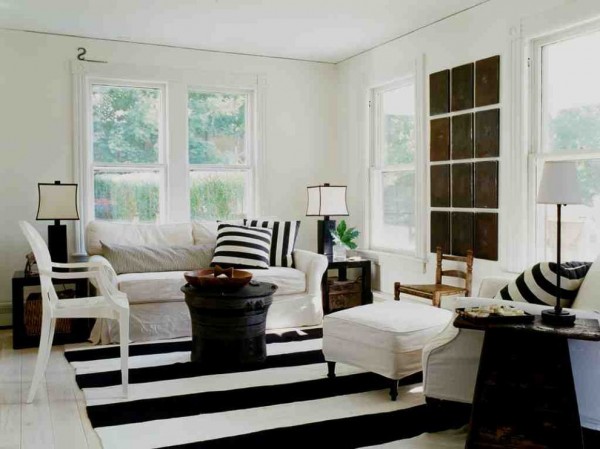 Do you love contrast feelings and vibrant oppositions? Black and white is a classic combination that reflect controversial emotions and elegance at the same time. In the image above you will see a sophisticated interior where a black and white rug has been used instead of the traditional floral one.
Shabby Chic with found objects from nature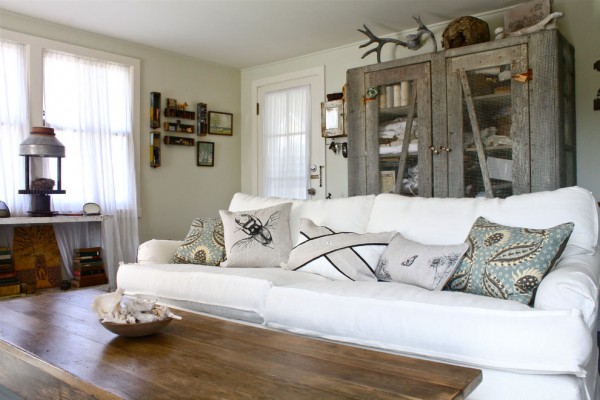 Items like seashells or bird's nests do a fantastic decorative job when placed a the right place in the interior. Furthermore, they can turn out to be the wonderful reason for reminding your sweet lovely memories from the past times, when you have collected them.
Shabby Chic with earthy tones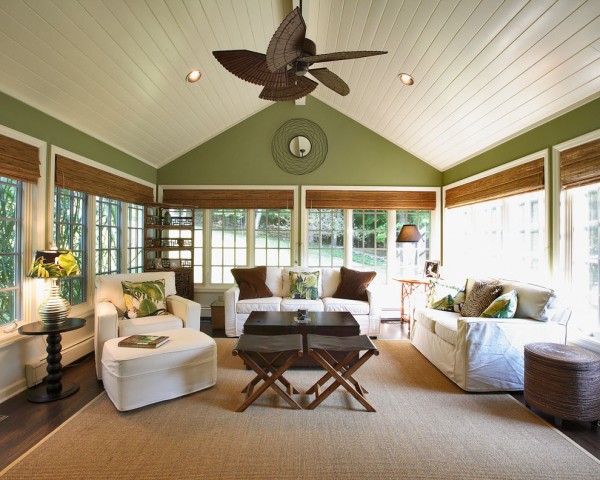 Do you know the best earthy tones for Shabby Chic interior style? These are browns, greens and tans and they are responsible for the lovely sweet looking interiors that most women love.