Girls love shabby chic interior design but sometimes it doesn't look so chic than it is shabby. Well, those who think that days of this interior design has ended, we would like to take you to imaginary trip to Belgium. One of the essentials in Belgium interior design is the coziness and softness that can be found in a local interior. Worn finishes are inevitable addition for this style. Another remarkable feature is the perfect balance between light items and items with heft. One can find a wide variety of raw and polished finishes as well as darker in color hues and tones. You will be surprise how well antique and new pieces live together in a same functional area
Belgium Shabby Chic interior design also presents the use of Belgium linen draperies as well as accessories. The material itself can incorporate items with patina. For example, usually you will find some dashes of chipped paint or some rust. As for the colorful palette, we should outline that this particular example reveals a professional application of neutral and warm tones in brown and grey.
Belgian style is a simple, elegant and sophisticated in any terms. It is also very comfortable and one can immediately find his proper place.But now, let's dive into the depths of design and see the amazing collection of Shabby Chic images that is ready to open your eyes and hopefully, to inspire you!
Bring in the texture
Usually, Shabby chic interior stick to only one colorful palette in differen nuances but it is a great desicion to include some colorful accents in your home. These could be stylish antique accessories, rugs, pillows and other items that are goind to perfectly blend with the rest of your home's interior.
Belgian linen fabric for slipcovers, drapes, pillows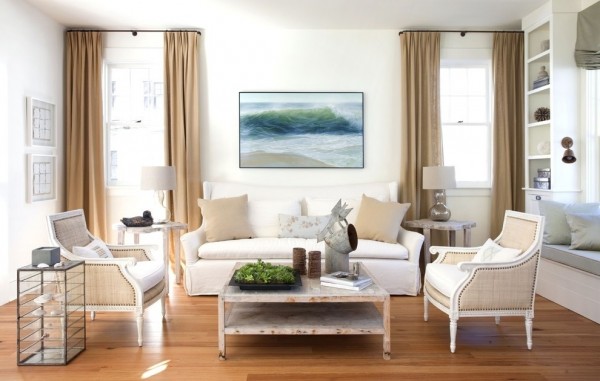 As we have already written, linen has a great application in Belgian style interiors. Linen can be found in all shapes and sized, but typically it exists in white, taupe, soft brown and gray.
Do you think that slipcovers are suitable for a Belgium interiors? Of course, they are! The professional designer of the place also incorporated bergere chairs and some remarkable rustic industrial times. In one of the images below you will find an outstanding seascape that adds an airy feeling inside the place.
Mix in fresh patterns
It is not usual that you will find suzani and ikat patterns in a Flemish interior design style. Of course, in the interior everything is possible so have in mind to keep experimenting whit colors and patterns.
Mind the textiles
For those who are not very familiar with Belgium interior design style and want to learn something, we recommend that you bet on white.
Another great way to decorate your Shabby Chic apartment our house is to incorporate vintage textiles. Take these window treatments, for example. Actually, wherever you can add a splash of vintage brilliance, go ahead! The French sacks used for the windows can be also applied to decorative pillows, for example, with the same great effect.
Neutral base and accessories

There is something very common between Belgian Shabby Chic and the traditional American Cottage Rustic – the exposed barn beams. Of course, here they are all painted in white , as well as the rafters. If you want to construct the foundation of your new Belgian-looking home, pay special attention to wood floors and a lot of white paint. In this visual example you can enjoy the little details that contribute to the overall appearance of the place – linen pendant shades and an antique pitcher on the counter.
Embrace taupe
In this image the kitchen is not pretending to be in Belgium – it is really there. A slight pale green color complete the stylish kitchen interior design and creates an outstanding look.
Slipcovers in the living room

One of the fantastic applications of slipcovers is to place them on the dining chairs. They somehow create a more formal atmosphere but the rest of the natural, clean interior design balances the appearance.
Mix old and new

One of our favorite advices – to blend old and new items. Have a look at the image and you will find the opposition that is created by the modern ductwork and stainless steel elements and the chairs that seems to be renovated. An opposition, in fact, that is responsible for the perfect balance and harmony between all the pieces that live together.
Silver polish – Big No, NO
.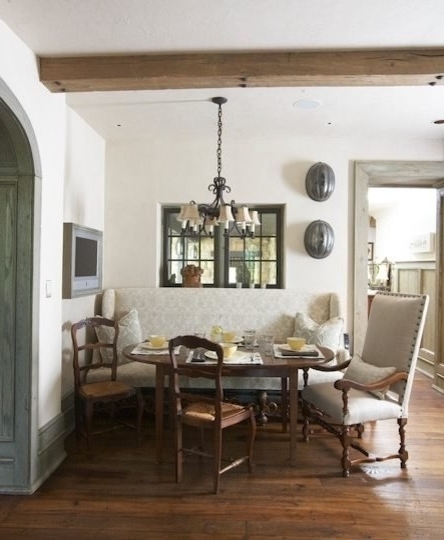 Instead of taking out the silver polish from your grand mother, use matte finishes and other quality materials
Keep floral arrangements simple

Don't you know that simplicity is the key to success? Keep the colors simple, the accessories a few and simple, and the arrangement of the table – simply amazing.
Take the inspiration outside

Belgium Shabby Chic is not only about interiors. It's about overall impression. An impression that can be achieved by the entire visual perception of the place – interior and architecture. So, for best results, you should think of finding the most suitable property for you.