Black and White Holiday Decor
Black and white is not the typical Christmas interior. However, the classic combination between these two evergreens can change the interior of an entire place with its stylish presence.
Black and White Accents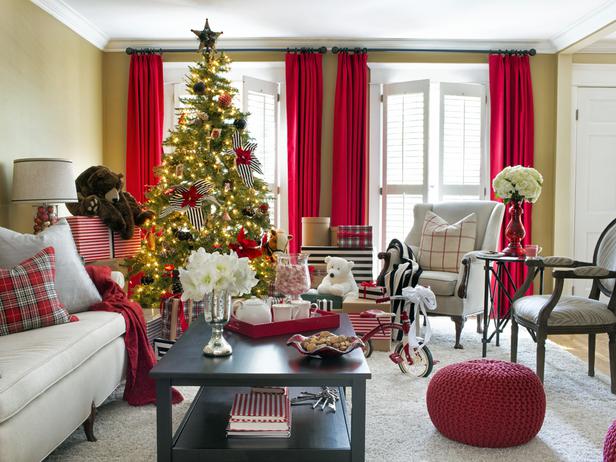 In our following article we will introduce you to Britany Simon and designer Brian Patrick Flynn who collaborated together in order to create an unique and interesting touch in an Atlanta home. The place followed traditional patterns in its Christmas decoration interior until it was changed in something more modern, consisting of graphic elements.
Black and White Stripes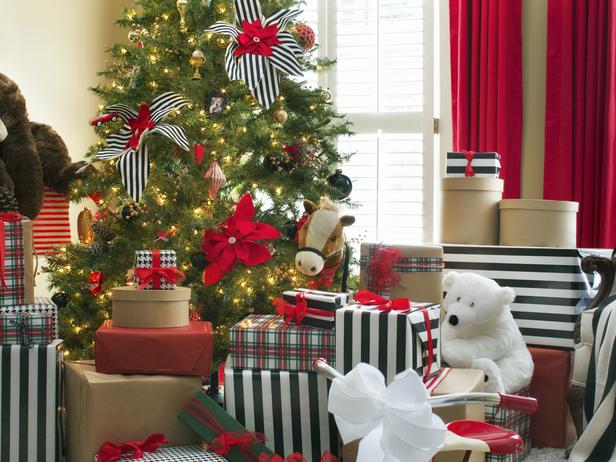 Black and white have always be the colors of perfection and the tasteful choices. They add a strong and confident manner in every room. In the visual example, you will find them in a combination between fabric poinsettias and wrapping paper prints.
Wrapped Books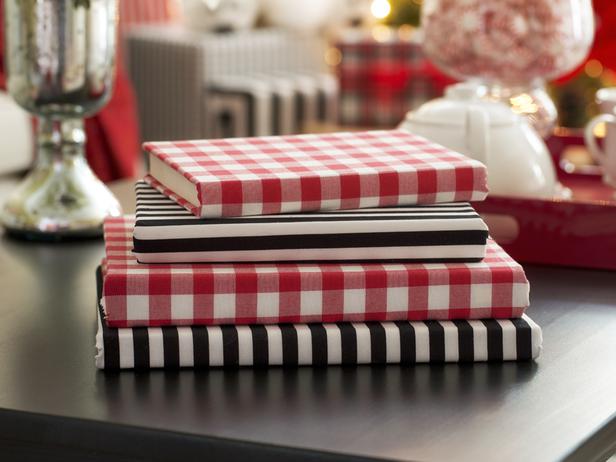 If you want a designer to make your decorations be prepared for the most interesting and creative ideas that may seem crazy at first glance.For example, let's have a look at these books which have been covered in colorful coordinating fabrics.Each book has been covered with stripes and gingham in a way that truly corresponds Christmas in an elegant way. Another great application of such kind of decorative books is that they can stand as a home decor even after the holiday finishes.
Festive Sofa Accessories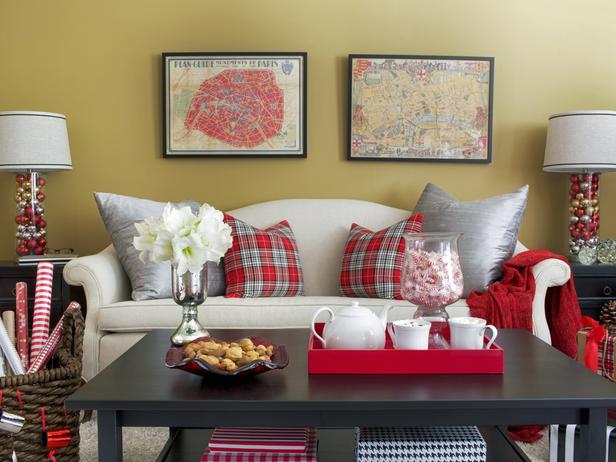 Living rooms are a perfect place to settle the holiday decor. Usually, there is a sofa with pillows that can be substituted with Christmas themed ones. The table can also be arranged according to the Christmas tradition.
Holiday Sofa Pillows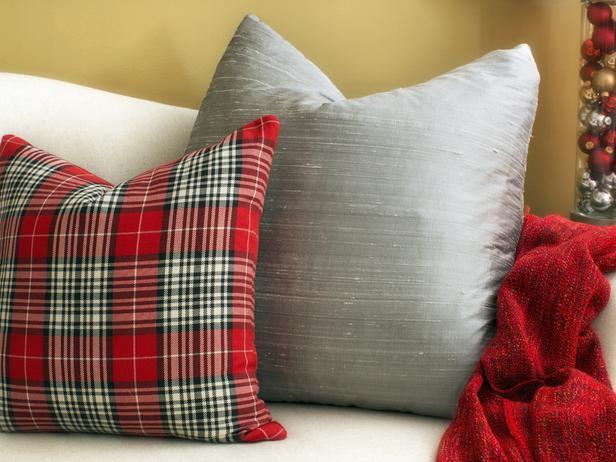 As we have already said, pillows are amazing in their ability to add a holiday flair in the room. A great idea is to combine giant metallic silk pillows and smaller in size ones that have been made in red, white and black patterns.
Ornament Lamps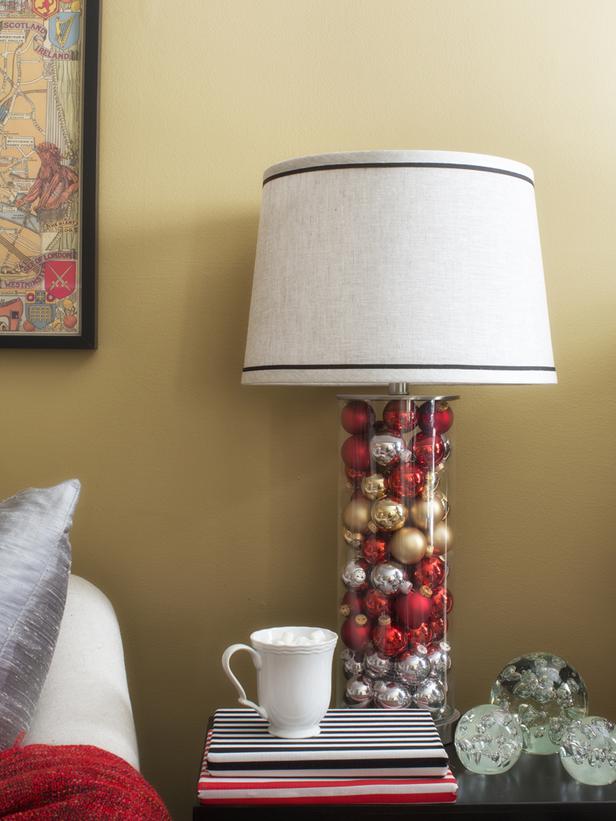 Fillable glass lamps are able to provide every home with the opportunity to change the entire look of a certain place depending on the season, mood, etc. When we are talking about bringing in white, black, red and metallic accents in your home, we should outline this fabulous lamp body filled with sweets.
Main Color Scheme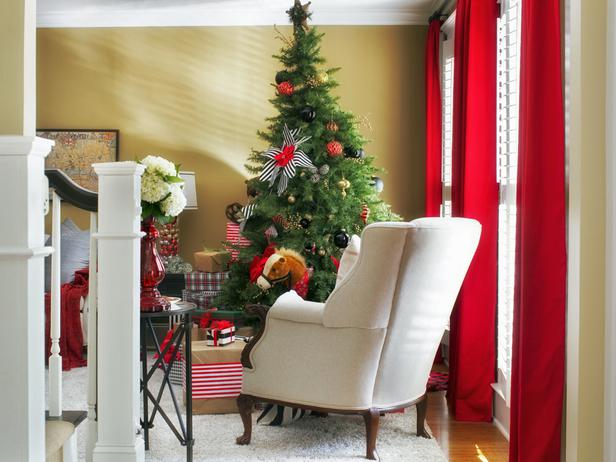 Black and white has the ability to become either a main color scheme or have a secondary identity, depending on the visual angel. Entering the house, the homeowners and their guests are welcomed by the strong presence of red and green. The traditional lines are broken up by black and white splashes. On the other hand, when one goes into the main living spaces, like the living room, he will immediately note that black and white prevail. This gradient change in the colorful composition is a fantastic professional way to play with colors and follow one strict main color scheme.
Contrasting Ornaments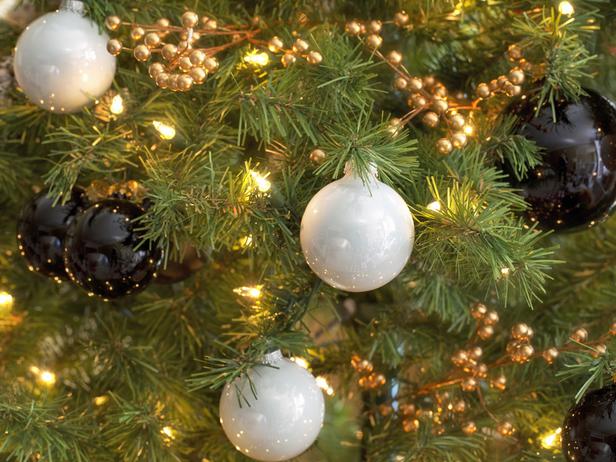 Placing the Christmas tree decorations you should know one very simple rule, if using black and white of course. Black usually blends in, while white ornaments always stand out. The key to success is to form clusters of ornaments where one or two black components always accompany a white one.
Striped Poinsettias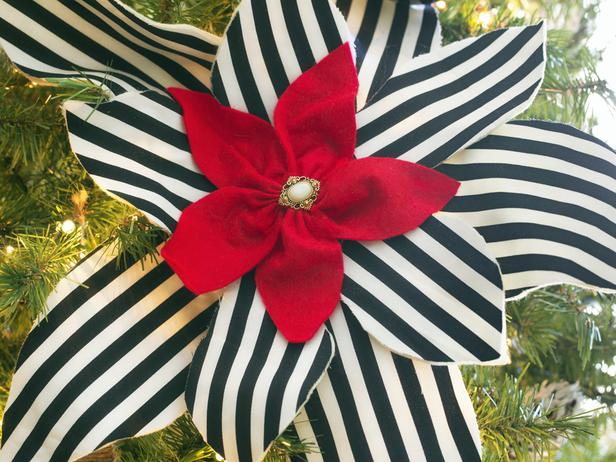 For the next tip, you will need to do the ornaments by yourself. You need a fabric of your choice, scissors, a needle, thread, some glue and a button. Having such kind of Christmas poinsettia is a great finish to your black and white colorful experience at Christmas Eve.
Patterned Skirt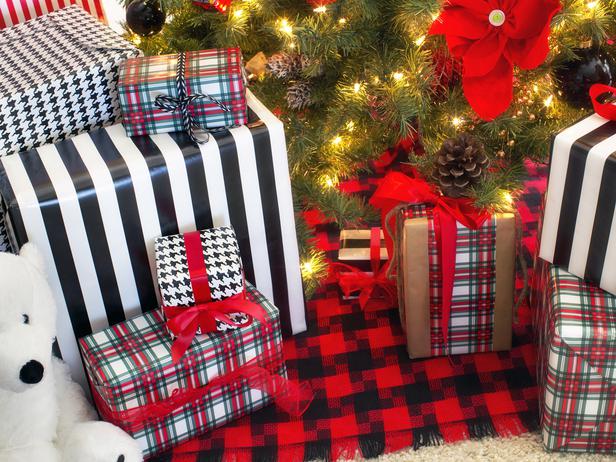 Tree skirts are another great way to make your personal experiment in having black and white decor. It is obvious that until the Holy Night, the tree skirt will remain without any presents and gifts, thus exposing the skirt at a clear view. When Christmas Eve comes and Santa Claus puts the gifts at the tree, you will hardly see it. An interesting approach to play with colors is to use black in a mix with another typical accent color, like red for example. Then, when putting presents in white colors you will have your visual contrast of black and white. Clever, isn't it?
Cozy Throw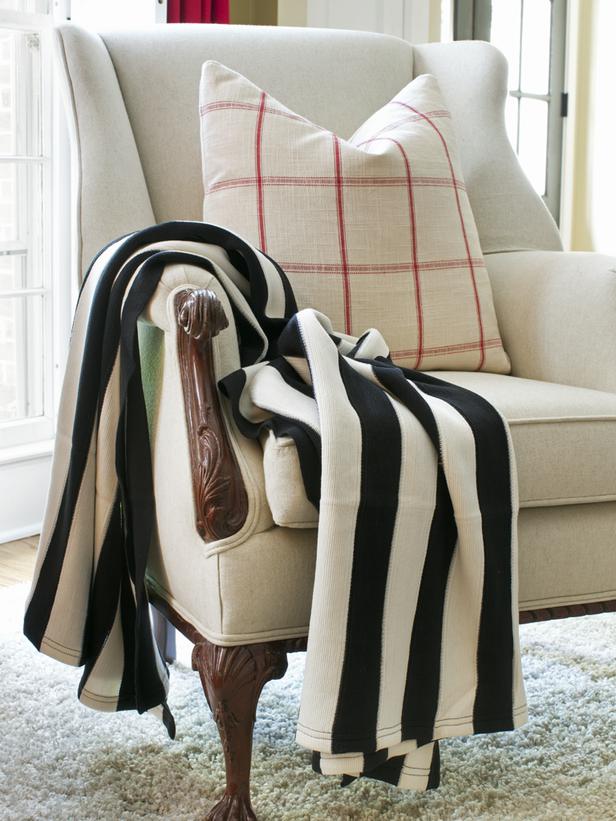 In case you want to throw an easy splash of coziness into your home using black and white colorful accents, you can simply place a black and white throw blanket on a stylish armchair. Thus, you will have your holiday accents without redecorating the entire interior.
Santa Stationery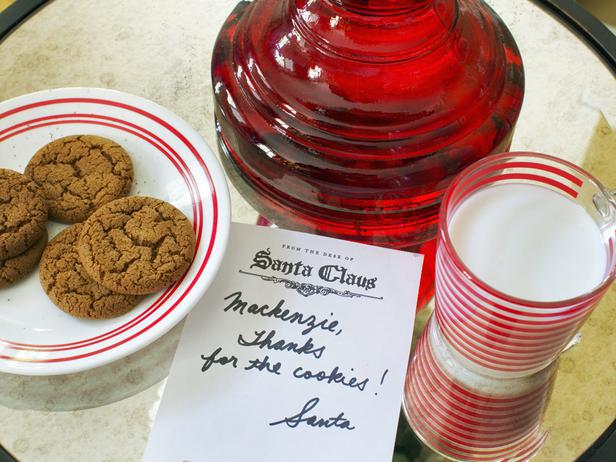 Another simple black and white ideas shows us how easily we can have a creative decorative item. Google an interesting Santa Claus letter, print it and leave it near your children's dinner table place. The kids will be so joyful!
Fireside Decor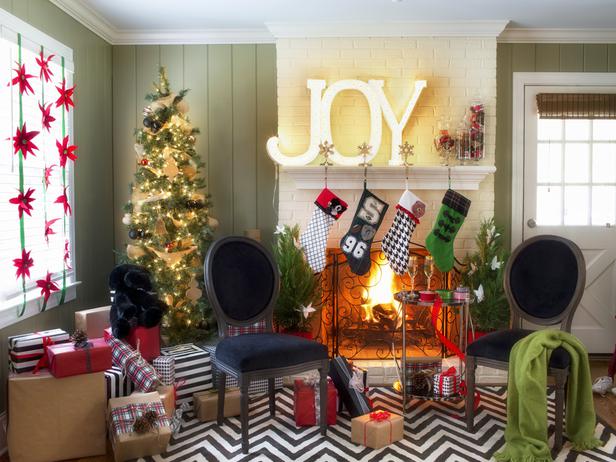 Our next image reveals the uniqueness of this pleasant home corner in front of the fireplace. As you can see black and white motifs are the leading colorful elements in this beautiful composition. A graphic rug, handmade stockings and a naturally decorated tree are the main suspects that create the unique black and white experience.
Plaid Tree Skirt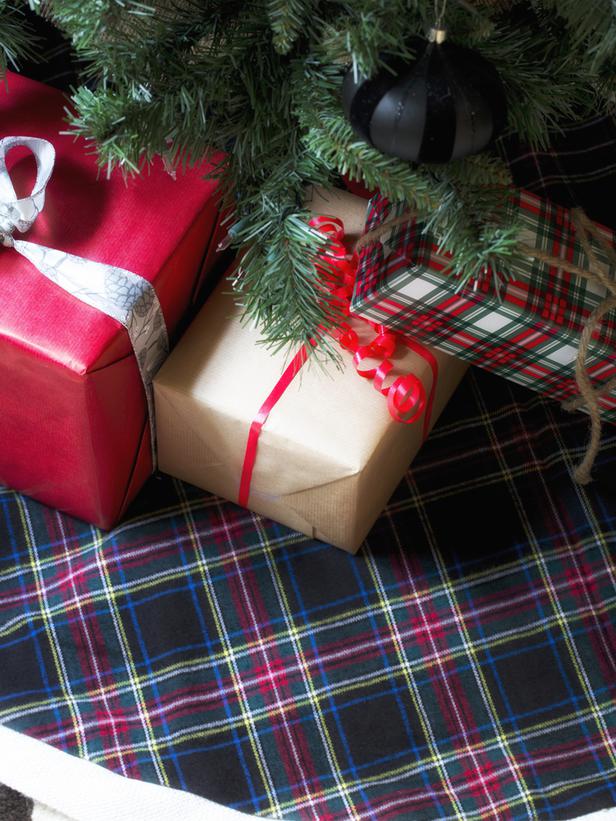 Plaid or tartan tree skirt are fantastic substitutes to the traditional reindeer and showflakes theme. It somehow creates a masculine look in the interior while keeping the overall appearance of the holiday decor unisex.
Natural-Toned Tree Decor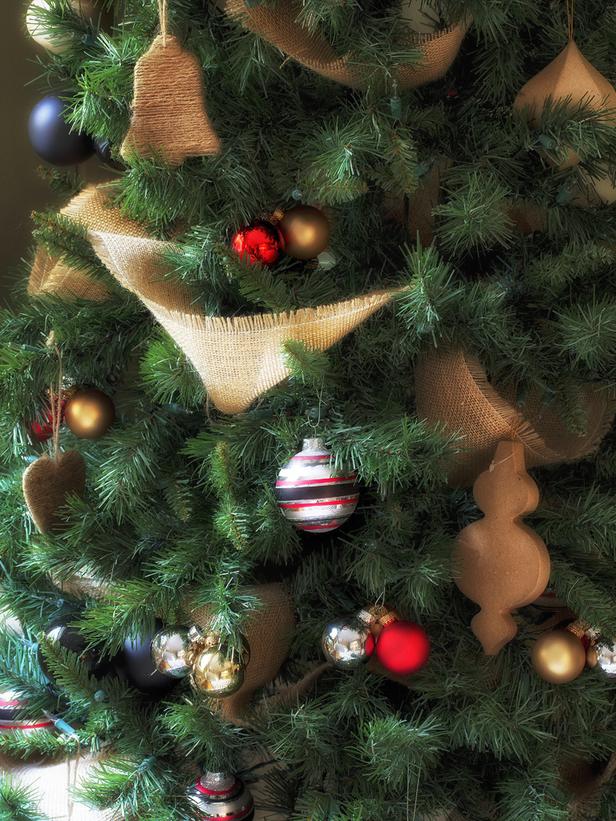 And when we are talking about trees decorated in natural tones, we should mention our next visual example. It is decorated with mostly black elements since it is expected that the presents will bring the main colorful accents when placed at the tree. So, the tree has been kept simple and neutral.
Lighted Focal Point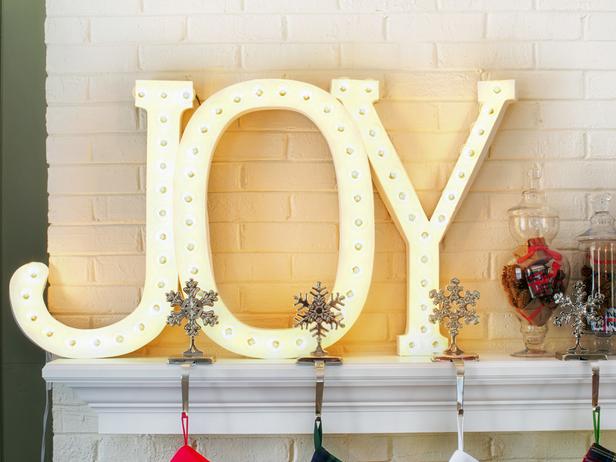 This lighting installation has been created form industrial globe string lights and cardboard letters. They strengthen the graphic impact in the interior of the room and become a focal point in the room. Of course, this happens when the letters are illuminated.
Patterned Stockings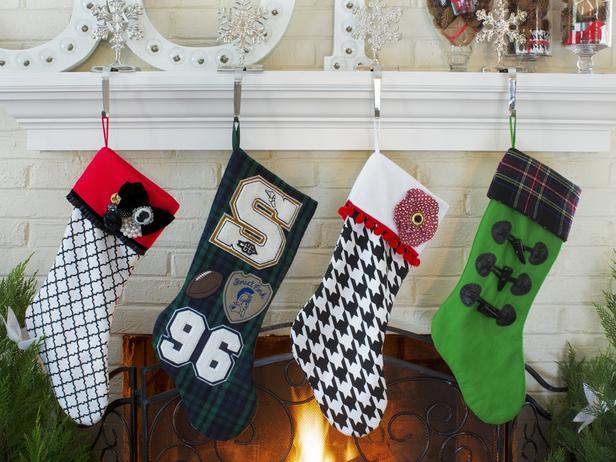 The good old stockings can look even more attractive that their traditional patterns. A little bit of black and white breaks the rules and makes the game more interesting.
Holiday Apothecary Jars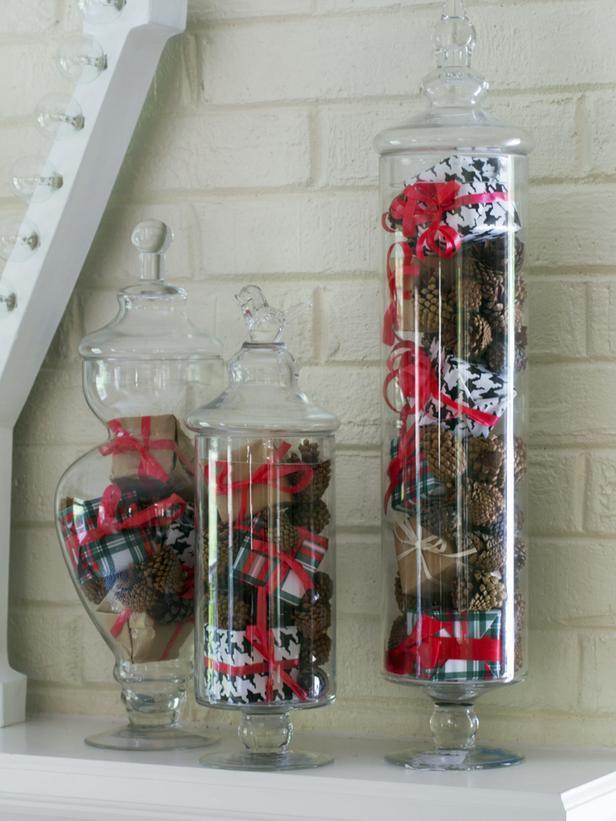 Apothecary jars in the holiday decor is another very creative and impressive idea which applied in a home can bring additional freshness to the entire place. For best visual experience, you can place them on the fireplace's mantel, around the gift area. Placing various gifts inside the paper and using wrapping paper is a fantastic way to cheer the decor up a little.
Bold Tree Pots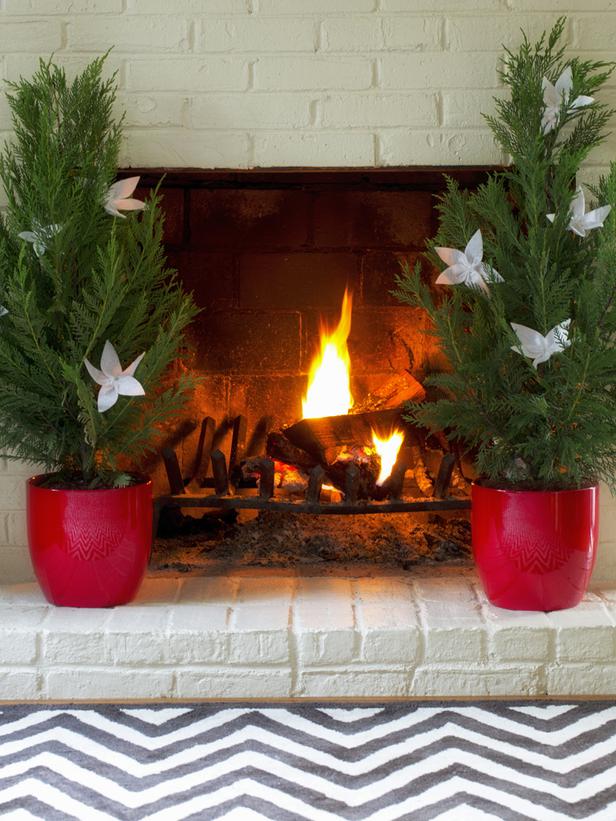 As an addition to the main Christmas tree, you can have several small cypress or juniper trees. Don't overload them with decorations, just keep the things simple and elegant, instead. Choosing a black or white pot expects a few metallic or red ornaments as a tree decoration. If you want to make the trees a strong colorful accent in the room, place them in red or green pots. This time, make sure you have black and white tree ornaments. This way, you will get the needed balance in the colorful composition of the entire home.