A kitchen is often considered to be the heart of the home. It's the room you spend quite a lot of time in and it's often used for dining more than the dining room is. It also needs to be functional and safe to use while remaining pleasant to be in.
This is why kitchen renovation is such a big deal and should be taken seriously. It needs to be done only every couple of years and it should be done to address the problem you have with the current kitchen setup.
Eliminate extra work
The main goal of the kitchen renovation is to keep your kitchen functional and easy to use. When you decide to pay for professional kitchen renovations in Sydney, you should do your homework beforehand. Take the time to note how you use the kitchen on an everyday basis and especially how you move around it.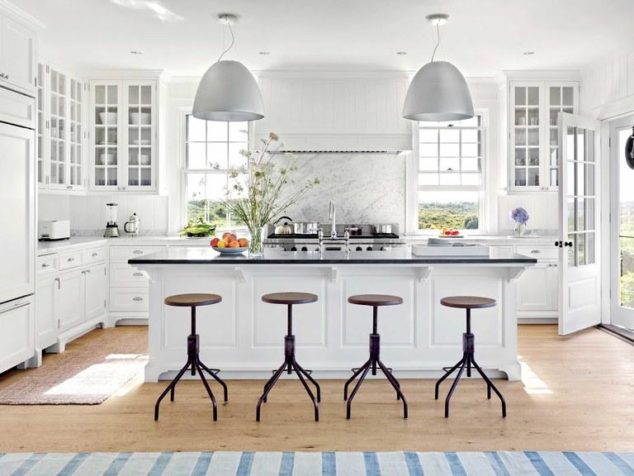 Once you know what needs to be changed around your kitchen, the whole project will be more focused and suited to your home. It's surprising how much time is wasted looking for items or for a place to put them in, for that matter. This change will help you put that time to a better use.
Color scheme
For a while now, there have been two approaches to color schemes in the kitchen. Some kitchens were monochromatic and made to look slick, while others didn't have a color scheme at all and the kitchen was simply a fun and eclectic array of colors. Both have their downsides as well as advantages.
With the renovation, you should consider a third way – having a two-color kitchen setup. It's more visually interesting than a monochromatic kitchen, and it doesn't seem as messy as one without a plan.
Counter space
Modern kitchens tend to focus on minimalism in design and one of the biggest victims of this approach is the counter space you have available. It's a mistake to give up counter space for the sake of aesthetic or adding appliances. You'll simply always need more room to work and to put things on if you're in the middle of complicated meal prep.
One of the ways of increasing the countertop space is to add an island in the middle of your kitchen that's always clean and you don't need to declutter before you use it.
Cabinets
The main call to make when it comes to upgrading cabinets is whether you should build your own or simply buy and install the premade ones. Custom-made cabinets are a more flexible choice that you could model to your specific needs. However, they don't come with a warranty and can be a hustle to make even if you know a woodworker in your area.
While you're upgrading the cabinets, take the time to install lights underneath them since this small gadget makes your kitchen much more comfortable and safe to use, and if you choose the right lights, it also saves power.
Height matters
When it comes to setting up appliances, one of the considerations everyone keeps forgetting is the height they should be placed at. It seems like a small matter, but if you use an appliance multiple times a day and you need to prop yourself up or bend over to use it, it becomes a hassle.
The main obstacles to putting the appliances in their places are the electrical sockets to plug them into. This is something to be improved on during a large remodeling since it will require you to remove all of your kitchen appliances and tear into walls.
Conclusion
Kitchen remodeling is usually a big project and it can be expensive as well. It's important to approach it with a plan that goes beyond aesthetic and covers how the kitchen will be used, as much as that can be planned.
There are also a few minor fixes every kitchen could benefit from that require you to move things around and possibly make a mess. It's best if you lump this together with the remodel and do it all at once, without wasting time or money in the process. The renovation is only done every 10 or so years, so make sure you put a bit of effort and resources into it.