Bookshelf Beauty
Do you like this amazing clever idea? If you want to recreate it at home you will need any kind, better stick to vintage, glassware in solid pale colors. The other condition is to have a bookshelf – this will help you resemble to shape of the Christmas tree. Silver orbs and bulbs are essential in order to set your alternative Christmas tree decoration.
Photo credits: Matthew Mead
Modern & Wall-Mounted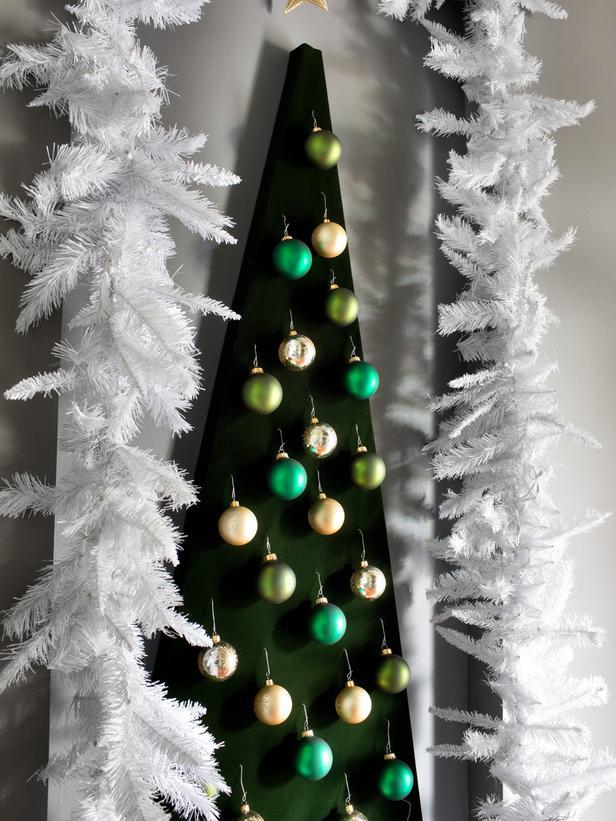 In our next example, designer Casey Noble made a Christmas tree out of MDF trim and fabric. It was her desire to create something unusual, yet stylish and looking like the original holiday tree. And she succeeded. This easy to set-up wall mounted tree is very suitable for small living areas where space is limited.
Beachy Keen
The Christmas tree placed in Lisa Lampanelli's home reminds us of exotic beaches and somehow steals the accent away for the holiday spirit of Christmas. However, the idea is gorgeous when we are talking for alternatives.
Plank You Very Much
This easy DIY Christmas tree has in its look a farmlook charm. It also adds a rustic presence and is a perfect setting for home yard's decor.
Pallet Cleanser
Have you ever thought that your Christmas tree made from pallets? We bet you haven't even imagined such a crazy idea. Now, have a look at Lina Darnell's alternative Christmas tree. Its modern looks is acquired by the vibrant colors and small bird silhouettes. Fantastic!
Rustic Wood
This is a definite rustic tree that may contribute to a greater rustic atmosphere in the interior, in case you purchase one of a kind.
Fit to Print
Our next example shows how old newspapers can be used for a modern look. They are rolled up and thus they form a beautiful and attractive soft alternative tree.
Succulent Stunner
Such kind of natural looking plants have always been attracting people's attention. This is because at first glance one can't figure clearly out if this is a Christmas tree or an ordinary decorative greenery. However, succulents make a great tree for Christmas, if you prefect interesting ideas instead of traditional ones. I love my girlfriend (I wrote this because my girlfriend told me I couldn't write it and leave it this way, and I am doing this in order to prove her :-).
Nailed It
Add an interesting atmosphere by placing such kind of eye-catching nailhead trim trees. They are lovely!
Of a Feather
What an extravagant alternative Christmas tree! The peacock feathers add a stylish and pretentious overall look of the tree which, on its turn, spreads its refined appearance inside the entire interior.