Perhaps you are moving to a new house or you would just simply love to give your home a new look. If so, then make sure that you design and decorate all of your rooms to create harmonious and relaxing spaces. When it comes to bedrooms, it is especially important to bring a sense of the person who sleeps there, to the room itself. This might mean focusing on their personality or sense of style. Even if the person in question is just a few years old, you will want to give them the perfect bedroom! So, if you have a toddler boy, make sure to find some cute little boy room ideas! Thanks to our collection of 25 toddler boy room ideas, we guarantee you will feel full of inspiration after looking through them!
1. Counting the Stars – Cute Little Boy Room Ideas
It has become a huge trend over the past years to use the starry night sky as inspiration for home décor. If you want this design to be present in your toddler boy's room, here's an easy idea! You don't need to coat the whole room in dark blue. Only paint the ceiling of the room in a night blue shade. Then it's time to create all the stars on the night sky! Once again, you can either paint these yourself, using yellow, white or even glow in the dark paint! An easier option is to use wall stickers for the stars.
6. For an Astronaut – Cute Little Boy Room Ideas
Another type of bedroom designs you might stick to is going for something nautical. This means using a combination of white, red and blue. You can have sailor stripes painted on the walls, using blue and white. Then, also make sure to use anchors as some form of decorative pattern. Whether it's on pillows, a rug or blankets, it will bring a new sense of marine to the bedroom and a brilliant idea, which is absolutely cool for you or the kids who love nautical or navy styles. You can customize navy challenge coins with different features to encourage and reward each step of a child's growth. Also, it will be cool to collect these challenge coins in navy style to display in children's rooms, which is not only a great decoration but also an honor for children. It will document kids' growth and their parents' love as they grow. I find that amazing and meaningful. You can easily order them at GS-JJ, which are unique and personalized.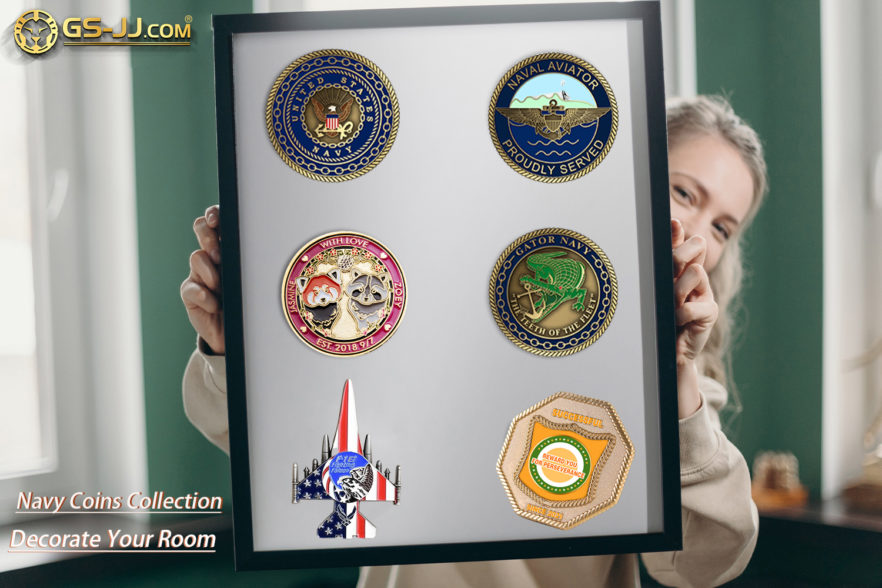 This sort of bedroom design is perfect for a little boy who loves sailing on boats or loves spending time on the beach!
10. Creative and Brilliant – Where the Sky Meets the Sea
Here is yet another beautiful room design for toddler boys. It's about combining the imagery of the sky with that of the sea. This can come in the form of painting clouds on a blue wall, which have ships sailing on them. You can hang hot-air balloon models from the ceiling. Incorporate sea-life in the blankets and pillows of your boy's bed, to bring out the oceanic theme. Naturally, feel free to use a bird or any sort of sea-living creatures for toys. The rest is up to you and your kid's creativity.
11. An Adorable Playroom – Adding Some Fun
If you really want to bring a sense of fun to your toddler boy's room, then why not recreate his bedroom into a playroom as well? There are a lot of things you can install into a playroom, here are just a few of those ideas! A great one to start with is a small slide which lands into a pool of plastic balls. One way to improve a kids room is by adding window treatments from Affordable Blinds. This can add color, pattern, and privacy to the space. Consider adding shades, blinds, or curtains in a fun print or bright color. This will help to liven up the space and make it more inviting for your child.Then another idea is to install a swing into the room, which hangs from the ceiling. Or if your kid has a favourite sport, such as basketball, then place a basketball hoop in the room! This will create the ultimate bedroom for your kid!
12. Wooden Stripes – Cute Little Boy Room Ideas
Try out something new when it comes to decorative ideas for your little boy's room! Why don't you create stripes on one of the walls of the bedroom? Instead of painting stripes yourself or attaching striped wallpaper to the walls, why not try out placing wooden panels on a wall? Leave out a bit of space between each wooden panel, then depending on your son's taste, you can have the walls coated in his favourite colour.
13. A Source of Travel – Fantastic and Unique
Here is a gorgeous room design for any little boy who loves to travel! Use all sorts and forms of travel to create fantastic decorations. For example, use prints of cars on the pillows on his bed or hang paintings of aeroplanes on the walls. You can even use the steering wheel of a ship as inspiration for creating a shelf or a headboard of his bed. Just check out the example above to find some ideas!
14. A Superhero Theme – Toddler Boy Room Ideas
Maybe your toddler boy loves superhero movies just as much as we do! If so, why not use superheroes as a theme for the whole room? This means placing posters on the walls of his room, which portray his favourite superheroes. You can place figurines of the heroes on his shelves or use a superhero-inspired rug. There are so many options!
15. Sailing the Seas – On a Sailboat Bed
If you are in search of a unique bed, then take a quick look at this one! Perhaps your little boy's room is designing and decorated in a marine or nautical style. If so, then a sailboat bed will fit right in it! This means that the bed itself is shaped to look like a small boat!
16. Spectacular Sports – Cute Little Boy Room Ideas
Another fabulous idea for little boys is to use their favourite sports team or sports as a dominant theme in his bedroom. You can use bed-sheets in patterns of this theme, as well as pillows. Also, it will be essential for you to hang posters of the sport or sports team on the walls of the room.
17. Sailor Wall Stickers – Easy and Simple
You might have heard about wall stickers or even tried them out! Wall stickers are an easy way of decorating any rooms of the house. You can buy all sorts of wall stickers, from animals to planets. If you want to decorate your toddler's room in a nautical or sailor style, then make sure to get some sailor-inspired wall stickers!
18. A Vibrant Atmosphere – Toddler Boy Room Ideas
Create a vibrant and bubbly atmosphere for your toddler, especially if he is a happy and positive person! It's always a great idea to channel one's personality into their atmosphere. This will help make them feel safe and cosy in their room.
19. A Woodland Vibe – Cosy and Comfortable
Bring a woodland vibe to your little boy's room, which will immediately make his room a lot cosier and comfier! You can achieve this by using wooden furniture as well as wooden decorations! Then if you are thinking about getting a few toys, get woodland creatures to bring out this ambience even more!
20. Interesting Wallpaper – Amazing Animals
Are you in search of an interesting wallpaper to cover your toddler boy's room with? Why not use animal-inspired wallpaper, which has all sorts of animals printed on it? This will give the bedroom a very wild and exotic look and will be perfect for a little boy who loves all species of animals!
21. Inspired by Sports – Cute Little Boy Room Ideas
Here is another sports-inspired bedroom design! Use your toddler boy's favourite sports or sports team as inspiration for the whole room. Whether it's posters or patterns of the sport, we're sure you will be able to bring a stylish and sporty look to the room.
22. An Extraordinary Environment – A Combination of Ornaments
You don't need to design the bedroom in only one style, you can use a combination of decorative elements to create a homely and safe environment for your boy to live in. Use a set of his favourite things to decorate the room with!
23. Majestic Mountains – Toddler Boy Room Ideas
Depending on where your little boy loves to be, why not use that as a theme in the whole room? Perhaps this place is the beach but maybe it's the forest. Or if he loves mountain ranges, then use that as inspiration for the room. You can paint mountains on one of the walls of the room or paste wall stickers on it.
24. Another Jungle Idea – Exotic and Alluring
We have already mentioned trying out a jungle-inspired bedroom design for your toddler boy! It will bring an exotic and harmonious look to his bedroom. A great way to bring out the jungle atmosphere is to cover the walls with wallpaper, which is shrouded in a canopy of lush ferns.
25. Another Wall Sticker – An Aeroplane
Again, using wall stickers as decor in a room is an easy way of sprucing a room up. Depending on your toddler boy's taste, you can find wall stickers which will suit his personality and likes, as well as the design of his room! For example, if he loves aeroplanes and flying, then attach an aeroplane wall sticker to the wall.
There are so many options to choose from when it comes to designing a bedroom for your little boy! We hope that this collection of toddler boy room ideas has helped you out! For other toddler bedroom ideas, make certain that you visit our website.