Are you ready to be introduced to the most gorgeous Christmas decorating ideas collection? There are 30 amazing pieces of Christmas ornaments and items that will make your holiday memorable for the rest of your lives! This is the very special list for everybody that loves to break the ordinary everyday life and dive into the depths of creative ideas and extravagant suggestions!
Colorful paper ornaments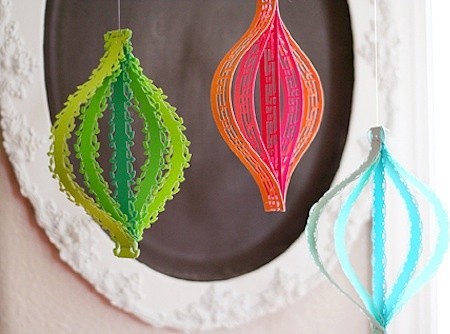 This ornaments are Lisa Storm's. Actually, they are easy DIY decorations that one can make in a pleasant afternoon sitting at his home. The colorful strips of paper are in different length so that the entire shape could acquire an elapsed form.
Feather ornament tree
Do you want such a feather tree in your home for Christmas? It is made of dowel rods and marabou feather boa. The tree itself is placed in a wood bun foot. You can find such in almost any local hardware store. In this particular example you can find a small white bird at the top of the tree. In case you prepare one by your own, you can use glue for placing the top element,
Modern holiday dinner party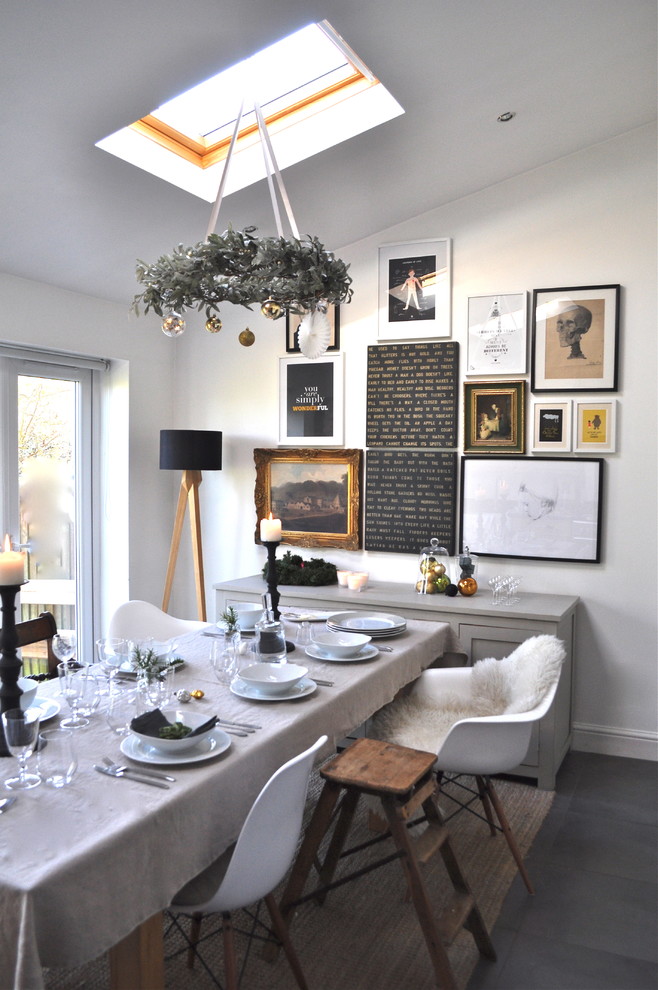 Why don't you take an inspirational note from this impressive London dining room prepared for Christmas. You know now how to get a feminine touch in your home.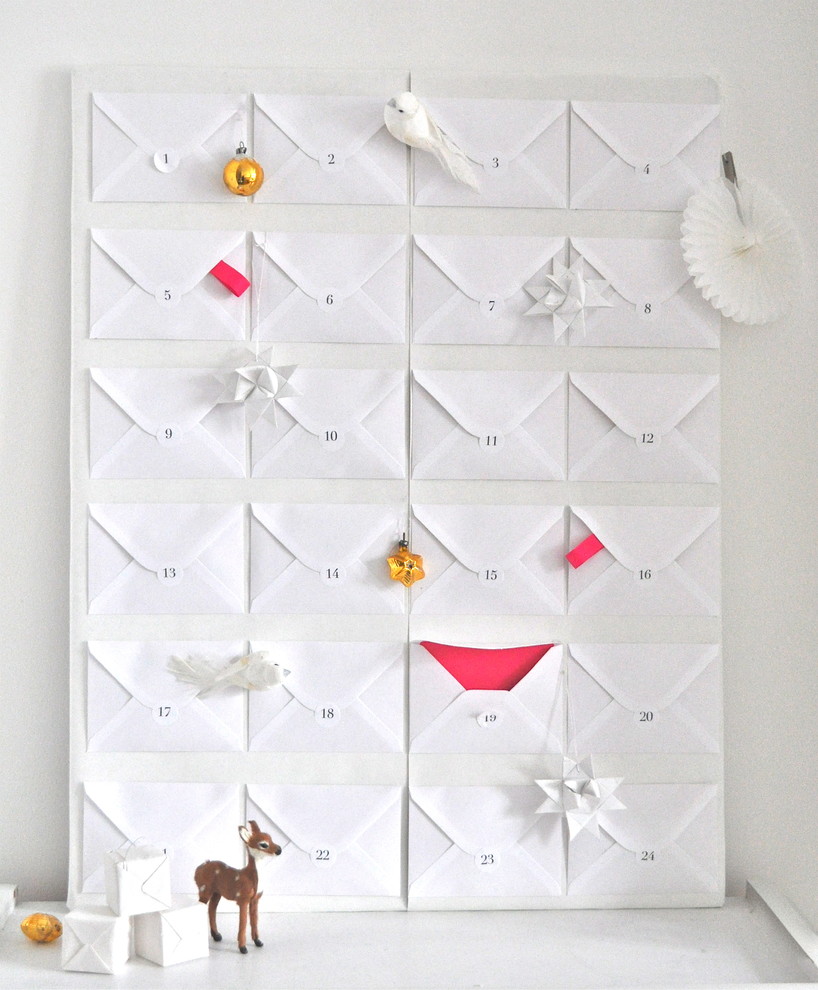 A creative calendar in Christmas themed ornaments contains all the days of the month in numbered envelopes. If you wonder what's inside, it's holiday treats.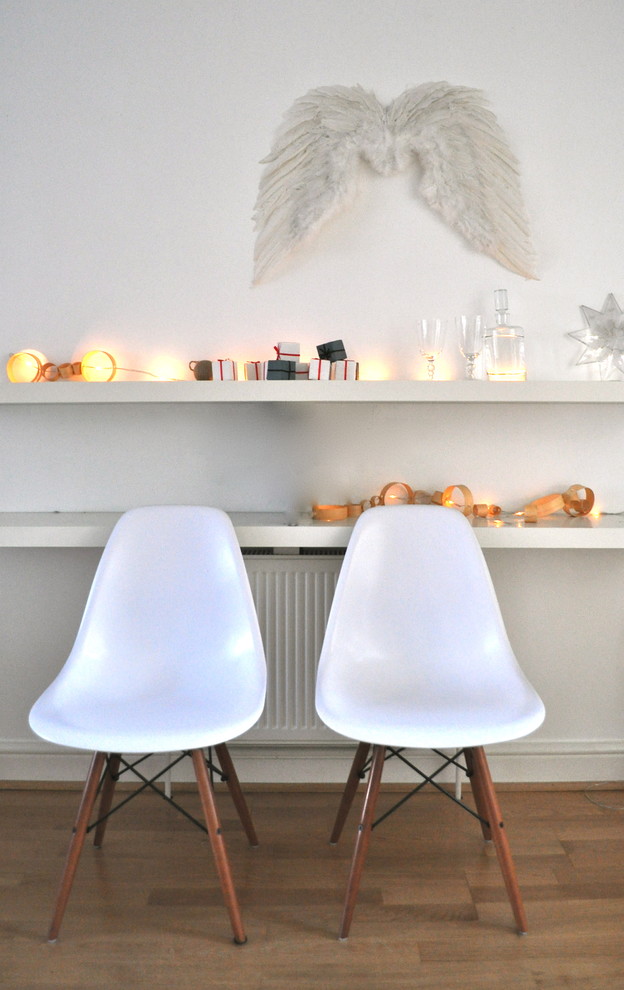 Another look at the London property reveals the little decorative items that stayed hidden from the first image. Now, you can clearly spot the lights and small gift boxes, garlands and angel wings placed at the contemporary bookshelves.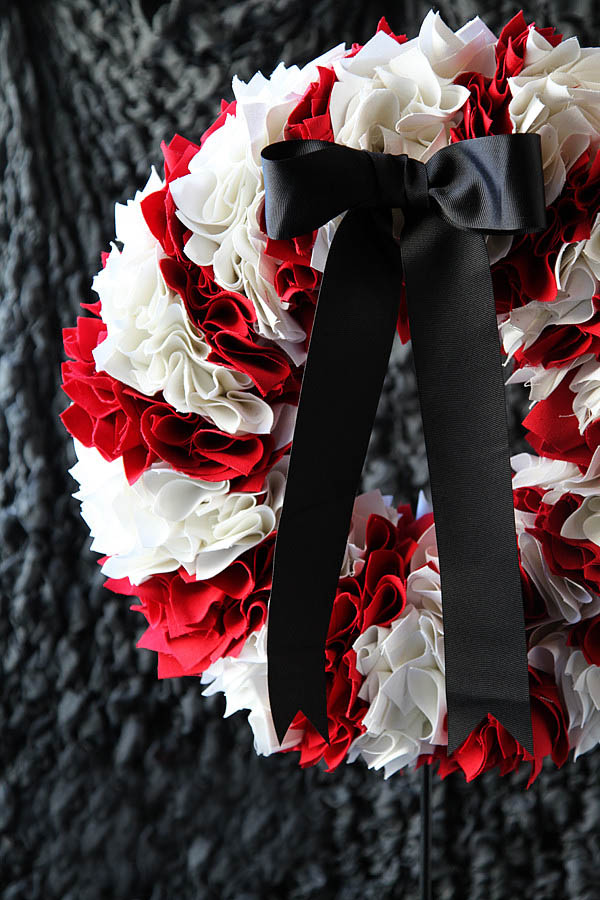 Impress your guests for Christmas by creating your own candy-cane wreath. You can easily recreate this striped example of a holiday decorative item that has the power to transform an entire room.
Holiday decorations for small spaces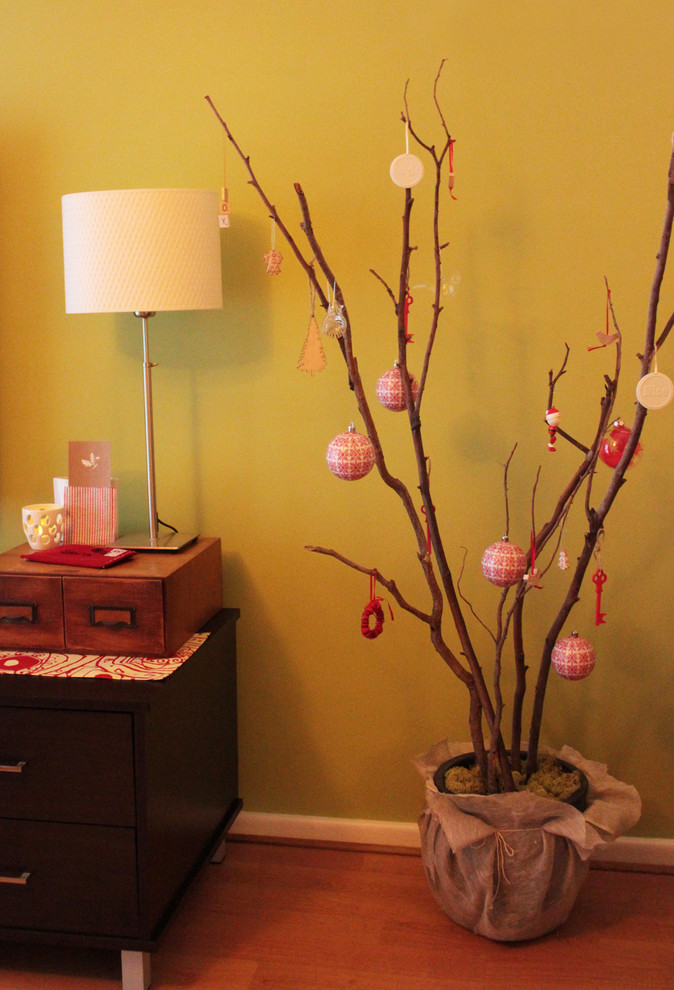 Some of us live in really tiny apartments, so a functional idea is not an useless suggestion. When the free space is limited and you are not able to have a real Christmas tree, you need to think very carefully. An option is to find some random branches that could be decorated with appropriate ornaments in theme colors.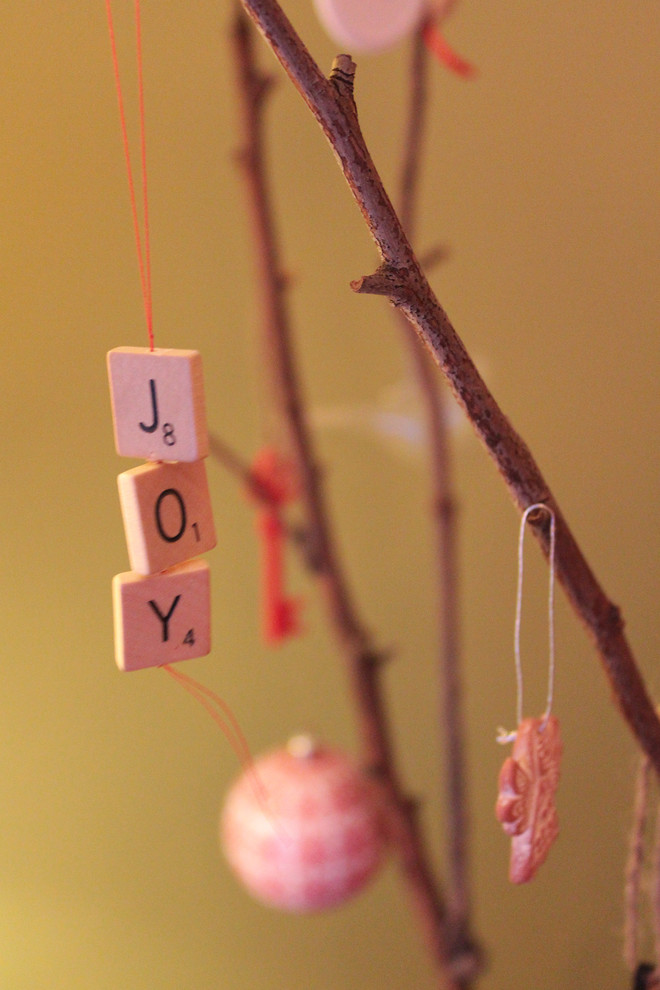 A closer look at the tree branches show us the beauty of the details. These are actually little scrabble ornaments. When making them, the author drilled a very tiny hole in order to transform them into a hanging element. If you want such decorations you can choose what will be the messages. This adds so private look at home.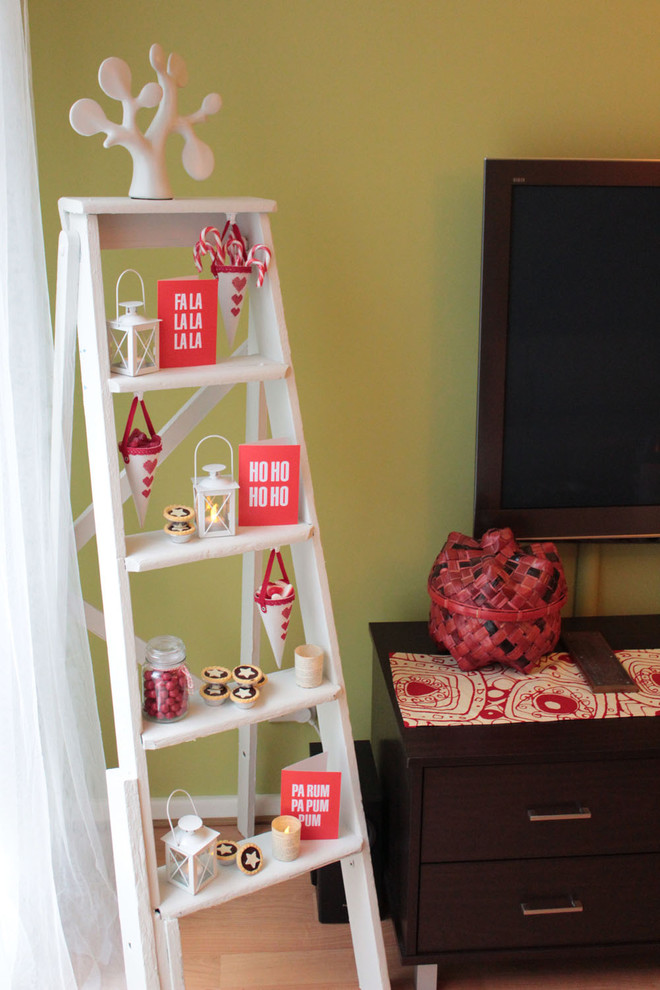 Remember! You should never be limited by any obstacle at home. Have a look at the way the ladder has been reassigned as a decorative items display showroom. Of course, you can use any kind of old and forgotten things like old suitcases, stools and whatever you think of.
DIY "milk glass" forest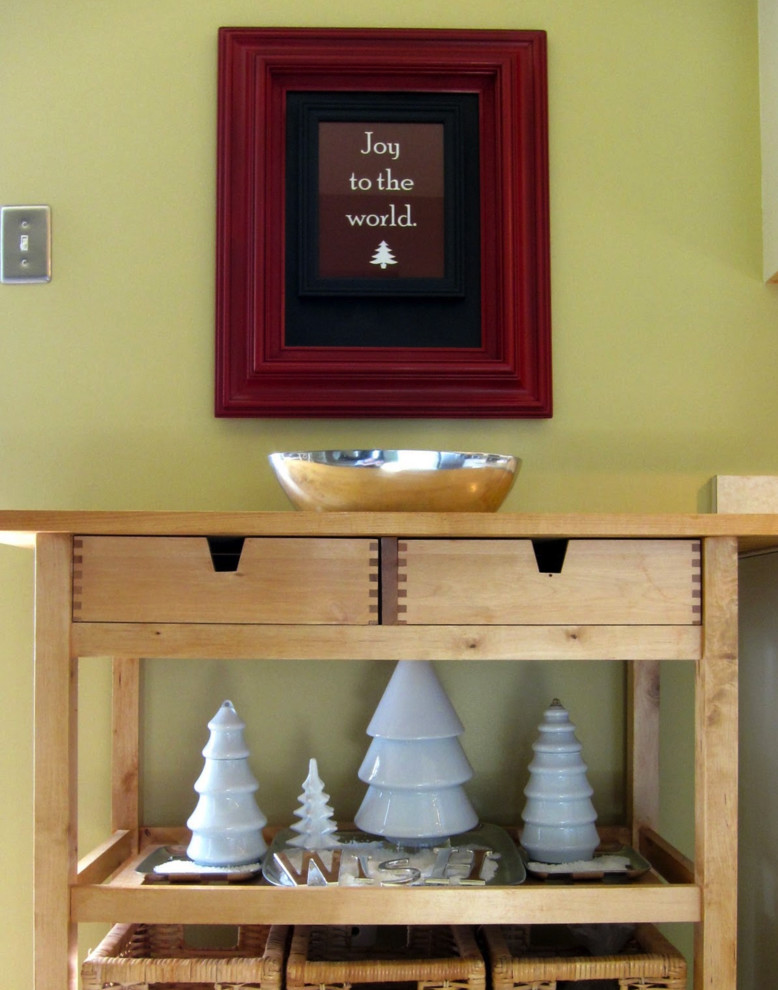 The secret that stands behind the small milk glass forest are the plain glass tree-shaped jars. When painted in white they acquire the image of a tree. In case you want to decorate your home with something that can't be find at local flea markets and you want to impress with unique style, you can take the following idea and apply it where necessary,.
Advent calendar ladder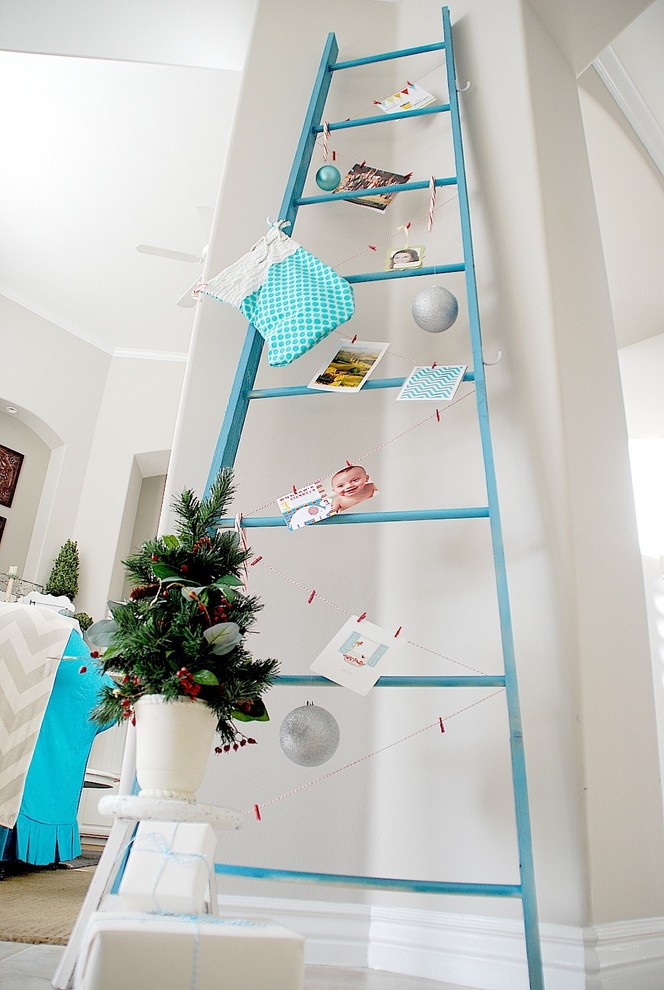 What a fantastic place to hang all the holiday cards! Using a ladder to display the most sincere message is definitely an unique and creative way to cheer the atmosphere up.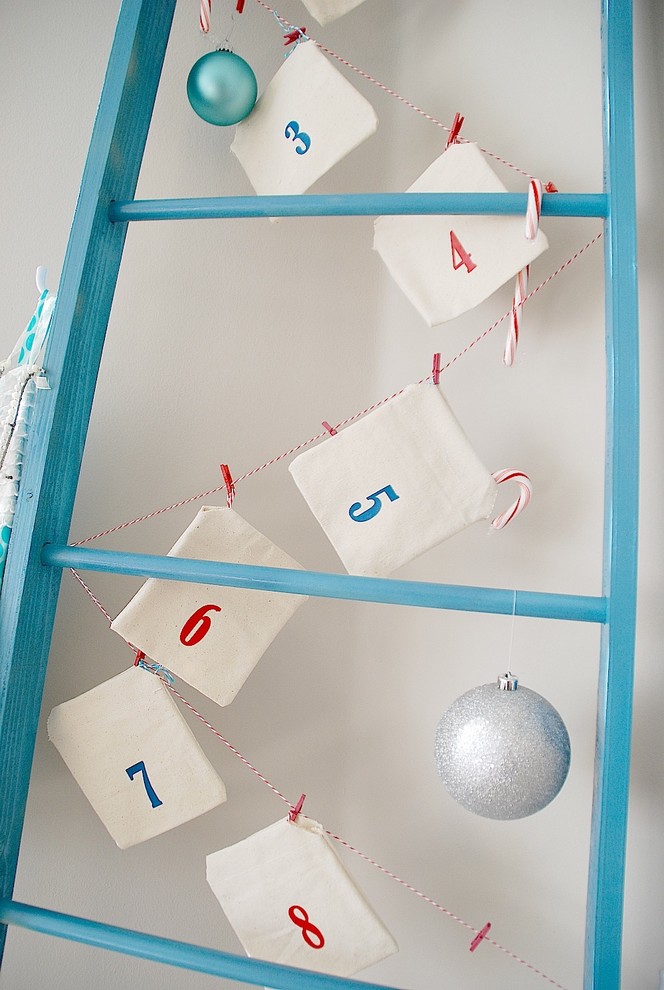 Well, if you are that kind of person that doesn't have a ladder, you can always make one! Match the item's main color with the rest of your interior. Now, you will be able whatever you want – artwork, invitations, messages, cards, etc. The following example shows its use as an advent calendar. In order to get that effect you can use canvas bags that can be attached to baker's twine with clothespins. This is an extremely helpful solution when you don't have a fireplace.
Christmas dinner in the summer.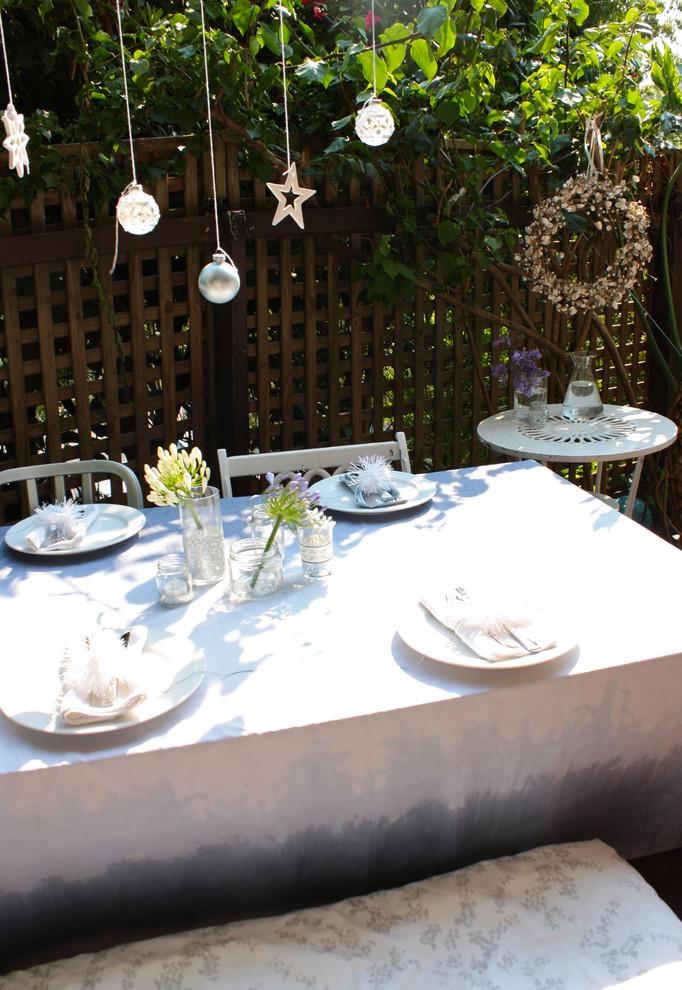 Christmas is not the same all over the globe. For all the citizens of Australia and New Zealand, celebrating Christmas means having a dinner in the summer. Do you wish having a nice meal in the middle of the summer standing outside in the cool evening rather than being in front of the fireplace and all the snow outside?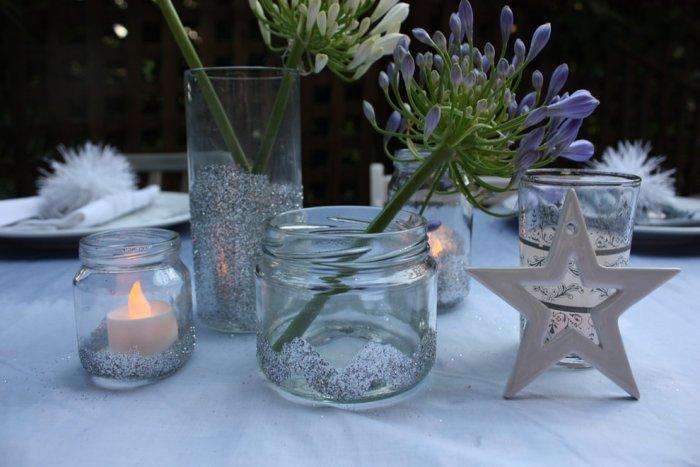 If you have old jars, transform them into something extraordinary. Place some glitter and attach Christmas lights. This way you will create and outstanding table centerpiece.
Holiday garland for the anywhere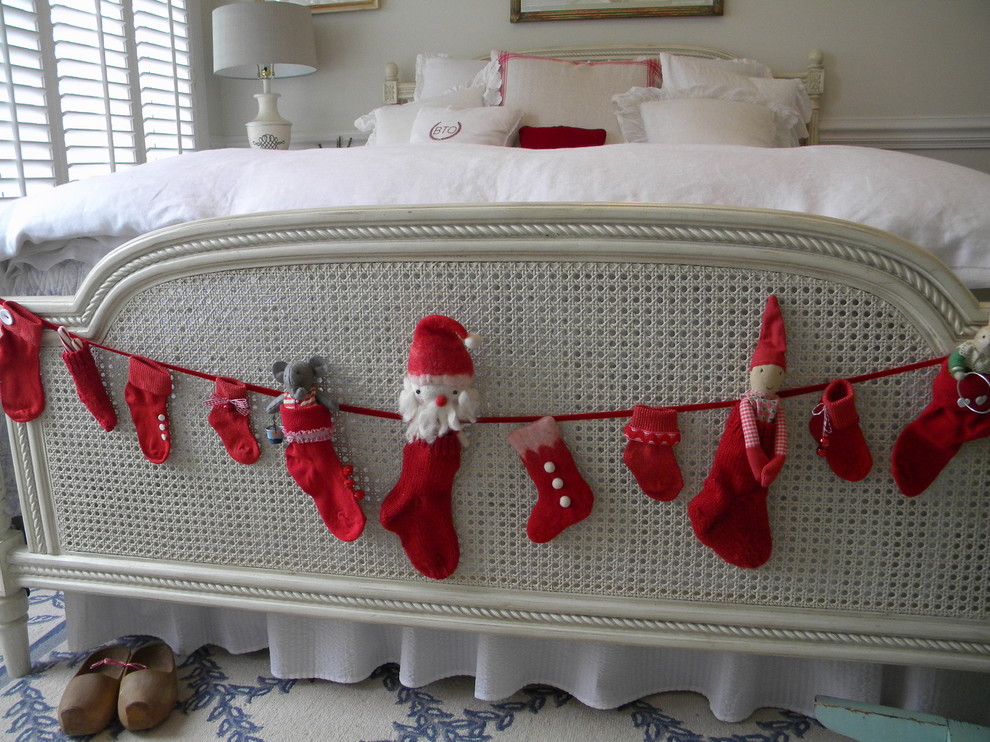 A Christmas garland made of stockings. Amazing! And when we are talking about unexpected surprised why don't you place it at the foot of the bed!
Clever peppermint wreath.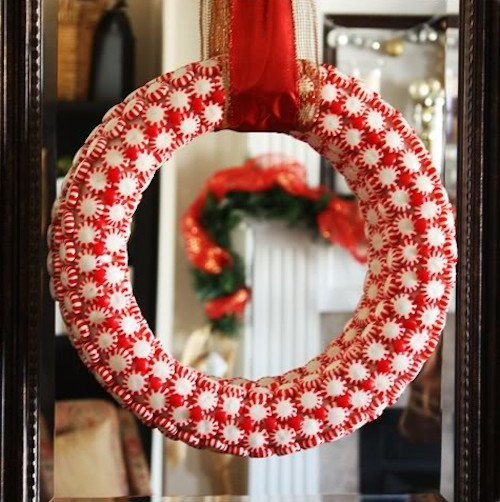 This sweet Christmas decoration has been made out of three bags of peppermints and a little bit of glue. Of course, a white foam wreath form was of huge help. If you take the adventure to construct such an item, you will face a problem with the huge white spaces. Then you can add a ring of Red Hots and then your creation will be finished.
Warm and intimate holiday dinner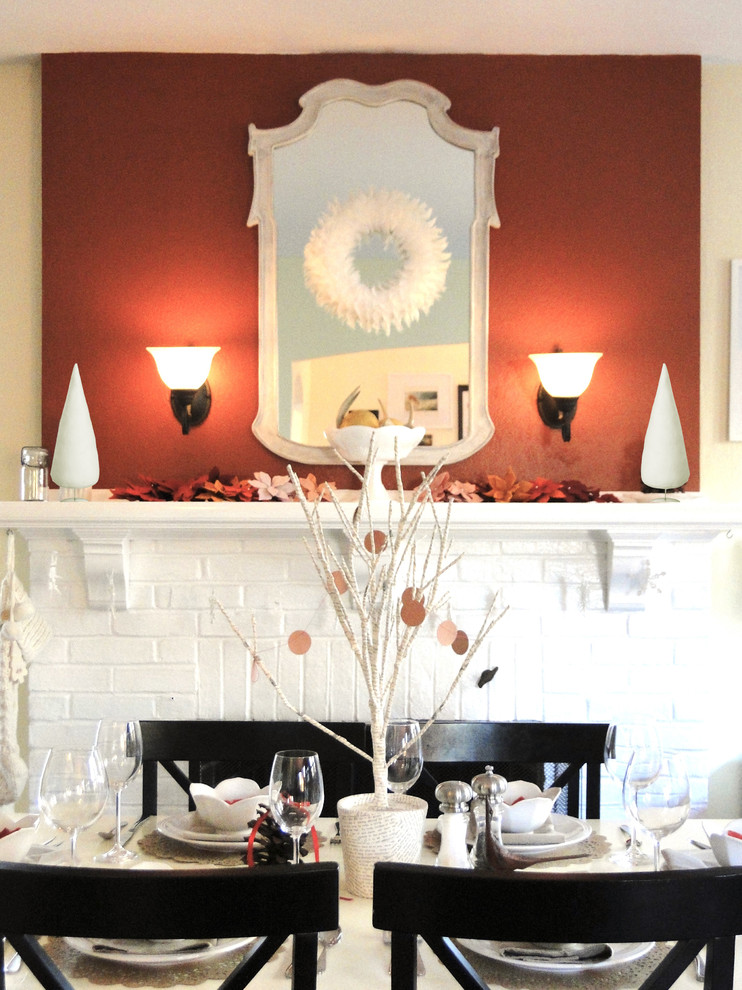 Christmas is time when we all gather around the dining table. Well, some of us spent the Holy Night with their families and other prefer to stay with their closest person. In case you want to get an intimate evening, you can try to achieve coziness in the dinning room. A great idea is to dim the lights and make your guest feel more comfortable.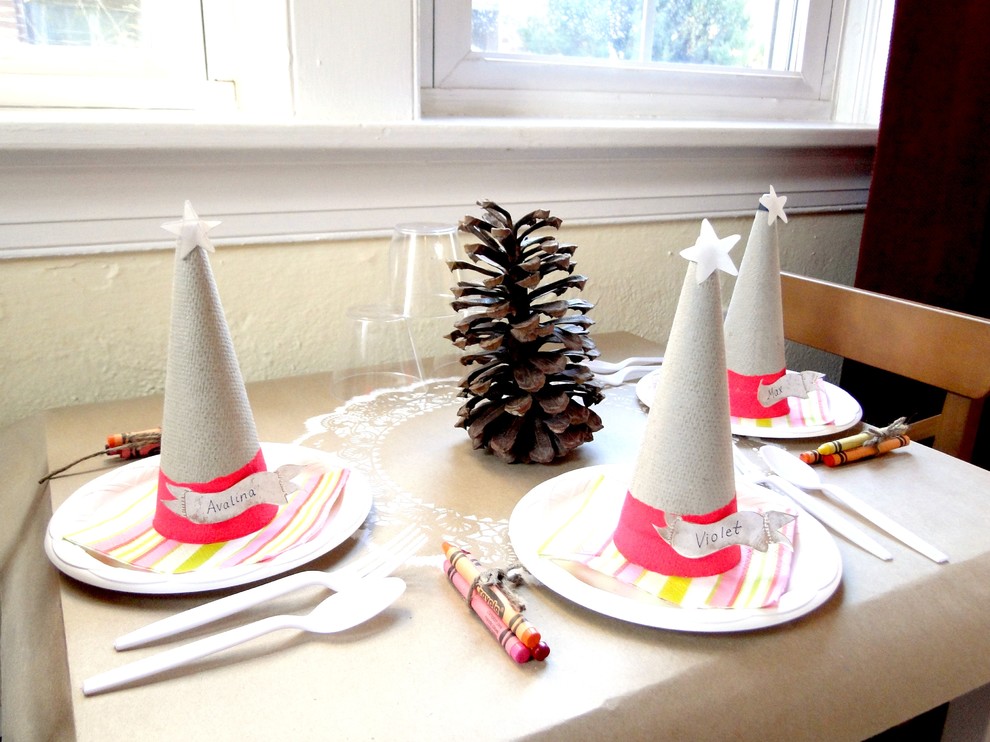 On the other hand, if you plan to gather all the family members, you'd better think about the kids table. Don't forget to provide the kids with a set of crayons and they will be painting and spend all the meal at their own place.
Merry and bright Christmas mantle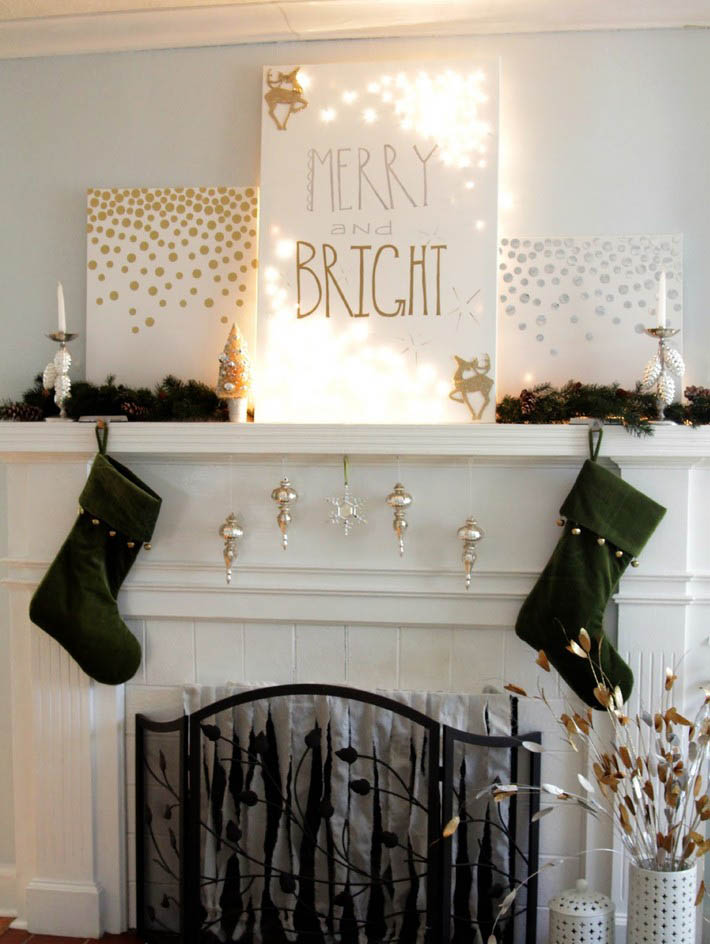 Do you want to get just the same appearance? Take a bunch of Christmas lights and stick them at the back of a canvas.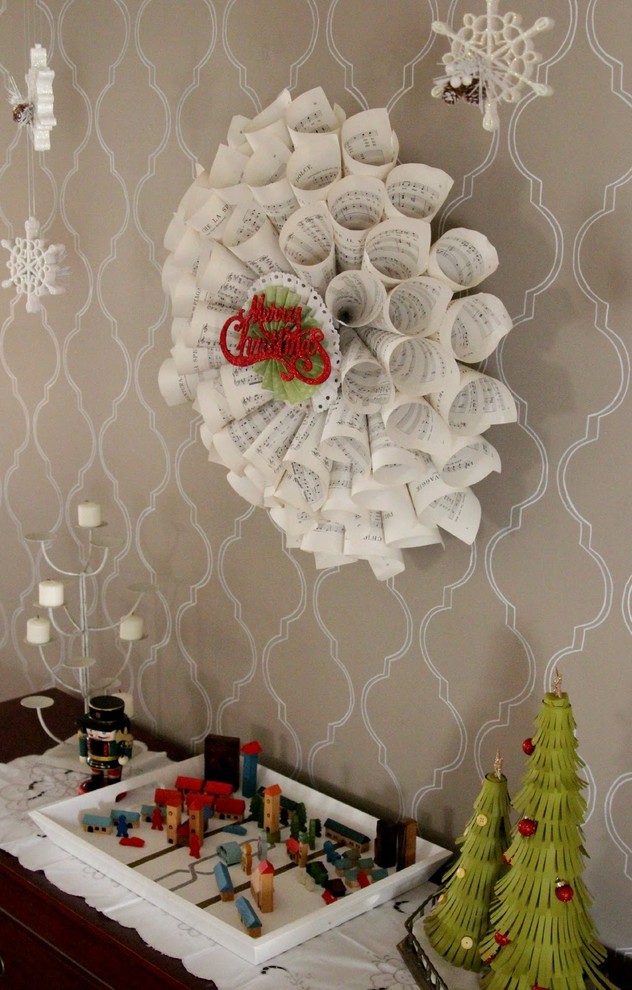 Another creative wreath grabs our attention here. These are rolled music sheets that are stuck together using glue. The old retro Christmas sign adds a charming vintage look.
Simple advent calendar in a modern palette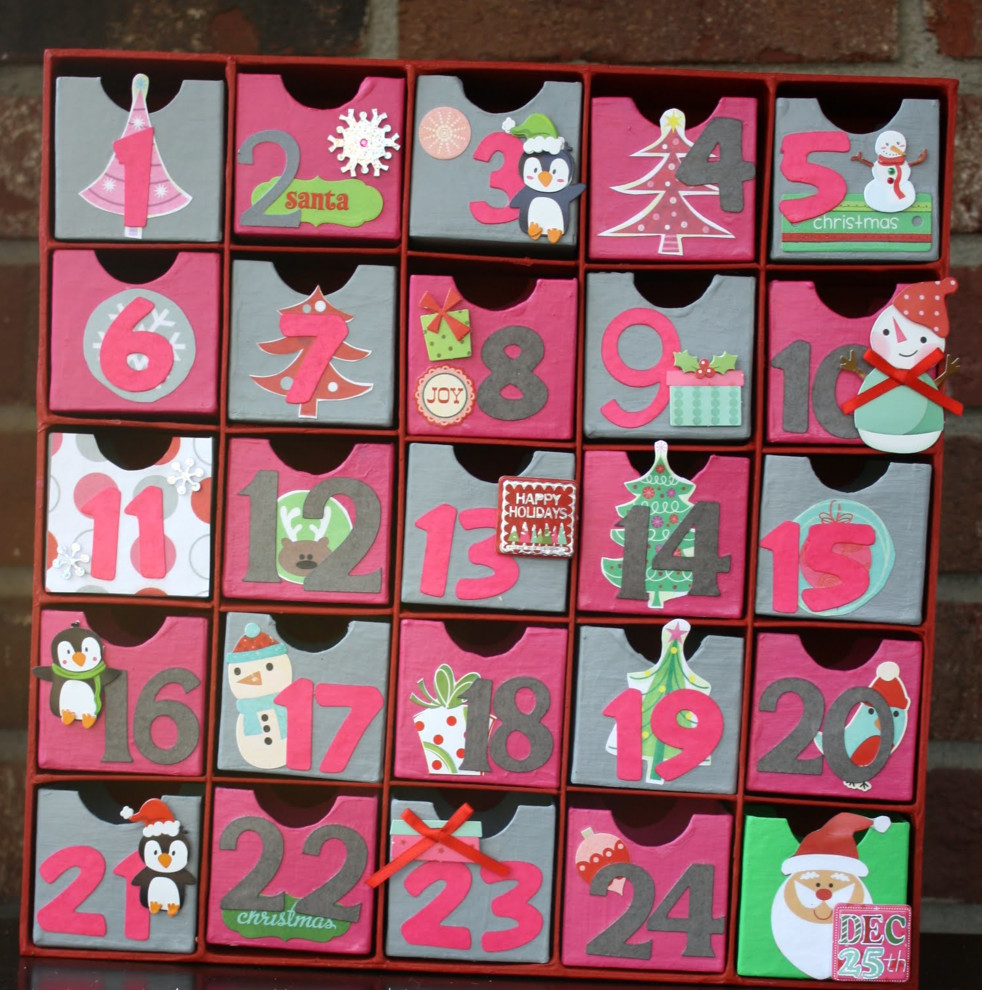 Another advent calendar that should be admired. This is a great gift for a small kids. Looking at the kiddy calendar we distinguish pink as a color motif, combined professionally with red and gray.
Christmas bulb advent calendar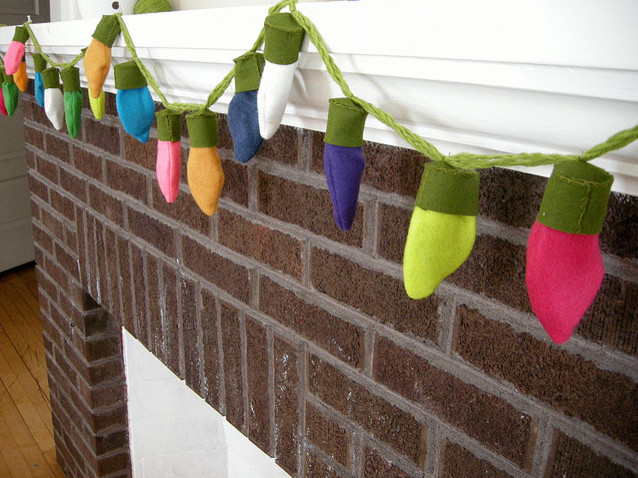 One more advent calendar shows us how we can arrange our interiors and prepare them for Christmas.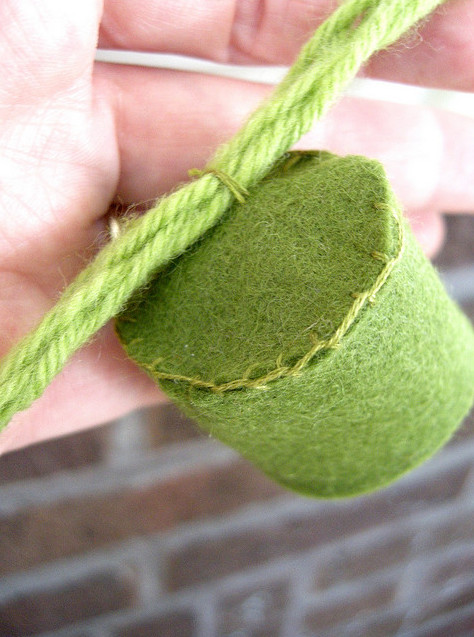 As you can see, the calendar consists of little bulbs. Each of them is filled with treats – various types of candies, small ornaments or messages.
Elegant handmade stockings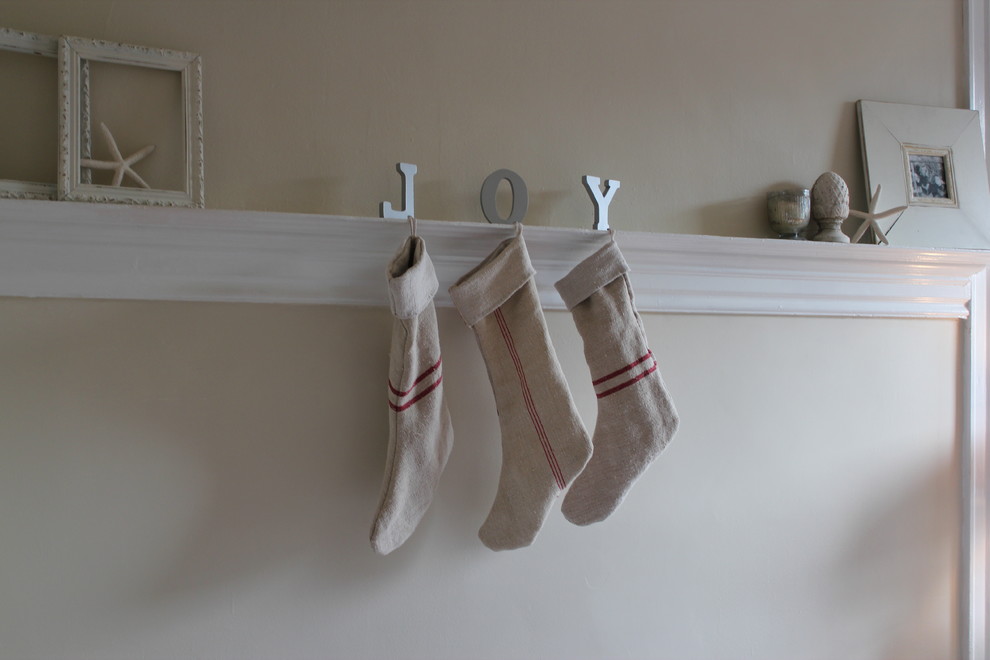 Christmas stockings are really trendy these days. If you have decided to use such in your place, you may not buy some but made them by your own instead. The stockings from the image above are made of French linen and emits pure elegance.
Quick and easy holiday vignette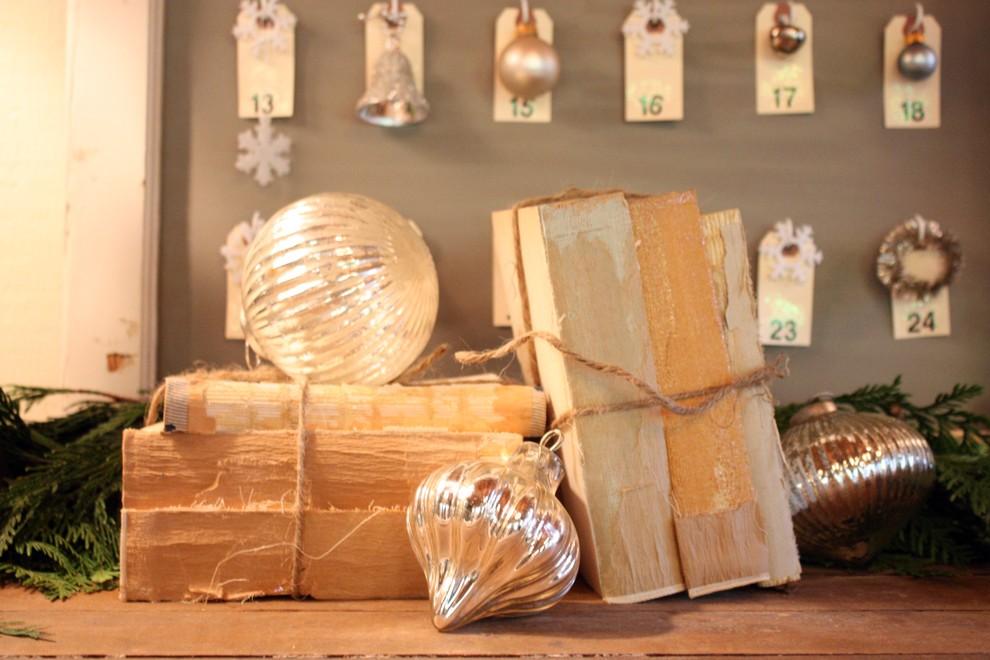 Keep the things simple and prepare your Christmas decoration by yourself. Find some old forgotten books from the attic or the basement and remove their covers. This is a well know trick when you want to create a rustic touch in the interior. A little bit of greenery around the books and you are ready for the holiday.
Affordable DIY Christmas candle holders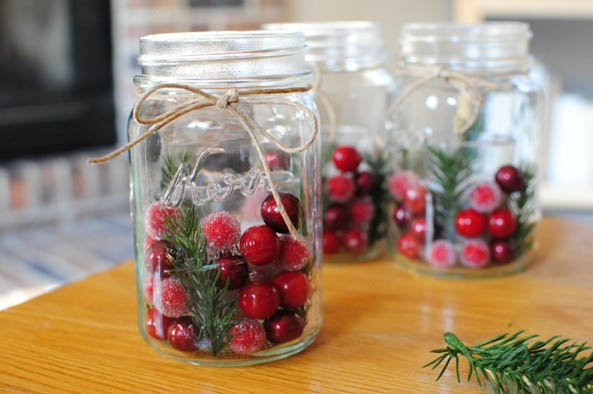 Another item for all the lovers of simple and rustic home solutions. These mason jars are filled with votive candles. For its gorgeous look, and in case you want such for your holiday, add fake berries and spruce. When the day comes, just lights the candles and enjoy the ambiance.
Christmas display in turquoise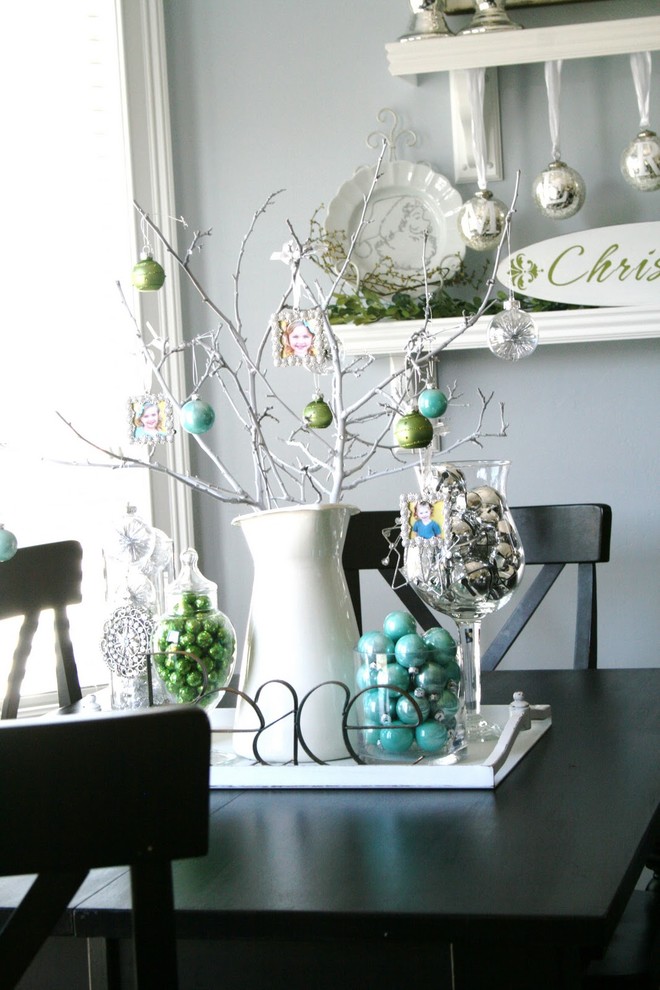 As we have written in our previous articles in Founterior, turquoise is a color that is prefer for many decorative items. This is great chance to recreate a winter atmosphere without using nuances with minor hues. Turquoise goes very well with green or silver, as you can see from the image above.
Here, you have two options – whether to place a Christmas tree or not. Not all of us want to have an entire tree in the living room, so if you are that kind of person, just have in mind to place a branch or two in order to keep the holiday spirit. As an extra idea, have one or two glass votives and fill them with tiny baubles and trinkets.
Chic black-and-white Christmas tree.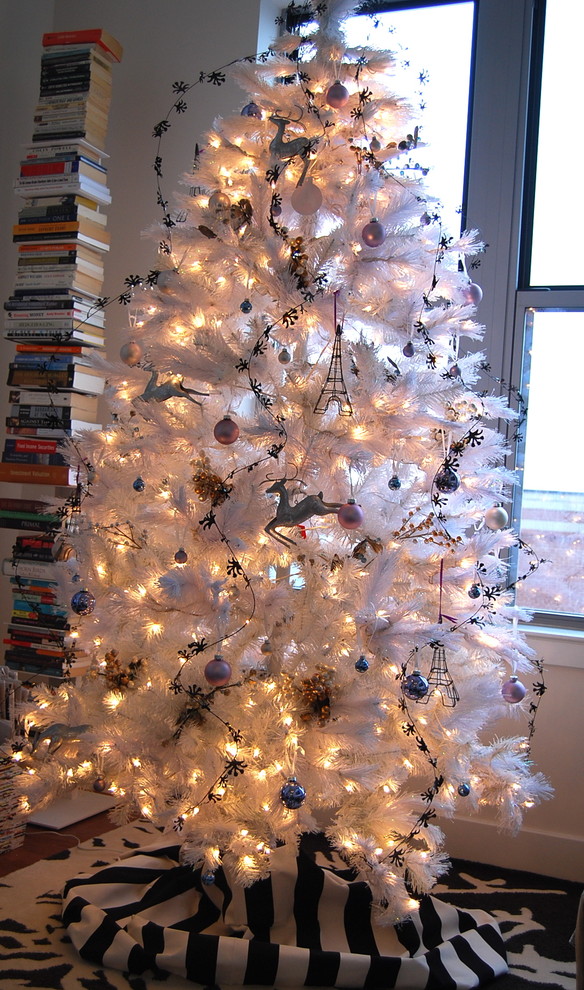 An alternative way to decorate the home is sticking to traditional themes, like this very typical all-in-white Christmas tree. Yet, you can place interesting ornaments that will break the traditional look.
Whimsical pom-pom garland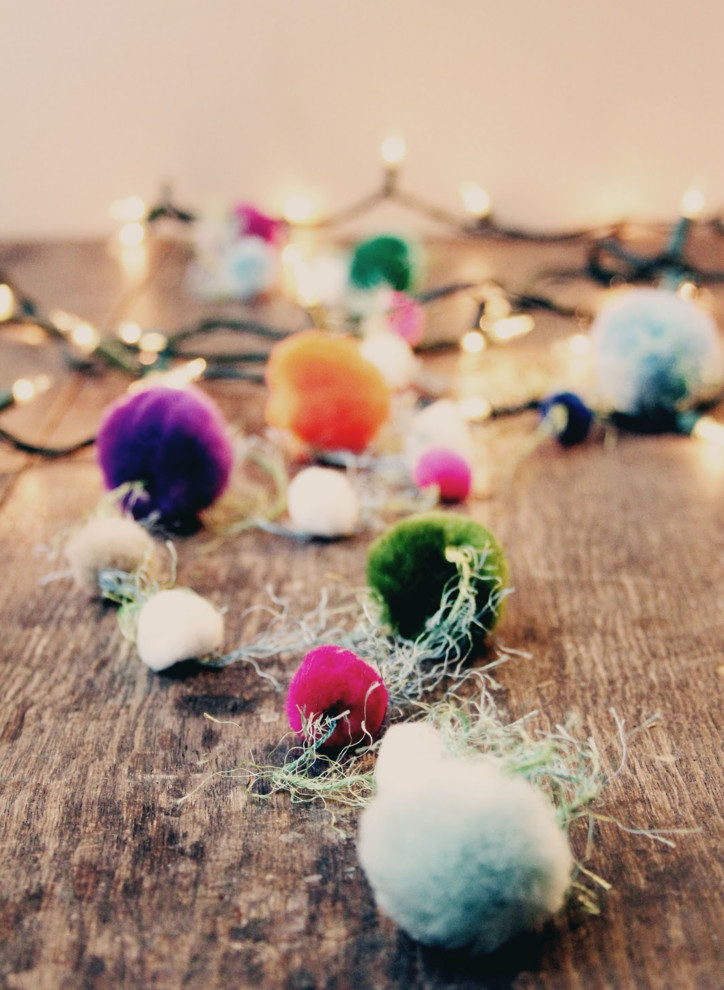 If you live in a big family and you have kids, the next idea is just the perfect one for you! Having such kind of cheerful garlands definitely makes everybody's mood. And the children love them!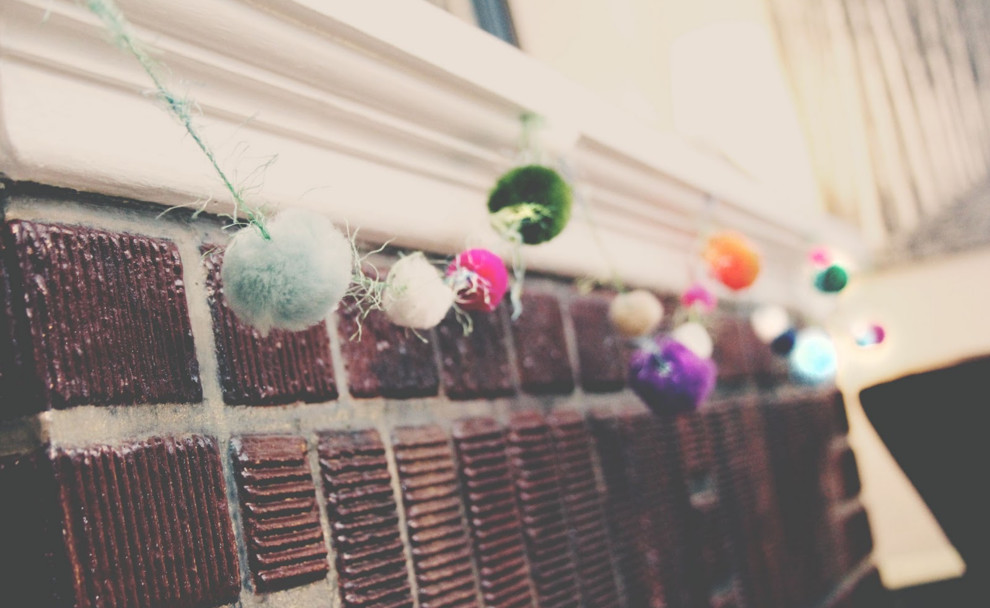 Forget about the paper decorations or old unused balls. Go to your local craft store and find some colorful pom-poms. The other things that you will need to prepare the garland are eyelash yarn and a needle. You will be surprised how easily you can create such a decorative item.
Vintage velvet wreath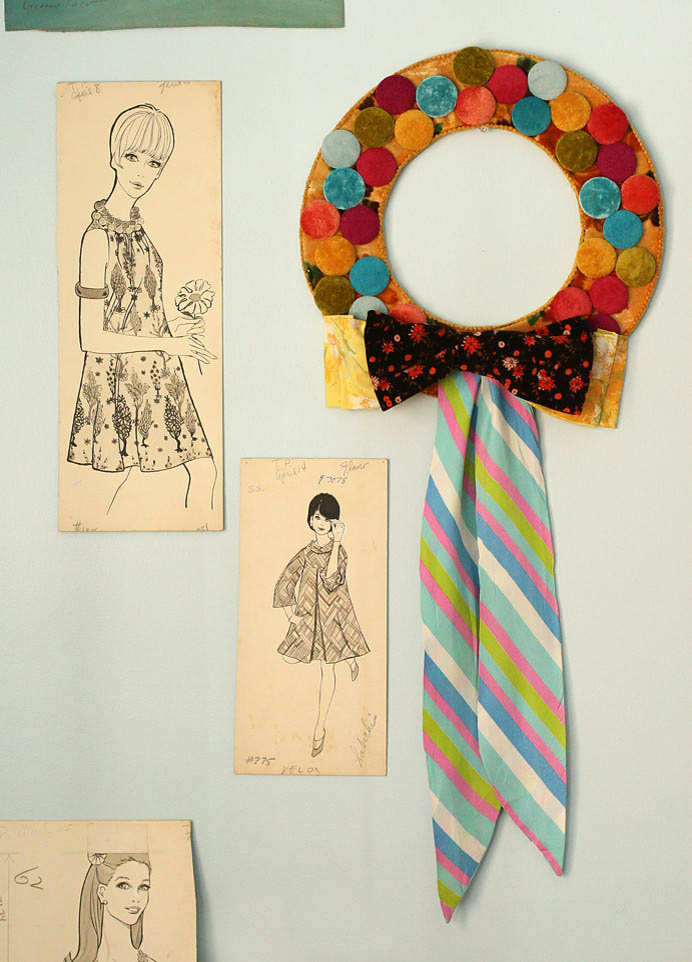 Do we have hipsters living around ? These one is for your! The 60s vintage touch in this beautiful wreath can conquer every human mind with its composition.The key to success when making such wreath is using a vintage fabric.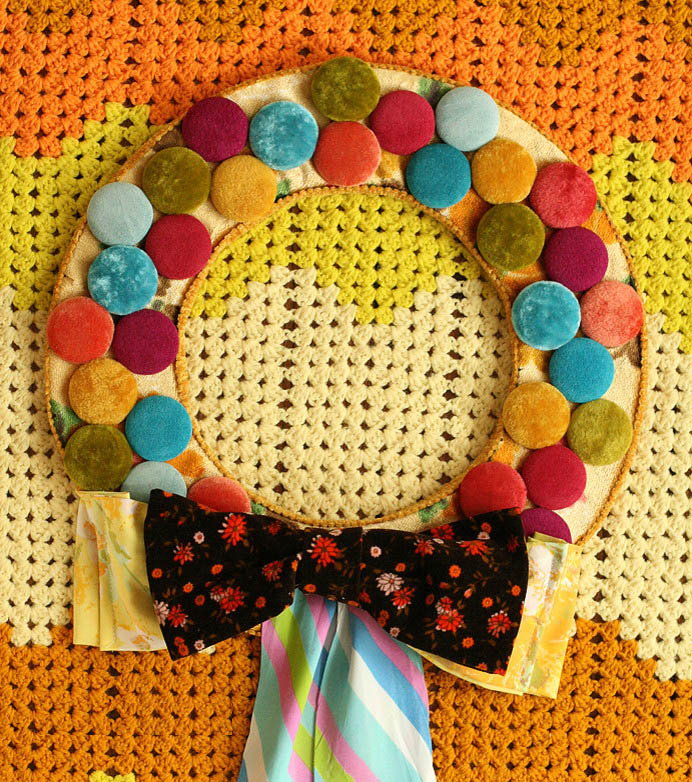 For the base – foam core board. Then you will need some glue. Can make the sewing? Use vintage fabric! Attach little ornaments like an old ascot, for example.
Holiday tablescape inspired by nature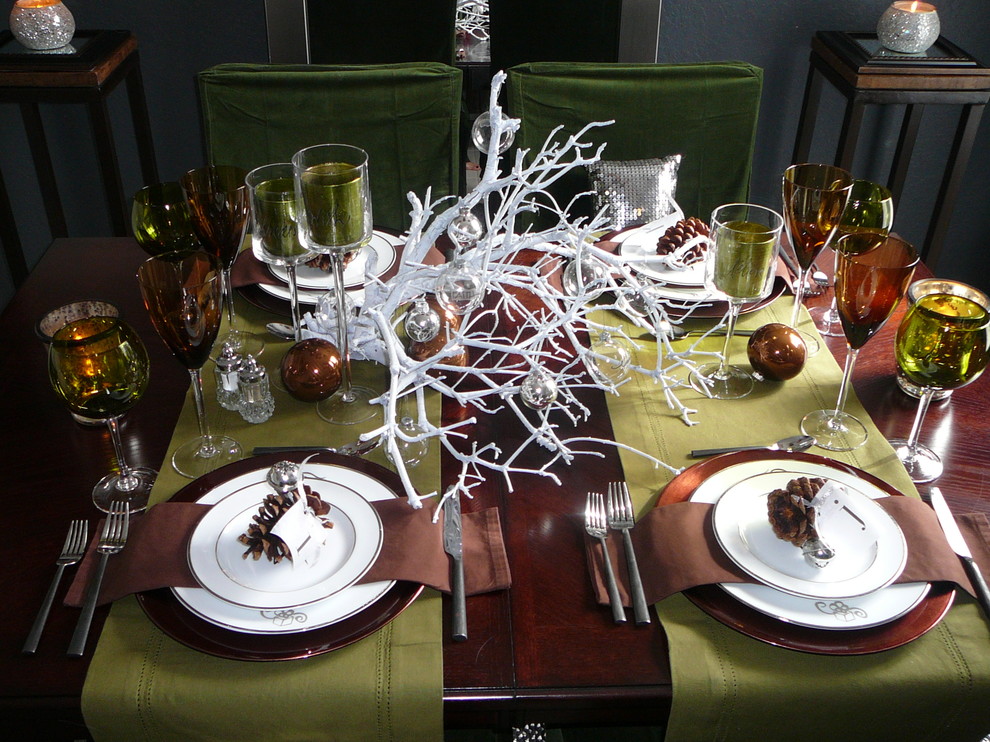 Looking at this elegant tablescape we immediately make a relation with mature solutions. The arrangement of this beautiful dinner table is prepared by a professional in interior design. The main idea is that nature is able to provide all the necessary decoration. All you need is to have a sense of perfection and we believe that you will recreate just the same look right into your place.
Crafty yarn ball wreath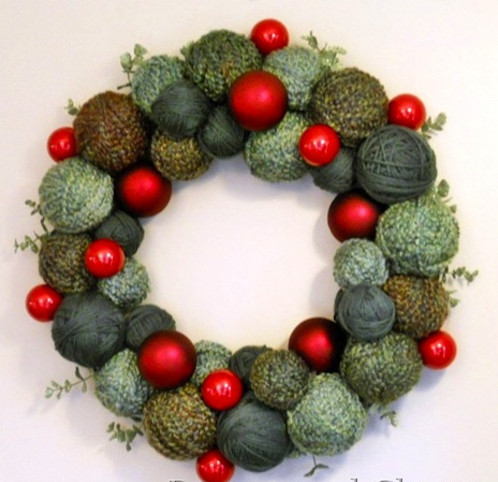 What a creative and effective wreath! Styrofoam balls, yarn an some wire wreath from and a little bit of imagination. That is all you need to create your own wreath of a kind. The secret technique is that the original author wrapped the yarn around every single ball in a different direction. This way one achieves an effect of a real yarn ball. Then, all the elements are glued together, of course, additional Christmas decorative items are essential.
No-muss, no-fuss Christmas tree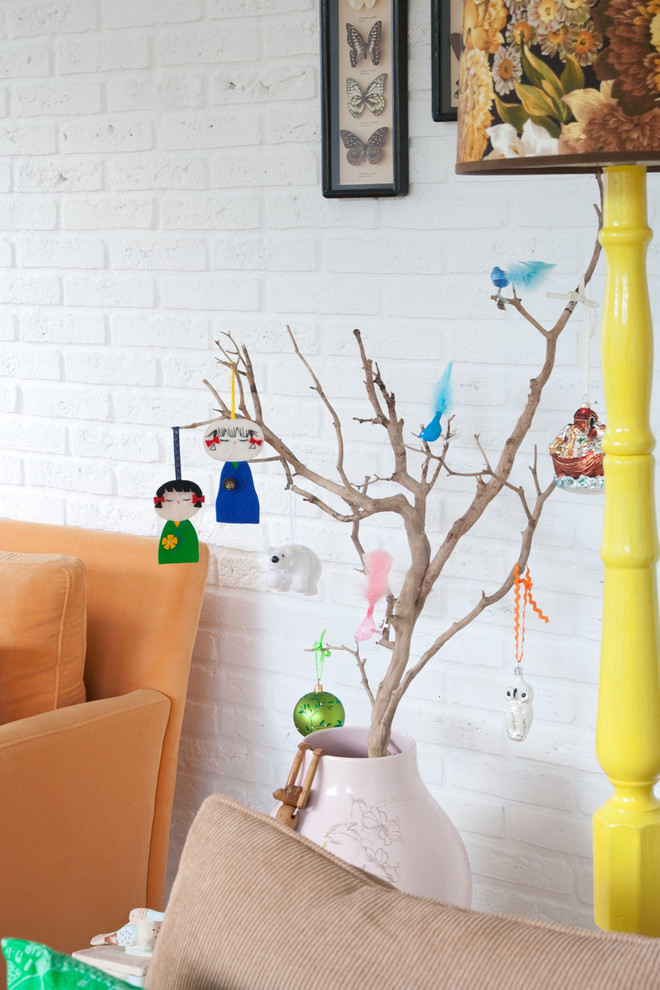 IT is not really necessary to put an entire Christmas tree at home. Recently we have found that such kind of small DIY Christmas tree are becoming more and more trendy. At least, it is more environmentally responsibly to have a small decorative tree that a real one.
Quaint hot cocoa corner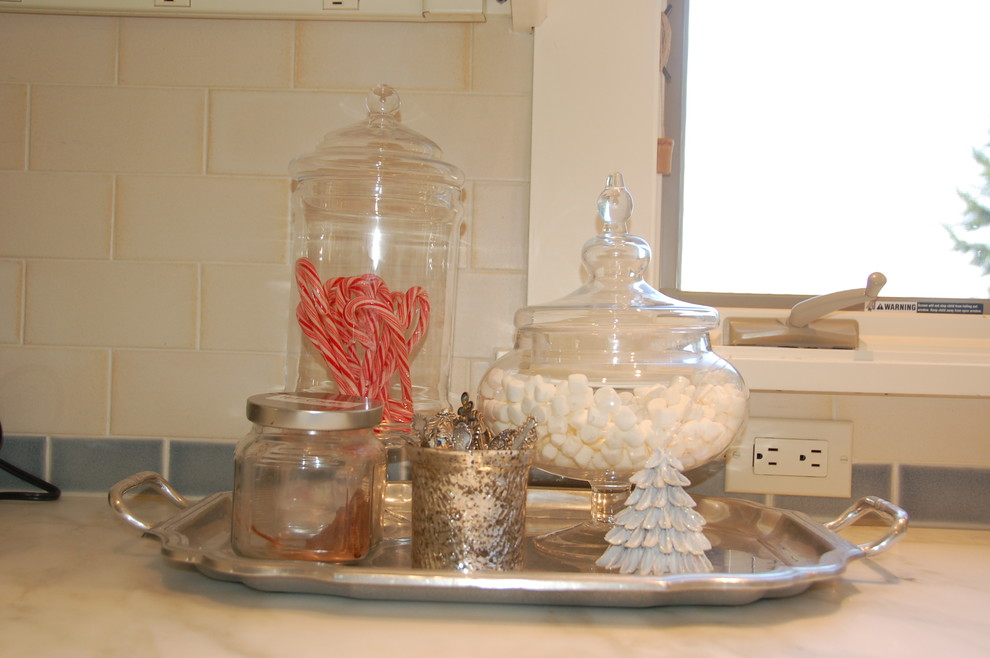 Do you love hot cocoa? We bet you do! Having such a corner somewhere in your house is a great way to break the traditional look of Christmas Eve. Your guest will love going there and having a cup of hot drink.
Clever Christmas riddle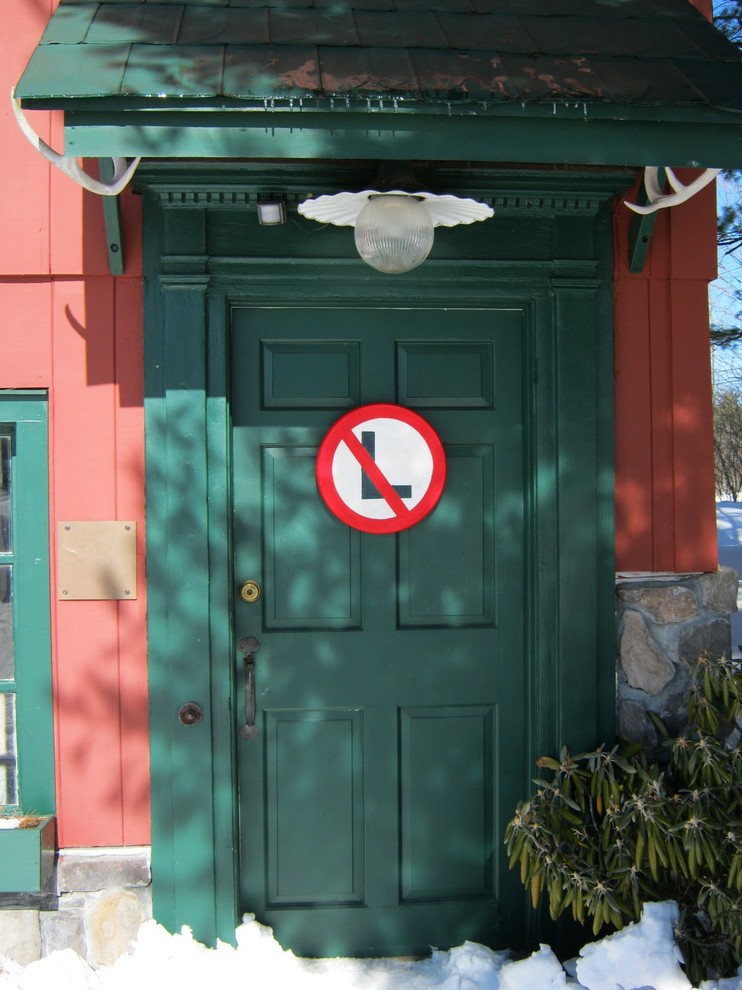 Can you figure out the riddle? This item brings a funny accent in your holiday mood.
p.s. The sign reads "No L" — "Noel!"
Moss wreath for every season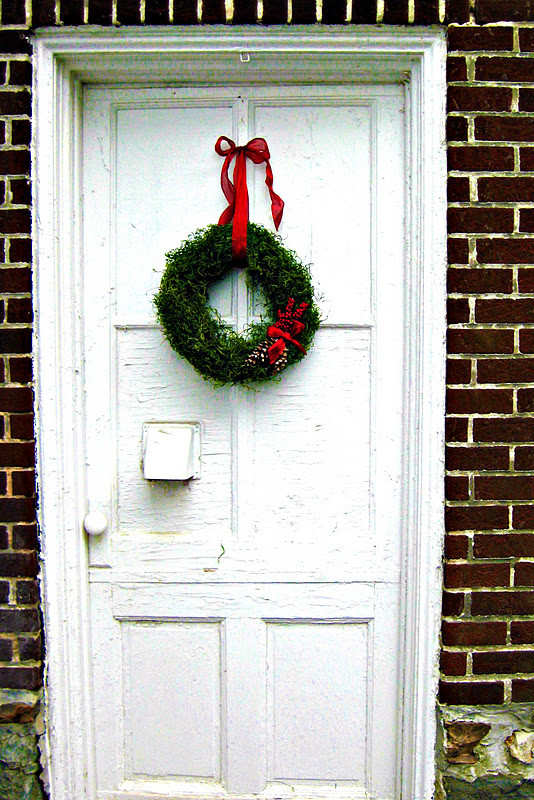 Now, we are heading outside the house and see what can be done for the front door if we want to make a Christmas decoration in the outer spaces of our homes. And the answer is – door wreath.
Tropical Christmas tree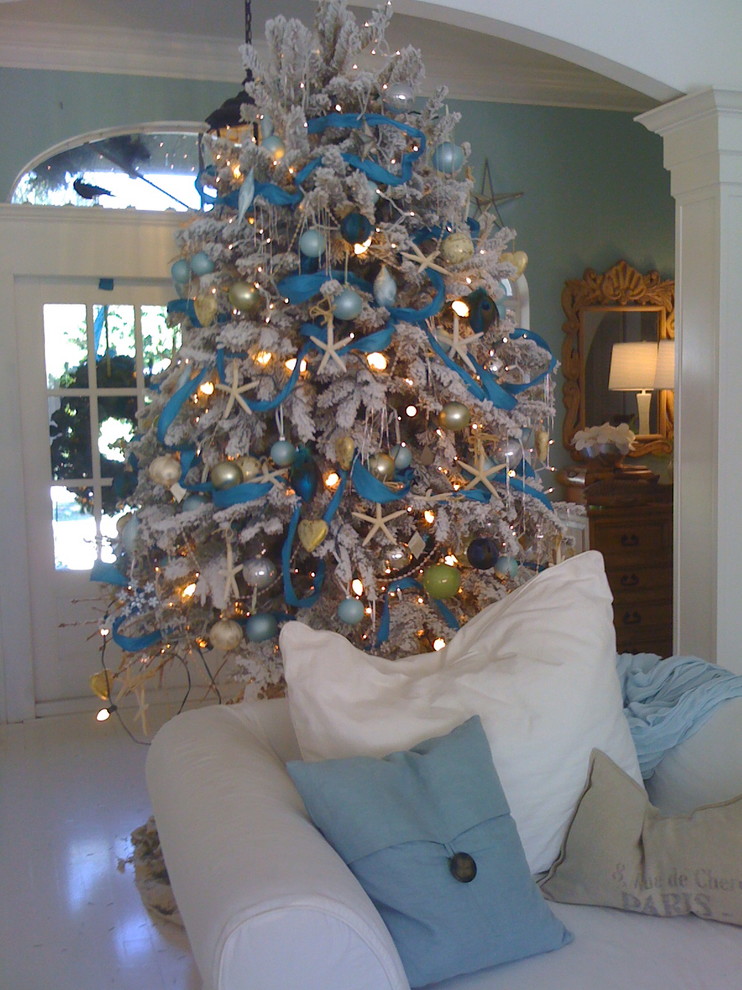 If you want a fresh and beachy vibe right into you Christmas home, just follow our professional advice. Arrange a Christmas tree in red and green, then add accents in turquoise and gold. You love the image from above, don't you?
Magnetic advent calendar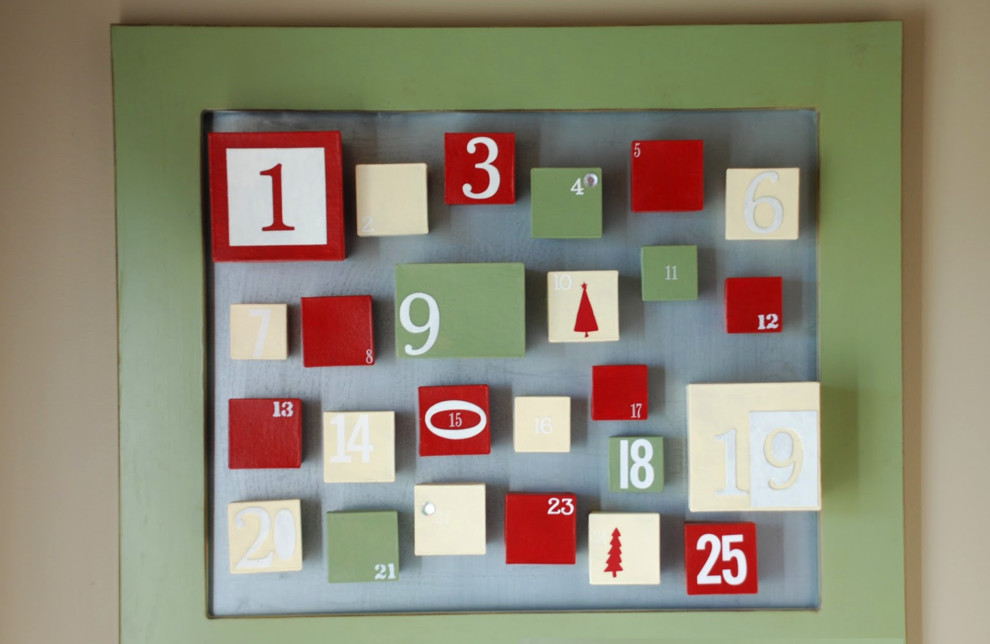 To finish today's article we should present one more advent calendar. It is made of papier mache boxes that can be easily found in local craft stores. In case you want to create such one for your place, have in mind that all the boxes have a small magnet at their back side (attached with glue) so that they can stay fixes.
So, which one of this gorgeous Christmas items did you like most? Do you think you will be ready to create one by yourself? In case you need an advice, write to us in the comments section below and we will be happy to answer any of your questions!!!