Image:1
Please, pay attention to this stylish designer approach to creating remembering outdoor dining areas and decorations. For those who prefer eating out in the nature, it would be best to connect the dining area with the surrounding environment. You can create a small shaded part using vines, for example, in order to separate a place where there wont be distracting summer rays when you are having lunch in the hot summer days. For those who prefer eating at sunset, it is advisable to open a view towards the sky and landscape in order to be able to enjoy the beautiful scenery. On the following image, there is a large comfortable table combined with trendy modern chairs and two wooden benches that can accommodate all your guests.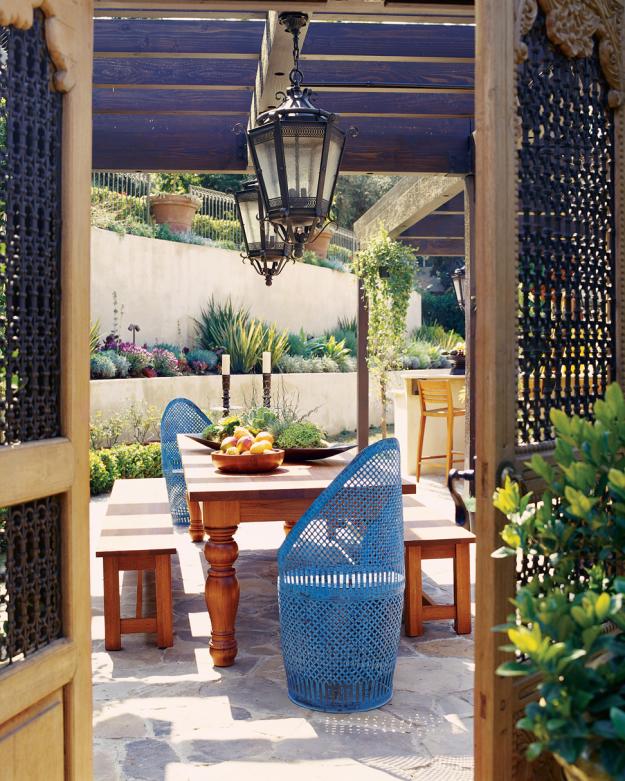 Image 2:
To continue with our trendy garden design ideas, we have to show you the following image. This outdoor area is great for gathering with friends and family. The plastic chairs are from the 70s but now, they have been only repainted in this unique gray-green color. In the surrounding area there is an olive grove of 100 acres that completes the patio atmosphere. Guests will definitely enjoy a cocktail evening on this comfortable patio where jasmine fills the atmosphere with its relaxing aroma.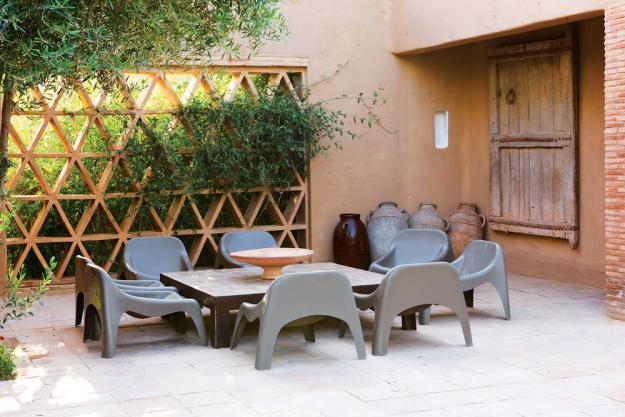 Image 3:
The house is located in Los Angeles and was restored in 1953 by George Mimnaugh. It has a small outdoor space, perfect for nesting a dinner table and couple of chairs. Lovely!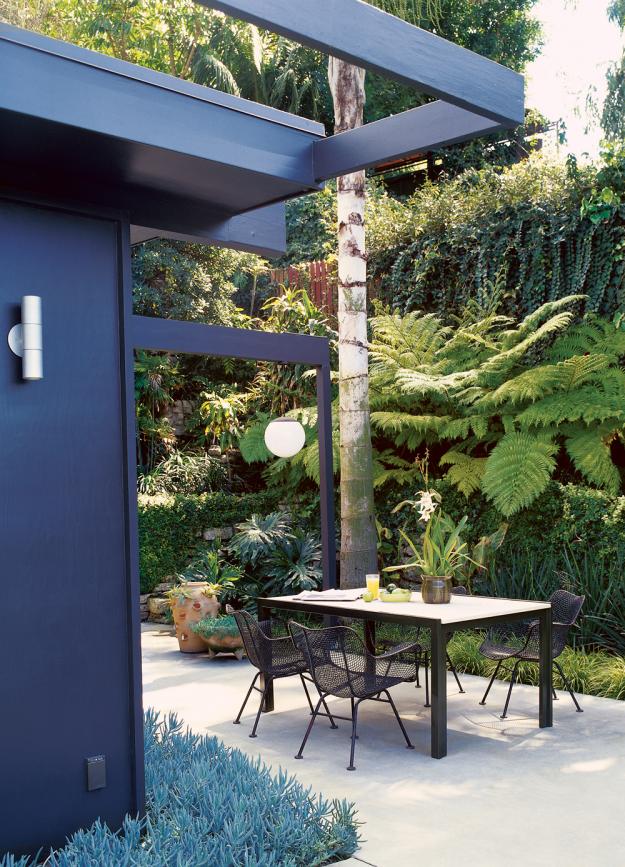 Image 4:
This unique view is located in California. It is not only beautiful, but it is also eco-friendly since everything in it has been designer from recycled materials. The table is placed under a small wooden patio pergola thus providing a spectacular view over the beautiful landscape. Recycled Flowerpots where tomatoes are grown in, eggplants and herbs will make your stay in the place even more pleasant. One of the most interesting furniture in this place is the aluminum table with an opening in the middle, perfect for storing wine, for example.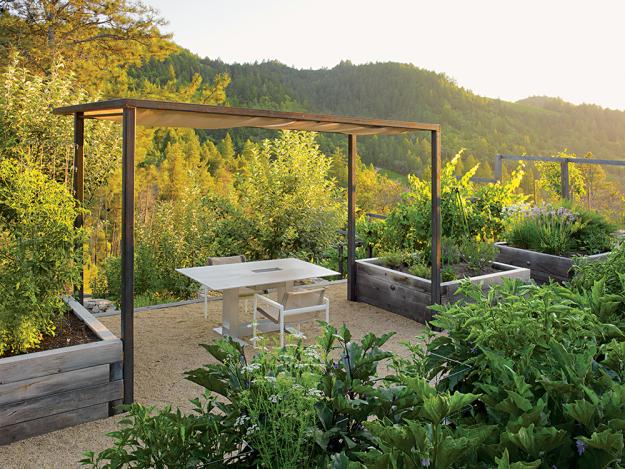 Image 5:
Designer Claire Matthews believes that one of the hardest challenges for creating landscapes is to make them comfortable and favorite place for both children and adults. The type of this project is a giant parasol perfect for playing on it or lounge. You can safely walk barefooted here. Matthew's daughters often gather with their friends at this place.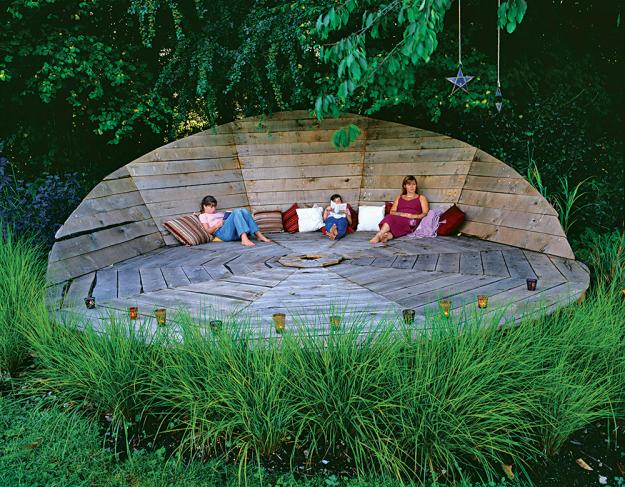 Image 6:
James Lord has designed this house landscape, creating interesting hills in the front outdoor areas. His family called them" The Hobbit" Hills. At the top of one of them he added a trampoline which became his children's favorite place to play.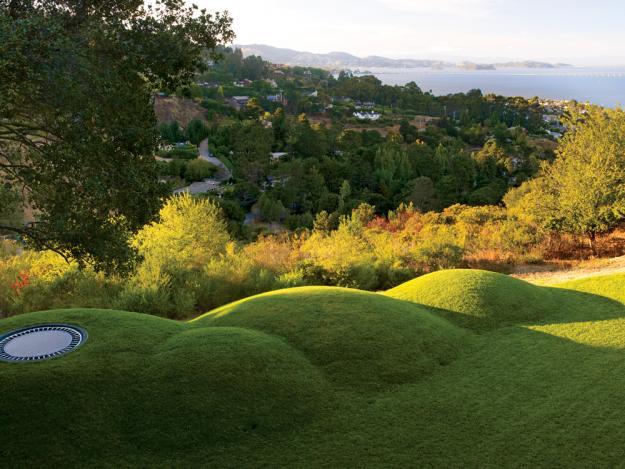 Image 7:
"Using installations in the garden is children's favorite thing, I must admit", says designer James Lord who created the following garden design. He not only desires to construct a playground, but his goal is to make an environment, where children grow provoking their imagination and creativity.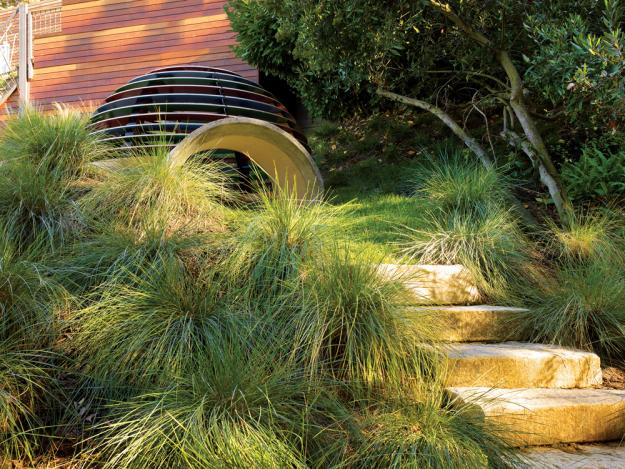 Image 8:
This house was built in Mexico, Costa Rica and has fantastic ocean views and a great garden. From the house you can hear the ocean waves that always create good mood at any occasion. Here we can see a patio designed in a luxurious and comfortable way by the architect Alex Pössenbacher.