Bathroom Design Guidelines
Bathrooms are no longer just a room with utility purposes. They are a place where design and innovative ideas create truly wonderful interior, with both utility purposes and great looks. You want to have a cozy and practical bathroom, filled with all the essentials and all the comfort you can possibly fit in there.
Whether your bathroom is big or small, you will want to make the most out of the interior and fill it with compact, easy to use and pleasing components. It should be an easy for cleaning space, but at the same time it should provide you with enough comfort and style so that it earns the title of 'home heaven'. In order to achieve this, you must carefully consider each element of the bathroom design and how it will interact with the others. Only then you can achieve perfect synergy and have a room worthy of admiration.
Any bathroom needs a shower or alternatively a bathtub. The dilemma on which one to install is usually present in many homes, although there might be factors involved that make the choice easy. For example, if the room is small enough, there might not be enough space for a whole bathtub, leaving a shower and possibly a cabin the only option. There is a big variety when it comes to selecting a type. Normally you will want one that saves you water, is easy enough for domestic cleaning and mounting. Showers are the best solution for people who prefer to spend less time in the bathroom, as well as those who cannot fit a whole bathtub in there.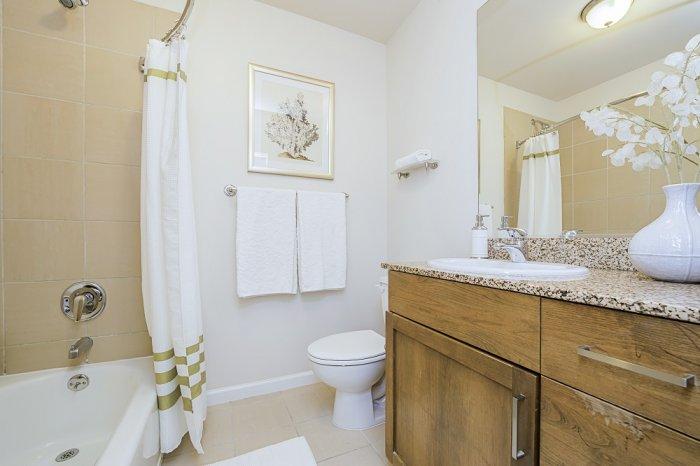 If, however, you decide you want to build a home oasis, then do a research on tubs and select one that best fits your needs and available space. Bathtubs come in different shapes and sizes that can provide you with comfort and help you create a relaxation area in your home. You must be cautious about the size of the tub, as bigger ones are usually very hard to fit in together with other bathroom components, and they require a lot of cleaning.
Next you must focus on getting a good vanity and mirror. Depending on your needs and how much storage you require, it might be a good idea to consider double vanity, as this will give you more space for cabinets to store cleaning solutions, towels and anything else you desire. If you have a large bathroom, perhaps installing double vanity will be a great option for you, as it will also allow a double sink – one commodity that big families can make great use of.
The mirror is a very important element of any bathroom. Whether it is mounted independently on the wall, or it is part of your vanity, you must pick the right size and make it synergize with the rest of the room.
The bathroom is a place that can put your design skills to the test. Consider what you like and be realistic about the space you have. Work from there to create a comfortable and relaxing bathroom.