Paper Curls Valentine Wreath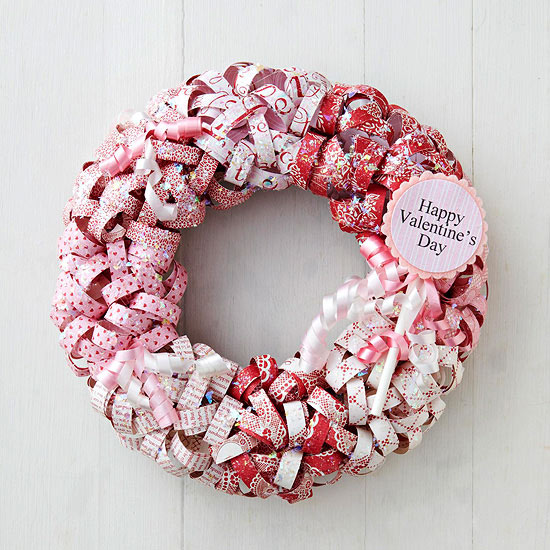 If you want to have this exactly holiday wreath you will need to do it yourself. It is easy! Once you have it, you will be able to put it at your front door or at the mantel – it is up to you.
First of all you will need some patterned paper. The figures and the shapes doesn't really matter but if there are hearts, bet on them. Also, you'd better use red-colored paper. Now, use a pencil to curl the strips of paper. Glue each curl in order to form a loop. Then, you will need to find a foam wreath form and stick the strips to it. Once you fill the form, you can sprinkle the wreath with glitter for a more effective look. Additionally, you can place a Valentine's Day sentiment on a cardboard paper and glue it on the wreath. Now, let's have a look at some other amazing Ideas for February 14th.
String of Hearts Garland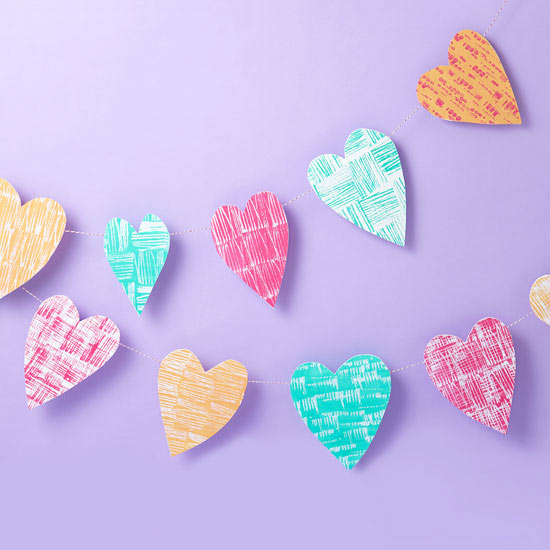 This garland is simply lovely. It looks so casual that it breaks the ice at an intimate meeting at once. There are two ways to create it. The first one is to find patterned paper and cut hearts out from it. And the other once is to paint by yourself two or three sheets of paper and then cut the hearts. Our advice is to use a cardboard template in order to have hearts of the same size, but it is really your choice how you are going to arrange them. Attaching the shapes to a length of string is not a difficult job either. The only thing you need is some glue.
Valentine Memory Boards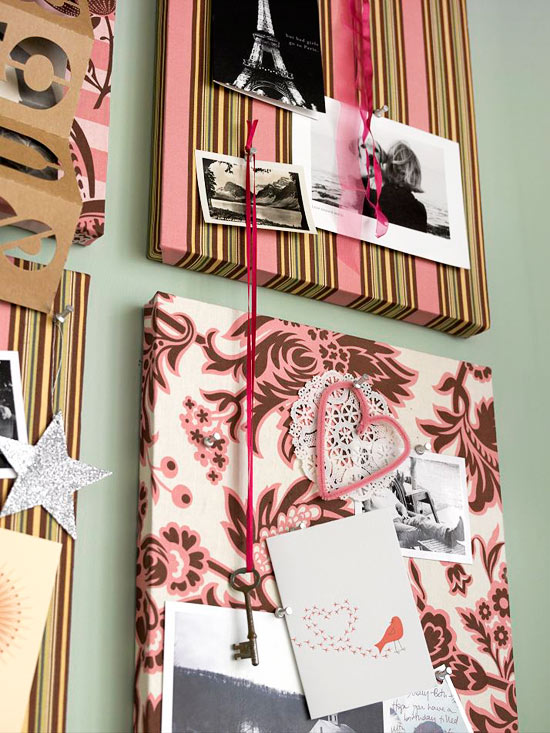 What is a memory board? This is the place where you can display all the romantic moments captured once in your lifetime. This item is very effective and if you want to DIY, go and find some patterned fabrics in pink or red colors. Our advice is to use cotton, as it is the fabric the can be wrapped easily. Now, you need a thick square object that can be covered with the specific fabric. Take the chosen wrapping material and fold its corners. Wrap it to the back and staple in place. All you have to do now is to choose your favorite photos and pin them to the boards.
Modern Valentine's Day Artwork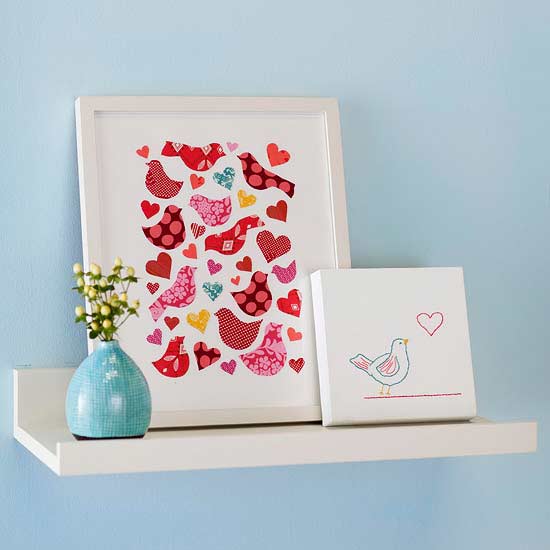 Our next ideas is for those who live modern and dynamic lives in the urban areas. You can have your perfect holiday addition to the modern interior you live in by adding such kind of collages at your place. In this specific example we have used birds and hearts-shaped fabrics that form shapes. Another idea is to draw a project design on a canvas and them sew over it using a thin needle.
Love Pillow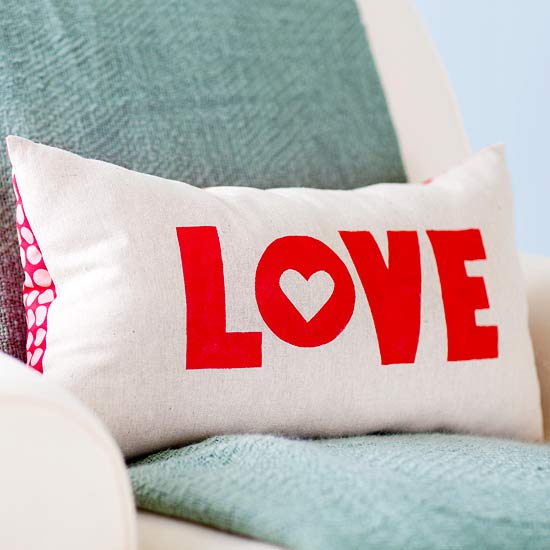 Spread the love and then feel it in the air! How you can dress a pillow for Valentine's Day? You can use fabric paint or stencils in order to add the desired writing. Of course, a quicker option is to cut the letters on your own or buy them at your local crafts store. Needless to say, you need to achieve a contrast with the pillow so that the writing will be able to outstanding and be easily spotted from a distance.
Heart Spools Valentine Plaque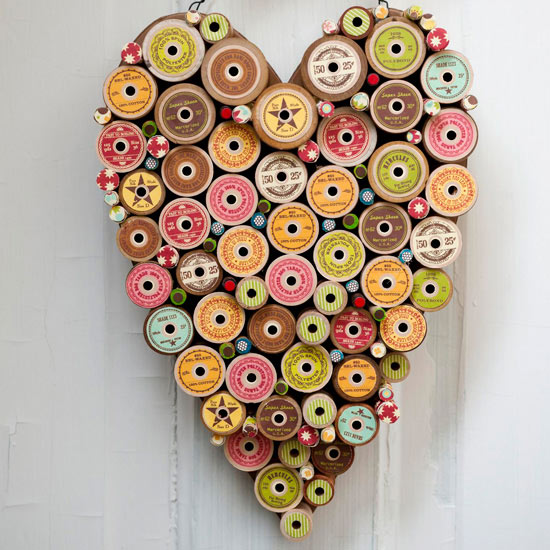 This charming piece of decoration is really easy to create, yet very interesting and effective home item. And how to make it? Paint a wooden plaque in a neutral color. Find some interesting colorful patterned paper and make circles from it. You will also need some wooden spools where you will be able to attach the paper circles. A good organization of the composition is to place the tallest spool of plaque at the very top and then arrange the other ones by size. The space between spool can be filled with embellished dowels.
Memory Keeper Table Setting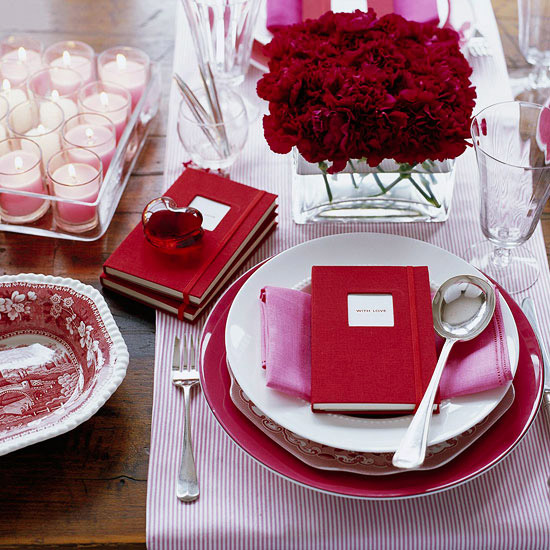 On the romantic table setting that you prepare for the night devoted to love, you can place a red journal that will match the rest of the festive table decor. When arranging the table scape with all the beautiful dishes, napkins, glasses and flatware, make sure that you still preserve the casual look of it. This will create a comfortable and firm atmosphere that both of you could enjoy. And now the journal. Add the name of the subject of your love and fill the book with beautiful and sentimental poems and memories. Then give the chance to your beloved one to write something in it. And after the night have finished, you can keep the sweet memory forever.
Beribboned Hearts Garland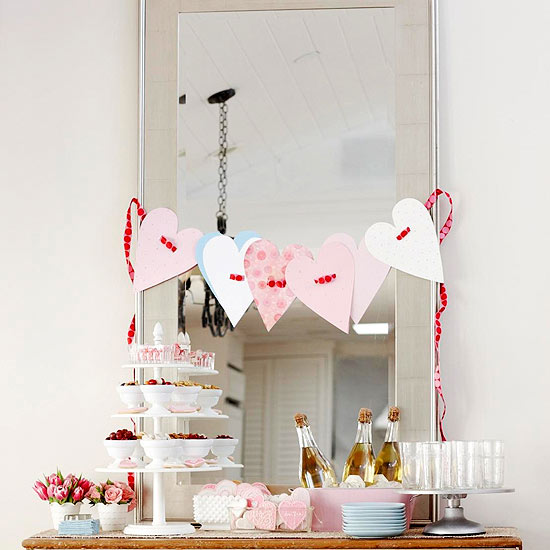 For a fresh and joyful interior, start with a string of hearts hanged on a mantel, mirror or somewhere else at your home. For best visual impact you can cut oversized hearts out from cardboard. Then, you need to create parallel vertical slits at the center of every heart made. Now, you should thread a ribbon of your choice and have the garland done! We advice you to stick to the lovely holiday color theme of pink and red colors.
Red-and-White Show-Offs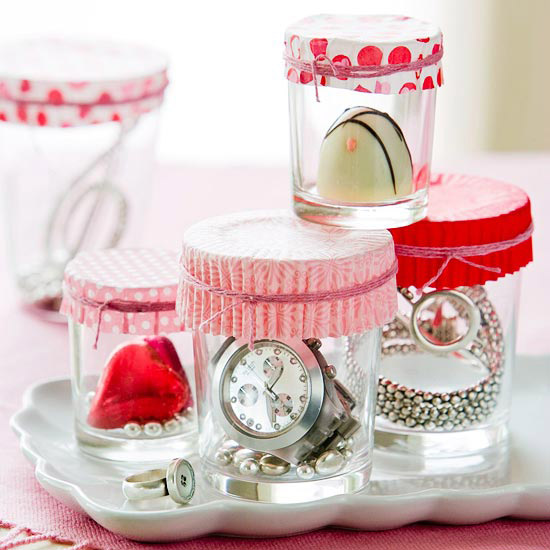 Such kind of containers are always welcomed on a holiday table. Get your sparkling jewelry, other precious items, treats, glittery faux gems, precious stones and place it inside the votive holder. Now, you will need again a holiday inspired patterned wrapping paper. Cut a circle out of it and place it above the votive. Stick it with some kind of colored string.
Flaming Hearts Candle Wreath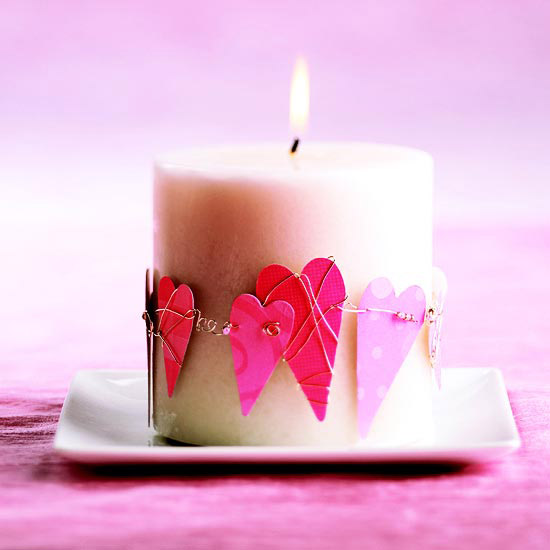 And what is a romantic holiday without a single candle? For this lovely decorative item we have collected the best idea around the web! You need some heart templates of a white cardboard. Then, you need to cut strips of pink or red patterned papers and glue them to the cardboard forms. You will also have to poke some holes in the newly created objects so that they could be wired in a garland like structure. Well, an interesting approach is when wiring them to make interesting and funny twist and curls in order to achieve a more original look. The purpose of this small garland is to encircle the candle.
Valentine's Day Banner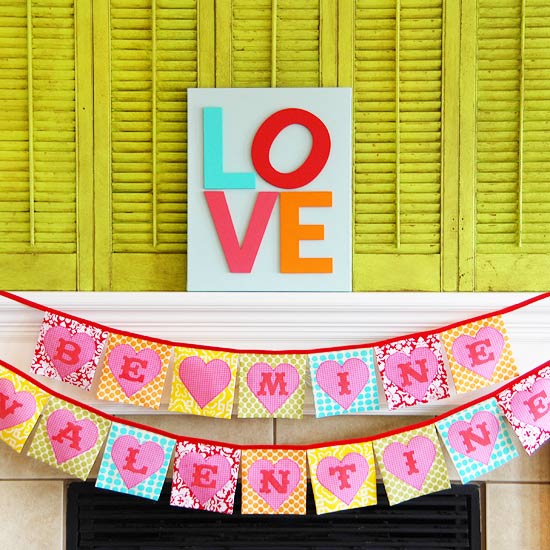 When you want to create a focal point in a certain type of interior you need to use vivid colors. They make the object to stand out from the rest of the objects inside the place. For best Valentine's Day results you can arrange an item in pink hearts combined with fresh orange, pale yellow, calm green and light blue hues. And now, the preparation. For this specific writing you will need 16 hearts that you should trace onto a houndstooth fabric. In order to paint letters inside the hearts you can use a stencil. After that you will need to sew the hearts onto fabric square of different colors and attach them to a red ribbon. Now, you will be able to place the sweet garland at your mantel or any other place that you think this decorative item will fit in.
Framed Love Quote Decoration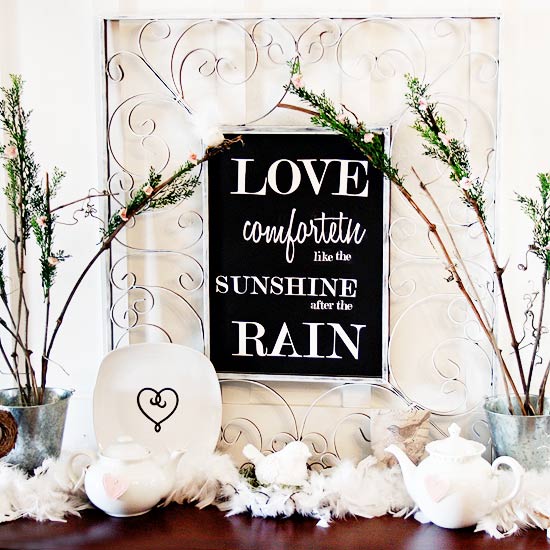 An interesting idea is to decorate some kind of table or shelf with a love quote in a frame. This adds a kind of vintage accent inside the place but it can fit any kind of modern interior, as well. When you have to attach the letters to the cardboard, you will probably need some glue. Of course, you will firstly need to cut them out using a die-cutting tool. If you can't find any frame that you can attach you composition too, you can also use a mirror.
Heart-to-Heart Garland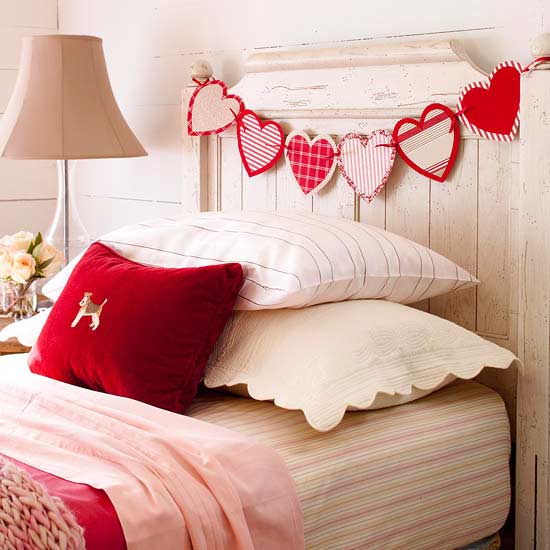 What a lovely and romantic bedroom, isn't it? These hears are made of fabric scarps which have been layered and attached with iron-on adhesive. In order to make the garland, there were holes made in each heart. After that, they have been arranged in a beautiful love garland that is now displayed in the bedroom. Ready for the night?
Fluttering Heart Wreath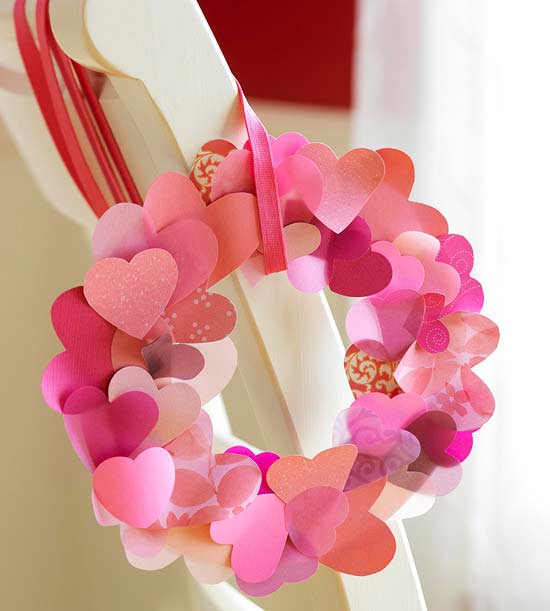 Another lovely small garland! Needless to say, you have to cut the hearts. This time, you can use your imagination and find the best paper for your hearts, like colored vellum or lightweight decorative papers. In order to achieve the same effect as from the image above, you have to curl the hearts. It is very easy, you only need a butter knife. Attach the hearts with transparent paper glue and at the end, you can place a ribbon.
Public Display of Affection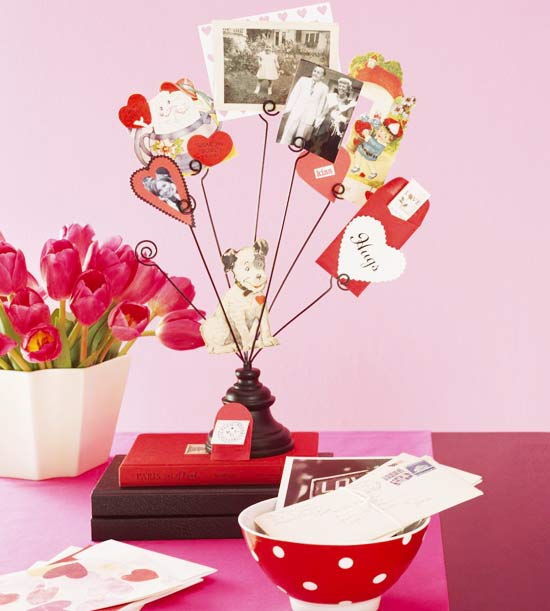 Romantic moments should be displayed and what a better chance than Valentine's Day? A great idea is to find the digital versions of your favorite photos and add black-and-white or sepia filters. You can even use Instagram for this purpose, since it provides a lot of effects. Then, go the local photo studio and print them on paper. Now, you have a gorgeous vintage versions of your favorite romantic moments.
Decorated Dessert Pedestal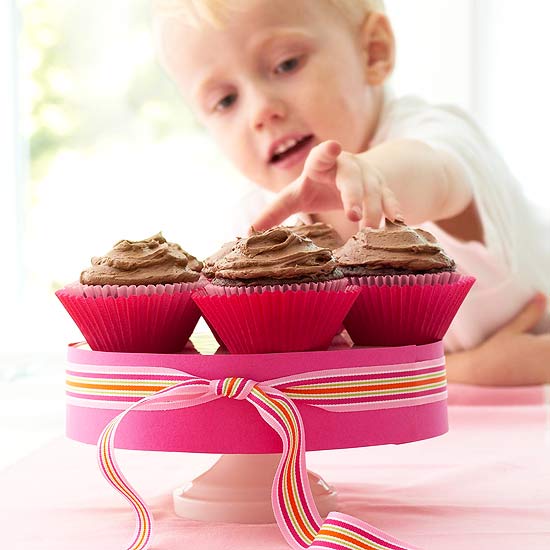 Do you want to display all the sweets that you have prepared for Valentine's Day in a fascinating way? Then you need to create a skirt for the cake plate where you will place the delicious surprises. Use a colorful paper of vivid hues and a ribbon belt.
More Valentine's Day Ideas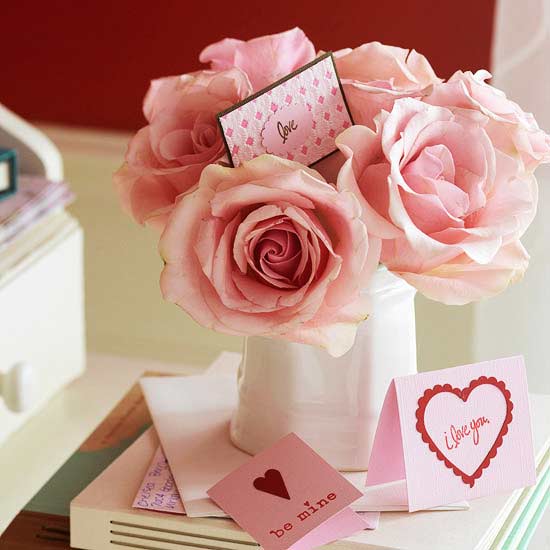 Of course, flowers are inseparable part of a romantic holiday such as Valentine's Day.
Mini Iced Valentine Vanilla Cookies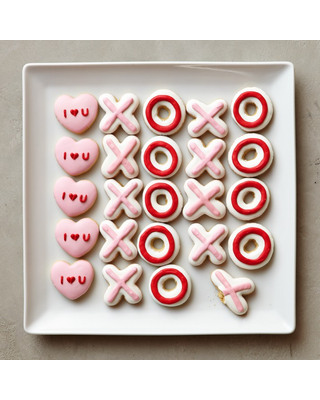 And what do you think of creating such kind of vanilla-sugar cookies? Do you like the idea? Is you sweetie going to like them? Is so, get to work! Use the best products you can find – fresh eggs, creamery butter and pure vanilla. The visual example above represents a very effective arrangement that forms a writing that says: "I (heart) you XOXO". Of course, it is up to you and your emotions what will be the writing on your own cookies setting.