Any hardware professional will tell you that there's nothing that can help different handicrafts and other related works than having the best tools at your disposal. And in terms of efficiently cutting wires, cables, sheets of metals or even stripping cables, a wire cutter is your best option.
But how do you choose the right one for your needs? In this helpful guide, mentioned below are a number of tips and aspects to consider to help you choose the best wire cutters for your future do-it-yourself (DIY) projects like gardening and others.
Understand The Different Types Of Wire Cutters
You'll find different types of wire cutters that serve different purposes. So, it's important that you first understand each type.
1, Combination Wire Cutters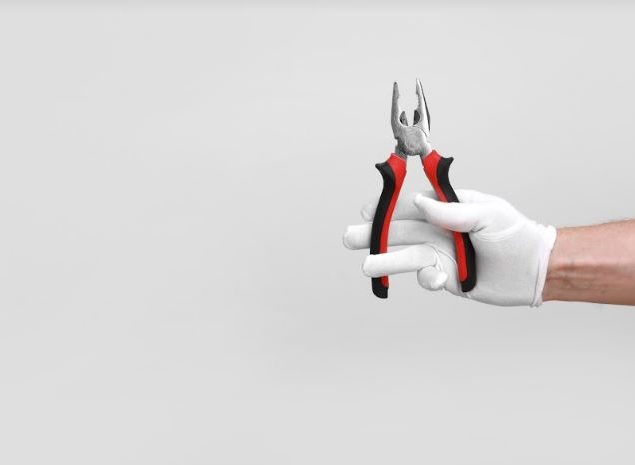 Combination wire cutters, also referred to as Linemen's Wire Cutter, are said to be the most widely used type of wire cutters in the world.
They feature wide and flat jaws for gripping objects. Because of their sturdiness and thickness, combination wire cutter types can cut steel fencing wire, steel screws, and thick nails without any trouble. This is possible due to the levering action of their long handles.
The name combination wire cutters are because they're suitable for universal use. Their insulated handles allow you to work safely around wirings and other electrical projects without experiencing moderate shocks. They don't just cut but can also bend wires and cables.
It's often practical to have a set of wire cutters that can both cut and bend wire, as it saves you carrying more than 1 tool. Maun's wire cutters offer a variety of features with one tool, such as machine hardened cutting edges and parallel action gripping jaws, all in one tool.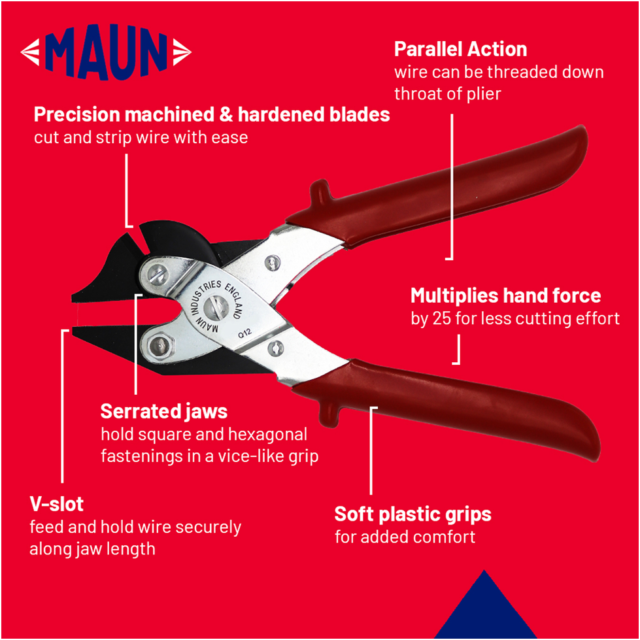 Cutting Pliers by Maun
2, Flush Wire Cutters
Flush wire cutters are small wire cutters featuring a non-slip grip that is normally used for jewelry, flower arrangements, and electrical work. A pair of flush wire cutters can cut wires cleanly instead of splitting them before cutting and is a highly versatile, multitasking tool.
Featuring a diagonal jaw, the flush cutter can cut flush, semi-flush, super flush, and full flush. The wire remnant on the angled side will have a 'V' or angle cut.
Due to the decreased bevels on their clipping edges, flush wire cutters allow you to use them will less force. In general, it's said that flush cutters are most suitable for cutting up to 1.3mm thick wires and 16 gauge.
3, Needle-Nose Wire Cutters
The needle-nose cutters are known for their pointy and long-nose that allow for longer reach. This makes them a must-have tool for DIY electricians since they can easily reach electrical panels. Their harp, tapered jaws allow you to easily bend and insert wires and cables into switchgear in electric panels. Where there's not enough space to use other types of cutters, the needle-nose cutter easily fits there and does the work.
Other than electricians, a needle-nose wire cutter can also be used by jewelry designers, artisans, tradesmen, and network engineers to reposition and bend wires. But its biggest disadvantage is that it can't be used to snip cable ties since its long nose tends to get in the way.
4, Diagonal Wire Cutters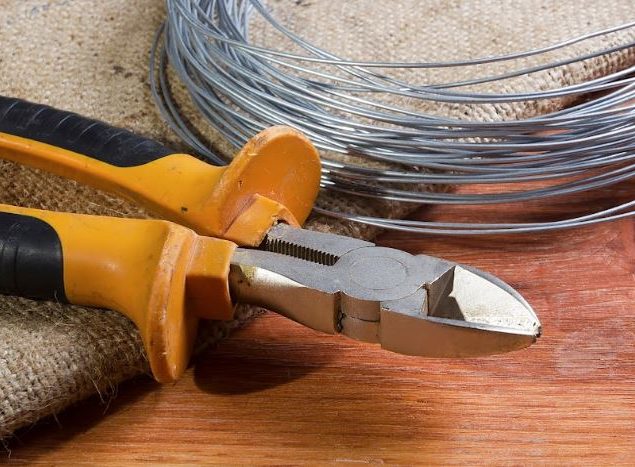 Also known as side cutters, diagonal cutters offer a clean, nice, and smooth finish when cutting materials. From its name, this type of cutter delivers a diagonal cut.
Diagonal wire cutters are often used for cutting soft aluminum or copper electrical conductors. But they're not suitable for cutting harder items such as screws and nails. Take note, nonetheless, that these cutters leave marks on the wire after cutting because the jaws force the wire to break instead of cutting through cleanly.
5, End Cutting Pliers
Mainly used for cutting wires, nails, rivets, and screws, end cutters feature half-circled jaws which are at the right angles to the body of the tool. This gives you easier access to tight areas.
End cutting pliers can also be used for extracting nails from wood by using their jaws as a fulcrum.
Application And Cutting Capacity
In general, wire cutters can't be used for diverse jobs, unless they're specially designed to be multipurpose.
So, make sure to determine why you need a wire cutter and choose a pair that easily cuts the materials that you intend to work with. Yet if you work with different cables and wires, you'll need to invest in different wire cutters.
Choose High-Quality Material
The best wire cutter should be durable and well-built. It should be constructed from solid materials that are resistant to corrosion and rust too.
It's said that a high-quality wire cutter is made of high-quality tool steel or high-speed steel. A tool steel offers increased flexibility while high-speed steel helps retain sharpness for longer.
Further, you need to choose a wire cutter that's resistant to corrosion. Carbon steel, alloy steel, or chromium-vanadium steels are the best materials for corrosion resistance. Steer clear of wire cutters with blades that tend to chip easily as well.
Don't Forget To Look At The Handles
In terms of the handle, you need to check for two things – its length and sleeves.
Handle length is critical since it transfers force from you to the blades. A longer handle offers you more leverage that allows for cutting harder and thicker wires. Meanwhile, shorter handles are easier to store and more portable.
Other than the length, you also need to pay attention to the grip. Look for wire cutters with rubber sleeves on the handles to boost comfort and maneuverability, while preventing your hands from slipping when using the cutter. You can also opt for those with insulated handles, suitable for electrical works.
Conclusion
For the home DIYers, a wire cutter is one of the most useful tools that should always be in your arsenal. The best wire cutters can make wire cutting jobs faster and easier. So, if you're in the market looking for the first wire cutter or want to replace your old one, then hopefully this feature has provided you with an idea on how to choose the right one.