You might wonder why and how office furniture can impact or make a difference to your business or working environment. We are here to explain to you why having the right furniture for your office is essential to not only the image of your business but the running of the business too. Remember that it's not only the image of a company that is key to its success, a well-designed office layout with the correct style of desks and chairs that are built to last a long time helps provide a smooth running business layout. Here are the main ways in which office furniture can make a difference to your business.
Office furniture can play an important role in the feel of the office. Having the right furniture can affect productivity and mood, so choosing the right pieces is key.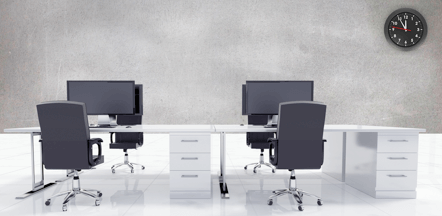 Creates the atmosphere of the business
The atmosphere you create within your office will have a direct impact on your employees' productivity and mood, so choosing key pieces that reflect and create the atmosphere and mood you want is essential to a good working environment. Everyone likes walking into an office that is clean, neat and orderly and has a comfortable, yet attractive appearance that reflects the nature of your business. Another reason to have the correct office furniture is for business partners and clients. It's both important and essential that these people are welcomed in a professional manner and seated in furniture that is both attractive and comfortable. Office furniture should also reflect the nature of your business. For example, whilst a warm and inviting atmosphere is an important factor, your furniture should also combine purpose and function with design.
The right chair creates the right work ethics
No matter what the nature of your workplace is, a good office chair really does make a big difference to the work environment. In fact, for many people, it is the single most important piece of office furniture. This is due to many factors, as people spend most of their day sitting in their office chair and many sit for hours and hours on end. Even those who take frequent breaks may experience problems such as lower back pain. This is simply because spending an extended amount of time in the same position naturally leads to more shoulders, arms and back stresses. People tend to unconsciously bend over or slouch as they are sitting down, so choosing a good quality and well designed office chair, particularly a mesh or ergonomic one, helps support your body and maintain proper posture when sitting in the office. A happy body means better productivity during working hours, thus benefiting both employees and the business.
Combine all the elements of office furniture together
As well as comfortable and effective office furniture, it's important that you maintain a comfortable room temperature, provide other office pieces such as a place to hang coats, a desk or a refreshment area for breaks, and comfortable chairs in which employees can rest and relax during breaks. The office chair that an employee works from should be separated from an area of chairs or sofas in which employees can relax on several times throughout the day. For larger businesses, you should include a corporate room with a large table, comfortable chairs and lamps.