Rustic Decoration
Have a look at this stylish and cheap ways to decorate your homes by using ropes and balls of yarn. Houses on the beach or holiday houses are perfect for that kind of interior. Putting a rope in the living room adds a sense of the ocean nearby which you can enjoy relaxing. The rusty interior mach perfect with decorations of glass or steel, or both. Ropes can create the illusion for semitransparent walls.You can easily do it yourself – use a rope and hang it out from the chandeliers, for example, and use your creativity for arraning your big or small room decorating ideas.
Image 1:
Stylish and funny.The kids will adore this adorable decor idea. Although the color matches the wall, the decorative element is distinguished well enough.
Image 2:
Usually ropes look very well in dark tones. However, the lighter colored cotton rope is better in the cases when you want to create a nautical atmosphere.
Image 3:
This hanger can be positioned almost everywhere. If you don't hang anything on it, it can only function as a decorative element with contemporary shape and color.
Image 4:
Using ropes is an unique an creative way to make unconventional lighting objects.
Image 5:
As you can see, you can use ropes for a variety of decoration ideas. You can wrap them around mirrors, use them for holding towels, for creating different hanging elements, etc.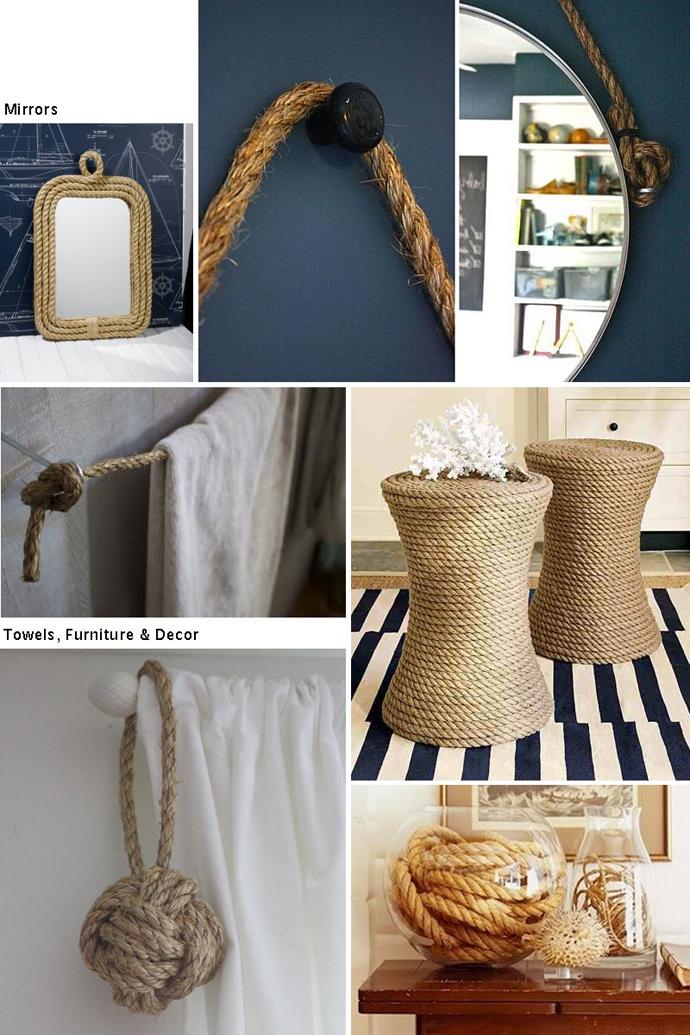 Image 6:
The combination between glass and rope can be defined as rustic but very stylish idea for any interior. You can decorate any room in your home.
Image 7:
For the fans of minimalist interior – do you see now, how non-traditional for the minimalist design ideas can be used in your favorite interiors?
Image 8:
One perfect solution if you want to provide more space and light in the room.
Image 9:
Tucked in a clear glass fishbowl or hanging from the wall, the ropes can create harmony for every taste.