Are you getting ready to remodel and refurbish your kitchen? If this is the case, there are so many small details you will have to watch out for! This will range from what sort of furniture you place inside of it, such as the kitchen cupboards or the seating, to what sort of decorative elements you will arrange throughout the room. Just one important factor you can't forget about is lighting. After all, when evening arrives, you will want to be able to see clearly what you are doing. So, you might want to install some modern kitchen island lighting as well! Check out our collection of 20 modern pendant lighting for kitchen islands. Thanks to this inspiration, you might find some ideas on how to illuminate your own island.
1. Above and Below – Modern Kitchen Island Lighting
When it comes to illuminating your kitchen island, there are a few ways of going about it. How about designing your lighting in order to illuminate your whole island? This might mean installing some spotlights right above it, which direct light towards that space. Another idea you can try out is to encircle the kitchen island with lines of led lights. You can do this under the tabletop of the island, and also in the space right above the floor. Installing led lights here will provide that modern look you might be wanting to achieve.
2. Large Globe Lampshades – Stylish and Unique
There are a whole number of types of lighting you can install inside of your kitchen. If you are looking for the perfect type of pendant lighting, you might choose a unique sort of lampshade to place on your pendant lights. Sometimes just choosing a stylish and interesting lampshade design will perk up your whole room! For a truly fabulous look, how about trying to fixate globe or sphere-shaped lampshades to your pendant lights? These will definitely create a whole new atmosphere in the kitchen, not to mention, will provide a great source of light.
3. Under the Counter – Fantastic Lighting Ideas
While you might have thought about adding lighting above your kitchen island, here is one sort of lighting you may not have considered. It's the sort which you install right underneath the countertop of your island. You can attach a row of led lights somewhere in the corners of the island, or just along the middle of the countertop. This will definitely accomplish making your kitchen look modern and contemporary, so if that's what you wanted, maybe give it a try!
4. One Long Light – Modern Pendant Lighting for Kitchen Island
Another great sort of lighting to try out is installing a long and single light above your kitchen island. This will serve as a fabulous alternative to using multiple pendant lights, hanging down next to each other from your ceiling. Depending on what sort of style you are trying to embody inside of your kitchen, make certain that this lighting fits right in place. For example, if you are in search of something modern and contemporary, how about getting a type of lighting which uses some sort of geometric shape to stand out?
5. Wooden Tubes – With Globe Lights Attached to Them
Check out this amazing type of lighting which you might choose for illuminating your kitchen with. It revolves around using wooden tubes to which lightbulbs are fixated. Then have globe-shaped lampshades placed onto the lightbulbs. As we discussed before, globe lampshades have become a huge trend again! After all, they do provide a beautiful and serene atmosphere with their subtle glow. The combination of the wooden tubes and the sphere lampshades will be a gorgeous addition to any kitchen, as well as being a fabulous way of lighting up your kitchen island and the area around it.
6. Stunning in Spot Lights – Scattered on the Ceiling
As we mentioned before, there is a huge number of ways you can add lighting to your kitchen island. If you are in search of lighting from above, how about you try out spotlights as an alternative to pendant lights. By installing a whole set of them on the ceiling above your kitchen island, you will create the look of a sky with small stars. Spotlights are a fantastic choice if you would like a more intense light to surround your kitchen.
7. Designing Your Own Lights – Modern Kitchen Island Lighting
Perhaps you have been thinking about designing your own kitchen lighting. After all, why not? You can use vases or mason jars as the lampshades of your lights. This will look amazing especially if you decide on using pendant lights to hang from the ceiling! Instead of only using three or four of these, you can install a dozen for a gorgeous effect! The light reflecting off the glass lampshades will create a cosy and comfortable atmosphere inside of your kitchen, chiefly if the lights installed are tinted with a yellow colour, making them exude warm light.
8. Coordinating Colours – For a Beautiful Look
What sort of colours did you use in the design of your kitchen? For example, did you use more vibrant colours which breathe a groovy and funky essence into your kitchen? Or did you stick to a more clean look, which involves mainly monochrome shades? Well, whatever colour coordination you decided on using, make sure that your lighting matches it! After all, you don't want the colours to look out of place and create a sense of disharmony. So make sure that if you choose pendant lights, that their lampshades complement the colours used throughout the room!
9. An Outstanding Oval – Modern Pendant Lighting for Kitchen Island
Maybe you'd like to install a modern and contemporary shape of lighting in your kitchen. How about trying out an oval-shaped pendant light right above your kitchen island? This might look like an oval-shaped ring which is made up of led lights. It's not exactly a common sort of pendant light, but this will make it all the more unique if you decide on installing it. The fact that this ring of light is put together out of led lights will create an intense luminosity in the whole room!
10. A Vintage Vibe – Modern Kitchen Island Lighting
Would you like to design and decorate your kitchen in a rustic or vintage way? Then you will have to pay attention to the lighting you choose for the room as well as other things! So, if this is the case, then try finding some sort of lampshades for your pendant lights that really exude a sense of a different era. This might come in the form of a few glass lampshades, which look somewhat antique. For a rustic twist, you can hang them from a ladder which is fixated to the ceiling of your kitchen.
11. Illuminated Everywhere – Elegant and Dazzling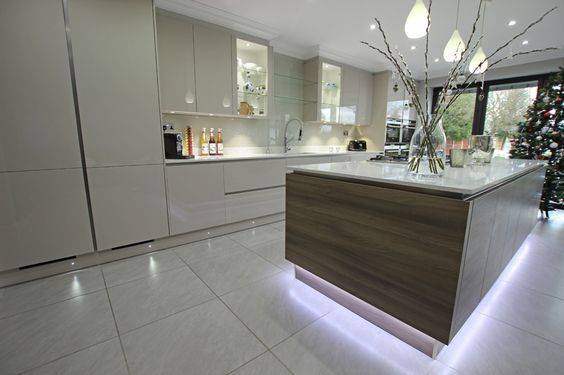 Depending on how much sunlight enters your kitchen, you will want to make sure that you install enough lighting in the room. After all, when you spend time in your kitchen, preparing food or drinking a coffee, it wouldn't hurt to see what you are doing! Keeping this in mind, you will want to add a few types of lighting to your kitchen, especially around your kitchen island. Pendant lights shining from above and led lights encircling the island from all around. With enough sources of light, your kitchen will look absolutely amazing!
12. From Underneath the Counter – Getting Creative
Maybe the sides of your kitchen island have indents on them or carved patterns. This is a fabulous way of making your kitchen island stand out. But to make these patterns on the sides come truly alive, you can add some lights to the island. It's a simple trick of fixating rows of led lights right underneath the countertop of the kitchen island. As the light radiates downwards, it will create unique shadows, thanks to the patterns on the sides of the kitchen island. Thanks to the lighting, you will be able to make your kitchen island the centrepiece of the room!
13. A Feeling of Farmhouse – Metal Wire Cages
Another style you might think about using as inspiration for the design of your kitchen is modern farmhouse. This will incorporate a rustic design with a modern twist around it. You might be wondering about what sort of lighting you can add to the kitchen, which will match this design. How about installing lightbulbs onto a wooden board? You can attach some metal wire cages to them as well, instead of actual lampshades.
14. Single Light Units – Easy and Practical
One part you don't want to forget about lighting is the area right underneath your kitchen island! By installing single, small spotlights next to each other all along the bottom of your island. While you might have already installed some lighting above your kitchen island, you will also want to illuminate the bottom of it! This will help accentuate the shape and form your island. Not to mention, if you go into your kitchen during the night for a glass of water or a late-night snack, thanks to some extra lighting such as this, you'll be able to see where is what.
15. Refinement in Glass – Modern Pendant Lighting for Kitchen Island
Are you still searching for the perfect lampshades for your pendant lighting above your kitchen island? If so, then check out this idea, for using glass lampshades! One of the best things about using glass lampshades is that they don't actually take away any of the intensity of the lights itself. So if you have pendant lighting in your kitchen, how about you give glass lampshades a try? A few of these hanging down next to each other will look refined and elegant with a vintage touch!
16. Bright and Brilliant – Modern Kitchen Island Lighting
We don't even need to emphasise anymore, how many fabulous ways there are of adding lighting to your kitchen. Just one of these includes a combination of spot and pendant lights! With two types of lighting installed into your kitchen ceiling, you will be sure to create a bright space, in which it will be a lovely feeling to be inside. Again, as we mentioned before, you can try using glass lamp shades for your pendant lights in order to create a sophisticated yet modern look.
17. An Innovative Chandelier – Unexpected and Unique
While you may have always admired vintage chandeliers in large rooms, it doesn't necessarily mean that it would fit in your kitchen. If you still want to install a chandelier in your kitchen, you can choose a much more modern option! A modern chandelier may consist of metal rods arranged together, with lightbulbs popping out at the ends of them. Combining metal rods with the glass lightbulbs will definitely give your kitchen a gorgeous contemporary design. This chandelier will spruce up your kitchen in no time at all!
18. Looking Like Lanterns – Modern Pendant Lighting for Kitchen Island
If you like the look of lanterns you might place around your house, then why not create a few for your kitchen? Build them out of glass and wood for a fabulous look, creating small box-like lampshades. By fixating them on your pendant lights, you will create the look of lanterns with small candles inside of them. Allow a few of these to hang from the ceiling above your kitchen island for a whimsical ambience.
19. On a Wooden Board – Beautiful and Bold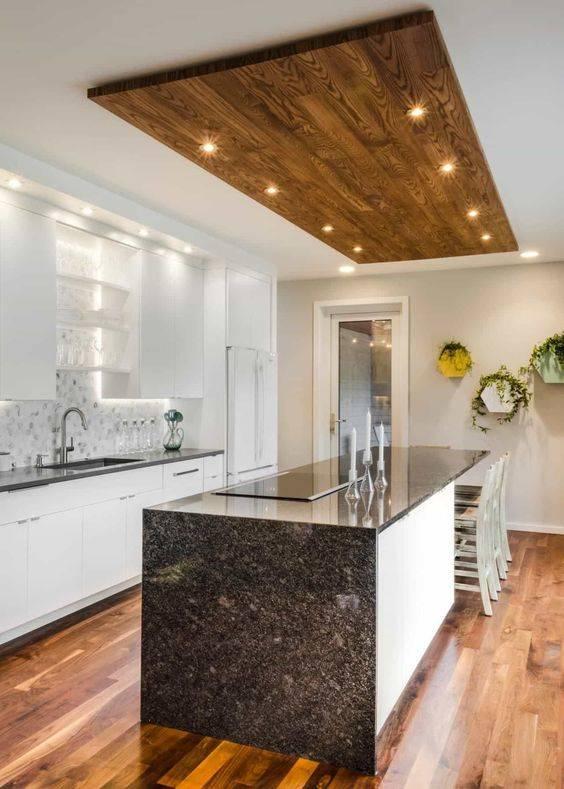 Instead of installing your lighting directly into the ceiling of your kitchen, why not first fixate them in a wooden board? Then you can attach the board to the ceiling for a marvellous look. Instead of pendant lights, give spotlights a try for this idea!
20. Monorail Lighting – Modern Kitchen Island Lighting Ideas
How about you give monorail lighting a try? It's all about small lights being attached to the same rail. You can turn the lights if you want to, which will make them shine in different directions. This will be a perfect way of lighting up your kitchen island and the area around it!
We trust that this pick of 20 kitchen island lighting ideas has assisted you in finding something awesome! For other home design ideas, such as kitchen cabinet lighting ideas or outdoor grill ideas, visit our website!