Pallets are conquering our interiors these days. They are very attractive but not very comfortable if your are using them for sitting. That"s why additional soft pillows, blankets any other comfortable materials are preferred when using this type of wood crates into your home, office, villa or garden. Today I have collected another great dozen of images that have inspired me during the weekend. Actually, here in our office in New York, we have also made a small sofa out of them. And do you know how do we find it? It's awesome!
To begin the story of making our sofa, I should outline that my wife and me was traveling to somewhere (I can't remember where) and it was Saturday. We have just rented our office and we were thinking how could we make something interesting in its interior. The idea of using wood pallets came not surprisingly, since we are both working in the field of interior design and we know this and that about decorations. The problem actually was where we could find them? It was the million dollar question. I thought that we could go to some old warehouses but we didn't succeed. Then, I supposed that we should go to a timber store and find what we need. Unfortunately, in this part of the city where we were at the moment there wasn't many stores.
Suddenly, while passing by an old house I suddenly spotted with my peripheral sight that in the yard of this ancient building there were some old piled wood pieces! Voila! I stopped the car and my wife asked me why did I do that. After the short emotional explanation, we both got out of the car and went to the yard. Then we talked to a man and offered him some bucks in return for the wood we urgently needed to take with us. We took three pieces and they were enough for making our cozy and comfortable office sofa for our guests!
Well, in our homes we can also apply some great ideas with pallets. I have separated them in several types here – sofas, tables, chairs, garden furniture, decoration and other types. The most important thing you should know is that they are not made only from the pallet itself. But let's have a closer look at all the types.
Pallet Sofas
To have the best results, I suppose the following. Of course, if you are planning to make your own sofa out of the wooden crates.
1. First of all, find some;
2. Then you need to paint them in a color that you like;
3. Find some soft and elegant sitting pillow that you can use as a foundation;
4. Find the sofa its right place in the interior.
Following these steps and you will get an amazing new creative sofa! Personally, I prefer smaller in size furniture since I don;t them occupy the most of the free space in the interiors I inhabit. Having this in mind I believe that 3 or 4 pallets are enough.
Comfortable pallet sofa
Creating a pallet sofа
Home theater
Patio pallet sofa
Stylish pallet sofa
Pallet Tables
Recently I have met an outstanding table made of wood. The interesting part was that it was placed in a very luxurious interior and it looked gorgeous. It was black and situated in the dinning room. In the room there were a lot of violet nuances and black shades so I think it was just in its right place. Some modern type of chairs completed the interesting setting and I was simply fascinated. And now, if you need to make your own, let's say dining table or a small coffee one have in mind the following steps:
1. Find some great old pieces;
2. Paint them in a color that will fit into your interior;
3. Stick the separate parts with glue or nails;
4. Measure the top surface of the table;
5. Order a glass top according to the size measured;
6. When ready, place the glass above.
7. If needed, mount some wheels at the bottom.
Of course, the top of the table shouldn't always be glass. I prefer it since it makes an elegant statement but you can always use any kind of flat surface that will cover the uneven pallet superficies.
Pallet dining table
Stylish pallet tablе
Unique pallet table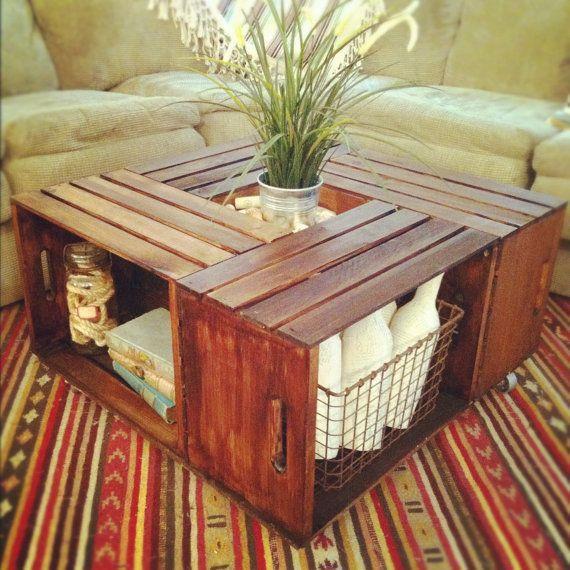 Vintage pallet table
Pallet Chairs
This one is interesting, since a lot of people are not able to imagine how one could make a chair in this unique way. Well, everything is possible in this world and now I am remembering a recent campaign of Adidas – Impossible is nothing. To make your own creative chair, you will need to follow the essential steps:
1. Paint the wooden pieces in a color of your choice or leave them as they are for a rustic touch;
2. Choose which part will be your seat and which will be the back;
3. Cut the them precisely so you get the right dimensions;
4. Stick the separate parts with strong glue or use nails;
5. Find a soft sitting pillow that you will place on the seat.
I believe that in the images bellow you will get the right idea how a chair is being created out of the top trendy wooden material.
Pallet armchair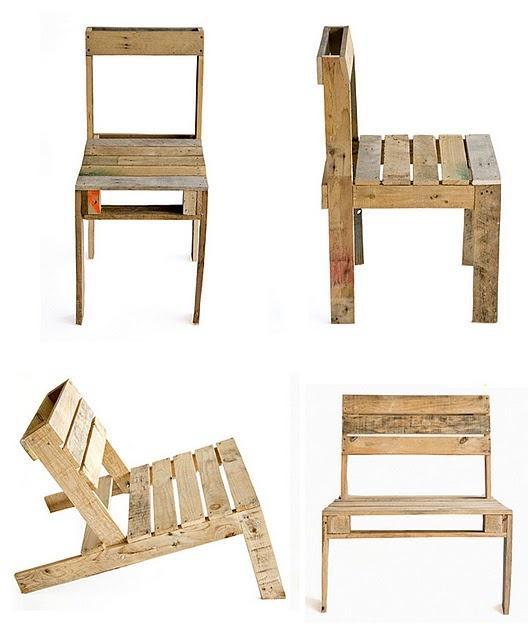 Pallet Chair design
Pallet living room chair
Pallet lounge chairs
Pallet relaxing Chair
Pallets in Garden
One of my friends have found a really inspirational usage for some old wooden parts that he had gathered around the neighborhood. He painted them in green. If you go at this garden now you will find a complete set of patio furniture. Of course, if you want to follow this great idea you need to know what exactly you are going to need for the garden.
1. A sofa;
2. At least two chairs;
3. A small coffee table or a higher dining one;
4. A small help table for storing additional kitchen, flatware and beverages;
5. Flower storage racks.
And one more very important thing! When placing the decorative accessories on the furniture – like sitting pillows, soft seats, decorative cushions and any other textile or upholstery, make them easy to remove. This is a needed precaution in case of unexpected rain. When everything's done properly, when the rain starts you will be able to take your accessories home instantly and thus keep them dry.
Outdoor pallet swing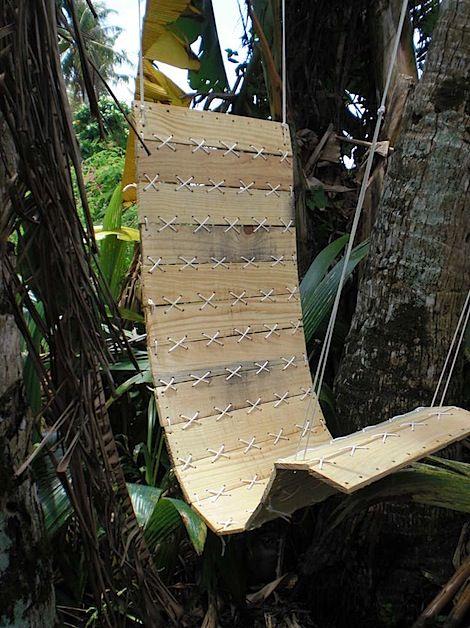 Pallet garden relax chair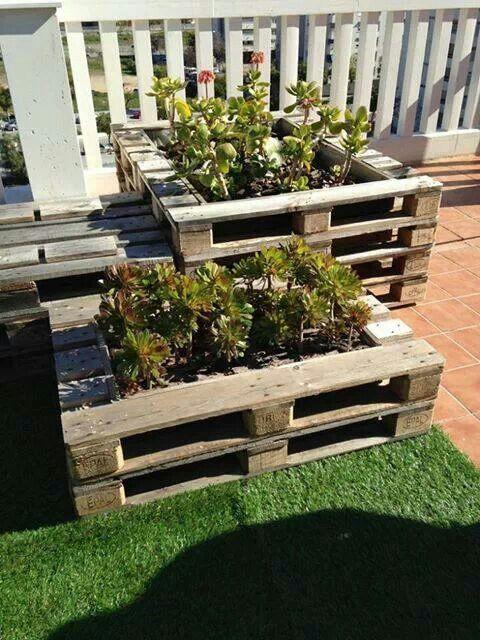 Pallet garden planter
Pallet Garden furniture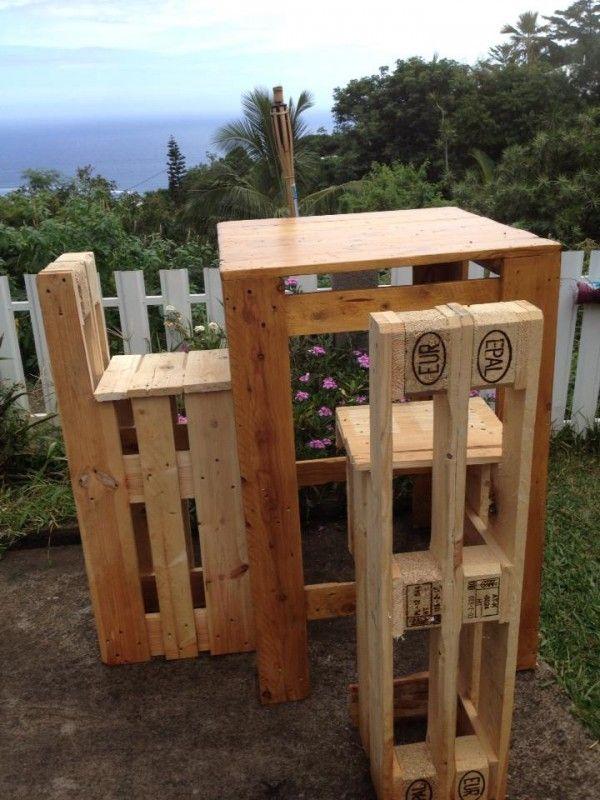 Pallet bar stools
Pallet Decoration
The wooden pieces are not only meant to be used for furnishing at home. They can also make a great decor inside your inspiring and creative interior. I have seen a lot of examples during the years and most of them are really unique. For example, I have seen a bed foundation made of pallets. Another great application was as a hanging base where pendants are mounted. I have also seen a really amazing set where a piece of wood was hanging from the ceiling and some 10 bulbs coming straight out of it! It was so inspiring! And other very common and yet really fascinating examples is a garden swing. It is a really simple, funny and cheap way to have your own entertainment object outside your home.
Creative pallet pendants
Decorative pallet art
Pallet decorative shelves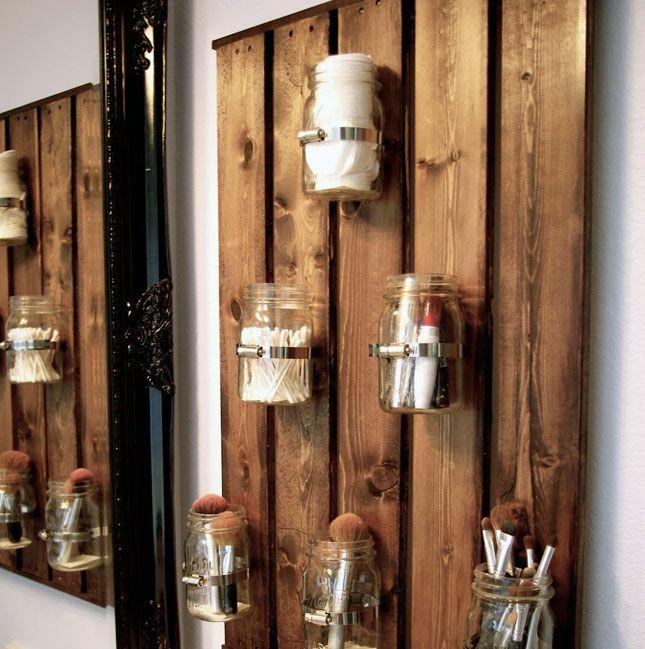 Pallet wall decor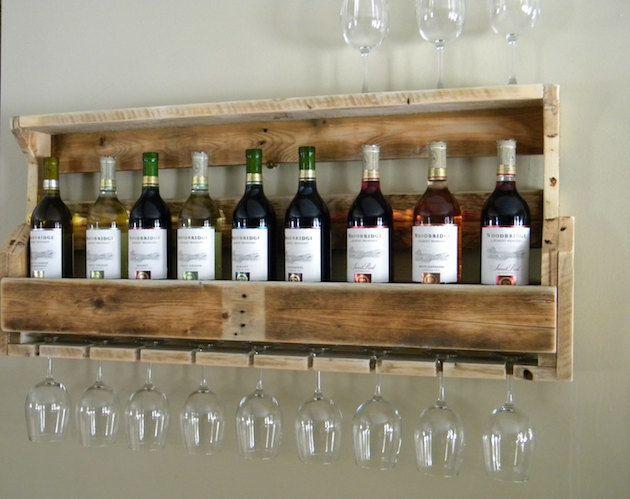 Pallet wine rack
Other Ideas
Of course, any other ideas can also be invented. I sincerely hope that the next idea will come just right away from you. Sit down for a while, think about what do you need just right now in the moment and let the ideas flow all over your mind. I am pretty sure that the furniture or decorative items that you will create will be astonishing. I will even ask you to make a photo of them and contact us. If you send us the materials we will definitely show your ideas in our website! Meanwhile, you can enjoy some other great examples!
Pallet baby swing
Pallet dirty clotes bin
Pallet patio furniture
Pallet shoe rack
Get some more ideas here!