Perhaps you are moving into a bigger house, so everyone will be able to fit. If you have decided to start a new life in a new home, then make sure that all the rooms look like what you imagined. For example, if you have any kids, you will want them to feel happy and safe in their bedrooms. This means it is very important to give their rooms a stunning design, which they will appreciate! So if you are in search of some little girl bedroom ideas for small rooms, then check out the rest of our article. We have 40 children room ideas, which will hopefully give you some inspiration!
1. Giving it Colour – Make the Room Pop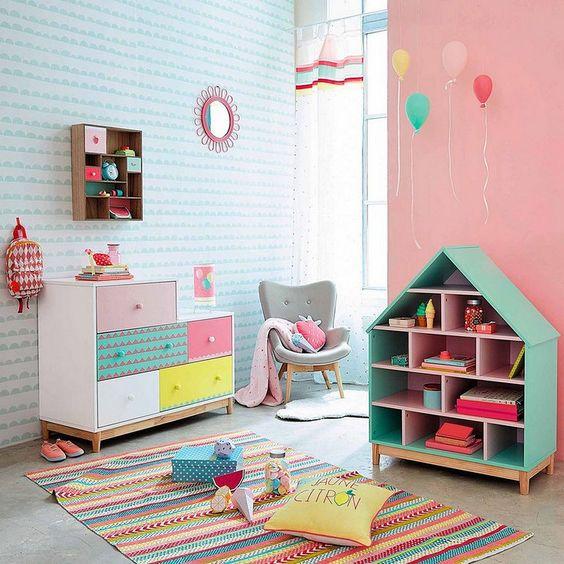 When you decide on designing a kid's room, what is an important attribute you would like to give it? Perhaps it is a lot of colour, to create a bubbly and harmonious environment for your kid. You can achieve this by painting the walls in unique colours and using vibrant furniture!
2. Creating a Bit of Magic – Children Room Ideas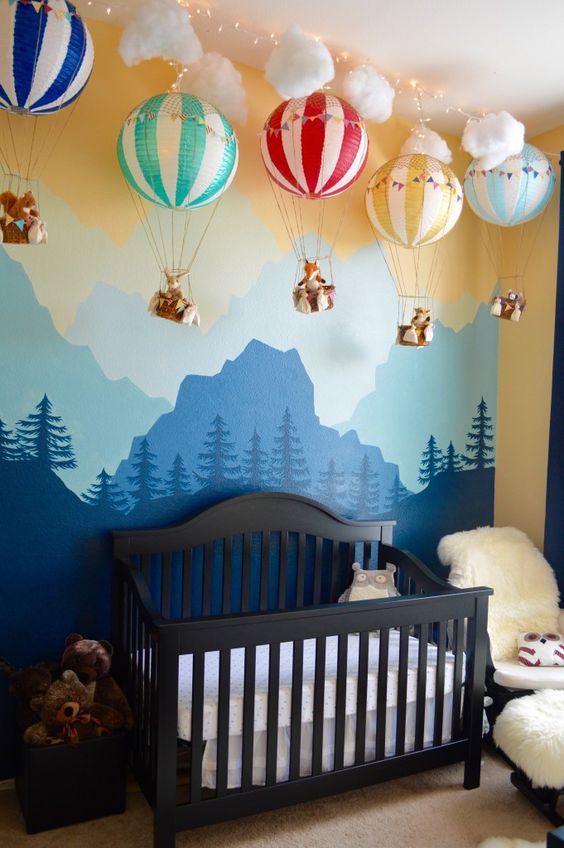 source
Maybe you would like to give your kids room a truly enchanting design. If so, why not create a whole landscape for them in their room? You can paint a range of mountains on their walls, with floating clouds hovering above them. To complete this look, why not add some mini hot air balloons to the room as well? Hang them from the ceiling, placing your kid's favourite toys in them!
3. Keeping it Simple – Awesome Room Designs for Kids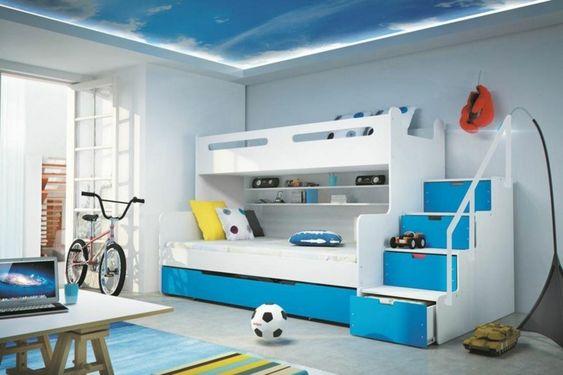 A problem you may have while designing your kid's room is about what colours should you pick. Maybe ask your kid, what their favourite colours are. For example, choosing white and blue will create a very simple and calming design, which is perfect for a kid!
4. A Place to Hide – An Indoor Cubbyhouse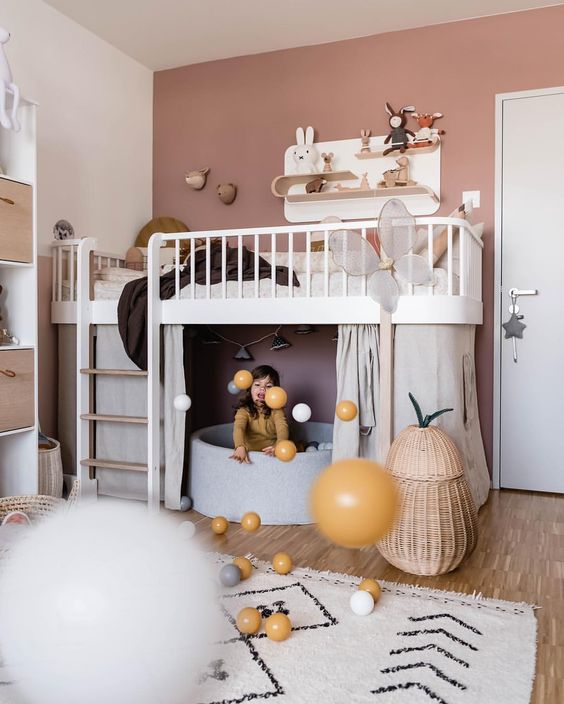 If you have considered getting your kid a bunk bed for their room, then here's an awesome idea to try out! Children love spaces in which they can crawl into and create a world of their own. Provide this space for them, by helping build a cubby house underneath the bunk bed. If you aren't up to the challenge of building one yourself, here's a place where you can buy unique and affordable bunk beds for kids.
5. A Space for Reading – A Mini Library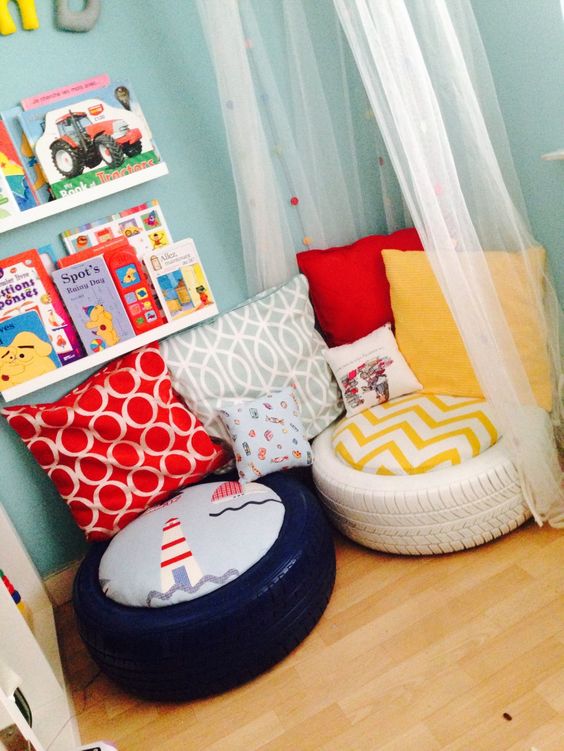 Another fantastic idea to create in your kid's room is a small space for reading. This is especially great for children who love to read or be read to. You can think about creating the seats yourself out of recycled tires, to which you can add comfortable cushions.
6. Pretty in Pink – Little Girl Bedroom Ideas for Small Rooms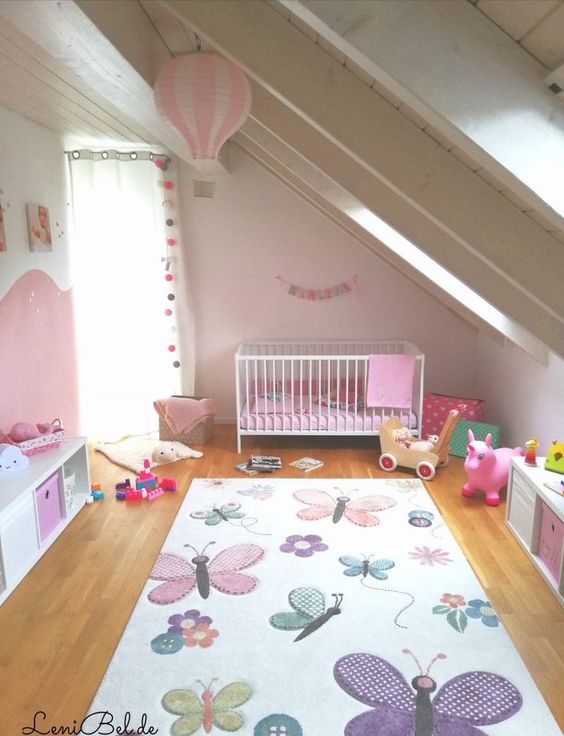 Does your little girl adore floral patterns which may include an array of butterflies on them? Then make sure to include such decorative elements in her room, for example, a rug with butterflies and flowers on it. You can give the whole room a soft pink shade.
7. Unique and Creative Lighting – Lighting Ideas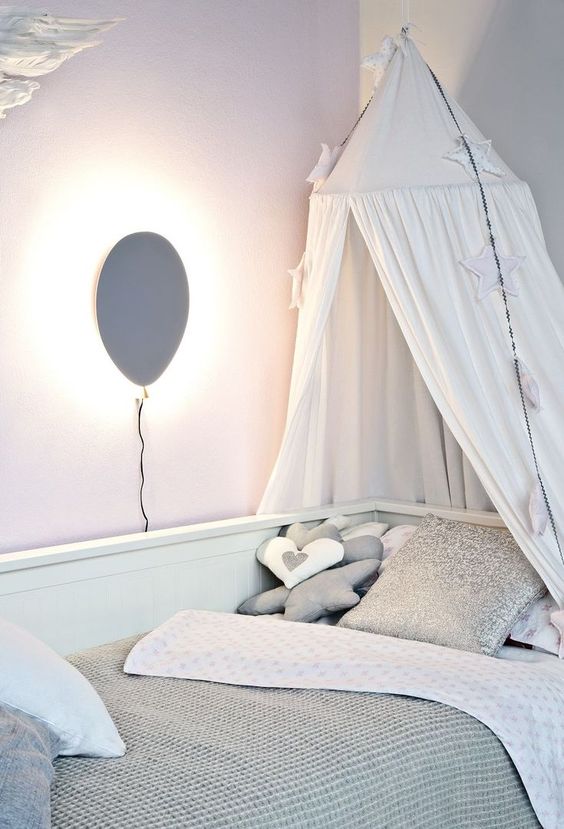 When it comes to lighting ideas, it's important to find something which gives the whole room a special ambience. Since we're talking about kids rooms though, you should also incorporate an element of fun into it. For example, use the shape of a balloon and place the lights behind it, creating a unique vibe.
8. Inexpensive and Effortless – Paper Honeycomb Decor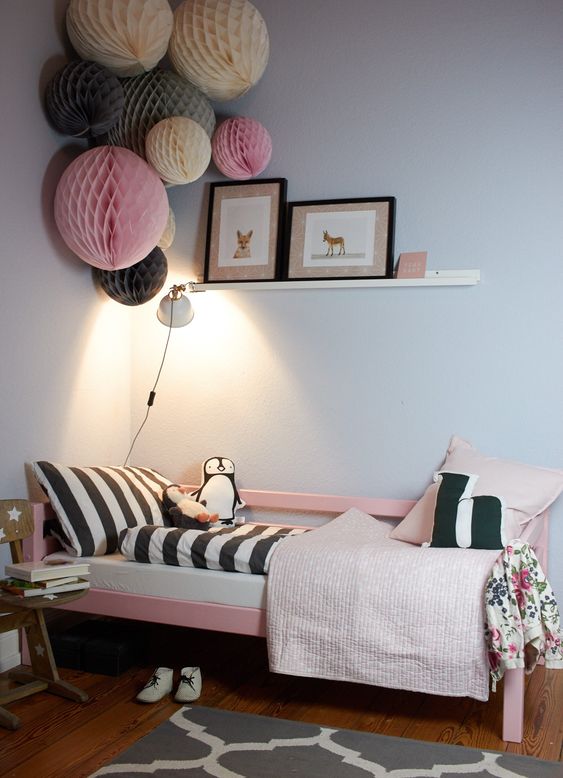 Are you in search of an inexpensive and effortless way to spruce up your kid's room? Why not create some handmade honeycomb balls out of paper? This is a fun craft you can involve your child in and will also look stunning in a room!
9. A Small Tent – Children Room Ideas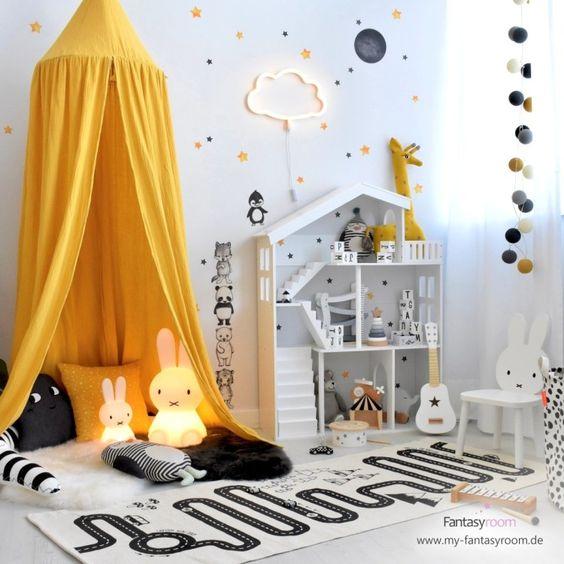 If your child loves all sorts of animals, why not create a room for them which is completely animal-inspired? Use all sorts of animal-themed toys and furniture to create a fun room for them! You might also decide on creating a small tent for your kid to play inside!
10. Play a Game – Train and Railway Set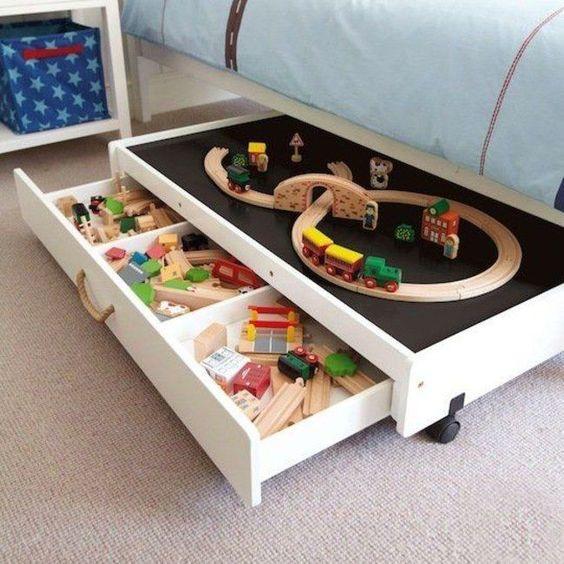 Does your kid like playing with toy trains? Then make sure to create a railway set for your kid. You can make a drawer underneath your kid's bed, which your child can pull out to play on.
11. Nooks are Fantastic – Little Girl Bedroom Ideas for Small Rooms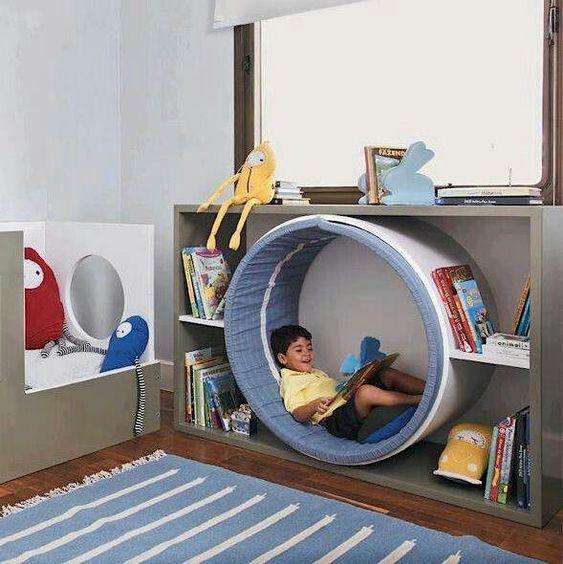 Here is another amazing piece of furniture to place in your kid's bedroom. This is no other than a nook. They will be able to climb inside, read and play in it. It's a super comfortable space for just chilling a little, after a long day at school!
12. A Spectacular Bed – In the Shape of a Carriage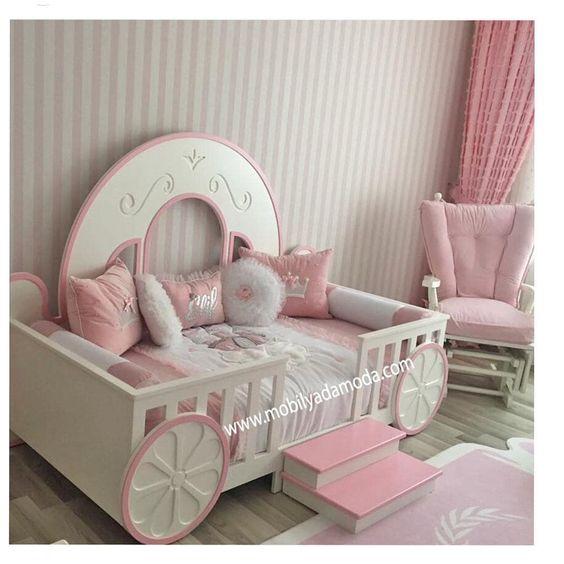 A great way of adding a unique design to your kid's room is by finding unique furniture. For example, check out this carriage bed! Your little girl will immediately feel like a princess when she is sleeping in it!
13. A Space for Learning – Children Room Ideas
Are you thinking about building a gallery in your kid's room, to create a sleeping space for them? If so, you will have more space in the room to organise the rest of their things! This way you will even be able to create a small space for learning and studying, right underneath the gallery!
14. Organising the Toys – Small Holes on the Walls
Make sure to create some cute spaces for organising your kid's toys in their room. For example, you can create cylindrical boxes or shelves which you attach to the walls. Then simply place toys in each box for that adorable look!
15. Woodland Environment – Little Girl Bedroom Ideas for Small Rooms
Create a woodland environment in your little kid's room. Use animal-inspired furniture and decor. Also, make sure to use a lot of wooden furniture in the room, to bring out a natural essence. You can also try hanging strings of fairy lights or flowers from the ceiling or walls for that extra stunning effect.
16. Adorable Furniture – A Modern Touch
Here is another example of how much furniture really matters! Using adorable and modern furniture will uplift the whole of your child's room.
17. The Benefits of a Bunk Bed – Children Room Ideas
Bunk beds have dozens of benefits! One of the best ones is that you can not only create a sleeping space on top, but you can create a small play spot underneath. It's really up to you and your kid on how you would like to design the space underneath the bunk bed.
18. Great for Twins – Two Unicorns
Using unicorns as inspiration for clothes or home decor has become a huge trend! If your kids love unicorns, then why not get them unicorn-inspired beds? For example, if you have twins, you can get two similar beds, but in different colours! Your children will adore this!
19. A Bohemian Style – Children Room Ideas
Add a bohemian essence to your kid's room, by using a lot of unique decorative elements in the room, as well as vivid colours. This might include using a bohemian rug, hanging lanterns and honeycomb balls from the ceiling and painting the walls in vibrant shades.
20. Inspired by Superheroes – Awesome Designs
Over the past decade, superhero movies have become a huge hit all around the world. If your kid adores them and has a favourite superhero, then why not take some inspiration from these movies and comic books? Use attributes of characters to give the room an amazing design!
21. Fluttering Butterflies – Pink and Perfect
Now here is a room design perfect for any little girl! So if you have been in search for little girl bedroom ideas for small rooms, then check this out? Use pink as the dominant colour of the room combining it with white and grey. Make sure to place some butterflies on the walls, giving the whole room an enchanted look.
22. A Practical Room – Children Room Ideas
If your kid's room is small, then you have to think about how to arrange all the furniture in a practical way! This is a great time to invest money in a bunk bed. You can use the space on top of the bed for sleeping and space underneath can be used as storage. Easy and simple!
23. A Rustic Ambience – Little Girl Bedroom Ideas for Small Rooms
Maybe you like rustic designs and decor. If so, then you will love this bedroom design for a kid! Use wooden furniture, as well as using wood as a decorative ornament. You can place a woven rug on the floor as well as using vintage items of furniture.
24. Stars and Clouds – A Creative Space
Using stars and clouds as decoration in a room will definitely provide a space which helps your imagination run wild. This is perfect for a kid! Paint clouds on the wall of their room. Hang starry curtains in front of the windows. You can also use cloud or star-shaped pillows for the bed!
25. A City in the Room – Great Children Room Ideas
Another fabulous idea is to use a city or town as inspiration for your kid's room! You can get a bed, which has a headboard designed to look like the roof of a house. Try placing panels on the walls, which will resemble houses. A great idea is to place square mirrors inside one of these panel houses, creating the look of windows.
26. The Solar System – Install a Blackboard
You might have never thought of installing a huge blackboard on one of the walls of your kid's room! Why not give it a try? This will give your kid space for studying and drawing. They will be able to draw whatever they'd like on the blackboard, for example, the solar system is a great place to start!
27. A Calm Atmosphere – Paint it Grey
Grey is a versatile colour! It's great to use in room designs and home decor because you can combine it with anything and it has such a calming presence! So if you are unsure about what colour to use in your kid's room, why not give grey a try?
28. Dreamy and Original – Creative Lighting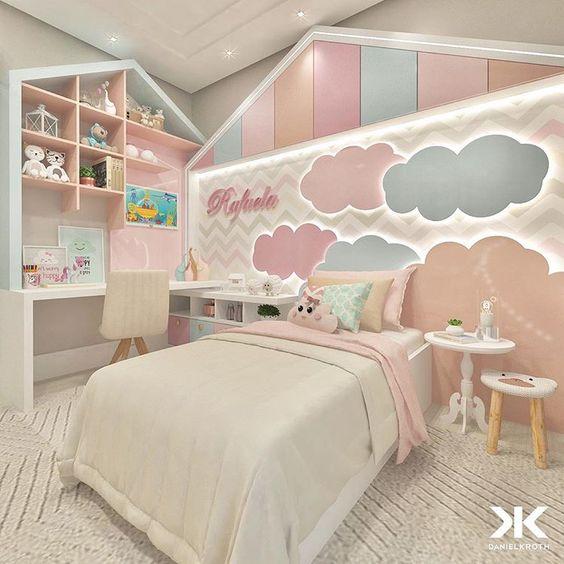 When designing a child's room, it's always important to use great lighting! But instead of sticking to something boring and unoriginal, turn it into something dreamy and creative! For example, you can place cloud-shaped panels right in front of the lights you install on the walls. This will give your kid's room a special ambience!
29. Decorating the Room – Children Room Ideas
Get creative with decorative your kid's room! Use honeycomb balls and fluffy cloud paper balls to hang from the top of your child's bed or their ceiling. Also, make sure to decorate the walls with paintings or even motivational quotes! This will ensure that they get a positive start to each day!
30. A Bubbly Interior – Little Girl Bedroom Ideas for Small Rooms
Make sure that the bedroom of your kid is a happy and safe space to be in! You can ensure this by using a lot of unique decorations. For example, use star stickers on the walls and hang posters of their favourite movies. You can even place paintings your kid has done on the walls!
31. Fitting in Two Kids – The Fantastic Bunk Bed
If you don't have enough rooms to fit your kids in separate ones, then the solution to your problems is a bunk bed! This will enable both your kids to fit into one room. It's a simple and easy solution, which is practical!
32. A Playhouse Underneath – For the Masterchefs
If you have a bunk bed in your kid's room here is another idea on how to use the space underneath! Create a small kitchen playhouse for them, where they can cook and bake. This one is for the tiny master chefs out there!
33. Add a Burst of Yellow – A Happy Colour
Are you considering adding a vibrant shade of colour to your kid's room? With a simple addition of one colour, you can uplift the atmosphere of the whole room! Yellow is a great idea! Using yellow for a pillow or two or the bed covers, you will add a bit of sunshine to the room.
34. Random in Rainbow – Children Room Ideas
Here is another cosy and cute idea for a kid's bedroom! Instead of using one dominant colour, use white as a base and decorate the room with all sorts of rainbow-themed decor. The cascade of colours will provide a creative and imaginative environment!
35. Shades of Blue – Fun and Relaxing
Here's a great kid's room for little boys! Use a whole variety of blue shades to design and decorate the room. You can use a combination of dark and light blues for the room.
36. A Tower in the Corner – A Mini Playhouse
Perhaps you would like to install a small playhouse in your kid's room. If so, why not place a tower, which has two levels in one of the corners of the room. You can place toys, books and comfy cushions inside to create a kid's perfect hideaway!
37. Zig and Zag – Try Out Cool Shelves
Boost the look of your child's room with some unique shelves! If you place some zig-zag shelves above their desk, it will make the room look funky and fun!
38. A Rocking Bed – Children Room Ideas
Here is another fabulous way to improve the vibe of your kid's room! Get a rocking bed or rocking hammock for them! They will be able to relax in it or read a book.
39. Cute with Fruit – Little Girl Bedroom Ideas for Small Rooms
While we have talked about decorating the room in animal-inspired ornaments or a starry night theme, here is another great idea! Use fruit as a decorative layout. You can buy some fruit stickers to place on the walls of the room. Fruit-shaped pillows are also a great choice!
40. A Bed or a Cubby House – Children Room Ideas
Here is a dream playroom, or should we say, play bed? A bed which is designed in the shape of a cubbyhouse is guaranteed to be your kid's favourite spot in the whole house! It's also a great way to save space in a small room since you can fit other furniture underneath the bed.
We hope that this collection of children room ideas has given you some inspiration! We recommend you check out our Christmas decorations for children's rooms or creative kids' rooms you are still interested in children's room ideas.