There are two types of closets that you will find in a home. First of them is the clean and tidy one with every single pair of shoes or clothes properly situated in its right place. And there is the other one – the messy closet, where piles of shoes and clothing rods have turned this private area into a disaster zone. Well, there may be certain reasons for this chaos – sometimes there is simply not enough space for all our stuff. That's why we have chosen today to feature an article about the arrangement of closets and give you some practical ideas for a better home. Let's have a look at them:
Dresser island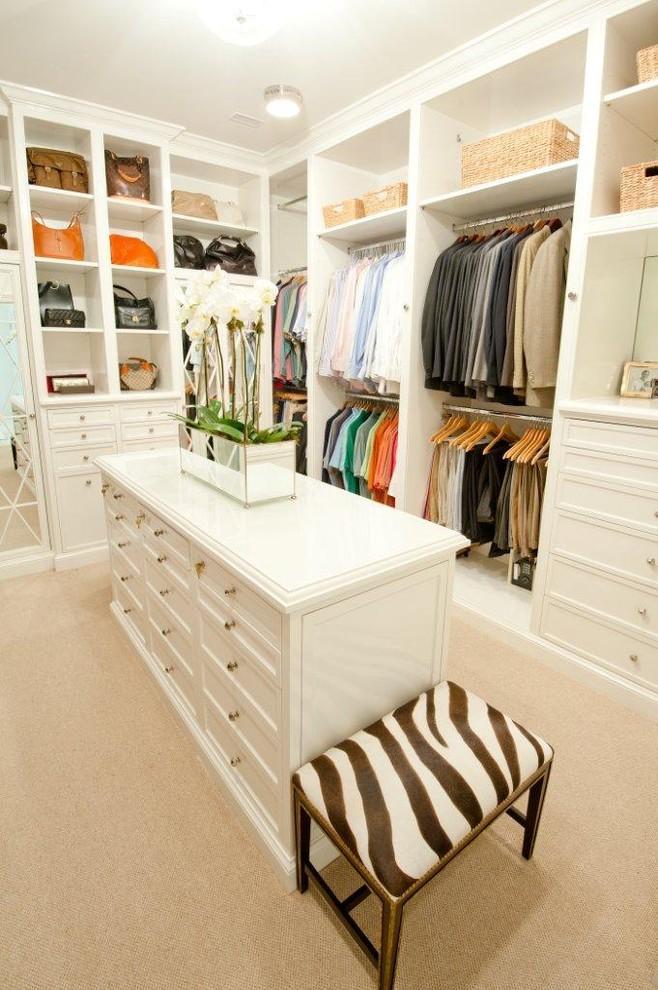 Dresser island in white
The professional designer of this closet is Elizabeth Munger Striver. One of the most brilliant features are the white cabinetry and glossy surfaces. In fact, being inside this closet one feels the clean and elegant style of the professional closet interior design. A built-in dresser provides additional space thus allowing everything to be properly ordered, without exceptions.If you want to place such kind of island inside your closet, have in mind that certain amount of space is required – at least 3 to 4 feet all the way around.
Pullout ironing board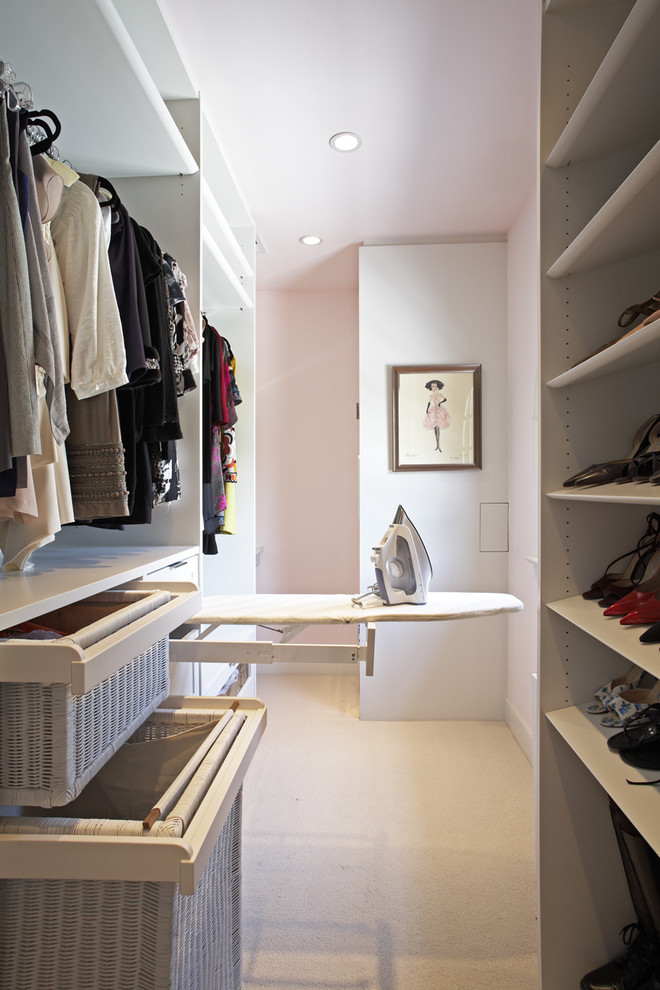 Pullout ironing board
This is a very practical idea that can easily be applied in every existing closet in the world. Imagine what comfort it will bring when you are trying some clothes and picked them up for tonight. You will be able to iron them at once without crossing the entire house and find your board.
Shoe cubbies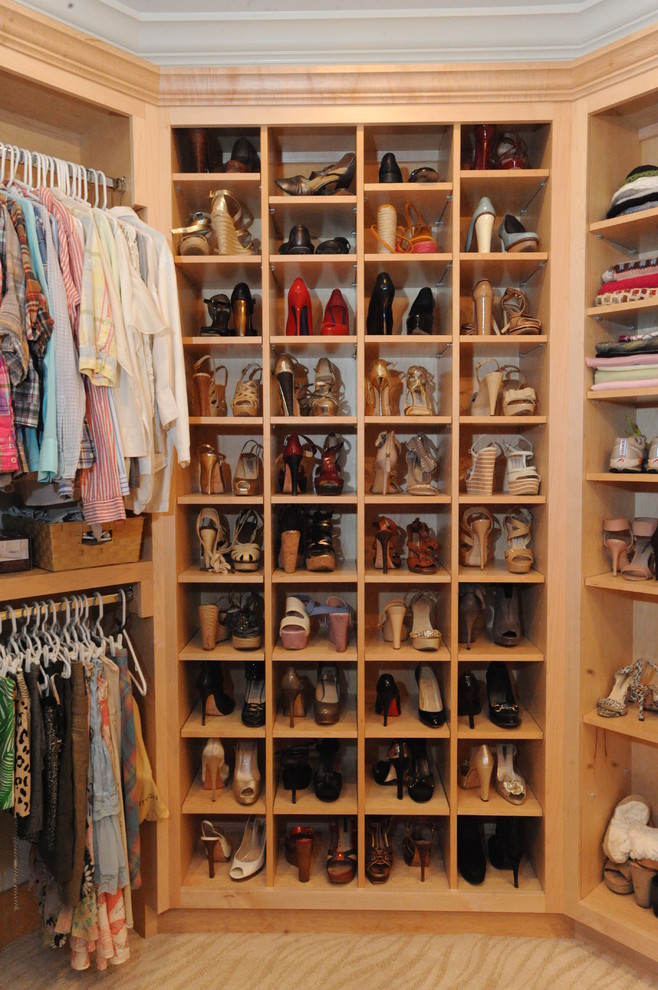 Shoe cubbie
One of the top most preferred things in a closet is the shoe wall, where you can place  all jordan shoes collections. They are so practical and necessary especially if you are modern business woman and posses quite a lot of pairs of stylish shoes. All the high heels are welcomed here.
Jewelry cabinet
Jewelry cabinet
This particular cabinet can be customized according to the occupant's needs. For example, there can be added several shelf liners or number of drawers more. It is designed by California Closets.
Man closets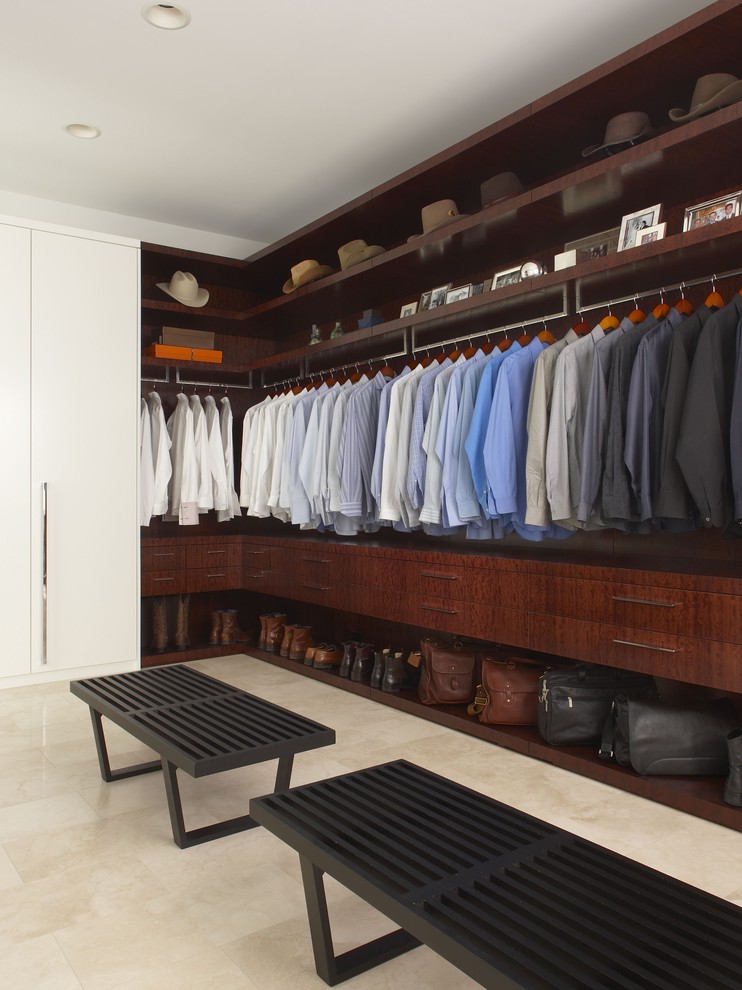 Man closets
It is a real pleasure to have you own man closet without messing together man and woman clothes. One of the main advantages of living in a house is that there is plenty of rooms for separating one of them to be a man closet. If you are planning to make your own closet, have in mind that you will need a lot of space of shoes and shirts, as well as for suits. Dark wood is essential since it creates a strong masculine look.
Purse hooks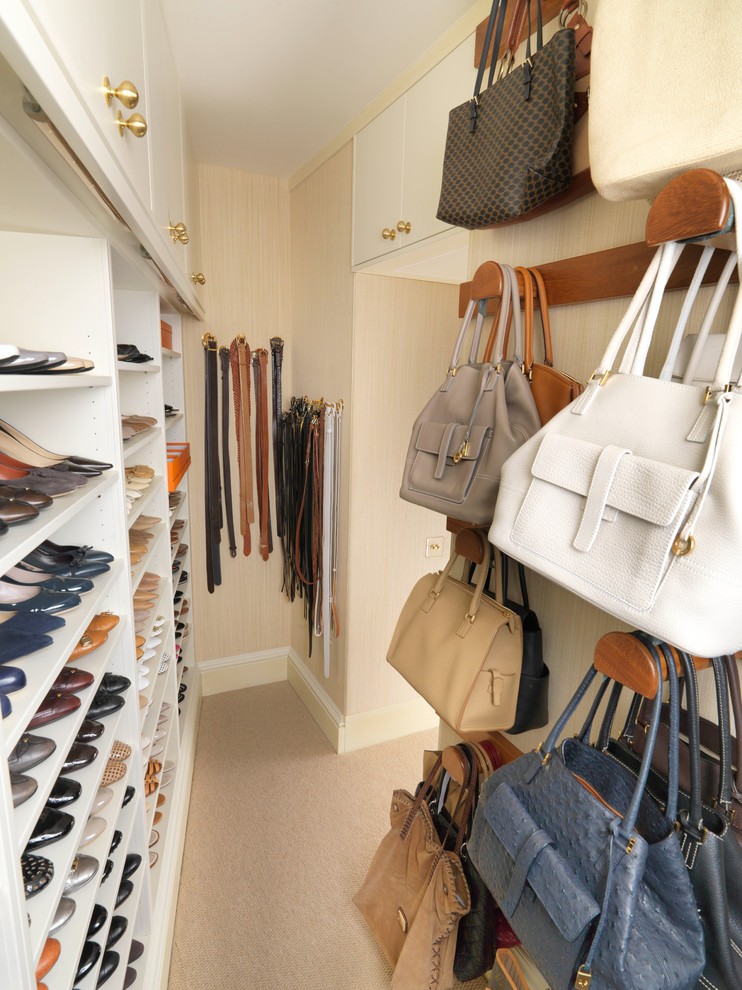 Purse hooks and bags
With these purse hooks your bags wont be scattered around your entire home any more. Furthermore, having such kind of hooks makes swapping of bags an easy task.
Pant rack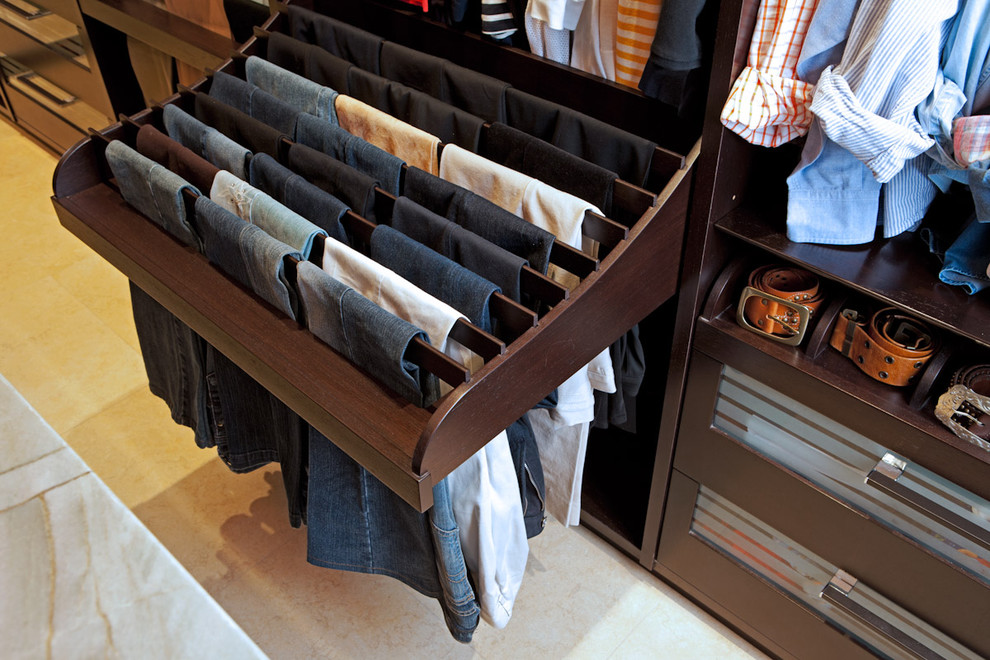 Pant rack
And now, for all of you who like jeans! The ultimate solution for storing them in a neatly and properly ordered way. With this rack you will avoid any wrinkles and on the other hand you will save plenty of space.
Display cabinets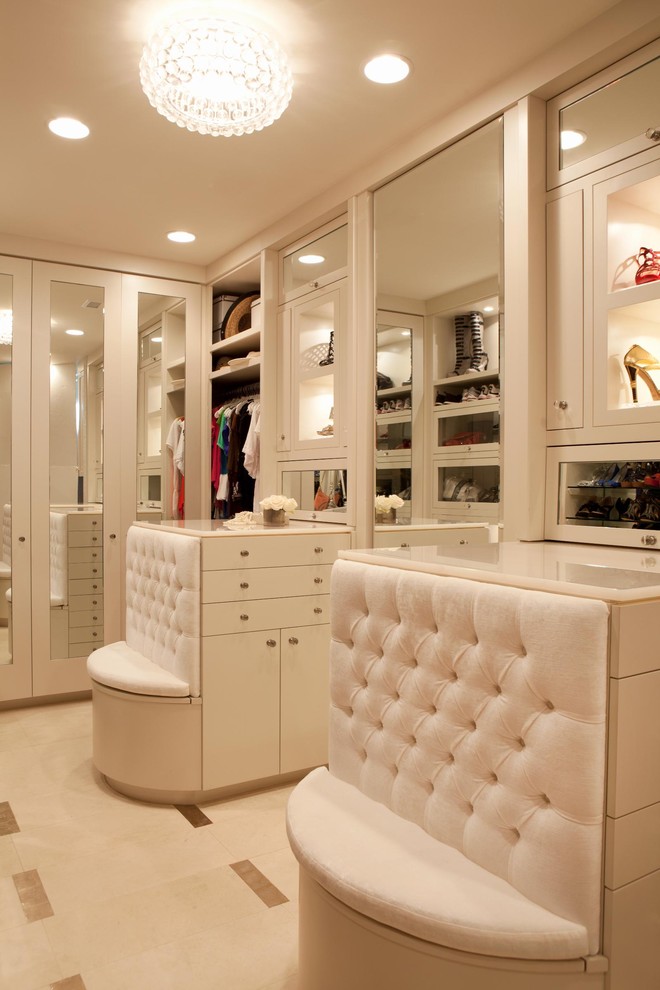 Display cabinets
We have found out that there are many women who like to display their favorite pair of shoes. Michael Fullen has designed exactly this kind of closet – that will help them exhibit their lovely pairs. The interior consists of a swiveling mirror and hidden clothes storage. In the upper part of the closet you will find Lucite columns and light-up boxes that turn this closet into something like a private shoes store. Well, isn't this the dream of every woman in the world? To have her own private shoes store inside her home?
Open cubbies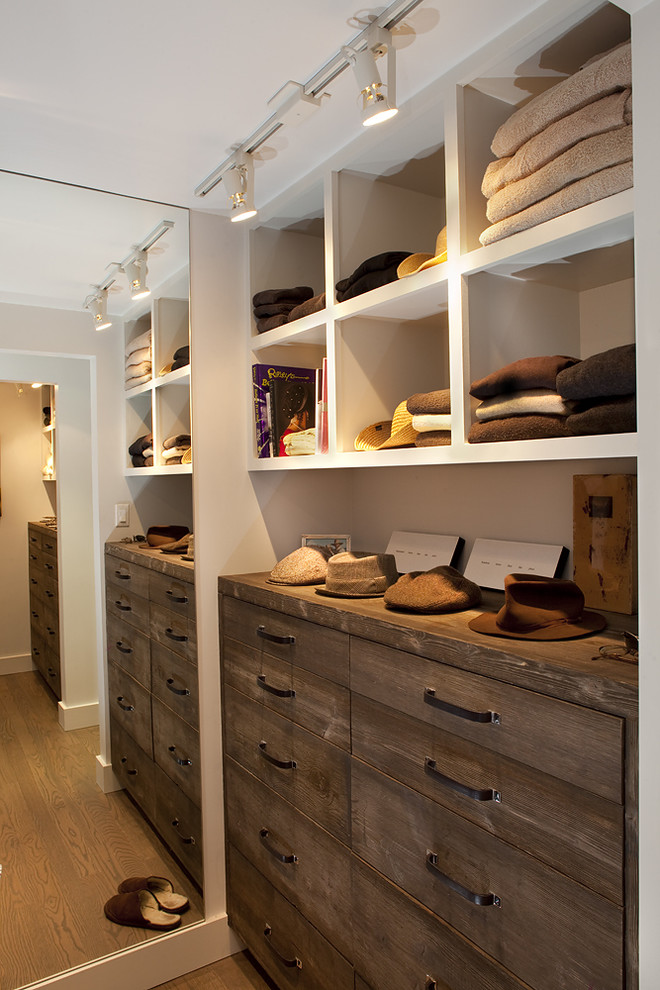 Open cubbies
These open shelves are simply gorgeous! You can place there your sweaters, hats, pair of jeans, shirts and some books for decoration. Arranged in this way, they are easy to pick up, saving you plenty of time.
Glass cabinets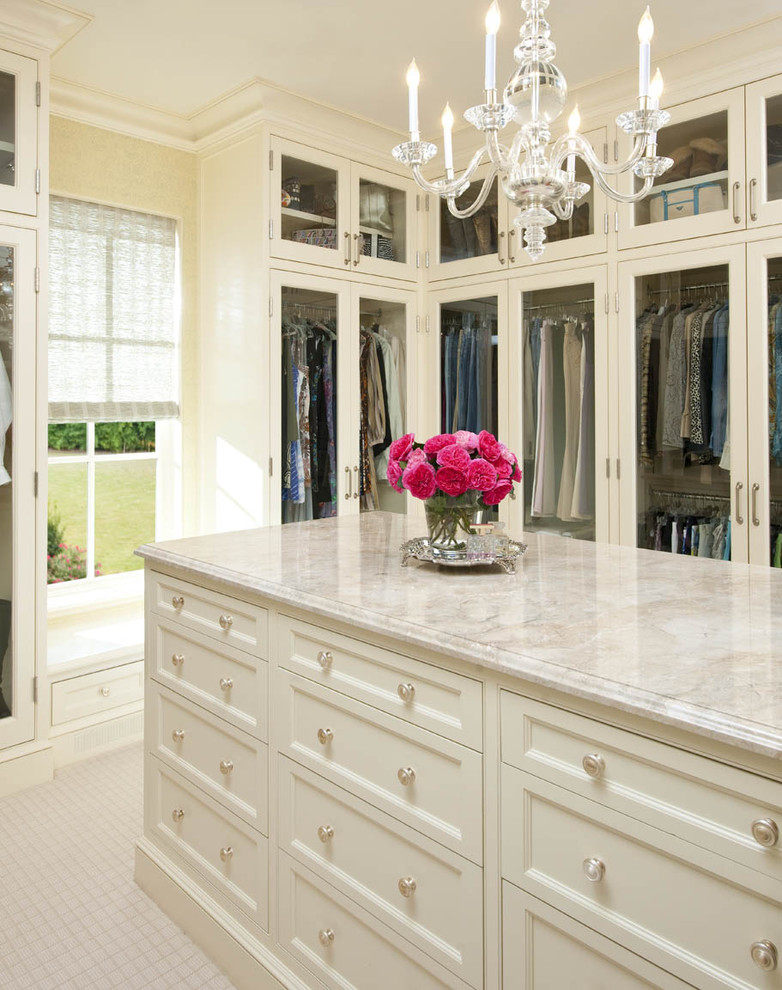 Glass cabinets
Transparent glass doors? Brilliant! This way you wont spend hours of hunting your favorite dress any more.
Makeup vanity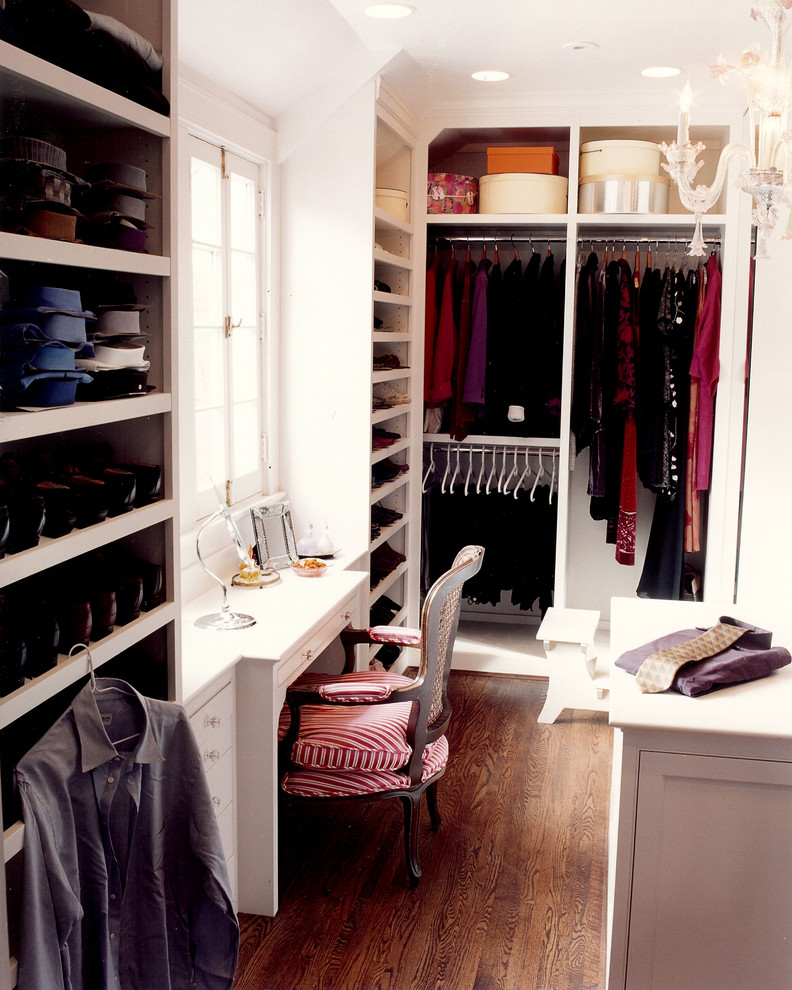 Makeup vanity
Our next idea is really practical for those women who have busy working lifestyle. It will save them plenty of time because they can easily make their morning makeup while searching for their proper suit for today. The vanity is also a fantastic storage option for all the beauty supplies and the jewelry that women usually have.
Drawer dividers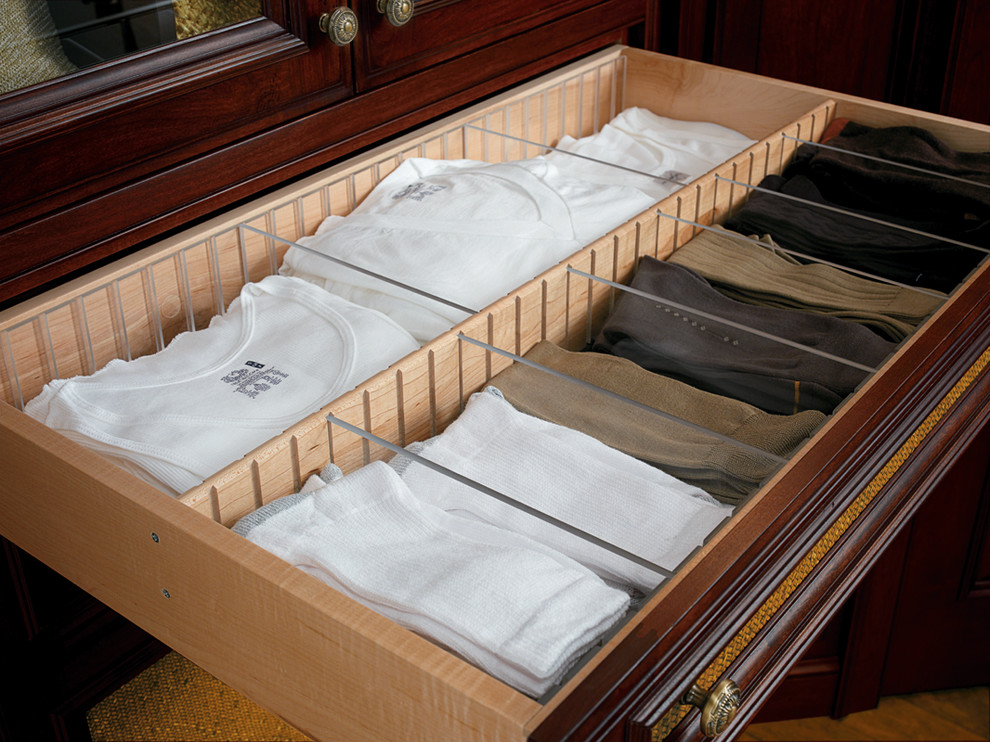 Drawer dividers
Do you have a lot of casual clothes? Well, having such kind of simple drawer dividers in your closet will help you a lot with arranging them.
All-in-one closet unit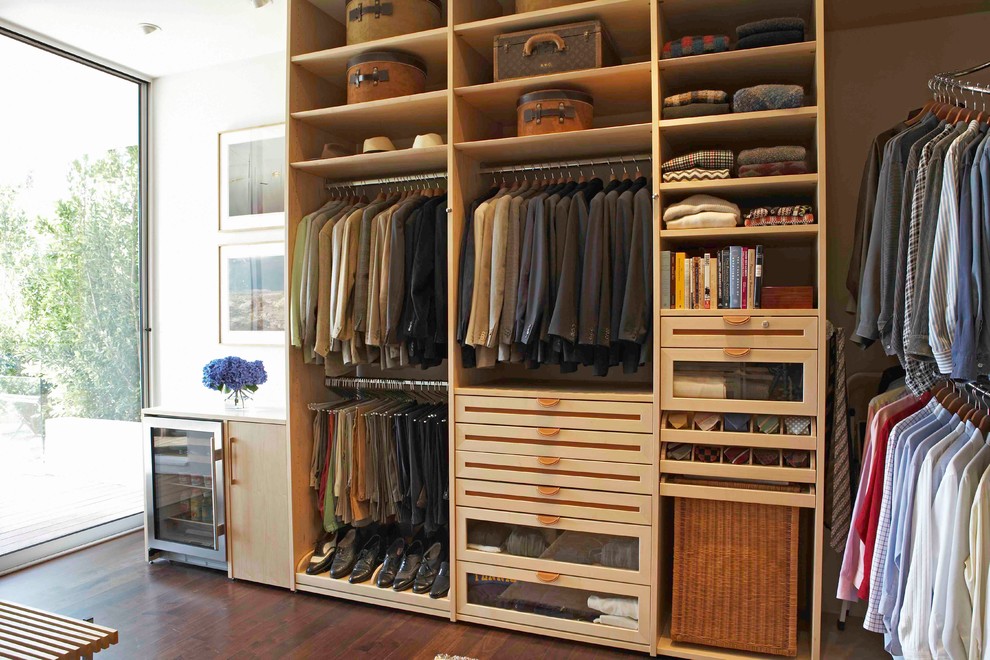 All-in-one closet unit
Our next idea shows a multifunctional closet that has almost everything that a modern room of this type must have as a function – clothing rods, pullout drawers, open shelves, etc. There is a strong masculine feel in the atmosphere with elegant touches of luxurious notes.
Tie rack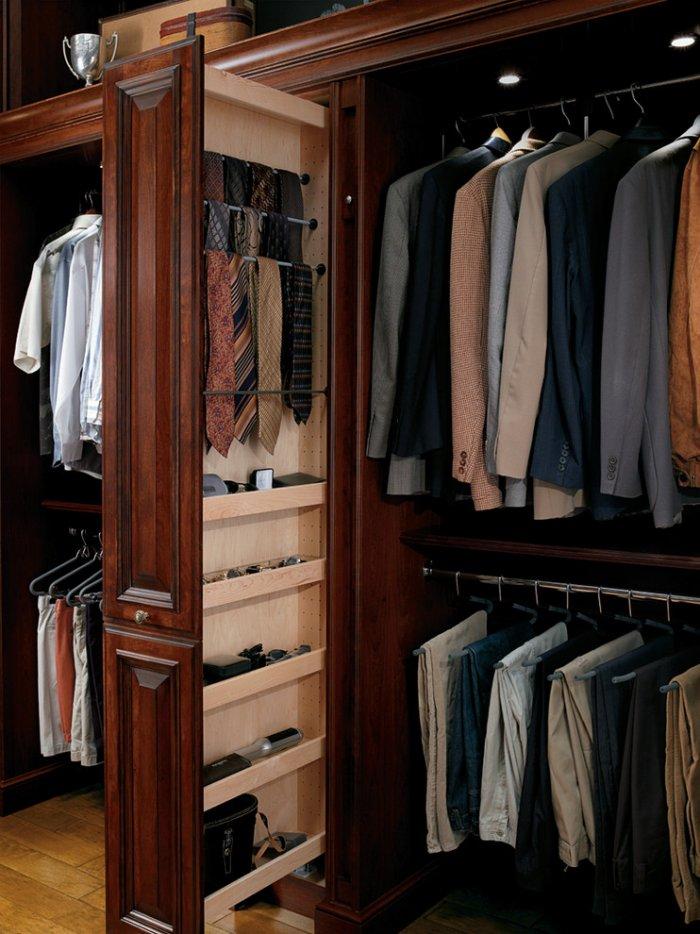 Tie rack
This is another great idea! To have a pullout rack with your ties, sunglasses, wallets and other personal belongings.
Built-in hamper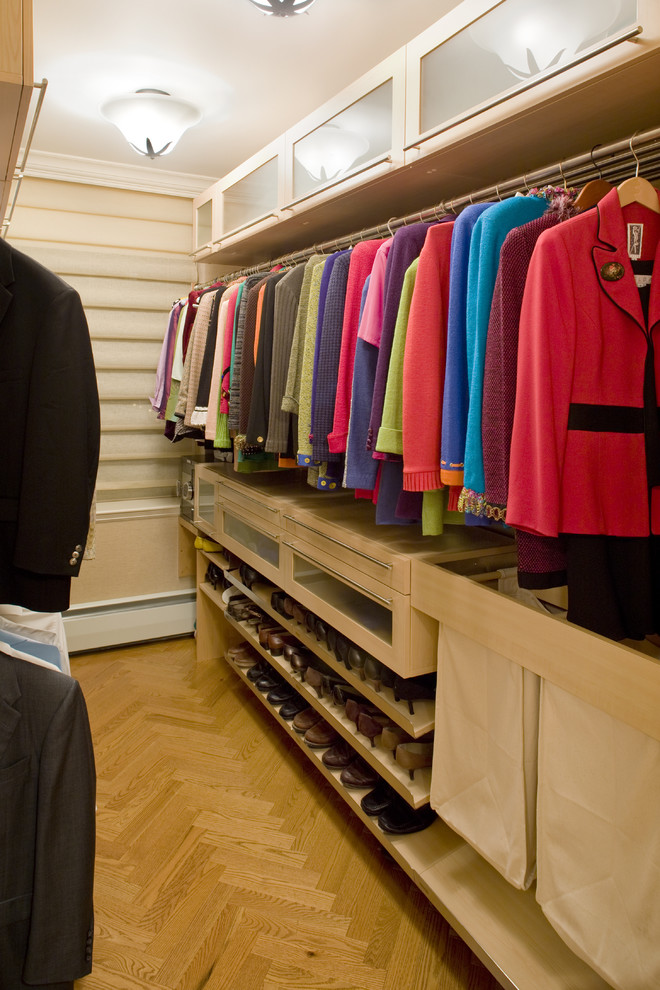 Built-in hamper
Built-in hamper is very functional since it has transportable bags. This provides easy access to all your stuff placed in the closet.
If you find the above ideas interesting, have a look at the video! Or if you are looking to buy character clothing, checkout popgear