Japanese design has one major character – it is a style that has been forged through centuries and it keeps long-lived tradition. It usually has symbols that represent different kid of beliefs – some of them are connected with harmony in nature and others represent the beauty of the surrounding world.
When used inside the interior of a house, apartment, villa, office or other spaces, it recreates an atmosphere of purity and divineness. It also sets a mysterious notes that are more exotic than anything else. For example, some of the ideas used in Japanese interior design substitute our traditional items with more practical ones. Let's have a look at the following situation. Why should you use a bowl of fettuccine when you can have a plate of soba noodles? Now imagine going to sleep at night and the relaxing whisper of trickling water takes you to another realm. And now, to sum up – imagine some various santoku knives decorating your living room.
Serenity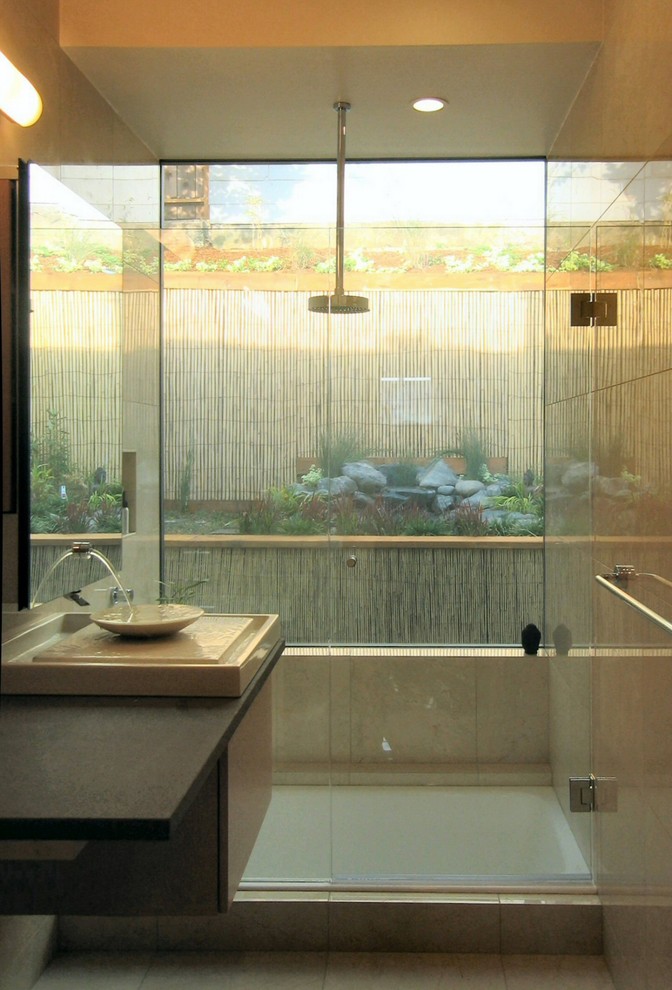 Japanese bathroom and Zen interior design
Zen – this is how you can characterize the Japanese interior design style. Zen that is focused on meditation and inspiration. Inside a Japanese apartment you can feel the harmony, peace and balance that surround you. All the designer lines are simple without any unnecessary modern or trendy curves. Light is abundant and that makes one Japanese home a really calm place to live in.
When you choose to transform your home interior into this eastern style you have to know that there is not always an option to completely remove all your established furniture or interior style. In these cases you can start pairing down and try to find different combinations. Stick to essentials, do not use things that you don't use. As a result you should achieve an airy interior with enough space for your soul to feel the openness and free flow of air through the rooms.
Shoji Screens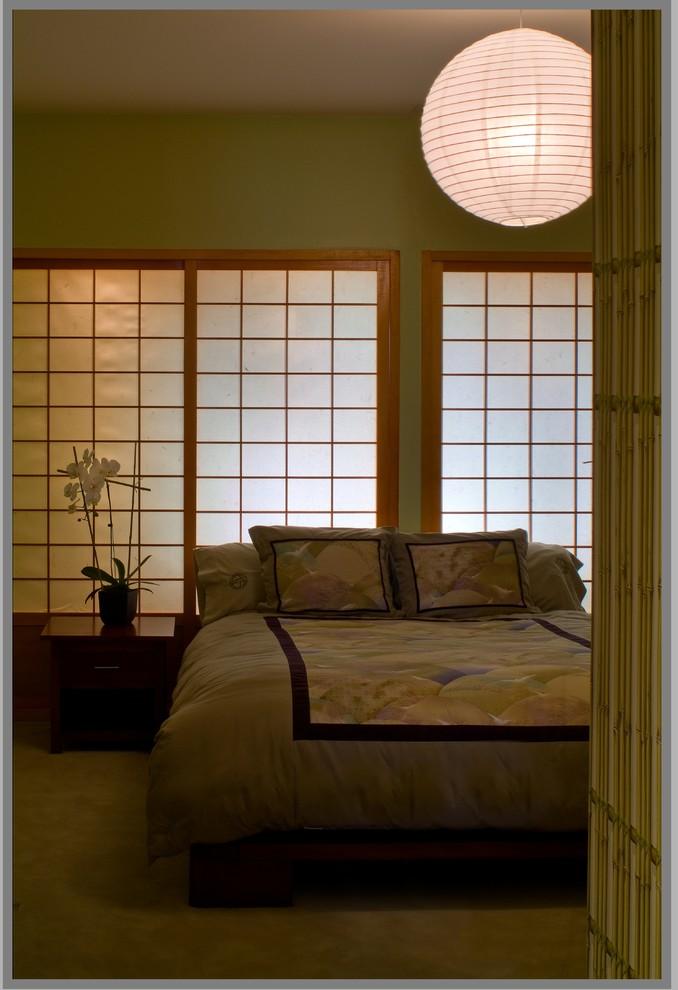 Japanese bedroom and interesting asian pendant
One of the traditional elements in Japanese architecture are the Shoji screens. Actually, they are made of paper – an interesting fact! Well, some of their modern variations include glass or plastic but the traditional screens are made of rise paper. In Asian cultures the space in a particular home is the major, the most sacred feature. This is why in Japanese culture Shoji screens are usually left slide open rather than completely shut.
Inside your home you can place Shoji screens on several different places – kitchen cabinets, windows, use them as room dividers and more. Just have in mind to avoid obscuring them with furniture because this will cause light blocking and as a result you will loose the beauty of these Asian item.
Natural Colors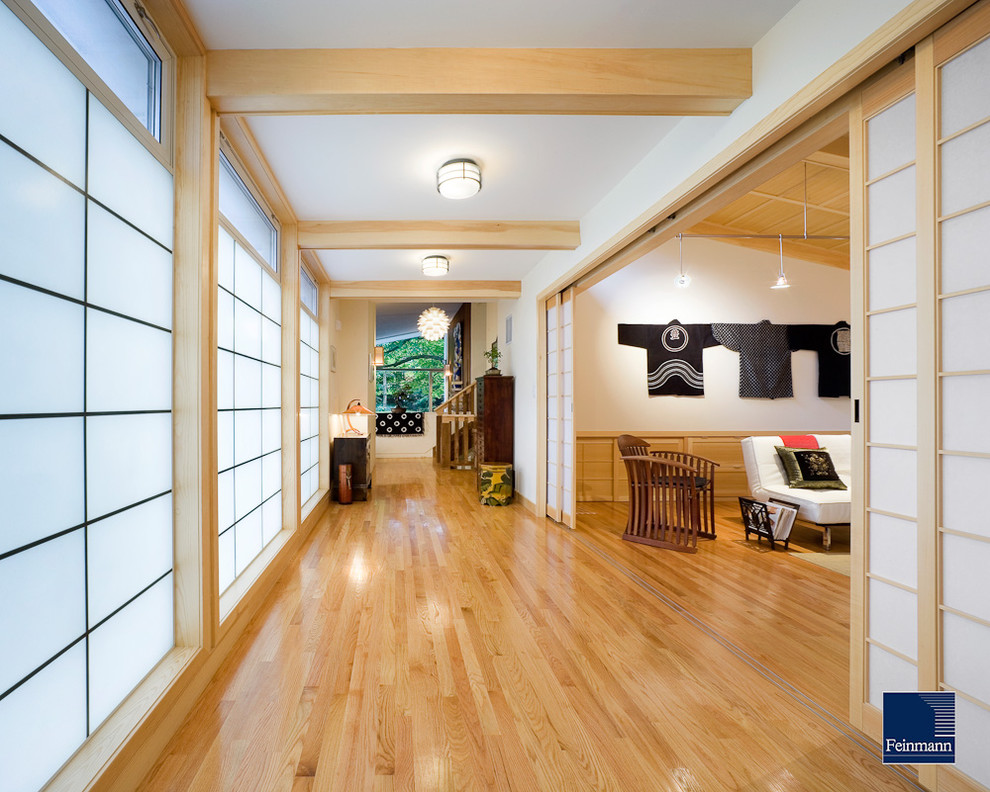 Japanese living room with wooden floor
In the Japanese culture all the colors and their tones are taken straight from the surrounding nature. Inside your home you should stick to these prescriptions – pale tones, earth colors, wood and stone accents. Don't ever think about some extreme vivid hues that will simply break all the charm of the Japanese style. Creamy whites are preferred as well as brown in the espresso spectrum. Acceptable darker nuances are midtone woods and greens.
Of course, when preparing your interior for the new Zen style don't forget to use no more than one or two major hues since this will keep the sophistication of the area and the balance that opposite colors create.
Water Features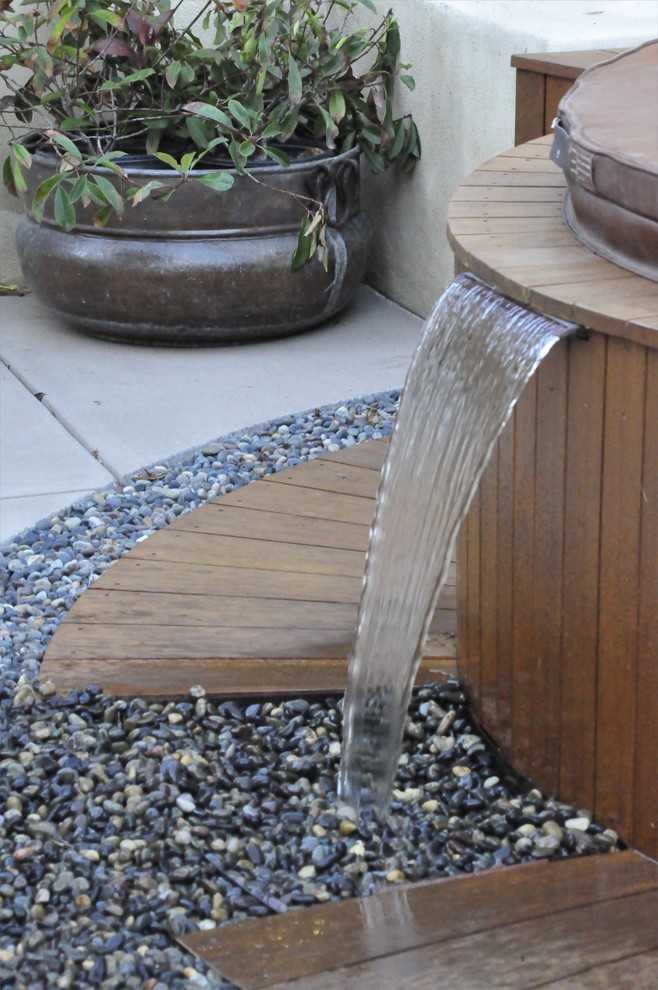 Japanese garden and a small fountain
As we have already outlined this eastern style is all about connecting the dots. Gathering the strong forces in nature an incorporating their power in the interior is not always an easy task. Let's take water, for example, that is essential for an atmosphere full will tranquility and charm. It doesn't really matter what exactly you are going to use – a bubbling fountain or a stream. Water is suitable for either indoors our outdoors – it depends on your home. And it is definitely an accent that grabs the attention.
If you plan to have water accents inside in the interior you have to know that fountains are not the only way to do so. One of the most used Japanese accents these days are freestanding or built-in water walls that display rain showers. Another way is to not actually use water but artwork that represent some kind of water movement.
Plants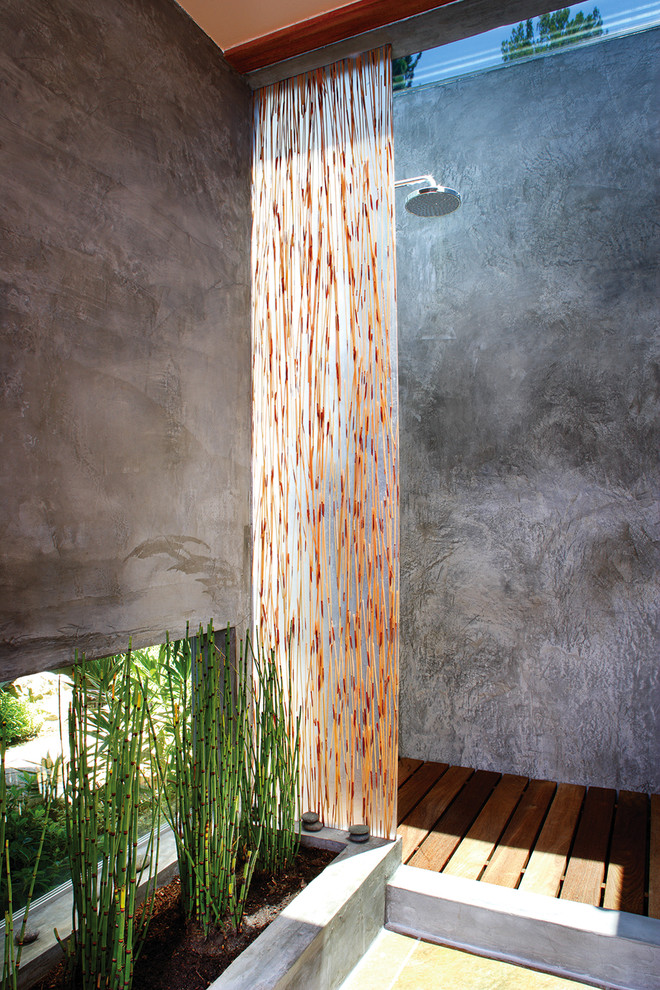 Japanese bathroom with natural plants
Living greenery is more that appropriate for Japanese homes. One of the remarkable trademarks of the eastern culture are the bamboo and bonsai plants. They create amazing atmosphere when kept in minimalist containers made of some kind of organic material – for example, wood, stone, etc. What you need to know is that splashes of various colors and blooms are a definite don't. Instead, you can use a green foliage and this is enough!
There is an option that you can go a little bit further with the greenery. Horsetail and ornamental grasses are very suitable to be paired with the Japanese plants. Another great idea is to arrange ikebana.
Rocks and Stones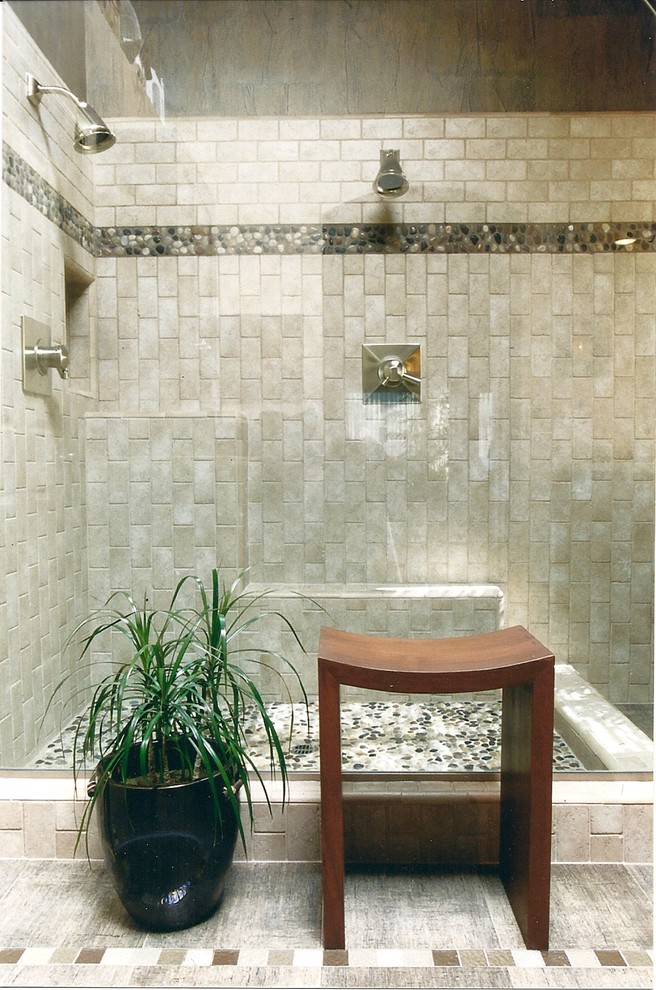 Japanese bathroom and stones in the interior
As we have already said, it is all about the connection with nature and our next example isn't an exception of the rule. In Japan and the tradition of the country, stones take a central place. Is is most likely to find stones in their gardens but in some cases that are also a part of the interior. We are precisely meaning polished stones or river rocks.
If you have a garden and you want to get the desired eastern influence in the design, do not bother using stones at all! They are just perfect! Inside your home there is a suitable application in the bathroom where stone tiles can be set as an interesting accent.
Tatami Mats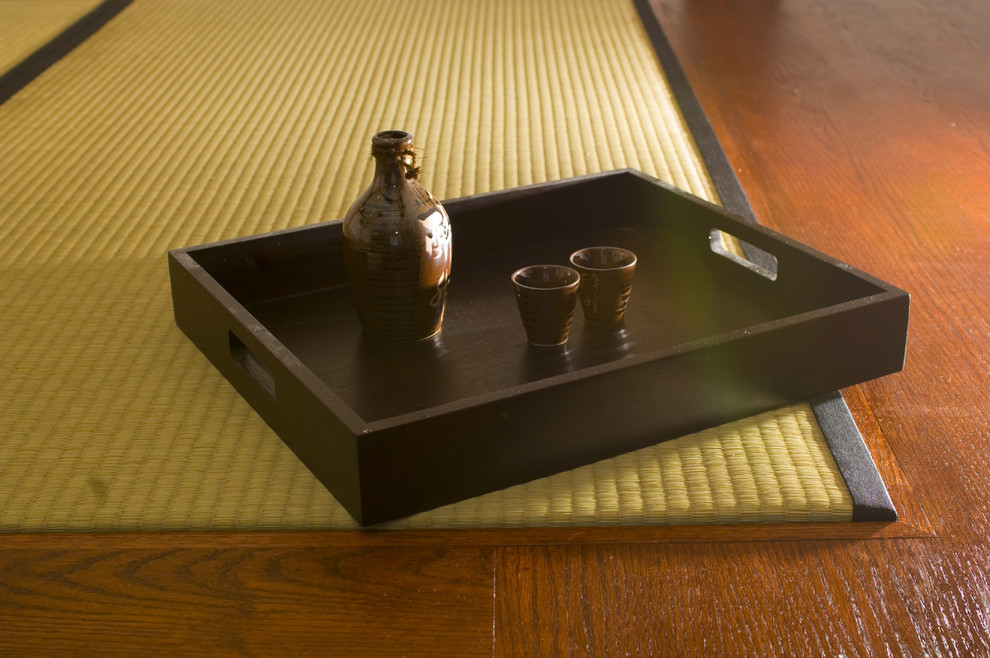 Japanese family room relaxing atmosphere
They are mostly made of woven rushes and they are used as floor covering. One of their good sides is that in the center of their look, minimalist design prevails. That means that they are easy to combine with other objects and they look fantastic inside a home. If you are planning to use tatami mats you need only to choose the best mat that fits your taste and install it.
A secret advice: You can think of even placing tatami mats on the wall or combine them with other typical accents like stone or texture.
Sculptural Lighting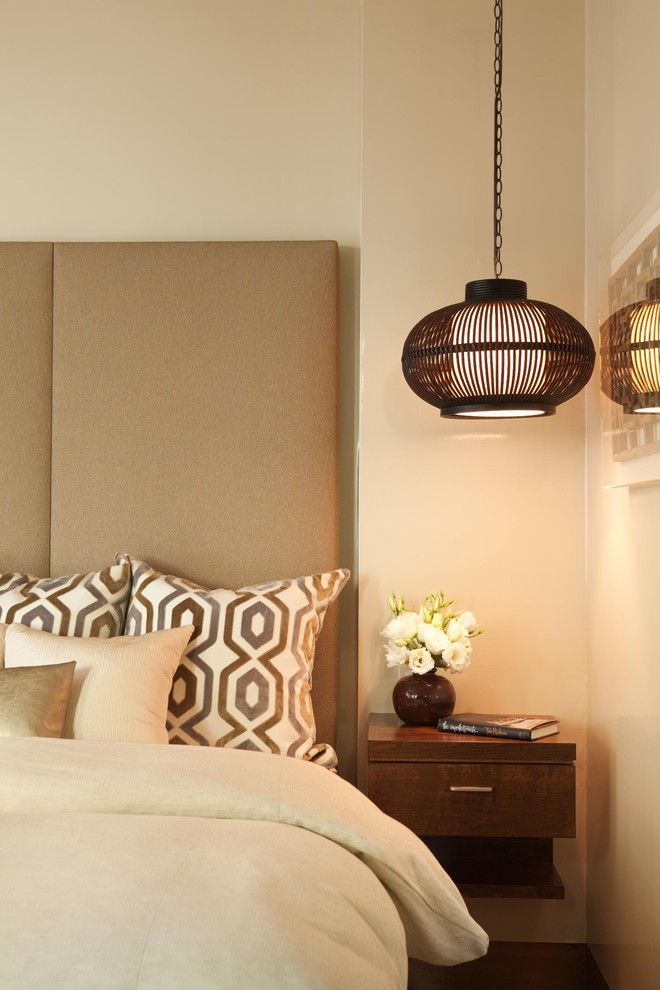 Japanese bedroom in asian style
The most important thing in every home is natural light! Any kind of furniture with clean profile and lines is great for such kind of interiors. In this example we are presenting a cricket lamp that functions as a pendant. This is a great substitute of the traditional table lamp