Sugamo Shinkin Bank is an corporate institution that pays a special attention in serving custormers. Their motto is: "we take pleasure in serving happy customers." You can find their values incorporated in the architecture of their Ekoda branch that is actually bank's fourth. In order to achieve high-end modern bank architecture that meet highest welcoming standards, they consulted with one of most honored architects – Emmanuelle Moureaux.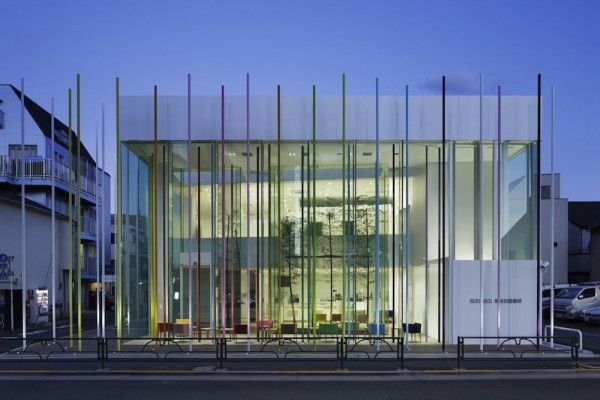 The construction is located among other commercial buildings in a busy district. It is not so far from downtown and that's why heavy traffic and narrow sidewalks are something essential for this urban parts. However, this didn't turn out to be an obstacle in front of the architect. On contrary, it became his inspiration and he decided that he should merge the exterior and interior into one coherent modern place.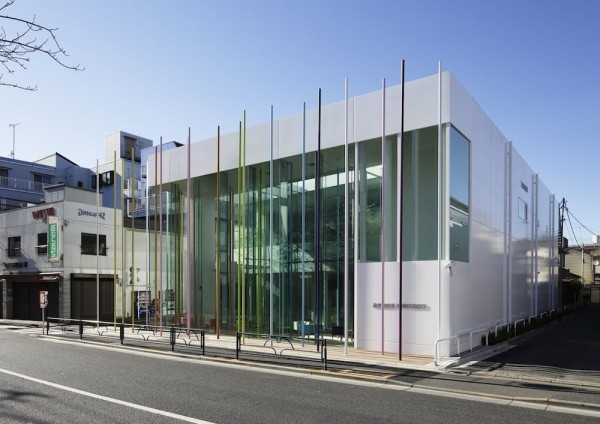 One of the most interesting features of the modern bank architecture is the placement of colorful 9 meter-tall sticks in the peripheral space around it. Their number is exactly 29 and they can be both seen from inside and outside, thanks to the full-in-height glazed facade. But that's not all! There are another 19 colorful stricks placed in a random order inside the building. These colorful tricks cheer the atmopshere in bank up and contribute to the overall possitive impression that a customer gets inside the place.
Inside the bank the customers find another exterior-looking courtyard that leads to the deepest parts of the inner areas. This fluent integration between inside and outside not only attracts with its creativity, but it also shows the bank's attitute to every single detail. This is a true reveal of all the bank's values and perfectionism which, of course, builds a strong corporate brand image. Walking inside you will also find a cafe-like open space that is usually full of natural sunlight. The vertical lines in the interior are strenghtened by bamboos that can be found near the courtyard.
The main functional areas are distributed as following: interior teller counters, exterior backyard, interior open space and exterior desk space. All of them are full of natural light and inside a game of creative shadows begin its performance in front of the astounded customer's eyes.