Everyone knows someone that usually has a lot of work to do from his own home. Sometimes even we are forced to do this or that and then we realize the urgent need of a home office. There are some essential elements that each private working area needs – PC, printer, storage. I recommend that for all that activity you separate a dedicated room since it will provide with the needed comfort and isolation from the outer world.
Floating Desks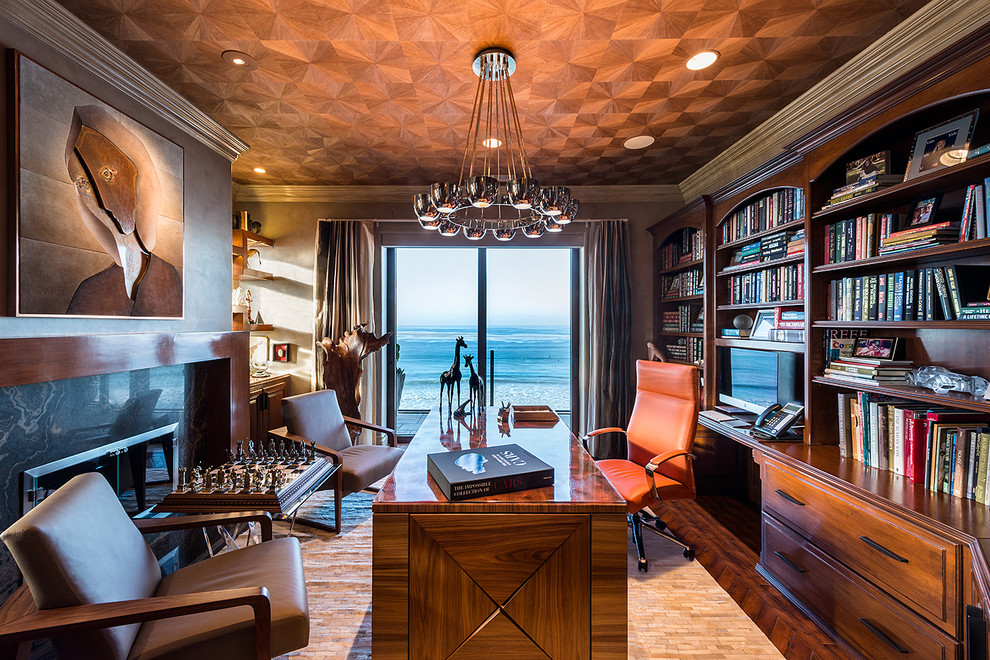 Floating desk
First of all, you should think about your desk. There several options for placement and it is really up to the size of the room your age going to use the desk in. You can choose from floating desks, placed against the wall, or built-in ones. Typically, the size of an average desk is around 30 inches in height. There are also those types of desks that can go up to 65 inches in height but they are more like freestanding type of furniture. My advice is to take the biggest desk that you can afford and I mean that you will need not only money, but also enough free space. So measure the most perfect size that should fit in your interior and find your desk.
In the image here you will see how elegantly disk freestanding desk fits in the office. And it is not only beautiful but also very practical. There are built-in credenza and shelves that actually hold a computer – the thing a today's office can't exists without. Also there is enough storage space for different files and books which sometimes are inevitable part of the businessmen and women.
You can also see other types of offices here: https://founterior.com/?s=office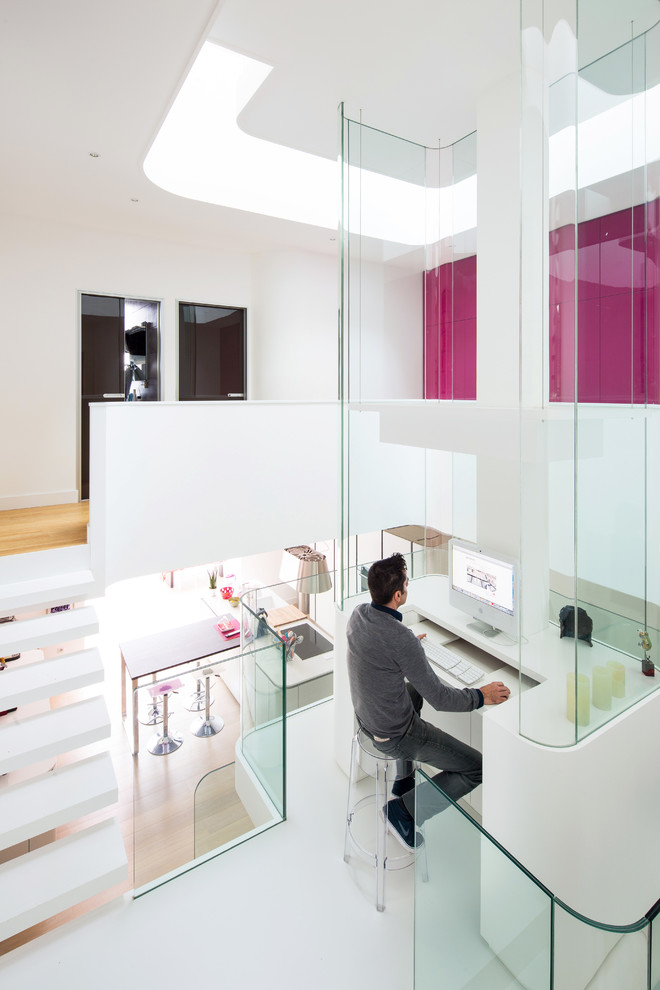 Modern home office
Now, let's have a closer look at the next floating desk. It perfectly outlines the brilliant minimalist interior design of this home office. In this particular example you can see that it is not obligatory to separate an entire room for your business activities. Well, it is preferred but not mandatory.
Built-in Desks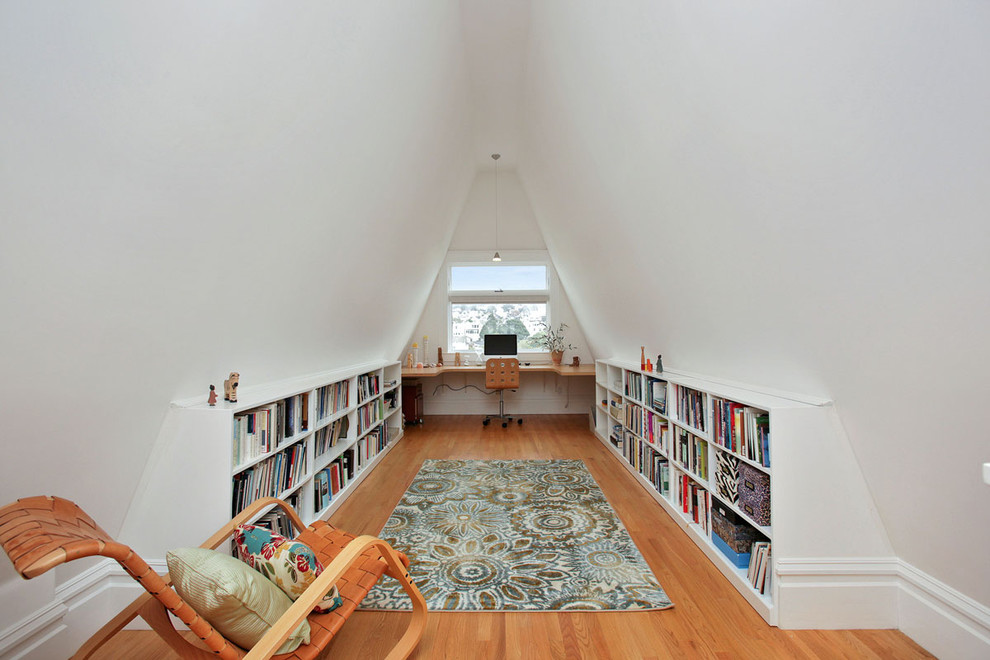 Built-in desk
In my opinion, built-in desks are great because they can save you a lot of space! In size they are similar to the typical ones but often they are able to provide even more working surface. Have a look at the image and note the huge amount of free space for someone's knees. This provides your with comfort and possibility of firm flexibility and mobility. There is also enough room for all kinds of trash cans, supplies and storage boxes.
Desks Against a Wall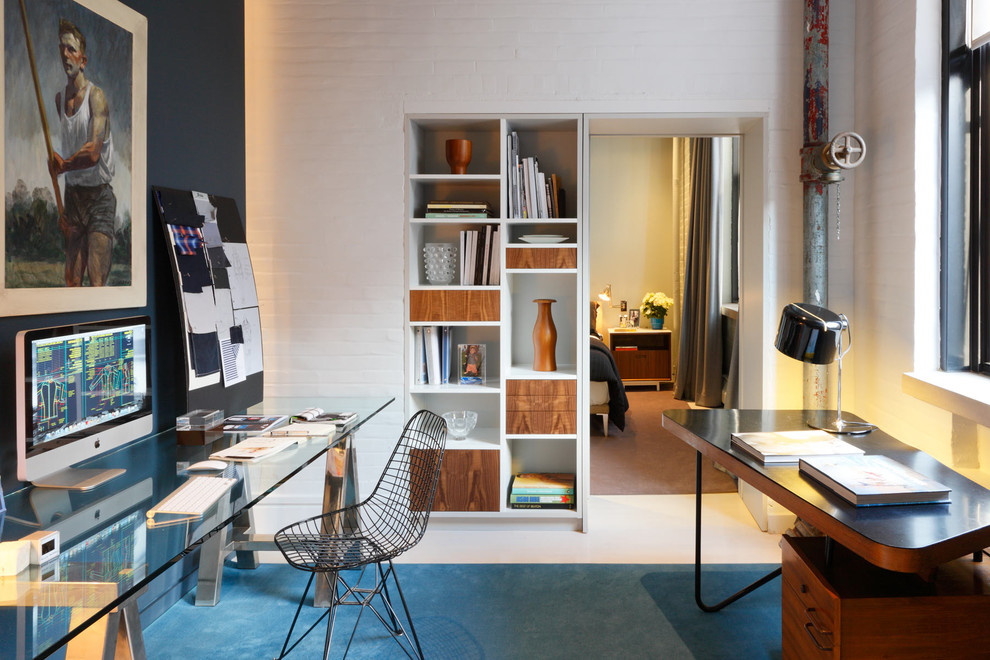 Desks agains the wal
In some case you may need to place a desk against the wall. It is not a bad idea since these types of working furniture can provide you with enough area. If you have not only a single desk (as in the image here) you can think of leaving a little space between them – let's say 50-60 inches. This way those who work will be able to walk around the desks without being disturbed by the lack of space.
Drafting Boards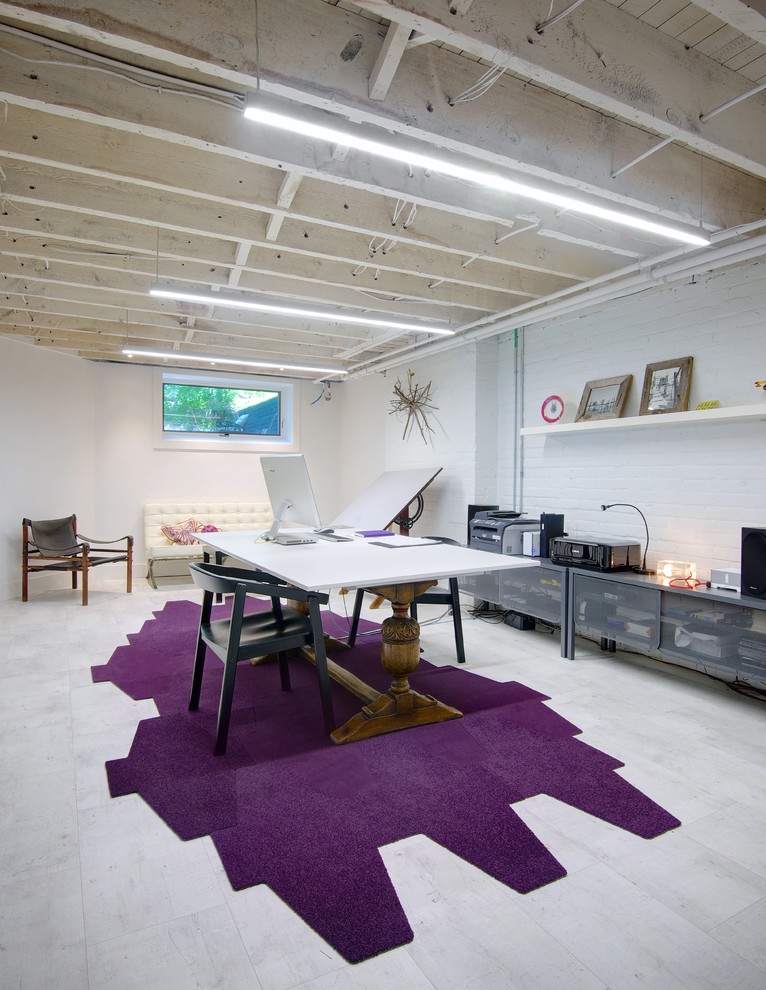 Drafting boards
When you have a large room the pieces of furniture are not so hard to be organized. A floating desk in the middle makes the working office a pleasant room to make business in. Some professional interior designers still use drafting board, like these: http://www.overstock.com/Crafts-Sewing/Architecture-Drafting/4474/cat.html , when they make their client's offices. Of course, it all depends on whether the client needs one or not. However, in the image here you will find them 35 inches above the ground. If you watch carefully, you will definitely spot that the back is rised a little bit. In examples like this particular one, you need a stool which height can be adjusted. As I have already mentioned, enough space is required since the drafting boards have significant footprint. Mostly they are around 70 inches wide and 40 inches deep.
Computers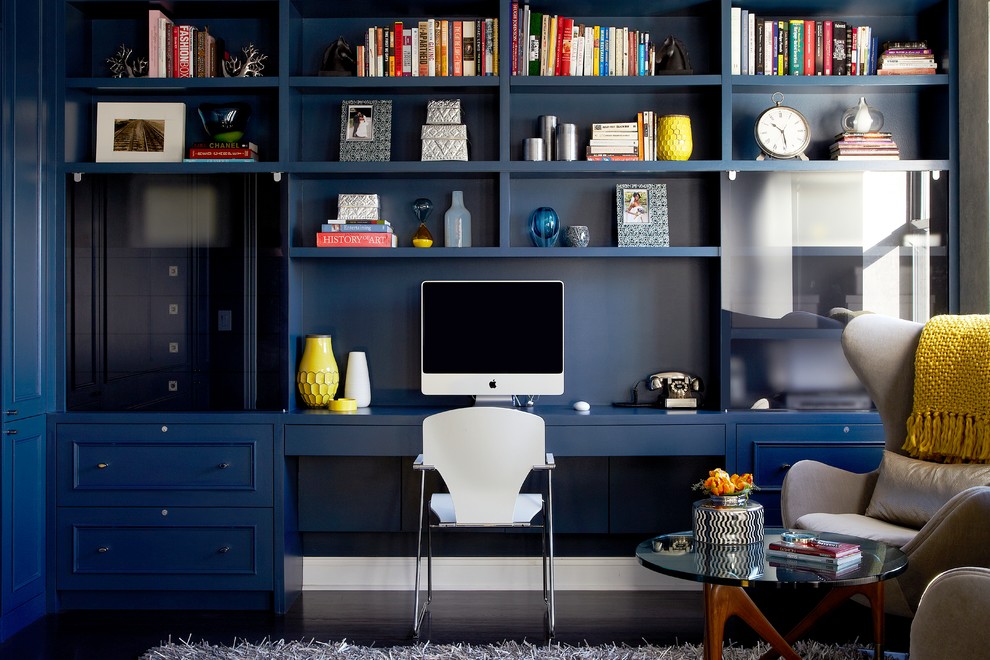 Apple minotor
The place for computers can't be precisely measured. This is because when you usually plan an interior design, after being completed you tend to use it for at least 5 years, let's say. On the other hand, the dimensions in technical equipment changes much more fast. That's why you won't be able to predict whether there will be larger or smaller in size computers than those we use nowadays. So the best decision is to keep the area as flexible as you can, which means that it's better to leave more space than narrow it down to the size that you use today, which later can turn out to be a problem.
Printers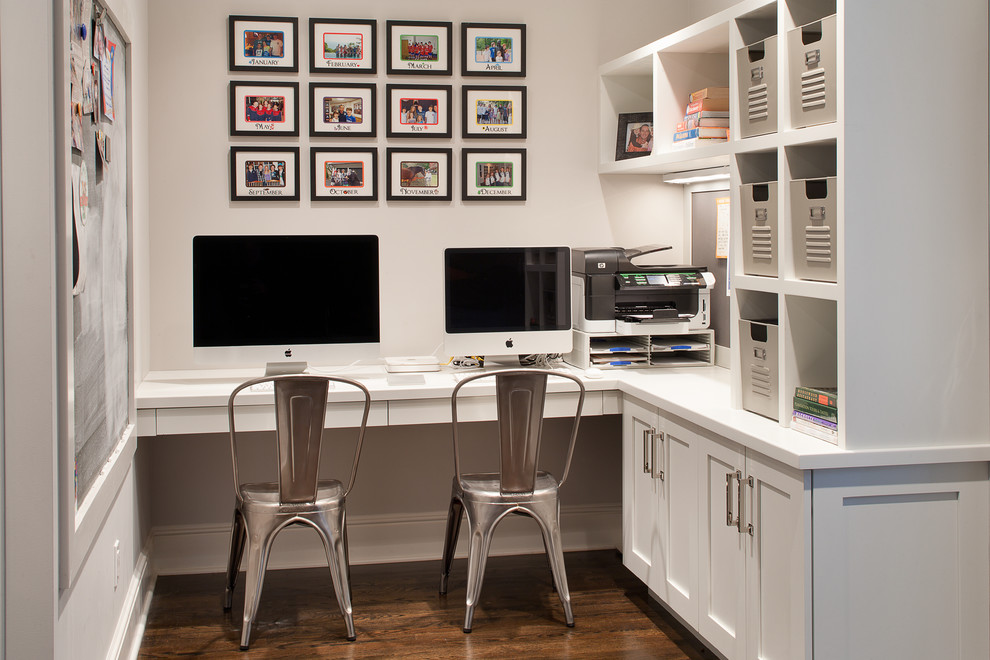 White home office
Despite all the eco green campaigns that inform us not to use paper, there are times that one needs a document printed on a sheet of paper. This is why printers are also an important part of the home office. If you are planning to have one, make a space of 22 inches for the printer. This should be enough to accommodate a small printing machine. If you are willing to predict the height, have in mind that you need to check how the device operates – in which direction does it open, where the leaves are being taken out, where do you load paper, etc.
Paper Shredders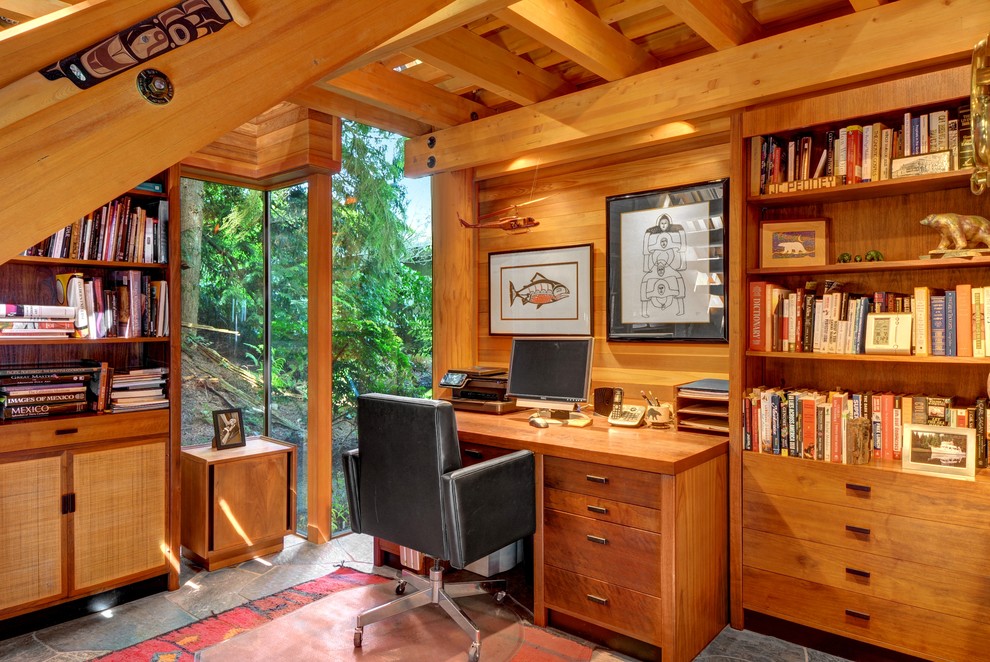 Rustic home office
Another very important part of the home office design is the paper shredder. You can find lot's of them here: http://www.fellowes.com/us/en/Products/Pages/product-listing.aspx?cat=BUSINESS-MACHINES&subcat=SHREDDERS&tercat=COMMERCIAL_SHREDDERS. You'd better think of placing this type of equipment in the space under the desk.
Filing Cabinets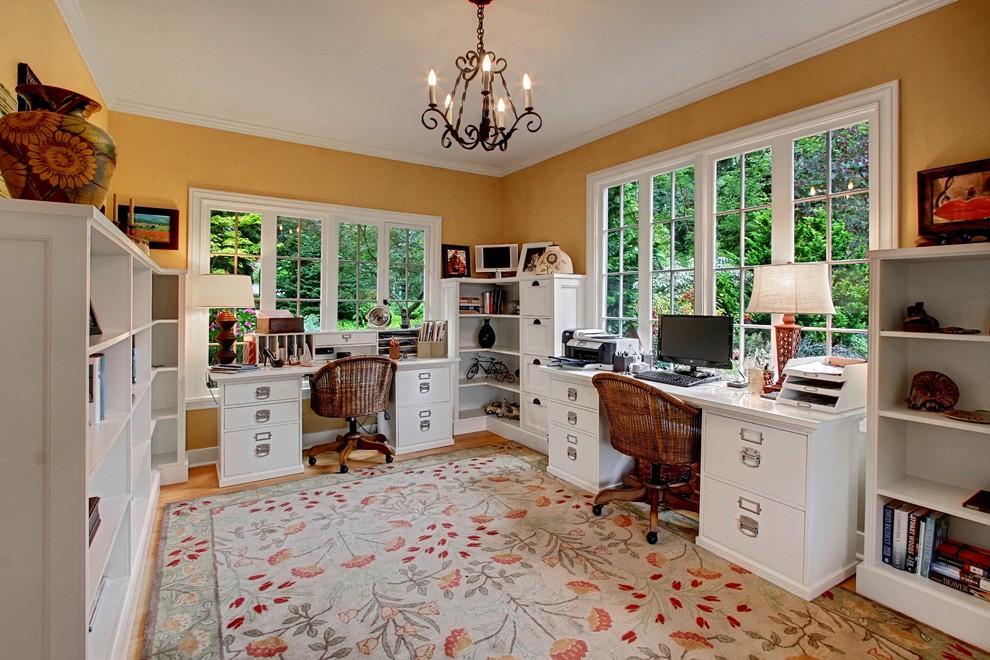 Filing cabinets
In the image shown here you will find that there is a plenty of file storage. Actually, filing cabinets makes this hard task an easy and possible solution. Again, you need to know what size your dedicated room would be and then decide what size of cabinets to choose.
At IKEA you will be able to find very practical storage options: http://www.ikea.com/us/en/catalog/categories/departments/workspaces/10385/
Flat Files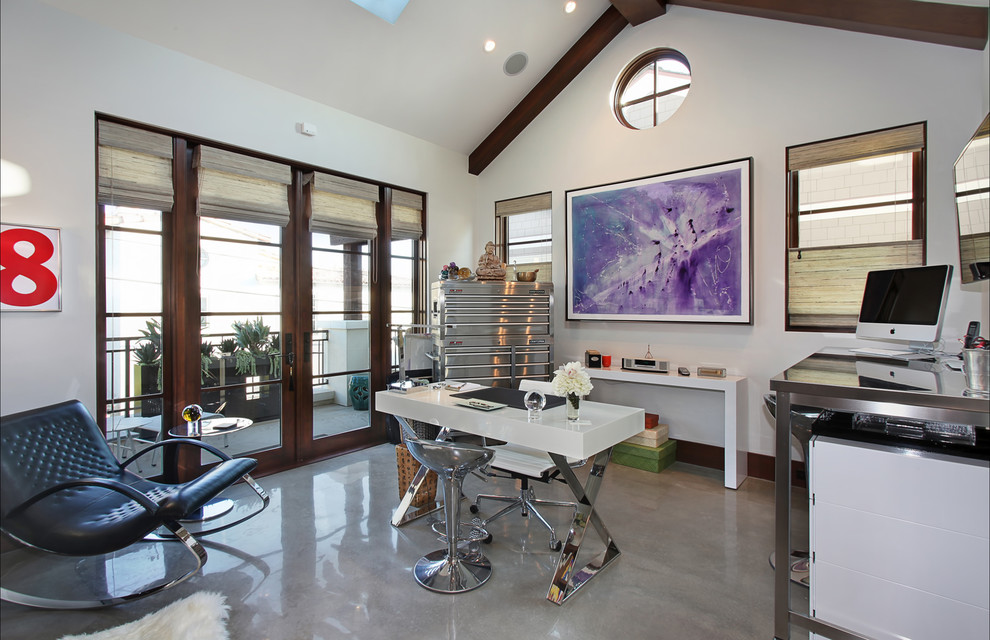 Flat files
This type of equipment can't be found very frequently in office, but its really handy, if you ask me. These cabinets are extremely helpful if you have large format prints. Architects and interior designers definitely know what I am talking about. In the image displayed here, you will be able to enjoy the elegant design of the cabinets which have been made of stainless steel.
Desk Chairs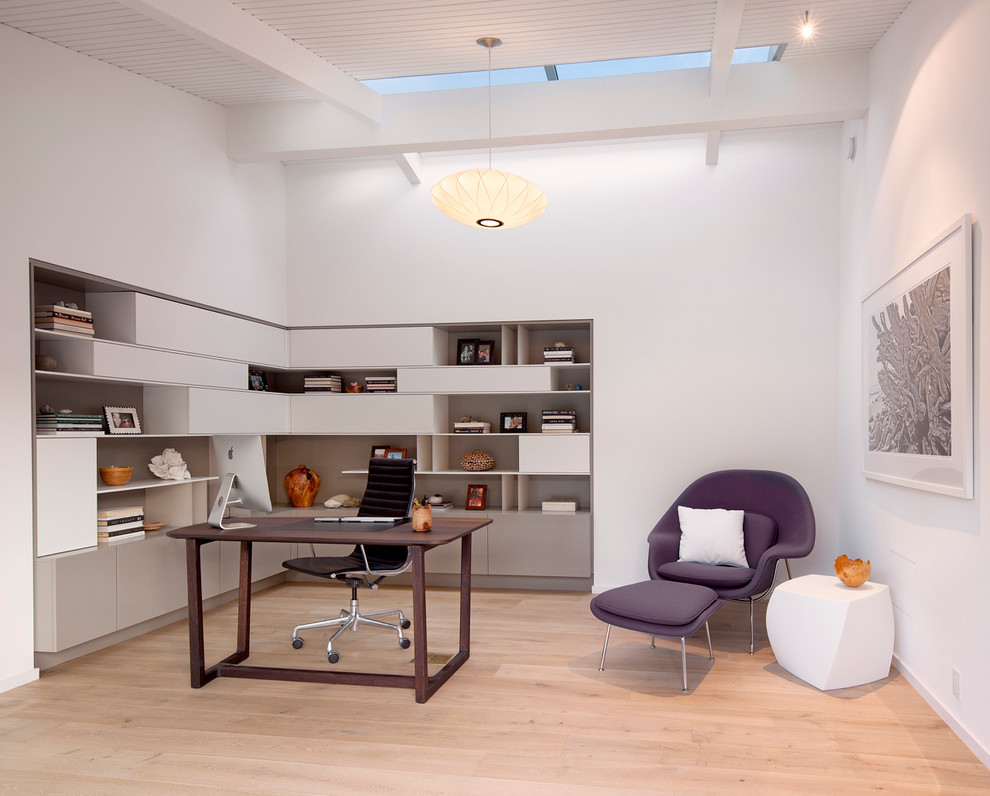 Home office chairs
When you are about to buy a chair for your office, you will have a plenty of options for sure. Just have in mind to choose the most comfortable one, pay special attention to the height of the desk and leave enough room for moving undisturbed with the chair. Also, have in mind the position of the desk – it shouldn't be placed very near the wall when it's back side faces it.
Browse this New York based dealer for amazing desk chairs: http://www.jensen-lewis.com/sub/42/Office-Chairs
Shelving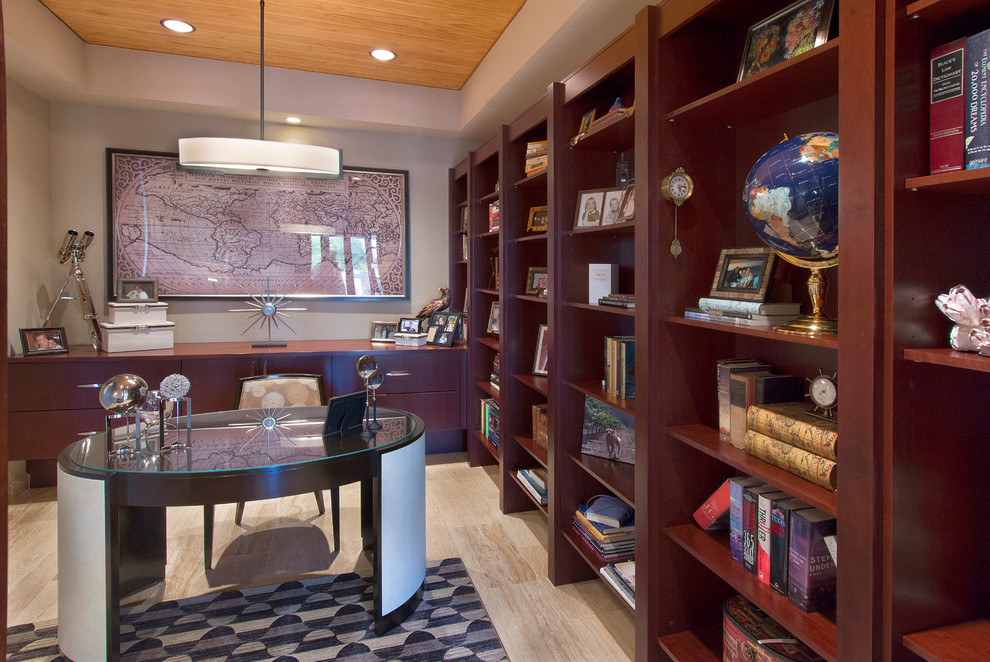 Wood shelvings
One of the most popular types are built-in shelves. They can actually make your working area look at little bit more cozy than a traditional office is. You can use them for placing personal belongings, decorative items, or even precious prizes or certificates. A bottle of whiskey is also an option.
Additional Seating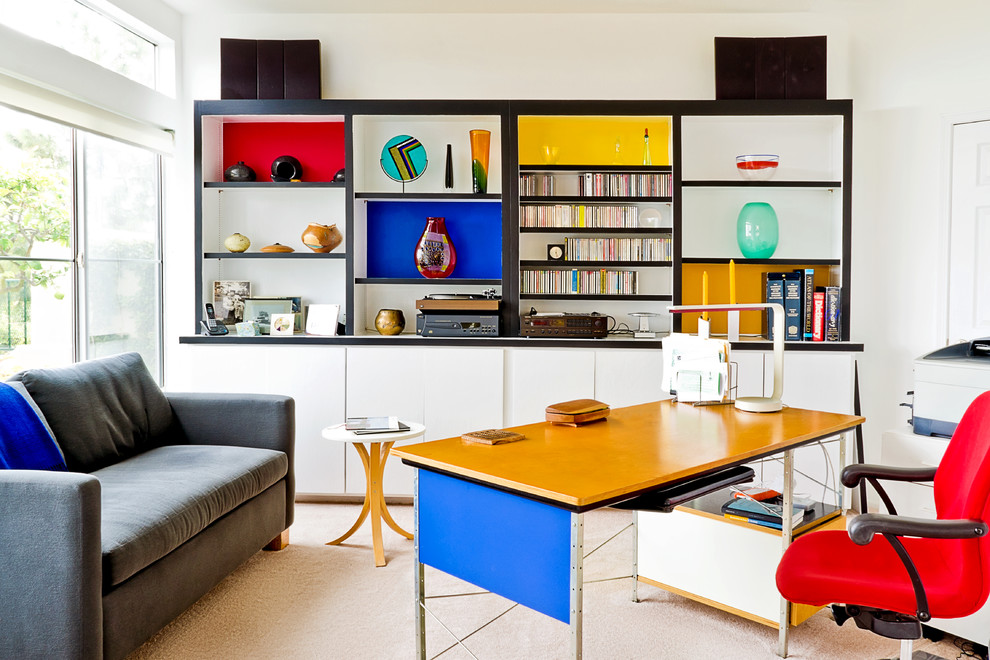 Modern grey sofa
If you are planning to meet visitors in your home office, you should definitely buy additional sitting furniture – like a sofa, for example. Well, sofas are always welcomed in the interior, even if you are using it on your own. Sometimes when the things get very complex you may need to lay down for a minute and figure out how to cope with the problems. Of course, having a glass of whiskey while sitting on the sofa is also an option.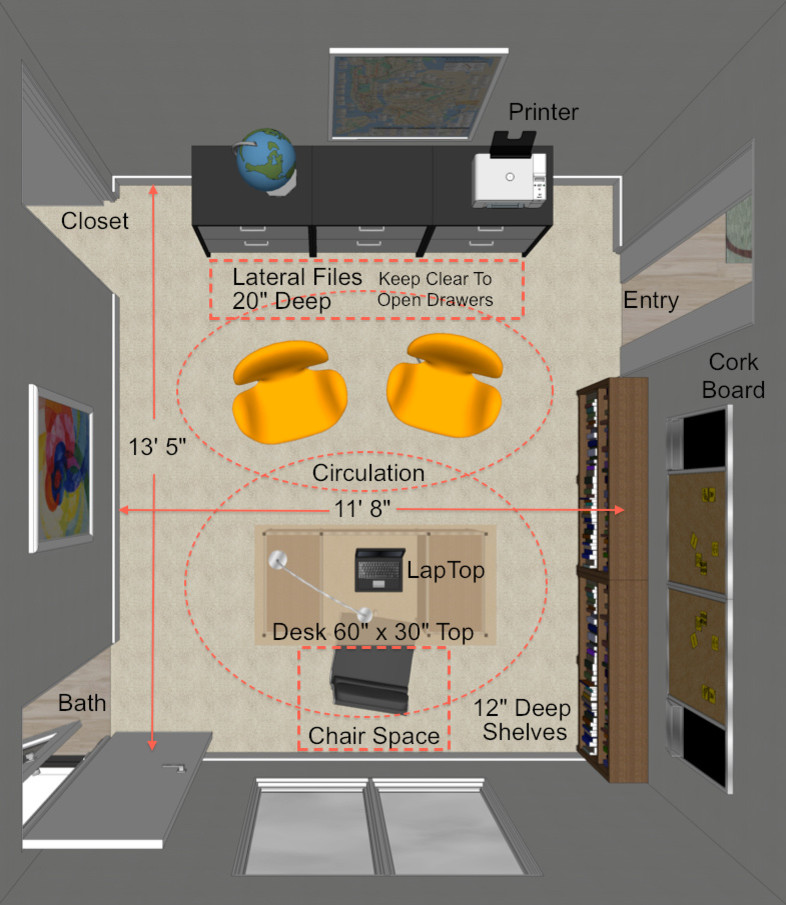 Home office planning
Now, all I have said above is gathers as information and showed in this illustration. Have a look at it and you will definitely get the idea what you need to have in mind when planning your own office at the place where you live.
Image credtis:
Image 1 – dRichards Interiors
Image 2 – Pierre Antoine Compain Studio
Image 3 – Awaken Designs
Image 4 – Decor Aid
Image 5 – Andew Show Photography
Image 6 – Danielle Colding Design
Image 7 – DEANE Inc | Rooms Everlasting
Image 8 – Ty Evans, Windermere Real Estate/BI, Inc.
Image 9 – Ty Evans, Windermere Real Estate/BI, Inc.
Image 10 – Cantoni Irvine
Image 11 – DesignARC
Image 12 – Sandella Custom Interiors, LLC
Image 13 – K. Gennaro Photography
Image 14 – Steven Corley Randel, Architect
You will also find some great office decoration ideas in the video below: